FloBikes is the ultimate destination for everything related to pro cycling. With a single subscription, you can enjoy live streaming of all the major cycling races worldwide in 2023.
For instance, it streams Tour de France, Amstel Gold Race, and GP Miguel Indurain. However, anyone outside Canada and the US can't access it because it is geo-locked.
Luckily, there's an effective method to get past that.
Follow along to do it yourself.
Where is FloBikes available?
FloBikes service is limited to Canada and US subscribers only, meaning you can't access it from any other country.
Copyright issues are why many TV channels and streaming services, including FloBikes, impose geo-restrictions that limit access to viewers.
So cycling fans from abroad will have some issues when trying to access the platform.
If that's you, read on as we'll show an easy trick on how to watch Tour de France and other tournaments from anywhere.
Why do you see this error on FloBikes – This event is unavailable in your area
If you're outside US or Canada and access FloBikes, you'll see a pointer icon on any video that's deemed restricted:
However, this indicator is absent from certain videos, which may offer some streamers optimism.
But even so, when you actually try to watch the video, there will be an error message which reads:
This event is unavailable in your area.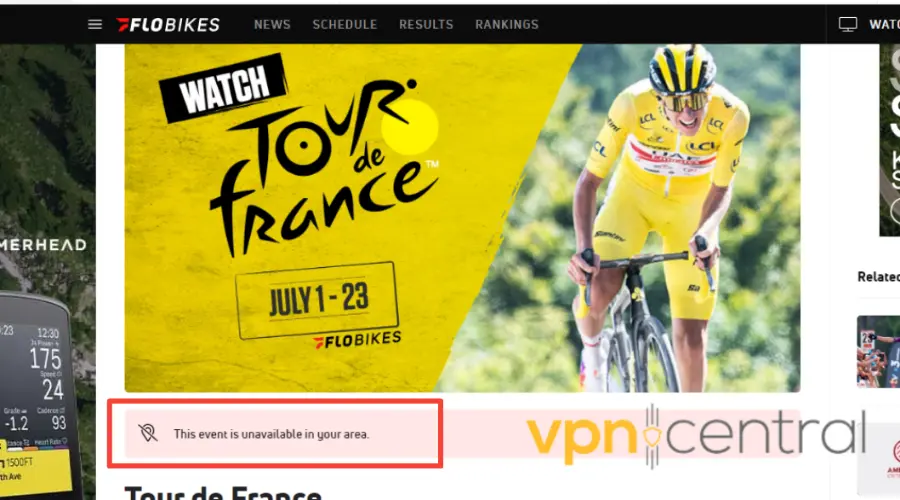 OR
Restricted Viewing Area. Unfortunately, this video is unavailable in your location. We apologize for the inconvenience. Please select another video.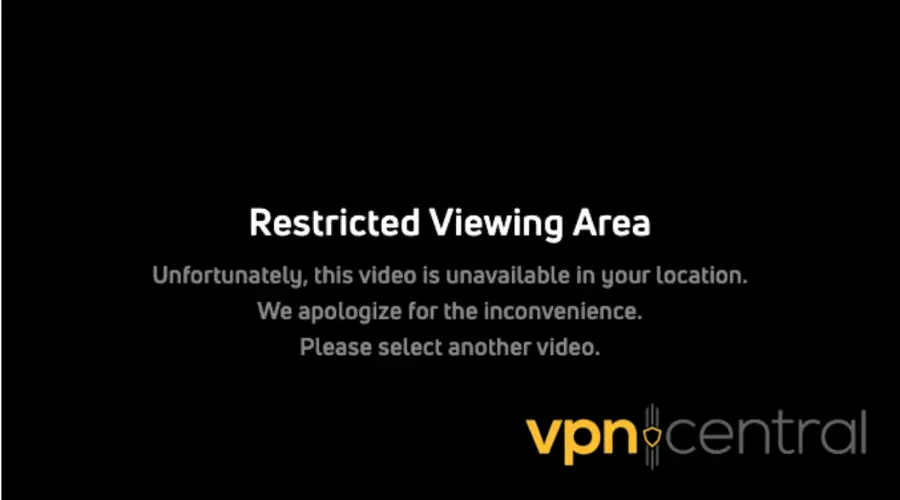 But don't worry, we'll show you how to bypass the error.
How does FloBikes know your location?
Here's the deal: FloSports, the parent company of FloBikes, uses your IP-based location to determine where you are and restrict access accordingly.
But fear not! There's a way to outsmart this limitation – a Virtual Private Network (VPN).
With a VPN, your IP address can change to one from a supported region, making it seem like you're accessing FloBikes from the US or Canada.
Cool, huh? So, don't let geography get in the way of your cycling enthusiasm, and let's get started.
How to watch FloBikes from anywhere? 🚴
To obtain a US or Canadian IP address and watch FloBikes abroad, you need to connect to a VPN that has servers in the US and/or Canada.
One highly recommended VPN for overcoming the this event is unavailable in your area error on FloBikes is Surfshark.
Why? Well, Surfshark not only provides fast speeds and reliable connections, but it also boasts a broad server network that can effectively bypass geo-restrictions.
So, if you're longing to access FloBikes, which is unavailable in your area, Surfshark is the way to go.
Here are the steps to watch it when it's not available in your area:
Visit the SurfShark website and sign up for a subscription.

Download and install the SurfShark software on your device. It supports all major operating systems, including Windows, macOS, Android, iOS, several smart TVs, and more.

Follow the installer wizard, then open the app and login into your account.

Search and connect to a server located in either Canada or the US, depending on the show you want to stream.

Once connected to the server, visit the FloBikes website and create a free account.
With your VPN connection active and a Canadian IP address, the error won't be displayed again. Now you can click on Join Now to stream live.
What sets SurfShark apart is its multiple server locations in 100 countries of the world.
In Canada, it boasts 100+ servers across Toronto, Montreal, and Vancouver.
It also has 600+ servers in 25 major cities in the US, guaranteeing that you won't end up on overcrowded servers that could slow down your connection.
But that's not all. Surfshark offers additional features to enhance your streaming experience.
One of these features is CleanWeb, which blocks pesky ads and trackers. By keeping your device protected and ad-free, CleanWeb contributes to a hassle-free streaming session.
When it comes to security, Surfshark has you covered. Your connection is safeguarded by AES-256-bit encryption, the highest level of encryption available.
This means that all your online data is scrambled into unreadable packets, ensuring that no one can track your browsing history.
In addition, it is a perfect VPN solution for Apple TV, Fire TV, Roku, and Chromecast, where you can stream Tour de France scheduled for July 1st to 21st, 2023.
Additional features:
Multi-hop (double VPN)
Split tunneling features.
With Surfshark, you can enjoy uninterrupted streaming, enhanced privacy, and robust security features.
What's more, it offers a 7-day free trial for macOS, iOs and Android devices. So you can tune in and watch Tour de France for one week without paying anything.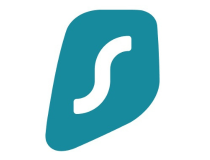 Surfshark
Connect to Surfshark for unrestricted and buffer-free access to FloBikes!
Wrap Up
Overcoming the frustrating geo-restrictions – this event is unavailable in your area on FloBikes requires a reliable and effective solution.
But if you follow the guide above you'll be able to do so in no time. However, to ensure a secure and reliable streaming experience, it is crucial to choose a reputable VPN provider.
Look for a provider with fast speeds, strong encryption, and other essential features.
By selecting a reliable Flobikes VPN solution you can confidently navigate around the geo-restrictions and watch any type of content you desire.
You can also check updates, results, schedules, and rankings on your favorite events.
---