If your Google Drive is not working with VPN, pages fail to load or display an offline mode message.
Consequently, it limits your access to cached documents only.
And you may get an error stating you're offline. Some functionality may be unavailable.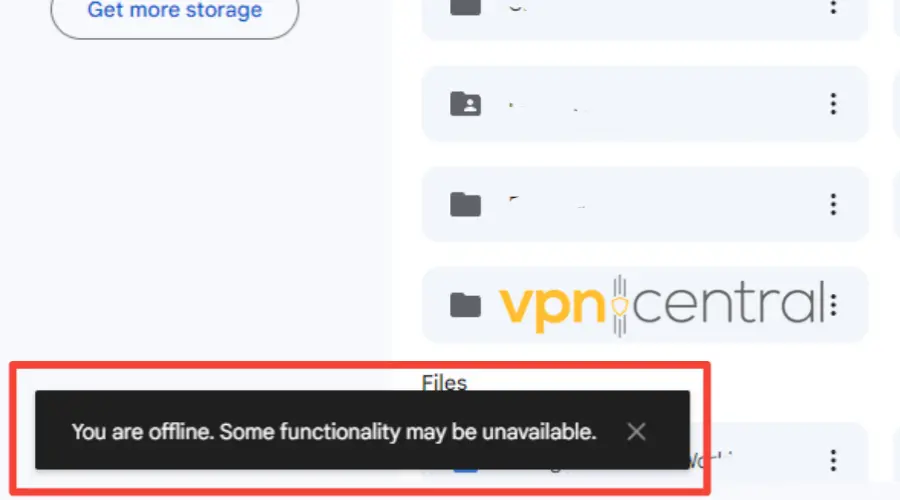 One of the reasons could be that your internet connection is poor or the VPN server you're connected to is blocked by Google.
Yes, it's really frustrating.
But don't worry. We've researched other causes and potential fixes—-just for you to get back to work quickly.
Check them out.
Why is Google Drive not working with VPN?
There could be various reasons why Google might not work when using a VPN. Some of these include the following:
Your internet connection might be unstable or poor.
Outdated or slow VPNs
Your ISP-supplied DNS servers are slow
Using IP addresses blocked by Google
You're connected to an overloaded server
How to fix Google Drive not working with VPN
If you're experiencing issues using Google Drive while connected to a VPN, here are some steps you can take to troubleshoot the issue:
Clear browser cache and cookies

While cookies and the browser's cache help web pages load faster, they can interfere with the VPN.
They do it by storing your location information. 
This can lead to conflicting data between the old and VPN location. Therefore, regularly clearing your cookies and cache is important.
Here are instructions on how to clear cache and cookies on Chrome:
Click on the three dots at the top right edge of your browser.

Go to More tools, and select Clear browsing data.

Choose the time range from the drop-down list. Use All time to delete everything.

Check the boxes for Cookies and Cached images and files.

Click Clear data.

Try opening Google Drive again. It should work by now. 

The bonus here is when you clear your cookies, you also enhance your browsing speed and safeguard your privacy on the internet.
Keep in mind that we've used Chrome as an illustration, but you can follow similar steps on other popular browsers like Edge, Opera, or Firefox.

Change your server

Sometimes certain server locations may have restrictions or connectivity issues with Google services.
Also, some may have too many people connected simultaneously on the server or poor configurations that may lead to IP leaks. 
To solve this problem, you need to switch to a different one on your VPN.
Here's how to do that.
Open your VPN app.
Disconnect from the current server.

Expand the server list and select your desired location on the list.

Connect to a different server. 

Try connecting to Google Drive again; it should work now. If not, try a few more servers.

Note: Where applicable, always choose a server close to you. This will help to reduce latency and improve speeds.

Change DNS settings (Windows and macOS)

By default, your internet-connected device uses your ISP's DNS servers to handle requests. 
But, if your ISP's DNS servers are slow or not properly configured for caching, it can result in slower connections.

Some VPNs have their own private DNS servers. If you have a subscription to one of those, contact your provider to help you locate them.

Alternatively, you can use free DNS available online. For instance, Google offers plenty of reliable and safe options.

Here's how to change your DNS settings on PC:
Right-click the network icon (or the WiFi icon if you are connected to WiFi) in the taskbar notification area and select Network and Sharing Center.

Select Change adapter options.

Right-click on your TAP adapter and choose Properties.

Select Internet Protocol Version 4 (TCP/IPv4) and click Properties.

Select Use the following DNS server addresses and enter NordVPN's DNS addresses: Preferred DNS server: 103.86.96.100 and Alternate DNS server: 103.86.99.100

Repeat steps 3-5 for your physical network adapter, Ethernet or Wi-Fi.

Try reconnecting to Google Drive.



For Mac users, here are the steps to change your Mac DNS settings:
Open System Preferences.
Click on Network.
Select the network interface you are using. For example, if you are using Wi-Fi, select Wi-Fi.
Click on Advanced.
Click on the DNS tab.
Click the + button at the bottom of the DNS Servers list.
Enter the following DNS server addresses 103.86.96.100, 103.86.99.100
Click on OK.
Click on Apply.
Your Mac will now use new DNS servers. Overall, this will help improve your privacy and security when browsing the internet. 
Also, there are alternative free DNS services, such as Google Public DNS or Cloudflare, that offer several advantages over your ISP's DNS servers.

Change your VPN provider

If Google Drive is not working with VPN after trying the abovementioned fixes, the last resort is to switch to a different VPN provider. 
Some VPNs may have better compatibility with Google Drive than others.
Essentially, we recommend CyberGhost for its market standard in speed and security. 
 Here are the steps to use it with Google Drive:
Subscribe to a Cyberghost plan and download the software compatible with your device.

Install the Cyberghost app 

Log in with your credentials.

Select and connect to a server.

Once connected to the server, try opening your Google Drive again.


Does Google Drive block VPNs?
No, Google Drive does not block VPNs by default.
However, it may block specific IP addresses suspected of being used for malicious purposes, such as hacking.
Does Google Drive work with a VPN?
Yes, Google Drive can work with a VPN, and using one can actually help protect your traffic, especially when your files are in transit.
It does this by encrypting your network traffic, making it difficult for snoopers to intercept or eavesdrop on your data.
Best VPNs for Google Drive
When choosing a VPN to use with Google Drive, opting for reputable providers that offer reliable encryption protocols and robust network infrastructure is recommended.
These VPNs are more likely to provide a seamless experience when accessing and using Google Drive, ensuring the privacy and security of your files.
To save you the hassles of searching around, here are the top 4 recommended VPNs for Google Drive.
1. CyberGhost— Seamless experience on Google Drive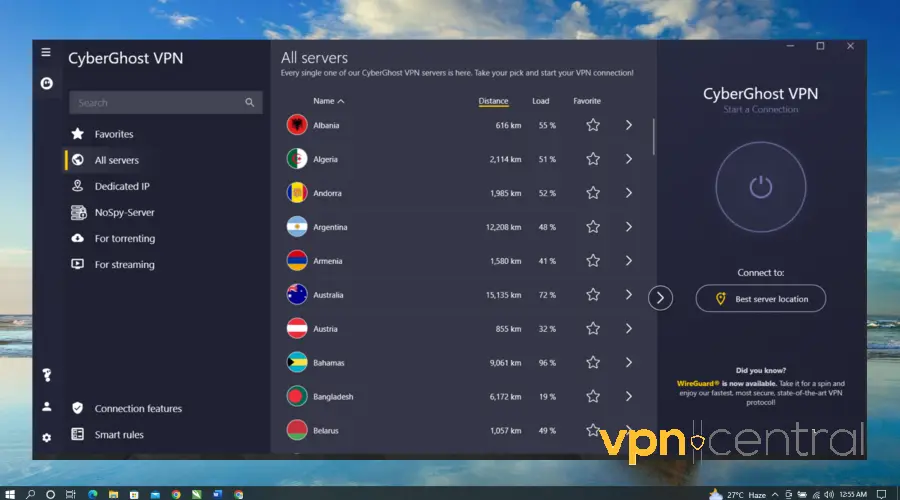 CyberGhost offers various features to enhance your whole experience while working on Google Drive.
For example, with over 9000 servers in 91 countries, it gives you access to your content anywhere you travel worldwide.
And its user-friendly interface and intuitive design make it easy to navigate, even for those new to VPNs.
Most importantly, it uses industry-leading 256-bit AES encryption to hide your location and scramble your internet traffic. So nobody can intercept your files and data.
But that's not all, CyberGhost is one of the fastest VPNs on the market, allowing you to load and download large files without buffering or lag.
Also, you can connect to up to 7 devices simultaneously. This means you can always access your Google Drive all any of your nearest devices and at any time.
✅ Pros:
Automatic Kill-Switch
Prevent DNS leaks
Private DNS and Smart DNS
1-day free trial
Strict no-logs policy
45-day money-back guarantee
❌Cons: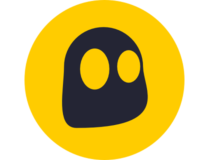 CyberGhost
Use CyberGhost for safe and error-free access to Google Drive!
2. ExpressVPN — Fast connection speed for Google Drive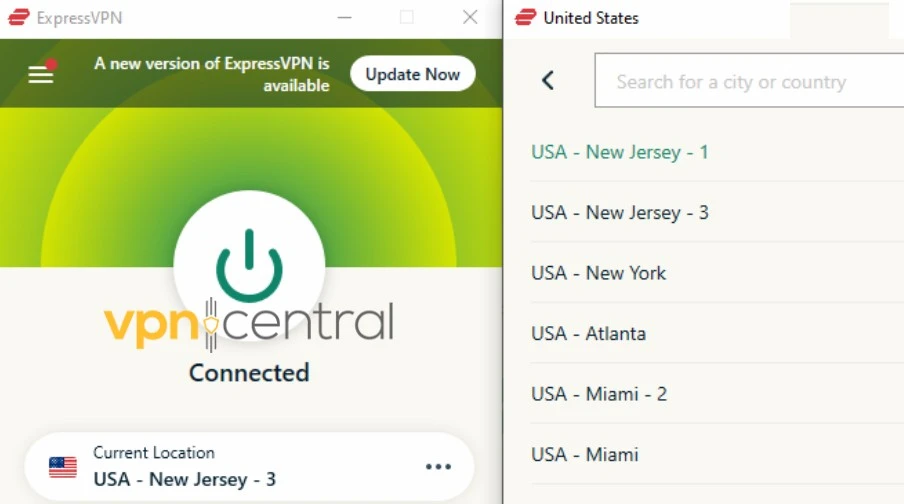 ExpressVPN has a vast network of 3,000 servers in 160 locations across 94 countries.
All are optimized for high-speed connections, ensuring smooth and uninterrupted experiences on Google Drive.
Additionally, it is compatible with various devices and operating systems, including Windows, Mac, iOS, Android, and Linux.
Plus, its apps are user-friendly and easy to install and navigate, allowing even those with limited technical expertise to use the service effectively.
Moreover, ExpressVPN has additional security features, such as a kill switch that automatically cuts off internet access if the VPN connection drops.
This immediate disconnection helps to prevent any potential leakage or exposure of user data that could occur during the brief interruption.
That's not all, it also offers split tunneling, which allows users to choose which traffic is routed through the VPN and which can directly access the internet.
As a result, you can protect specific traffic without losing access to local network devices.
✅ Pros:
No logging policy
Lightway protocol
Five simultaneous connections
supports high-speed torrenting on all of its servers
24/7 customer support
❌ Cons:
One of the most expensive on the market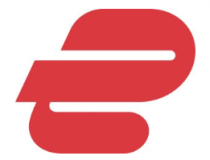 ExpressVPN
Improve your online privacy and browsing experience with this reliable VPN for Google Drive!
3. NordVPN— Secure connection on Google Drive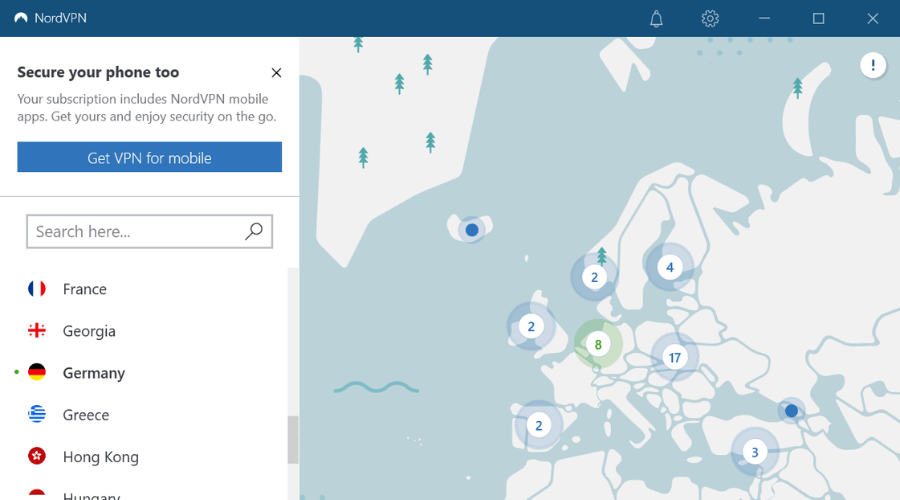 With NordVPN, you're sure to have a seamless experience on Google Drive. Why? It offers fast and reliable VPN connections with over 5600 servers in 60 countries.
This means there will be minimal congestion on a single server resulting in faster connection speeds, less buffering, and smoother browsing.
What's more?
It uses a proprietary NordLynx protocol based on WireGuard, which provides lightning-fast internet connection speeds and same time, without compromising encryption security.
In addition, NordVPN automatically disconnects you from the internet if your VPN connection drops.
Consequently, it prevents your data from being exposed to your ISP or other third parties.
And the best part for Google Drive users is that NordVPN offers lightweight extensions for Chrome and Firefox browsers.
These extensions encrypt your browser traffic and allow you to change your location in seconds.
✅ Pros:
AES-256 encryption
DoubleVPN routes your traffic through two VPN servers
DNS leak protection
Strict no-logs policy
Secure up to 6 devices simultaneously
24/7 customer support
❌ Cons:
Torrenting is only supported on some servers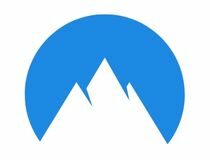 NordVPN
Get a fast and secure connection to Google Drive with the help of NordVPN!
4. Surfshark — Cost-effective option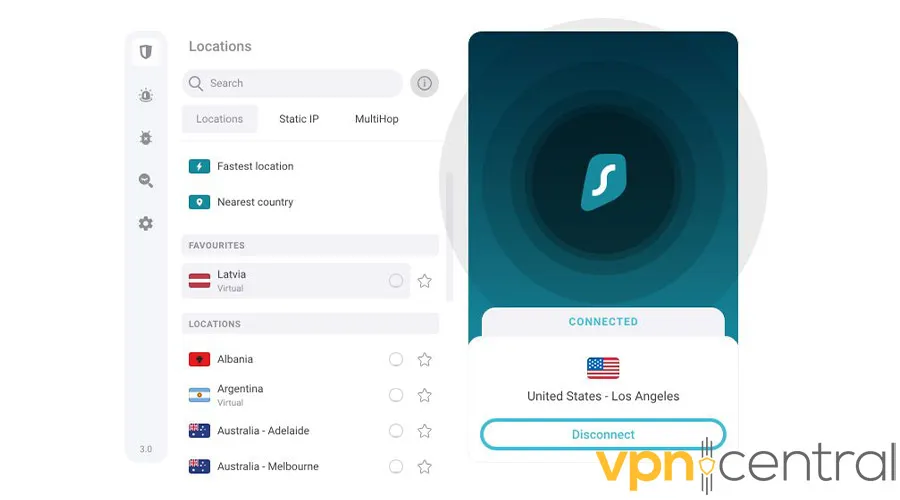 Surfshark is also one of the best VPNs you use with Google Drive.
The interesting part is that you can expect good speed and reliability from Surfshark's network, which boasts over 3,200 servers in 100 locations.
Also, with strong encryption, multiple protocols, and a strict no-logs policy, it ensures that your personal information remains protected.
This is especially important when working on sensitive documents.
Additional features like MultiHop, which routes your traffic through two VPN servers, and CleanWeb, which blocks ads, trackers, and malware, further enhance your browsing experience.
Bu that's not all. Like NordVPN, it offers browser extensions for Chrome and Firefox, which encrypt all your browser traffic and allow change your IP quickly.
Plus, with one Surfshark's subscription, you can easily use it across multiple devices simultaneously,
✅ Pros:
Strong encryption
Strict no-logs policy
MultiHop and CleanWeb features
Compatible with apps for various devices
Unlimited simultaneous connections
User-friendly interface
❌ Cons:
Not as fast as other competitors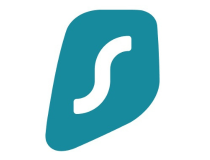 Surfshark
Protect your files and keep a steady connection to Google Drive by using Sur
Summary
If you encounter issues with Google Drive not working while using a VPN, you can fix them by following the steps mentioned earlier.
These include clearing your browser cookies, changing your server location, or changing your VPN provider.
Also, if you wonder which is best for Google Drive, you can choose from those we recommended, as we have vetted them, and they allow seamless access to the service.
---