GTA Online is available for the most recent PlayStation, PC, and Xbox. But as widely enjoyed as it is, it definitely comes with its own issues. One is that GTA sometimes doesn't work with a VPN.
Many users experience connection errors, high pings, lag issues, and ISPs throttling their speed, and resort to VPNs to fix the issue.
Also, some features of GTA online are region-locked, meaning that you cannot access some features in some countries. These limitations make it necessary to use a VPN with GTA. If you have trouble connecting to yours, check the easy guide below.
Why is GTA blocking your VPN?
If you have trouble connecting to GTA using a VPN, consider the following scenarios:
Leaks: IPv6 leaks and DNS leaks can reveal your actual location and cause GTA to block your IP address
Connecting to a blocked VPN server: if another user of your VPN has accessed GTA and got flagged or blocked, you'll get the same restriction if you use that exact IP address
GTA servers are down: if you have trouble with the online game, make sure to check whether there's been a recent outage on the servers you play on
How to fix not working with a VPN
First and foremost, be absolutely sure that your connection works. If the underlying issue is not related to GTA itself, attempting to troubleshoot it will result in pretty much nothing.
Check your internet connection: if your connection is poor, none of the fixes below will work, so make sure to check your connection speed and contact your ISP if you're having issues
Reboot your router: this can get rid of bugs and allow your connection to reconfigure
With these aside, if it's obvious that GTA is blocking your VPN, then you can move on and try some of the following fixes. Check them all and see which applies best to your case.
1. Close the game and reboot your device
Depending on your gaming device, you might need to close the game and reboot.
To close the game completely on your PC:
Press the Ctrl+Shift+Esc keys on your keyboard. This will launch the Task Manager.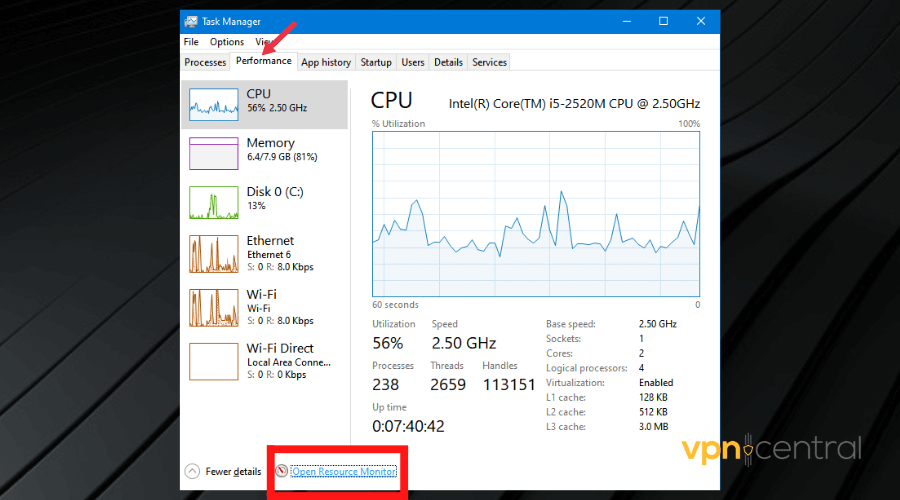 Click the Performance tab.
Click Open Resource Monitor.
Right-click on GTA.exe and select End Process.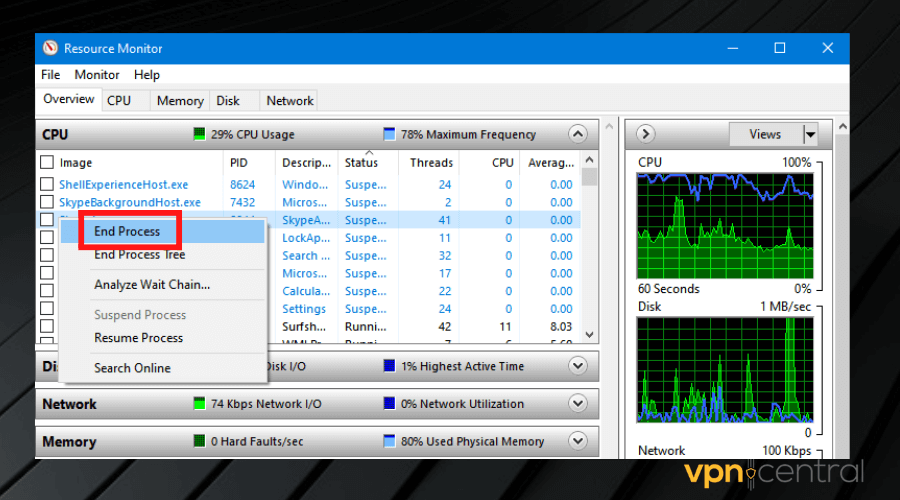 Restart your PC and launch the game to see if the error has been fixed.
If you're using a PC and you are unable to go past the loading stage, this simple tip can fix the issue and get rid of in-game bugs that can occur if your PC or game has been on for a really long time.
Many users confirm that this can fix the error on PS4 and Xbox as well because when there is an issue with the game settings, simply rebooting can help fix it.
So just make sure you shut down GTA on your console, wait for a few minutes, and restart it.
2. Connect to a different VPN server
As mentioned, your VPN won't work if the IP you're on has been blocked by GTA. The game cannot however block an entire VPN app, so connecting to a different server may work.
Open your VPN app and click the Disconnect button.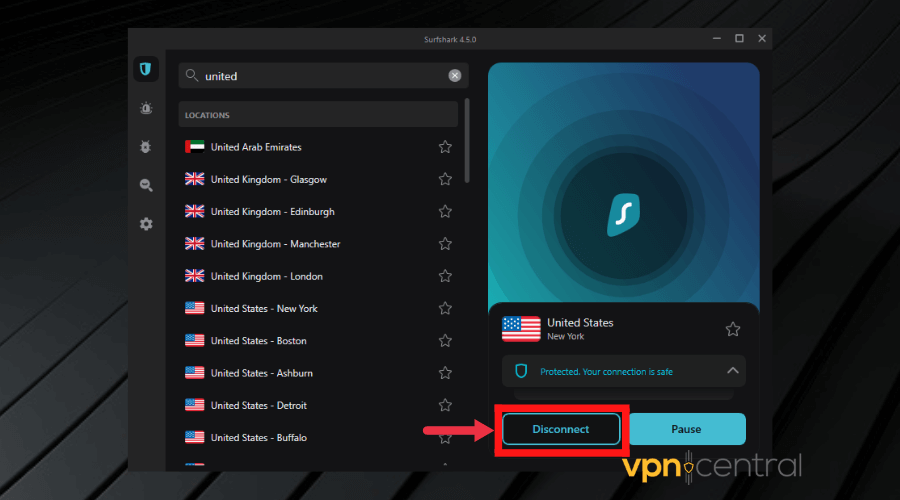 Choose another location from the list of servers and click on it to connect.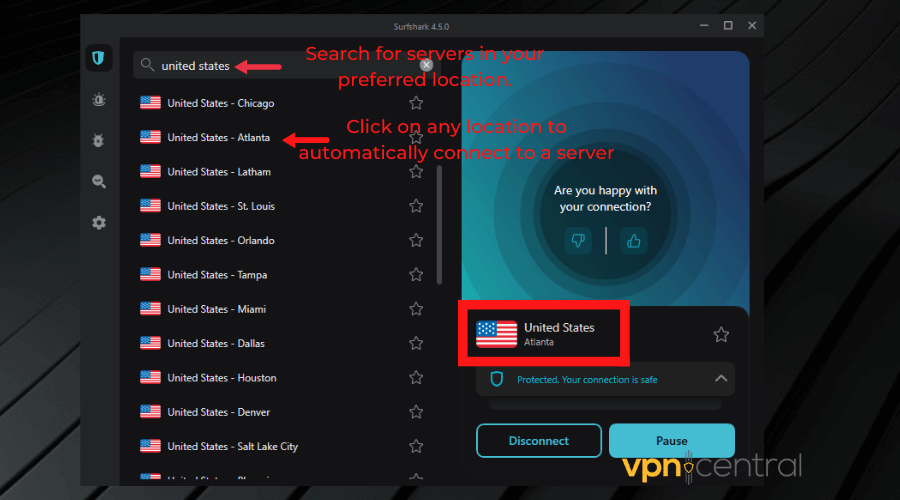 Launch GTA again and see if it's working.
This method applies also to those that use a console and share their VPN connection from their PC. Just switch to another server on your PC, then re-connect your console to the network.
3. Fix VPN leaks
A leak means that your VPN fails to encrypt your traffic and allows websites, apps, or games to read your actual traffic data. Here's how to check if your VPN leaks your data:
Visit browserleaks.com to test for IPv6 and DNS leaks in your connection.
Carry out the tests twice, the first time without a VPN, and then again while connected to your VPN.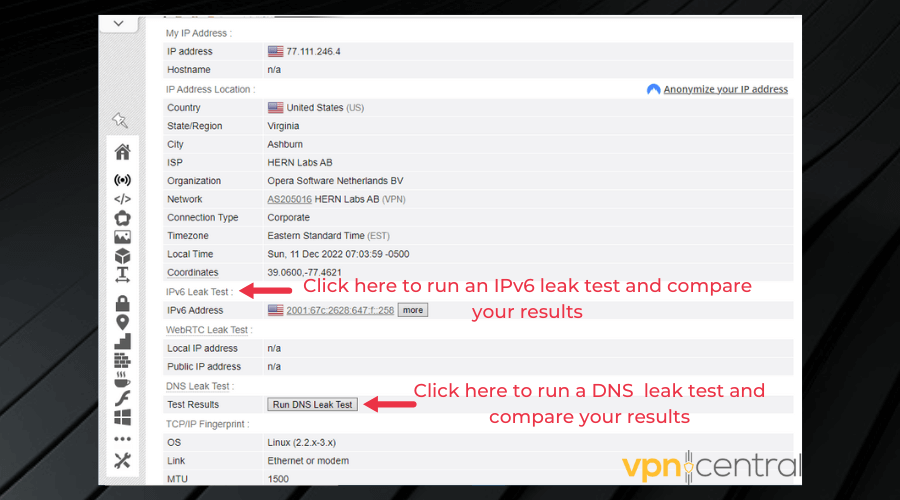 Compare your results. If your location and IP information are the same with and without a VPN, it means there's a leak in your connection.
This can happen if you have a poor VPN, but it can also occur if you have connected to GTA without a VPN and they caught on to your traffic information.
If that's the case, consider clearing your data to remove any previous information about your local IP.
4. Clear your data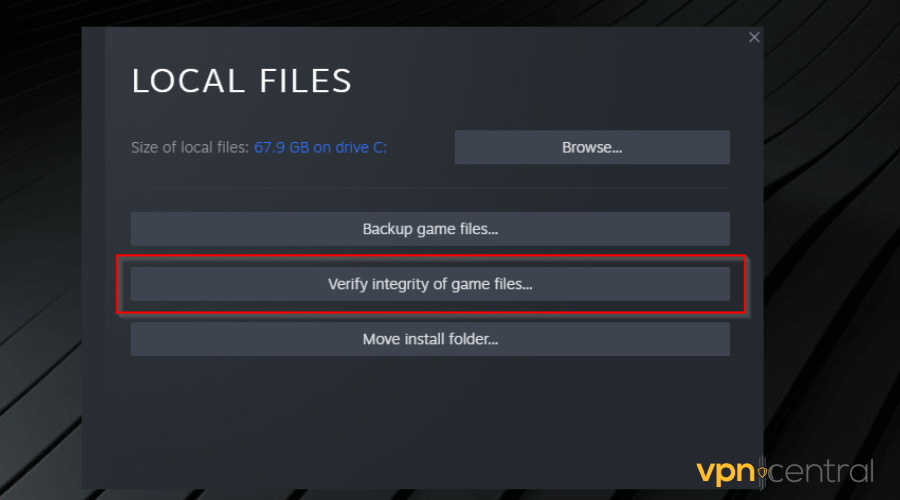 Stored cached files or data can interfere with your VPN working properly when playing GTA. For that reason, we recommend clearing it. The process is slightly different depending on the device you're using.
➡️ Clear data on a console:
Most consoles typically don't have dedicated cache-clearing options. To do that, you can just perform a clean boot. Turn off your console, unplug it from the power source and wait for a few minutes.
➡️ Clear data on PC:
If you use a PC, you have multiple options.
On Steam, open GTA's Properties and select Verify the integrity of game files. Wait for the process to complete and try again.
If you use Rockstar Games, go to Settings. Select a profile and then Delete the Local Profile. Confirm your settings and relaunch the app.
If you're still having issues, it's possible that your VPN is not good enough for GTA, in which case you should consider changing to a different client.
5. Use another VPN
Since GTA is a highly demanding game, you need to use a good VPN if you want it to work. Otherwise, you'll simply be bombarded with error messages that will leave you frustrated.
For smooth gameplay, without connection errors, lags, or spikes, it is recommended you use a premium VPN like Surfshark.
Visit Surfshark's official website to choose your preferred subscription plan.
Download and install the app to your device.
Launch the app and connect to a server.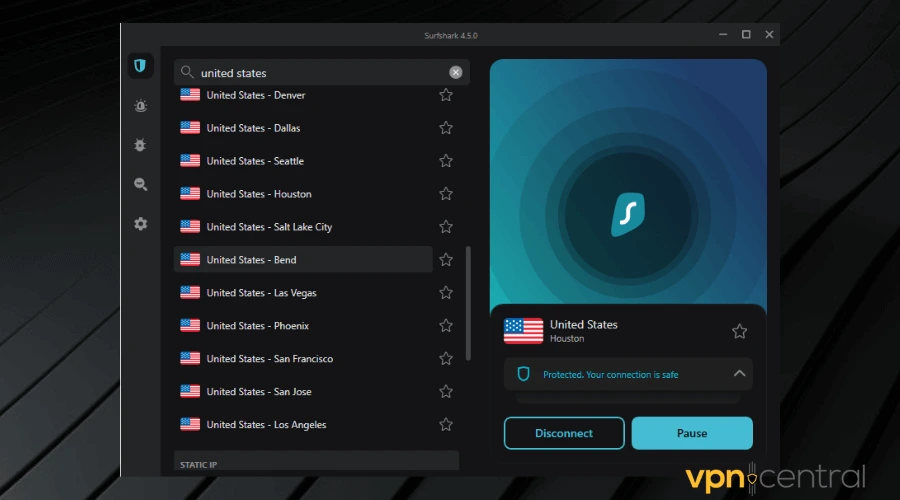 Enjoy your gaming session.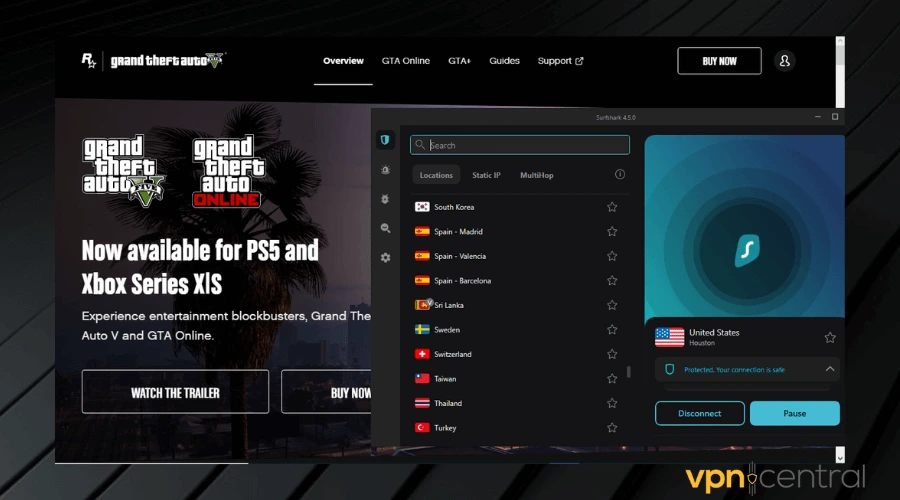 Surfshark supports use on unlimited devices with just one subscription. It also has some of the lowest one-month price rates, making it a highly affordable premium VPN.
The VPN implements a couple of security features like DDoS protection, a Rotating IP tool, and amazing encryption.
Surfshark has 3200+ RAM-only servers across 100+ countries all over the world. So you'll find a fast server for GTA from anywhere.
Additionally, it has a kill switch that cuts off your internet connection whenever you lose your VPN connection. This prevents DNS and IP leaks so you can avoid detection, further intensifying your anonymity.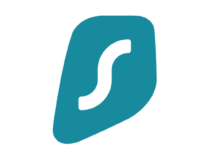 Surfshark
Make the most of your GTA experience by connecting to this fast and reliable VPN!
Wrap Up
We hope the above information helped you fix the error of GTA not working with the VPN.
If not, it could mean that your account has been banned by Rockstar, as a result of flouting their rules or using exploits to get an unfair advantage in GTA online.
Write them a mail via their support team to confirm the status of your account and further investigation or create a new account.
Tell us more about your experience in the comments below.