Nowadays, most services geo-block some content due to license agreements and distribution rights.
Understandably, you can bypass such restrictions by connecting to a VPN server and changing your IP address.
However, many users encounter a 1044 Error code requesting them to disable their VPN or proxy service before connecting to the platform.
This issue can happen with Amazon, especially while using Amazon Prime, a subscription-based service.
So, how does Amazon know I am using a VPN? How can I work around Amazon's VPN-blocking technologies?
Take a deep breath, and jump into the following paragraphs to learn more about Amazon restrictions and how to get around them.
How does Amazon know I am using a VPN?
Amazon knows you're using a VPN by checking to see if you're utilizing a shared IP address, DNS, IP, or WebRTC leaks and finding your actual location.
After detecting that you are utilizing a VPN, they employ several methods to block people from using VPNs to access restricted content on services like Amazon Prime.
These may include VPN port blocking, IP address blocks, traffic detection, etc.
Read below to find out exactly how Amazon does it.
1. Shared IP addresses
In reality, only a handful of people use the same IP address, most likely those connected to the same router and living in the same household.
However, many poor-quality VPN providers offer shared IP addresses to hundreds or even thousands of users to use simultaneously.
Accordingly, apps and streaming services like Amazon can detect unusual web traffic and immediately link it to a VPN service.
Finally, these IPs get blocked one by one until you can no longer use the VPN to connect to streaming platforms.
2. IP, DNS, or WebRTC leaks
When you connect to a VPN server, the provider encrypts all data regarding your actual location, including your IP or DNS.
However, if the VPN connection drops, even for a split second, your actual location gets exposed, and anyone can access it.
That is why Amazon Prime constantly looks out for IP, DNS, or WebRTC leaks that may disclose your original location.
Regardless, reputable VPN providers offer leak protection technologies to avoid such difficulties and keep your data safe.
3. Detect users' actual location
Finally, apps and streaming platforms like Amazon Prime can utilize GeoIP databases to detect users' actual locations.
Companies like MaxMind, Reklaim, DrivenIQ, Pixta AI, and Datastream Group provide IP intelligence through the GeoIP brand.
Meaning, they offer proxy detection and online fraud prevention tools to help businesses boost their user experience.
However, premium VPN providers deliver complete anonymity through advanced encryption protocols and trick similar technologies.
What to do if Amazon Prime says you are using a VPN but you are not?
Sometimes users report facing a VPN error on Amazon Prime while not using any encryption programs.
So, if you've disabled the VPN or proxy server, you can follow the guidelines below to resolve the issues with no hassle.
1. Delete browser data
Browser cache and cookies aim to provide a personalized user experience by tracking and saving user data.
However, if you've previously used a VPN on Amazon Prime, the browser data could trick the platform into believing you're still using one.
Here's how to delete browser cache and cookies on Chrome:
Click on the Start Menu, type Chrome, and press Enter.

Choose the Ellipsis icon from the top right corner.

Hover over More Tools and hit Clear browsing data.

Pick the Time range, check the box next to Cookies and other site data, and select Clear data.
Deleting browsing data is similar on other major browsers, including Edge, Firefox, or Opera.
2. Restart your device
Your OS keeps temporary files that could pile up and lead to several software conflicts and glitches.
Knowing such conflicts are a possible reason behind the regarded issue, rebooting your device clears your RAM and flushes such problems.
Here's how to restart Windows:
Open the Start Menu, click the Power icon, and select Restart.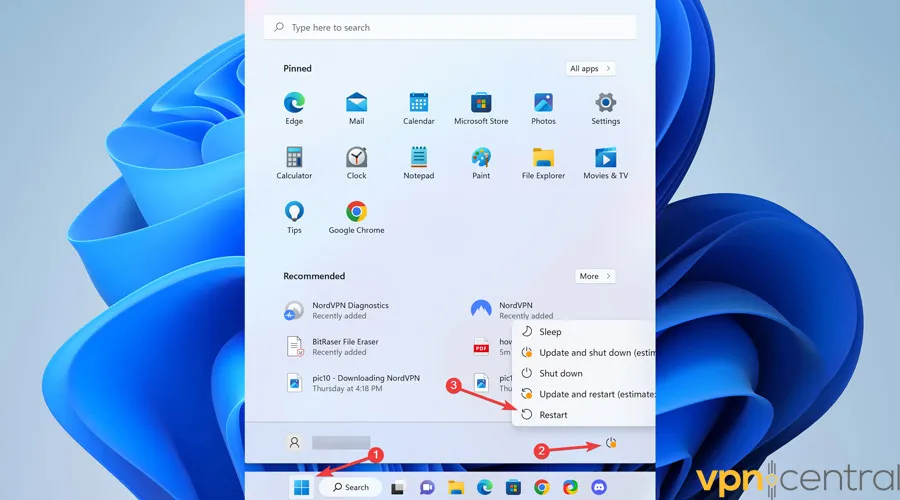 3. Contact your ISP
If clearing browser data and restarting your device didn't help, you could contact your internet service provider (ISP).
Doing so will ensure the problem isn't on their end, and the support team might provide additional guidelines to work around the issue.
4. Submit a report
Now that you know the issue is not on your end, contact Amazon's official support page and submit a report.
Additionally, Amazon's customer service phone number is 1-888-280-4331, which is live 24 hours a day, seven days a week.
How to get around Amazon's VPN block?
Amazon uses several VPN detection technologies to prevent users from bypassing the restrictions with a VPN service.
Detected users may face issues such as Amazon Prime Video is not available.
However, you can utilize the approaches below to get around these VPN-blocking policies conveniently and access services like Amazon Prime.
1. Change the VPN provider
Free VPN providers can never provide an utterly anonymous connection, leading to bans on streaming websites like Amazon Prime.
In contrast, a reputable VPN service offers additional security layers to prevent anyone from detecting your network connection.
For instance, NordVPN offers Obfuscation Mode, which hides the fact that you're using a VPN to deliver your traffic.
So, neither your ISP nor any online services can tell whether you're using a VPN server, which is helpful in heavily restrictive environments.
Finally, review the most popular providers and pick the one that meets your requirements.
2. Pick a different server
Although reputable VPN providers use the best technology to prevent the servers from getting blocked, they often do.
That is why in addition to offering optimal security features, they deliver thousands of servers worldwide for you to pick from.
So, if you're dealing with Amazon Prime's VPN error while using a premium VPN, try different servers to work around it.
Here's how to pick a different server on NordVPN. The process is pretty much the same for other VPNs.
Click on the Start Menu, type NordVPN, and press Enter.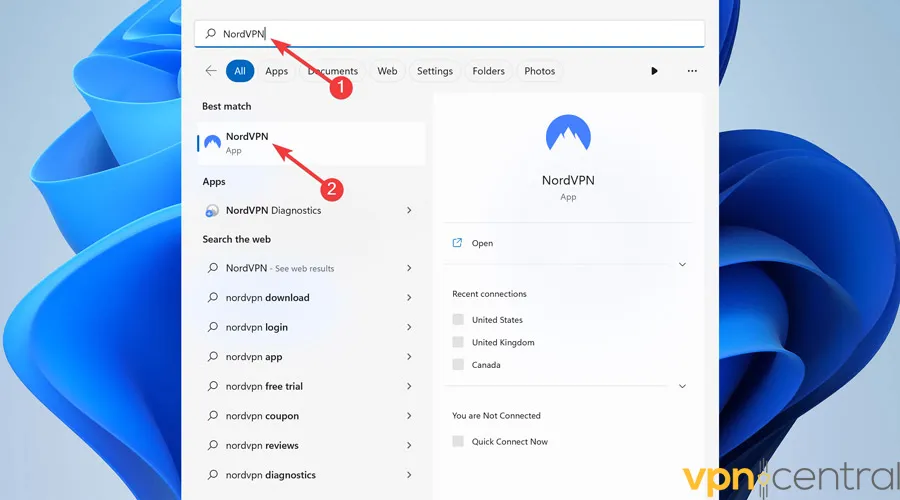 Use the Arrow icon to open the list of countries and pick a different server.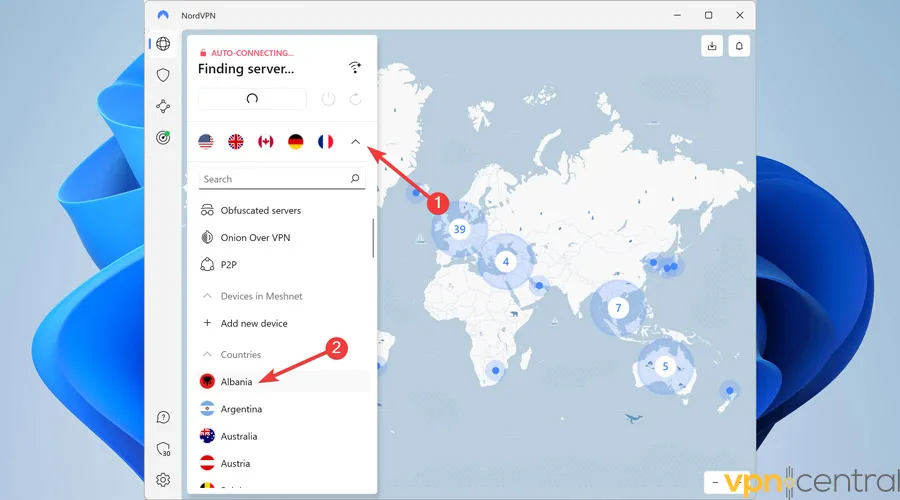 Summary
Amazon Prime and many other services geo-block certain content due to license agreements and distribution rights.
While you can conveniently bypass similar restrictions using a VPN, Amazon detects and blocks such activities.
So, how does Amazon know I am using a VPN? It uses technologies to detect shared IPs while looking for DNS or WebRTC leaks.
Regardless, you can work around these detection tools using a premium VPN provider specially made for such heavily restricted environments.