If you're a European currently living in the United States or are a fan of European TV programs in general, you might find out that watching them in the USA is a challenging task.
Channels like BBC, ZDF, France TV, and Rai offer a wide variety of exciting TV shows and movies. But unfortunately, they're all geo-blocked in order to respect licensing agreements.
The audiences allowed to watch these programs are usually restricted to the region the TV channel belongs to.
But in this article, we'll show you how to use a premium VPN to unblock these TV channels and watch your favorite programs hassle-free.
How to watch European TV in the USA?
There is a simple way to bypass the geo-restrictions imposed by European TV channels. You can use a premium VPN to change your location to the region where their programming is available.
After carefully testing the leading VPN providers, we found that the best way to access geo-blocked content is to:
Use ExpressVPN
To unblock your favorite European TV channels, just follow the simple steps below.
For the sake of this guide, we'll use UK's BBC iPlayer as an example:
Purchase a plan from the ExpressVPN subscription page.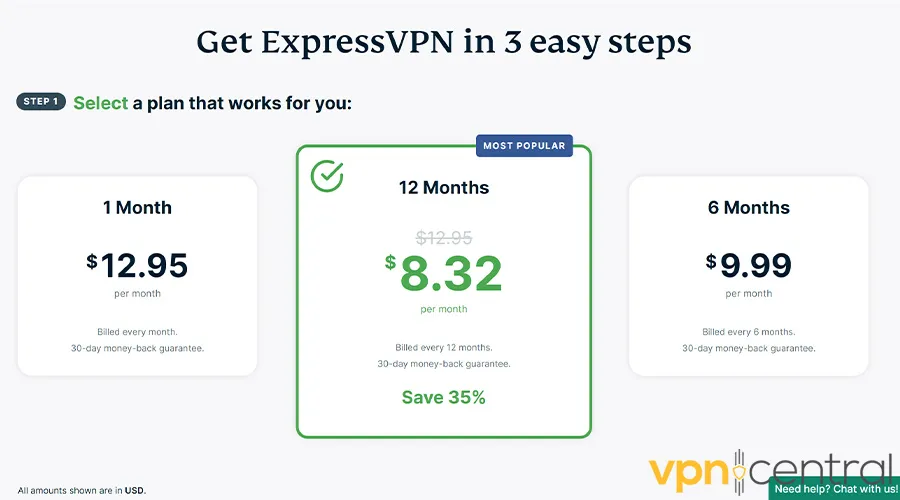 Choose the app suited for your device and download it.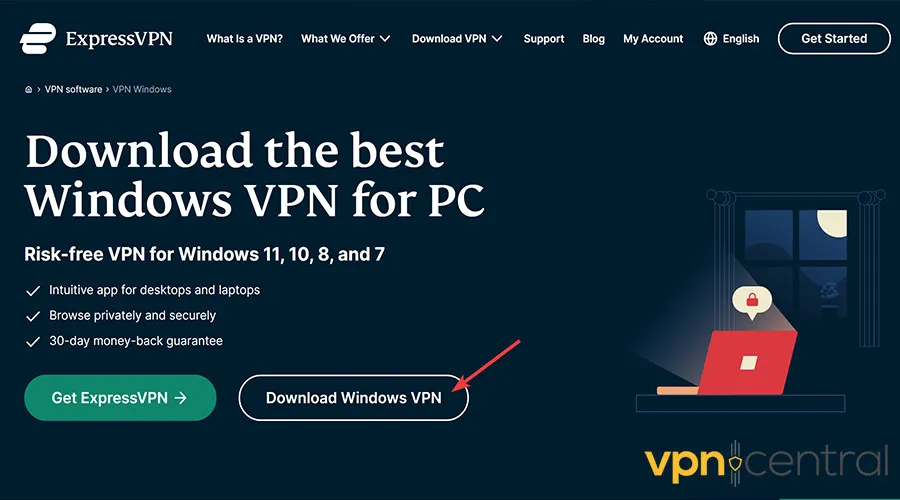 Install the ExpressVPN app and sign into your premium account.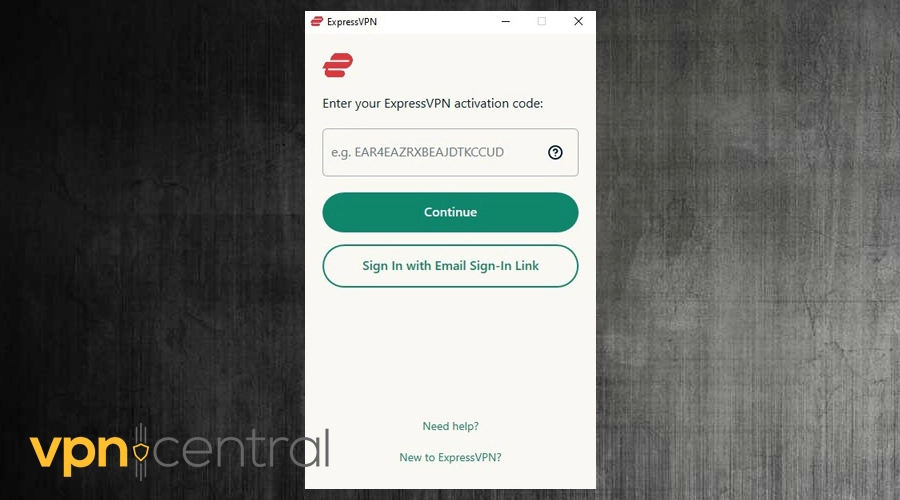 Connect to a server in the United Kingdom.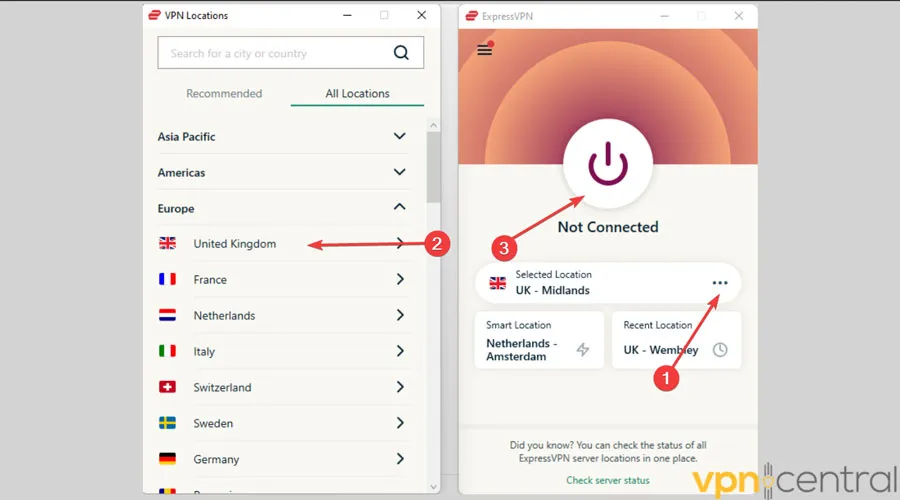 Go to BBC iPlayer and start streaming your favorite programs!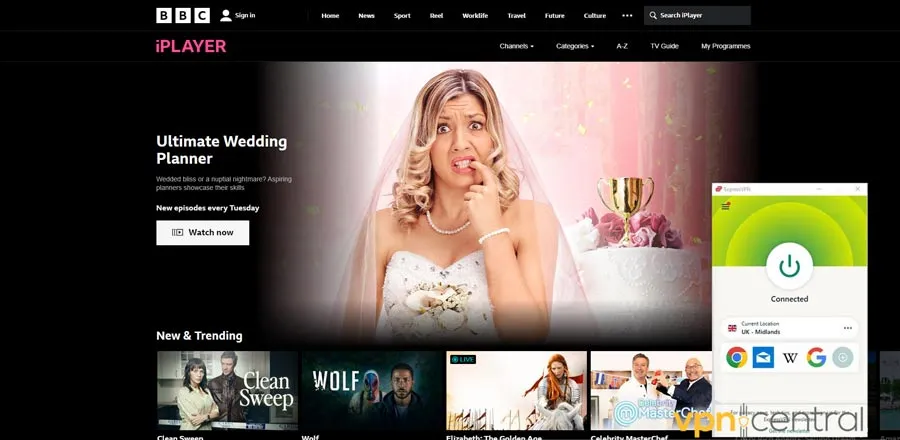 The same process can help you access any other TV channel. Just connect to a server in the corresponding country, and you're good to go.
Why do you need a VPN to watch European TV abroad?
As we mentioned above, European channels have to restrict their services to users in a specific region to avoid lawsuits due to the breach of copyright and licensing contracts.
They use a measure called geo-blocking that tracks your location based on your active IP address and ISP data.
However, a reliable VPN service can make quick work for these restrictions by routing your traffic through a server housed in a country of your choosing.
This process effectively hides your real IP and spoofs your location, so you can easily unblock any European TV channel you want.
Best VPNs for watching European TV in the USA
When selecting a premium VPN service to watch European TV in the USA, there are several criteria you must look for.
Most importantly, you need a wide range of fast servers in different locations across Europe that will allow you to bypass the geo-restrictions of various channels.
You also need your VPN to have great protective tools to keep you and your data safe while preventing any data leaks that might expose your actual whereabouts.
Here, we have listed our top choices for the job: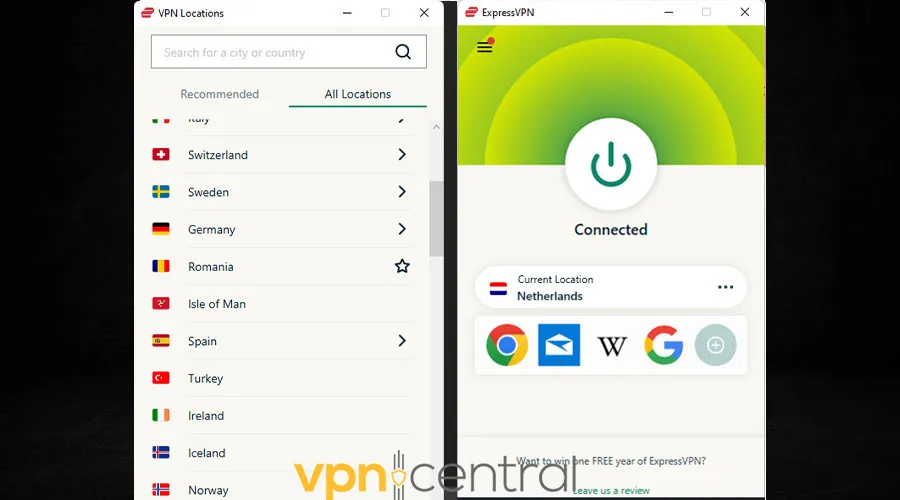 ExpressVPN is our number-one choice for unblocking European TV channels.
It has a multitude of servers spread across 40 countries in Europe, which will allow you to connect to whatever country in Europe you need to access your desired TV channel.
Moreover, this VPN uses the most innovative security measures, like AES-256 encryption, to ward off any cyber attack and data tracking, including.
It has excellent 24/7 customer support to help you solve any issue you might encounter while using the service.
Additionally, it offers key features such as split tunneling, kill switch, and obfuscation.
And its strict no-logs policy ensures your data won't be mined and sold to third-party companies and advertisers.
Pros:
Supercharged servers in 94 countries worldwide
User-friendly apps
Next-generation Lightway protocol
Risk-free 30-day money-back guarantee
No-logs policy keeps your data safe
Cons:
More expensive than rivals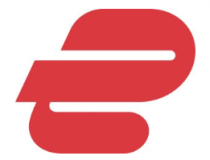 ExpressVPN
Easily unblock European TV channels and enjoy a fast and secure connection with ExpressVPN.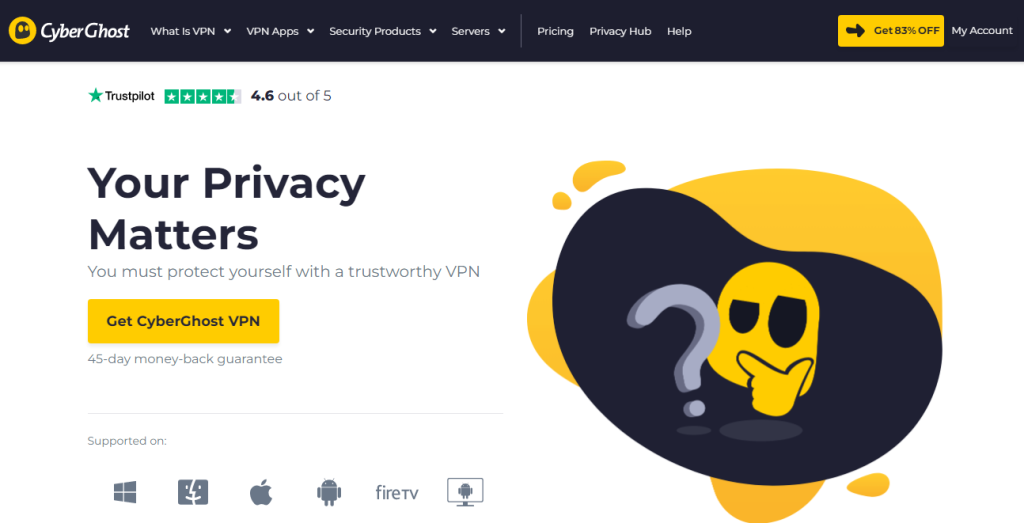 CyberGhost VPN is one of the best premium VPN services out there for unblocking European TV channels.
It has an extensive and fast network of servers around the world, including more than 4900 servers in 55 different locations across Europe.
And you get streaming-optimized servers that seamlessly unblock various platforms and provide high-quality, buffer-free viewing.
CyberGhost VPN employs advanced tunneling protocols such as OpenVPN, IKEv2, and WireGuard, and protects your data through military-grade AES 256-bit encryption.
What's more, its outstanding 24/7 customer service will help you deal with any issue you might face while using the VPN.
CyberGhost VPN uses a rigid no-logs policy to protect your anonymity online, clearing all user activity with each reset.
Pros:
Optimized Servers for Streaming
Hidden and shared IP addresses
Encrypted web traffic on public Wi-Fi networks
Torrenting protection
No-logs policy
Cons: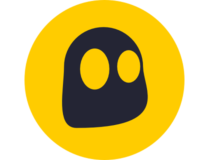 CyberGhost VPN
Benefit from streaming-optimized servers for a high-quality viewing experience.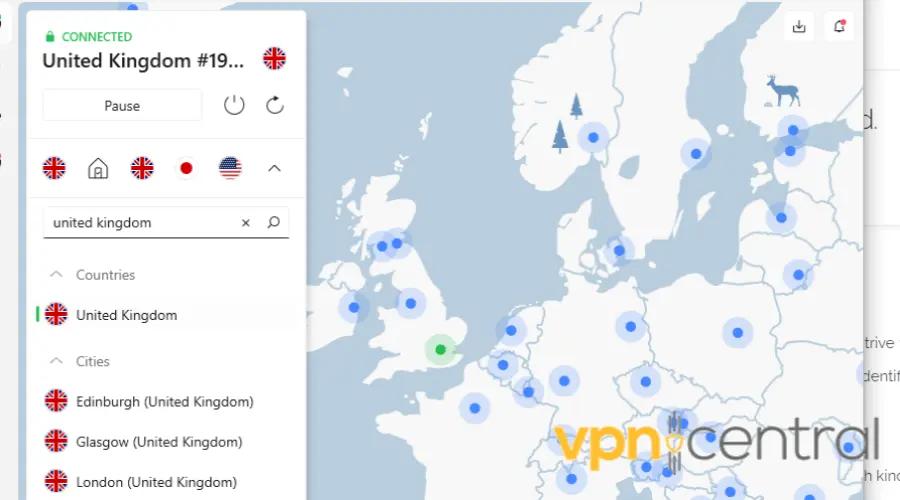 NordVPN is one of the best all-around VPN services out there and a great choice for unblocking European TV channels. It has over 5000 servers in 59 countries, including 38 European countries.
It offers highly-secure protocols such as NordLynx, IKEv2/IPSec, WireGuard, and OpenVPN, alongside AES-256 encryption.
Additionally, it has a no-logs policy put in place to allow you to surf the web without the threat of your data being mined and sold.
NordVPN also offers important features such as a kill switch, double VPN, and DNS leak protection.
And you also get 24/7 customer support to help you resolve any VPN-related problems.
Pros:
User-friendly interface
Integrated antivirus tools
Great features like split tunneling, Onion over VPN, and double VPN
A large and fast server fleet
24/7 customer support
Cons:
More expensive than most premium VPNs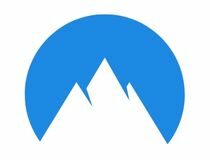 NordVPN
Enjoy a strong combination of speed and security with this leading VPN provider.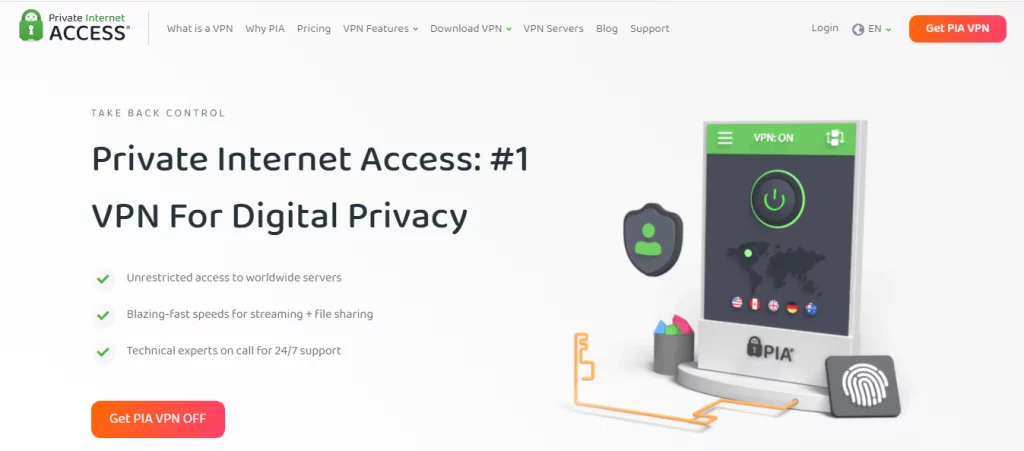 Private Internet Access is a wonderful alternative for you to unblock and watch European TV channels online buffer-free.
It has over 35,000 servers in 84 countries worldwide, helping you unblock geo-restricted content with ease.
What's more, PIA uses advanced security and privacy protocols, including WireGuard and OpenVPN. It has a transparent and open-source build that allows users to examine the underworkings of the service.
Additionally, this VPN offers great features like ad and malware blocking, obfuscation, multi-hop, split tunneling, and a kill switch.
It's much more affordable than the competition and is a great option if you want to get a highly-reliable service at low prices.
Pros:
Extensive server fleet
No-logs policy
Unlimited device connections
Powerful ad blocker
Multi-hop with obfuscation
Open-sourced and transparent
Cons:
Only supports WireGuard and OpenVPN (IPsec for iOS only)
Sub-par desktop client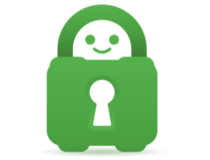 Private Internet Access
Have your pick of European servers and easily bypass geo-restrictions with PIA.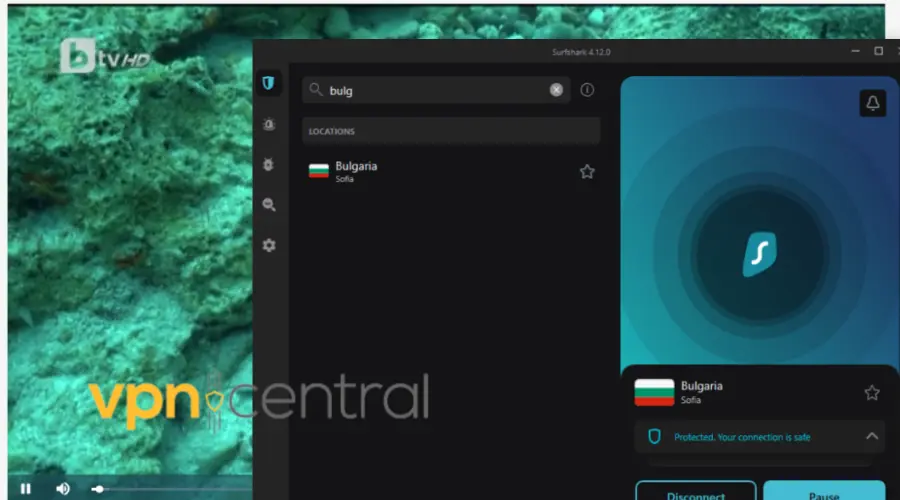 Surfshark is a great option for unblocking access to European TV channels. It has over 3200 servers in 100 countries, including an impressive 56 locations in Europe.
Surfshark uses security protocols such as WireGuard, IKEv2/IPsec, OpenVPN UDP, and TCP to ensure your safety and privacy online. And it keeps your data safe through AES-256-GCM encryption.
Its CleanWeb feature blocks ads, malware, phishing attacks, and data tracking, allowing you to have a safe online experience.
Surfshark offers you both multi-hop and split tunneling, which will allow you to connect to two VPN servers at the same time or whitelist an app you don't want to go through VPN.
Finally, you get an affordable price tag and the option to connect unlimited devices under one subscription.
Pros:
Cutting-edge privacy and security protocols
CleanWeb feature
Camouflage Mode for increased anonymity
Private DNS & leak protection
24/7 customer support
Cons:
Some features are unavailable for iOS
Lack of dedicated IP address option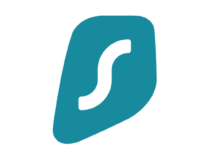 Surfshark
Make quick work of geo-blocks and stream on all your devices with Surfshark.
Which European TV channels can I watch online?
There are many European TV channels and streaming services with large catalogs of movies and TV programs that are not accessible outside their region due to geo-restrictions.
In the list below, we've gathered several European TV channels that are geo-blocked in the USA and can be accessed through a premium VPN service.
Here they are, alongside their most popular shows:
Is it legal to watch European TV in the USA with a VPN?
Yes, it's absolutely legal to use a VPN service to watch European TV in the USA.
VPNs are allowed in Europe and many people use them to unblock geo-restricted content. The only thing to be mindful of is respecting the terms of service of the streaming platform you're accessing.
Summary
To sum it all up, if you're trying to find out how to watch European TV in the USA, you simply have to use a premium VPN service.
It'll permit you to spoof your location to a country where European TV channels are available.
By changing your IP address, your VPN will bypass geo-blocking measures and let you watch your desired European TV in the USA with ease.
---