SteamUnlocked is a noteworthy player in the dynamic world of online gaming, offering easy access to an expansive library of pre-installed PC games, all without the price tag.
With an intuitive user interface and efficient search functionality, the platform simplifies game discovery and offers titles from Microsoft Windows and Xbox 360.
But is SteamUnlocked safe and legal? Find the answers below.
Is SteamUnlocked safe?
No, using SteamUnlocked to download cracked games isn't considered safe due to the potential risks this carries.
SteamUnlocked claims rigorous checks for malware to ensure virus-free games, but confirming this across all titles is challenging.
While the website itself doesn't contain viruses or malware, downloading cracked games from unverified sources can expose your device to malware, viruses, and other harmful software.
Additionally, links within the platform may redirect you to potentially dangerous phishing sites, increasing the likelihood of hacking attempts or data theft.
Another problem is ads and pop-ups that could lead to accidental clicks, exposing you to potential harm.
And above all, downloading cracked games from SteamUnlocked constitutes a direct violation of copyright laws.
These games are unauthorized copies, infringing on the intellectual property rights of game developers and publishers.
Engaging in piracy by downloading and playing these cracked games can lead to legal consequences. This includes fines and legal actions from the entities that created the games.
How to stay safe on SteamUnlocked?
Before we delve into the subject, let's establish that we don't condone any form of illegal usage or distribution of copyrighted content.
We aim to promote responsible and ethical behavior regarding digital content.
Respecting intellectual property rights and adhering to legal frameworks are not just recommendations. They're also essential principles when engaging with online material.
However, if you do find yourself using such websites, here are some tips to help you have a more secure experience:
1. Ensure your antivirus software is up to date
It's crucial to keep your antivirus updated to safeguard your system from potential threats. And even more so when downloading content from the internet.
It's a wise precaution, given SteamUnlocked's history of hosting malicious files in the past.
2. Refrain from clicking on ads
Malware often infects systems through ads, making it advisable to avoid interacting with any of them.
If you really need to click on an ad (for example, to get a game), only do it on reliable websites.
3. Check file size and extensions before downloading
You can identify suspicious files by assessing their size and extensions.
Genuine games are typically multiple gigabytes in size. So, if you see a really small file or a type you don't recognize (like .exe or .rar), it's better not to download it.
4. Use ExpressVPN
ExpressVPN encrypts your internet traffic and protects you against malware and other potential threats.
While employing a VPN is a sound practice during any internet activity, it becomes especially necessary when navigating platforms like SteamUnlocked.
5. Download only from reputable sources
To minimize risks while using SteamUnlocked, only purchase games from trusted sources.
Given the fact that malicious files often disguise themselves as game downloads, relying solely on established and reputable websites is the safest path forward.
Best VPNs for SteamUnlocked
From all of the above, using a VPN is your best bet to keep your online activity secure and anonymous.
It encrypts your data, hides your IP and location, and offers various tools to keep you safe from malicious ads, phishing attempts, and malware.
If you're looking for the best VPNs for SteamUnlocked, we did the research, found them, and listed them below for your convenience: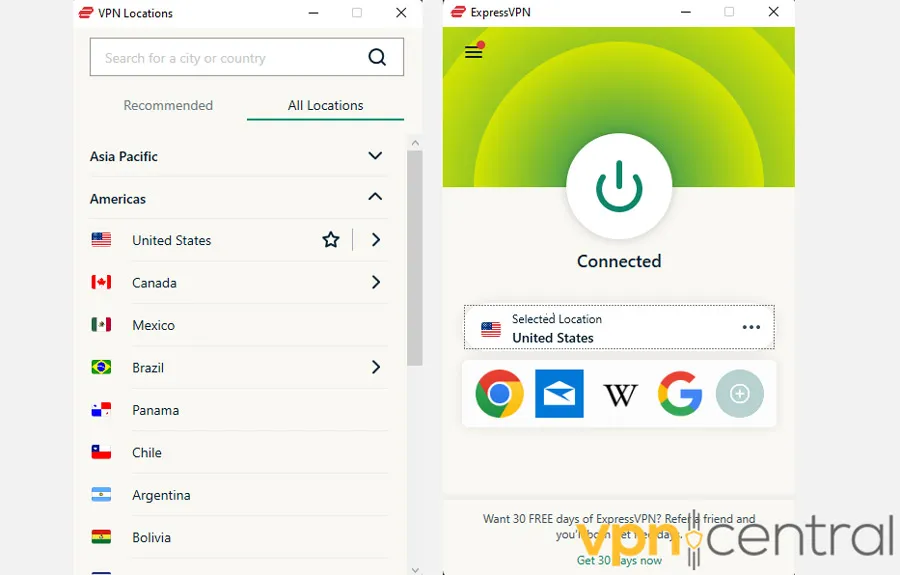 ExpressVPN excels in security with its suite of advanced features, ensuring your online activities remain private and protected.
Its TrustedServer technology makes sure all of your data is wiped clean from the provider's hardware after each server reboot.
The use of AES-256 encryption is another important piece of the puzzle.
This encryption standard is trusted by governments and security experts worldwide and ensures that your data remains unreadable.
Protocols, including Lightway, L2TP/IPsec, OpenVPN (TCP/UDP), and IKEv2, offer versatile options to tailor your access to SteamUnlocked content based on preferences for speed, security, or mobile compatibility.
By routing DNS queries through ExpressVPN's optimized network and within the encrypted VPN tunnel, you're shielded from public Wi-Fi operators, hackers, and other third parties.
If your VPN connection drops unexpectedly, the kill switch feature halts all internet traffic, preventing your IP address and sensitive information from leaking.
Pros:
Wide server network
Multi-device support
Split tunneling
TrustedServer security
Kill switch
Cons:
Lack of native IKEv2 support for Linux
Costly for long-term plans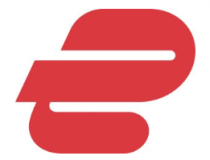 ExpressVPN
Enjoy the perfect combination of security and speed with this high-performing VPN.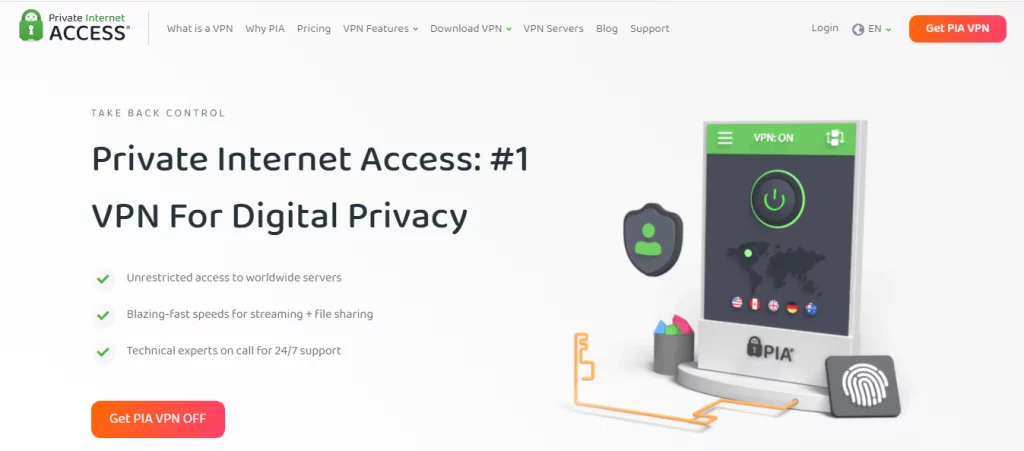 With a global VPN server network spanning 84 countries, including servers in all 50 US states, PIA guarantees ultra-fast connections, perfect for streaming, torrenting, and gaming.
Thanks to its 10 Gbps network and RAM-only architecture, your traffic is both speedy and secure, as session data is deleted on each reboot.
PIA employs encryption like 128-bit and 256-bit AES, the same ciphers governments and militaries use, making it a solid SteamUnlocked VPN.
Open-source VPN protocols, including WireGuard and OpenVPN, further enhance transparency and security.
PIA's proxy servers, like Shadowsocks and SOCKS5, add an extra layer of protection by routing your connection through an additional server location, making it even harder for anyone to trace your activities.
Advanced privacy tools, such as PIA MACE for blocking ads, trackers, and malware at the DNS level, offer a safer browsing experience.
Pros:
Global VPN server network
RAM-Only architecture
Unlimited bandwidth
Split tunneling
Unlimited device connections
Cons: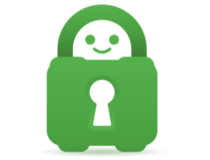 Private Internet Access
Benefit from a wealth of security features for safe downloading with PIA.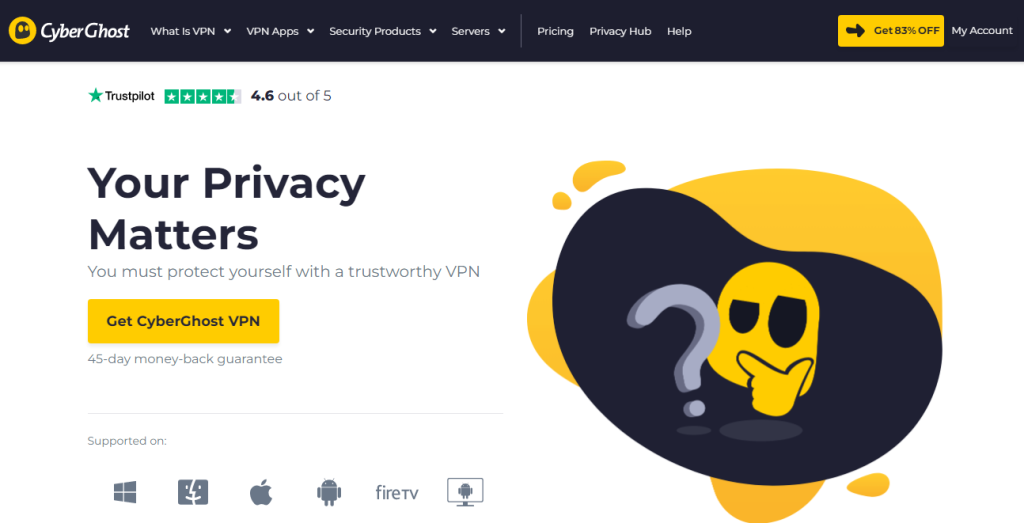 CyberGhost is a versatile VPN that excels in both safety and speed.
With 9532 servers across 91 countries, it masks your IP to deter online tracking.
Its industry-standard 256-bit AES encryption safeguards your data, making it virtually impossible for anyone to decipher.
CyberGhost's no-logs policy further enhances privacy by never storing your browsing history. And the dedicated IP feature provides a unique, unshared IP for added anonymity.
Three protocols – WireGuard, IKEv2, and OpenVPN – combine speed and security as WireGuard excels in performance, while IKEv2 ensures stability and OpenVPN offers customization.
The kill switch prevents data leaks if your VPN connection drops, while DNS Leak Protection and Wi-Fi Protection bolster security on unsecured networks.
So, is SteamUnlocked safe with CyberGhost? The answer is yes, as it blocks malware and dangerous ads, making it an exceptional choice to securely access SteamUnlocked content.
Pros:
Global network coverage
Ultra-fast speeds
Strong VPN encryption
Gaming, torrenting, and streaming-optimized servers
Dedicated IP
Cons:
Limited device connections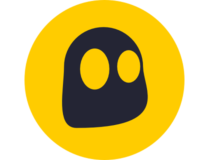 CyberGhost VPN
Enjoy top-notch security and gaming-optimized servers with this versatile VPN.
Conclusion
While SteamUnlocked claims to check for malware, downloading cracked games from unverified sources can expose you to viruses and hacking risks.
Moreover, the platform violates copyright laws, leading to potential legal consequences.
So, is SteamUnlocked safe? Yes, if you update your antivirus software, avoid clicking on ads, check file sizes and extensions, and use a reputable VPN.
We recommend ExpressVPN, PIA, and CyberGhost as the best SteamUnloced VPNs to protect user privacy and security while navigating the platform.
---