For TV and movie lovers, WatchSeries seems like a dream come true. The site grants free access to endless shows, films, and web series without ads or fees. However, is WatchSeries safe for users?
In this article, we'll look at the potential risks of using this platform, as well as security tips. Let's jump right in!
Is WatchSeries safe?
No, WatchSeries isn't entirely safe.
Although convenient, it comes with several risks you should remember:
Copyright issues: WatchSeries operates in a legal gray area by providing unauthorized streams. This opens users up to potential legal action in some regions for accessing illegal pirated content.
Malware threats: As an unregulated streaming site, WatchSeries has limited control over the third-party content it links to. There's always a risk of malware infection from fake links, pop-up ads, or downloads on the site.
Privacy concerns: Your streaming habits and IP address are visible to unknown parties when accessing the website. Your personal information could be collected, tracked, or exposed.
Quality control: Pirated streams can be low quality, cut out, and contain foreign subtitles. There's no guarantee that you'll have a flawless viewing experience.
So, you should proceed with caution when visiting the platform and understand the risks involved.
How to stay safe on WatchSeries?
Before going any further, let's be clear: We don't condone or encourage illegally accessing copyrighted content through sites like WatchSeries.
There are plenty of legal streaming options out there for enjoying movies and shows.
However, if you do decide to use WatchSeries, you should be aware of the risks and heed the following safety tips:
1. Use a trustworthy VPN service
A VPN will help anonymize your traffic and location. This makes it harder for anyone to monitor your streaming activities.
We recommend ExpressVPN for its advanced security features and no-logs policy. It guarantees your privacy while accessing WatchSeries.
Furthermore, its speeds are ideal for streaming. You won't experience any buffering or lags.
2. Use a reputable ad blocker
In addition to being annoying and distracting, ads and pop-ups may also contain malicious links or scripts that could infect your device. Additionally, they could steal your personal information.
However, you can avoid this threat with an ad blocker. It will prevent advertisements from appearing on your screen. That way, you'll be able to watch your shows without any interruptions.
3. Use antivirus software
You can protect your device from viruses, spyware, ransomware, and other threats with antivirus software.
By scanning your files and programs, it detects any suspicious activity and removes or quarantines harmful files.
Antivirus software can also prevent hackers from accessing your webcam, microphone, or keystrokes. Furthermore, it updates itself regularly to keep up with new threats.
For the best results, try Norton, Bitdefender, or Kaspersky.
4. Never provide any personal information
if you ever get prompted to enter any personal info on WatchSeries, don't do it! That includes your name, email, phone number, or credit card details.
The site doesn't actually require any registration to access its content. So, any requests are either a scam trying to get your details or a phishing ploy.
Your best bet is to exit immediately and avoid clicking on any fishy-looking links or ads.
5. Carefully check video links and sources
When using WatchSeries, it pays to be choosy about which links you open. The site typically provides a bunch of options for streaming, but don't go rushing to click the first one you see!
So, take a second to check each link and make sure it's from a legit source. You can mouse over them and see where they lead.
Some of them can even harbor malware that could mess up your device.
Best VPNs for WatchSeries
We'll introduce you to three of the most efficient WatchSeriesVPN services: ExpressVPN, CyberGhost, and PIA. All three are fast and secure and use strong encryption to protect your data.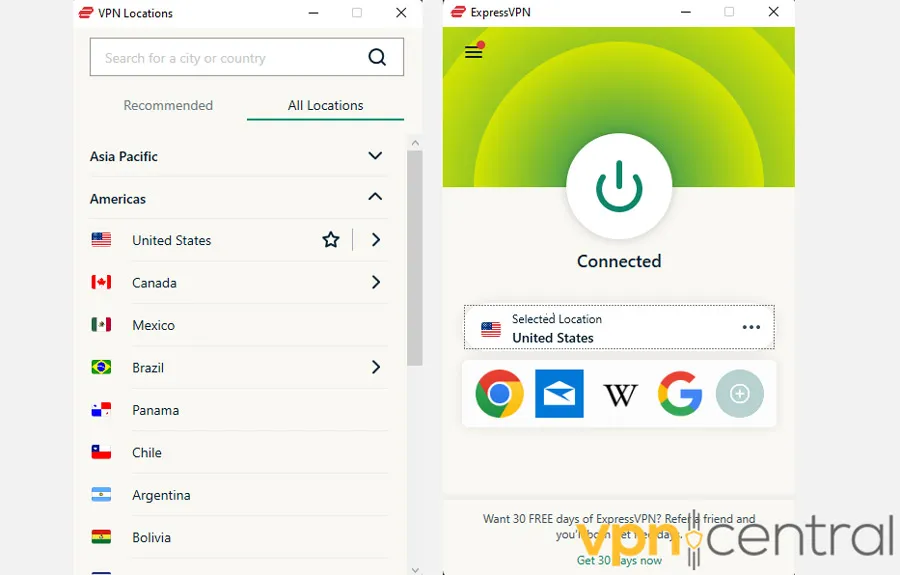 ExpressVPN is one of the most popular and trusted VPNs in the industry.
It has over 3,000 servers in 94 countries, offering fast and stable connections for streaming and downloading.
Additionally, it can unblock WatchSeries and many other streaming platforms, such as Netflix, Hulu, Amazon Prime, BBC iPlayer, and Disney Plus.
ExpressVPN also has a strict no-logs policy, which means it doesn't collect or store information about your online activity.
Moreover, it uses advanced encryption and security features. That includes a kill switch, split tunneling, and DNS leak protection.
Finally, you can count on easy-to-use apps for Windows, Mac, Android, iOS, Linux, and more. It also offers 24/7 live chat support and a 30-day money-back guarantee.
Pros:
Fast speeds for HD streaming
Strict no-logging policy
Uses secure protocols
Apps for all major platforms
Cons:
More expensive than some VPNs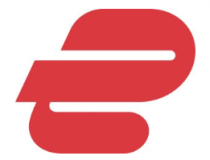 ExpressVPN
Enjoy a flawless streaming experience without any lag with ExpressVPN.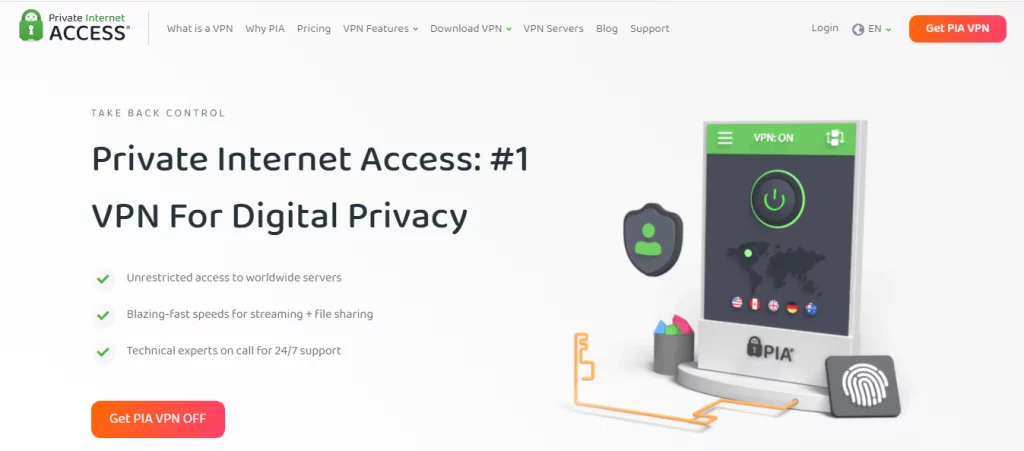 PIA (Private Internet Access) is a well-established and reputable VPN provider. It has over 10,000 servers in 84 countries, offering decent speeds and performance for streaming and downloading.
PIA can also unblock WatchSeries and other streaming platforms, such as Netflix US and UK4. It has a proven no-logs policy, as well.
Furthermore, it uses robust encryption and security features, including a kill switch, port forwarding, SOCKS5 proxy, and multiple protocols.
In addition, PIA has customizable apps for Windows, Mac, Android, iOS, Linux, and more. It also offers 24/7 live chat support and a 30-day money-back guarantee.
Pros:
Affordable pricing plans
Reliable performance for streaming
No traffic or activity logs
Supports torrenting
Cons:
Mobile apps could use improvement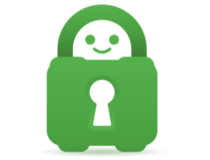 Private Internet Access
PIA is a great option for budget-conscious users looking to protect themselves on WatchSeries.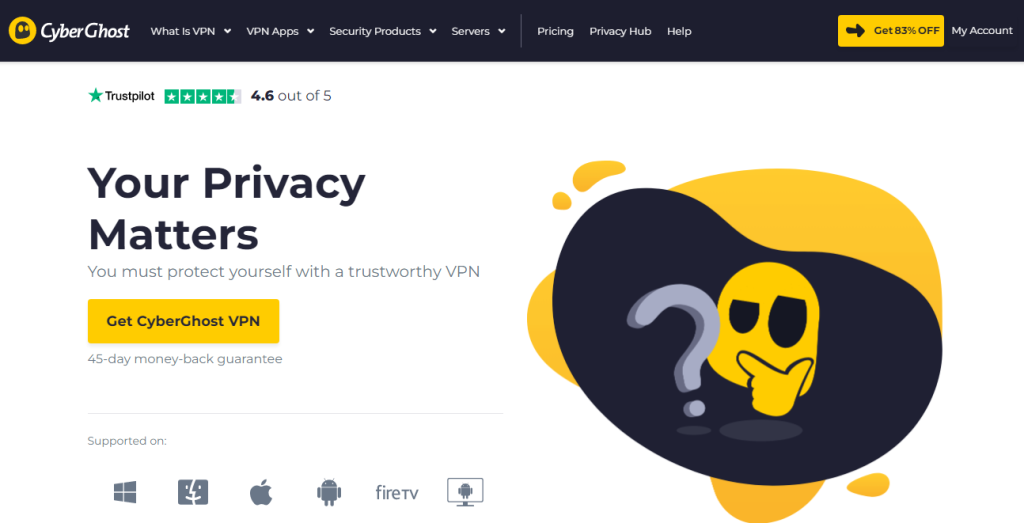 CyberGhost is an excellent WatchSeries VPN for users that prioritize their privacy. It has a huge network of 7,000+ servers in 90+ countries.
You can also unblock many other streaming services, such as Netflix, Hulu, Amazon Prime Video, BBC iPlayer, and Disney Plus.
Moreover, CyberGhost has a clear no-logs policy. It's been audited by an independent third party.
Additionally, it offers a kill switch, an ad blocker, a malware blocker, and Wi-Fi protection.
CyberGhost also has user-friendly apps for Windows, Mac, Android, iOS, Linux, and more. You can count on 24/7 live chat support and a generous 45-day money-back guarantee.
Pros:
User-friendly interface and apps
Good selection of streaming-optimized servers
Allows torrenting
Affordable plans
Cons:
Speeds can be slower than other VPNs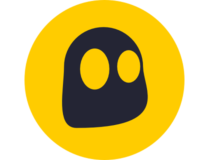 CyberGhost
CyberGhost's streaming-optimized servers make using WatchSeries a delight.
Conclusion
So, is WatchSeries safe?
Unfortunately, the website isn't secure. On top of copyright issues, it might expose you to malware or steal your personal data.
But don't worry:
You can minimize the risks by watching out for shady links, avoiding sign-ups, and using an antivirus and ad blocker. Most importantly, you should get a VPN if you want to keep your streaming activities under wraps.