Unless you're a premium subscriber who has downloaded content, you can't watch ITVX programming outside the UK without a VPN. It's one of the most effective ways to avoid the platform's error code: 01-04.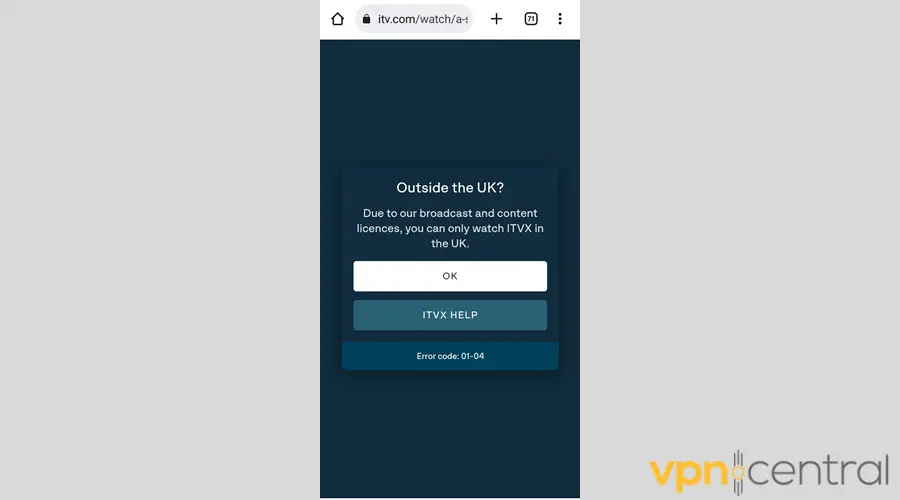 Having said that, simply masking your real IP address isn't enough to defeat the streaming service's geo-restrictions. That is why you may encounter the ITV error code: 01-01 message after turning your VPN on: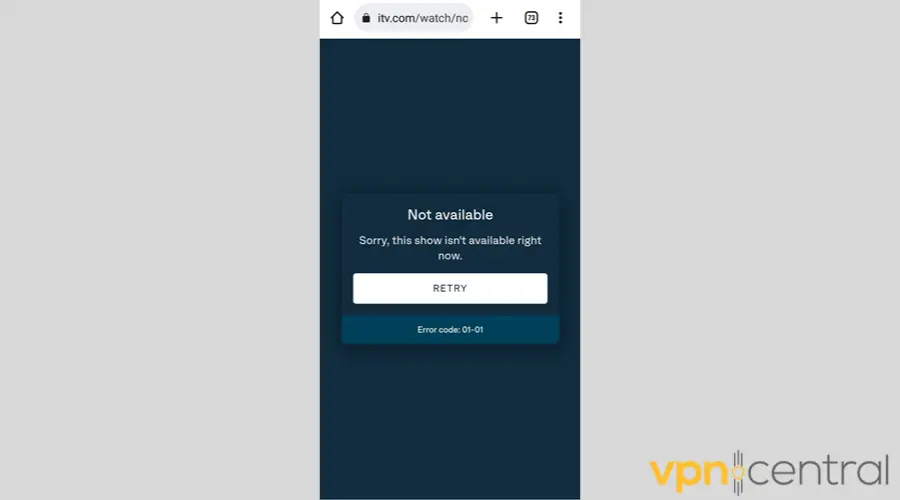 We addressed a similar issue when ITVX was still called ITV Hub. Apparently, a related problem continues to annoy British entertainment aficionados.
So, what can you do about it? Read on to find out why this error occurs and what can you do about it.
Why do you get the error – ITV sorry this video isn't available right now?
Here are the two possible reasons:
Your VPN traffic is detectable:
This message reminds us of ITV's infamous error 006 screen, which comes out when the streaming platform smells that you're connected to a VPN.
The only difference is that it doesn't say why it's blocking your access. It makes it seem like the content you're trying to view is unavailable at the moment, which is incorrect.
The truth is that ITVX senses there's something amiss with your connection even though your IP says that it's from the UK. It suspects that you're using a proxy and trying to watch programs outside of its service area.
Maybe it already knows that your IP belongs to a VPN vendor, which is why it's banning it.
In response, it prevents you from viewing its content from an unpermitted jurisdiction. This way, it won't get in trouble with the copyright holders of its programs.
You're using an inferior VPN service:
A good VPN service provider can circumvent the IP blockers of streaming platforms, especially the most popular ones. After all, getting around geo-restrictions is one of the common reasons why VPNs exist in the first place.
If your service can't do this basic task successfully, perhaps ITVX has already blacklisted all of its VPN IPs. In this case, it's useless at unblocking the streaming platform abroad.
How to unblock ITV from anywhere
Given the said culprits, check out our fixes to get rid of this error for good:
Change your VPN server
If ITVX can detect your VPN IP, then use another one. Most VPN vendors have no shortage of UK servers. So, try as many as you need to unblock the platform's restricted shows while you're away from home.
The beauty of this method is that it's super easy to do, making the process of trial and error painless.
To give you an idea, here's how to change VPN locations on NordVPN for Android:
Scroll down to NordVPN's UK servers without cutting your VPN connection.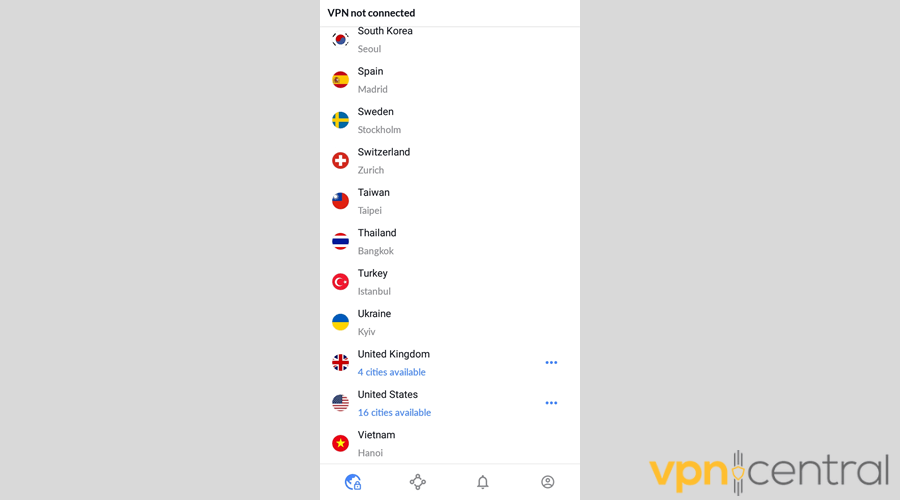 Tap the ellipsis icon to view all UK server locations.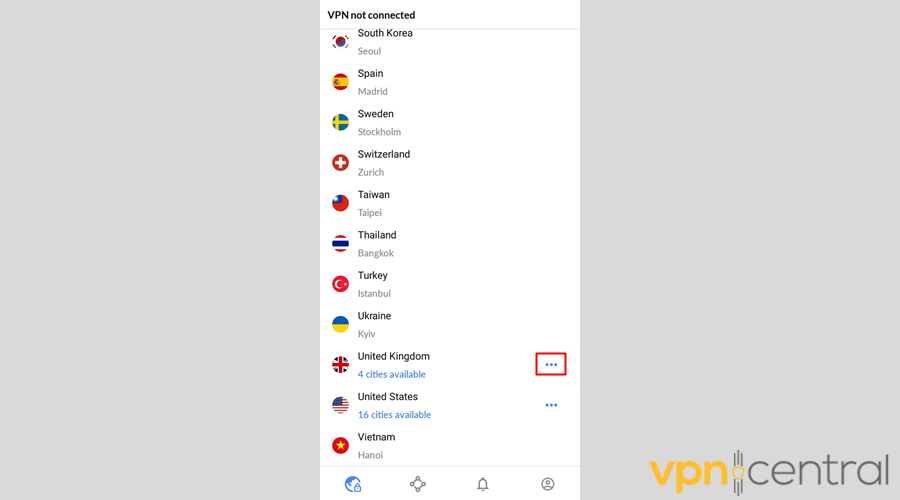 If you want to stay in the same British city, tap the refresh icon to instantly get a different VPN server from the same location.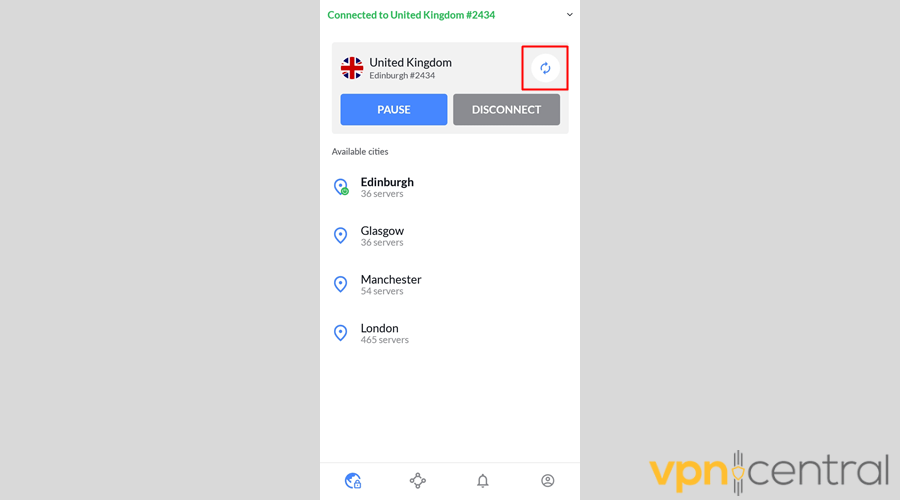 Refresh your ITVX screen to make sure that the platform recognizes your new IP.
Repeat the process until you can enjoy your favorite British programming.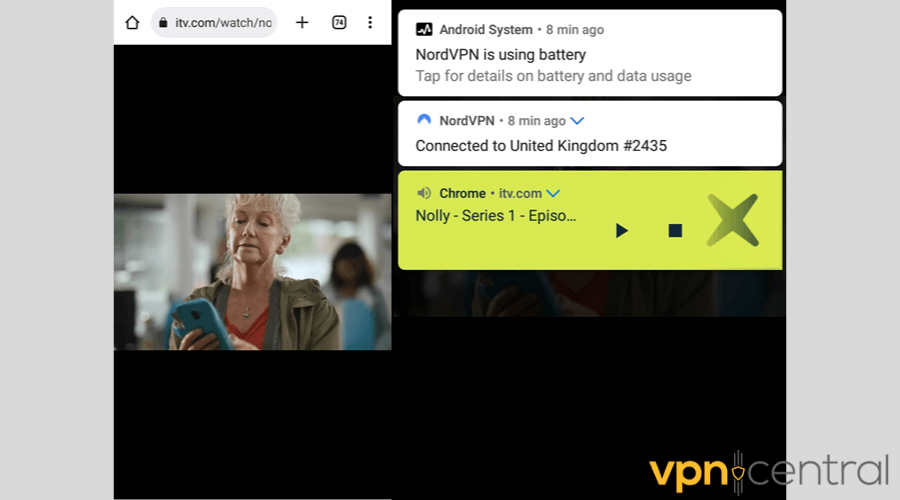 Switch to a more reliable VPN
Still getting the ITV sorry, this video isn't available right now error? Then, it's time to subscribe to a service that has proven to work properly with the platform.
The truth is many VPNs aren't as good as advertised, so it's wise to stay away from obscure ones and stick to industry leaders like NordVPN.
We love NordVPN as an ITVX VPN because it has nearly 600 UK servers spread across 4 locations.
As demonstrated above, switching VPN IPs on NordVPN is a breeze. It automatically reroutes your traffic to the best hardware in your chosen location, eliminating guesswork.
If you want to leave your ISP in the dark when using a VPN, you can take advantage of NordVPN's obfuscated hardware in London for stealth. You can access these specialty VPN servers when you choose any of the OpenVPN protocols in the settings.
Here's how to get started with NordVPN:
Visit NordVPN's website and pick a subscription.

Install the right NordVPN app for your device.

Run the software.
Connect to any UK server.

Once connected, binge-watch ITVX shows to your heart's delight!
What's more, NordVPN consistently ranks among the top providers for speed. So, you can rest assured that all of its UK servers will provide a stable connection with no buffering.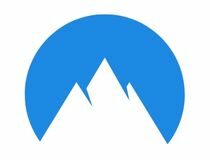 NordVPN
Unblock ITV from anywhere and enjoy the best streaming quality with NordVPN.
Wrap up
The ITV sorry, this video isn't available right now error message is a reminder that not all VPNs work to unblock this streaming service. But if you use NordVPN, you can access it from anywhere and enjoy your favorite shows in no time.
Do you agree with our VPN recommendation? Tell us your thoughts in the comments!