Kaspersky is one of the biggest names in the antivirus business. But the cybersecurity giant also has a VPN service.
It is known as the Kaspersky Secure Connection and in this review we'll check if this VPN measures up to the expectations.
Secure Connection has a simple and easy-to-use interface. Not only that, it's fairly low-cost, but with incredible value.
A general look gives the feeling it caters to home users and networking novices.
But let's see what it offers, in-depth.
How does Kaspersky Secure Connection VPN work?
Kaspersky Secure Connection VPN functions pretty much just like any other VPN.
When you connect to its servers, it encrypts your traffic and tunnels it.
Though the Kaspersky Antivirus Suite will protect you from external malware attacks, Secure Connection keeps you private and protected while doing your activities online.
No third party will be able to monitor your online behavior or subject you to various cybersecurity attacks.
---
RELATED: Fix Kaspersky Secure Connection not working
---
Kaspersky Secure Connection pricing
The VPN has both free and paid plans.
Let's review each Kaspersky VPN plan to see what you can get.
The free plan
The free plan is a good start as it lets you test out the VPN's operational efficiency.
It is available in both the Kaspersky Internet Security entry-level suite and the Kaspersky Total Security mega-suite.
However, purchasing any of these suites doesn't help you in any way get a discount for the premium VPN or even more features for the free plan.
You only get 200MB of traffic data a day, and 300 MB if you register.
That's quite low but still reasonably generous compared to other VPN apps. It will work for you if you only need a VPN to do a few sensitive things on public WiFi.
You, however, don't get to choose the server. This may not be the best offer, but at least you won't have to commit any cash to test out their service.
The monthly subscription
The monthly plan goes for $4.99 a month, and it gives you unlimited data use.
You also get full access to all their 18 servers, with simultaneous connections of up to 5 devices.
The annual subscription
The annual version of the paid plan goes for about $2.50 a month ($29.99 total), which is a terrific deal.
As you might have noticed, Kaspersky Secure Connection VPN pricing pits it among the cheapest VPNs in the market.
Further, Kaspersky Lab also offers you a 30-day money-back guarantee if you decide to purchase the VPN service
Payment methods
A major downside here is that Kaspersky Lab doesn't accept anonymous payments through Bitcoin. You can only pay for the VPN using a Debit/ Credit Card, PayPal, or a Wire Transfer.
Kaspersky VPN features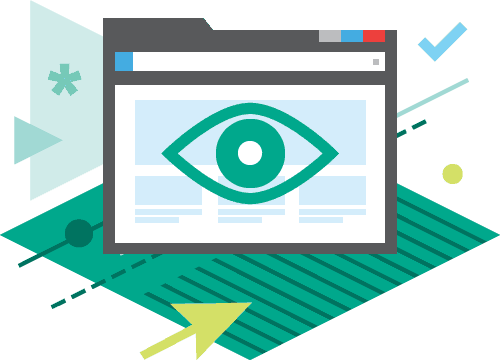 Kaspersky Lab, the maker of the Kaspersky Secure Connection VPN is a Russian multinational cybersecurity and antivirus provider.
The company has been in the cybersecurity and antivirus business since 1997.
So let's review Kaspersky Secure Connection VPN's features.
Compatibility
Kaspersky Secure Connection can be used on both mobile and desktop devices. It supports various operating systems which include;
All versions of Windows
Mac OS x 10.11 or higher
Android 4.1 or higher
Noteworthy is the absence of iOS support on that list.
This means that you can't use the VPN on your iPhone or iPad, which is a major letdown.
Further, they don't have a Linux or DD-WRT version that can be installed on a router to protect your whole home.
Servers & locations
Kaspersky Secure Connection currently has 2000+ servers.
This is quite a small number compared to the number of servers offered by other VPNs.
However, since the Kaspersky VPN is fairly new, we expect it to grow with time.
The number of servers offered by a VPN is usually of great significance in that you won't likely be stuffed with hundreds of other users in the same server, which strangles your bandwidth.
Privacy
Kaspersky has been an area of concern among users in the recent past, with it being from Russia.
The company has been accused of having some relations with the Russian Government. With the United States and Russia experiencing a rocky political relationship of late, the US government released a statement that it will be withdrawing Kaspersky Antivirus from its Systems.
This, however, hasn't been followed by much, and there has not been any concrete evidence linking the company with the Russian Government.
Kaspersky still enjoys a good standing among the security community.
That said, the Kaspersky Secure Connection is a different entity from the antivirus, and it offers you total privacy.
This is achieved by the fact that your data is first encrypted and that Kaspersky doesn't keep any logs.
On their website, they mention that,
Kaspersky Secure Connection won't log what you're doing online and won't keep any records of which websites you visit.
Further, AnchorFree which is the company that powers Kaspersky only monitors anonymous aggregated usage and session information. That doesn't harm your privacy.
Getting started with Kaspersky Secure Connection
Kaspersky Lab tries to keep everything simple when it comes to Secure Connection, and this starts right from their page about Kaspersky Secure Connection.
They try to keep things straightforward rather than clog them with VPN details, and this is carried forward to the VPN app.
The app is currently free with no in-app purchases. There will be IAPs, though. You can easily download and try it for free, from their website.
You should, however, note that Kaspersky Secure Connection cannot be installed in:
Downloadable is a 2.25 MB installer, which will then download an extra 14.8 MB file depending on the version. This will require an active internet connection.
The Windows client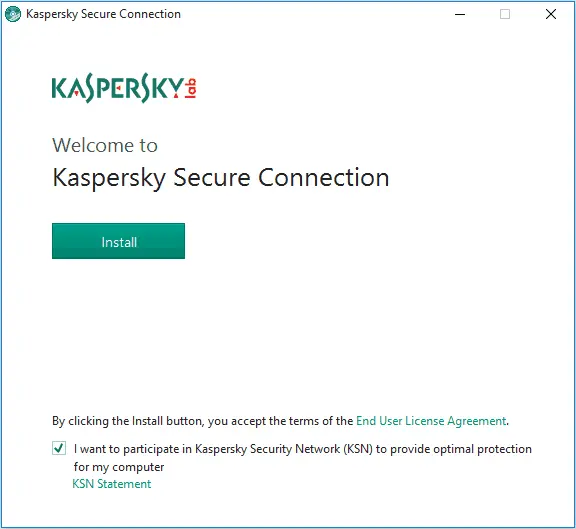 My first impression of the Kaspersky VPN client was a very simple VPN that even novice users would be comfortable with.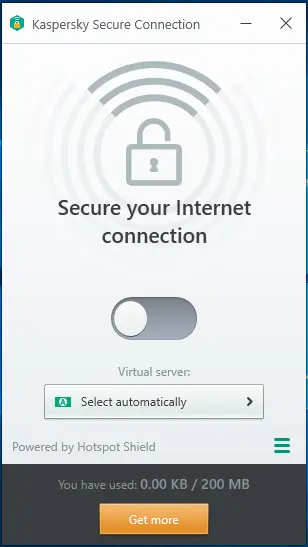 After installation, all you need to do is toggle the VPN On and Off button and you are good to go!
After you have successfully connected, the slider will turn green and you'll be told that your connection is secured.
To disconnect, you can just click the slider again.
With the free plan, you won't be able to choose a particular server, but the app will automatically connect you to one.
By default, it will pick the fastest server available depending on your location. This will work if you don't mind where you are connected, and you only need security as you carry out a few tasks.
With a subscription, you will be able to decide where to connect to.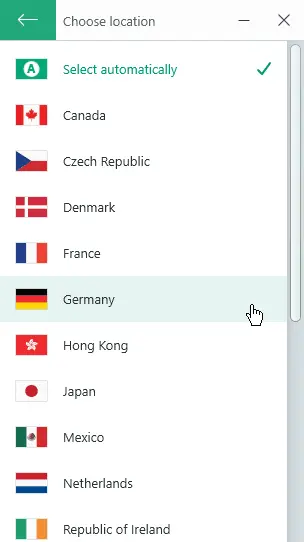 In the Settings window, Kaspersky Secure Connection lets you manage how the VPN app treats different WiFi networks.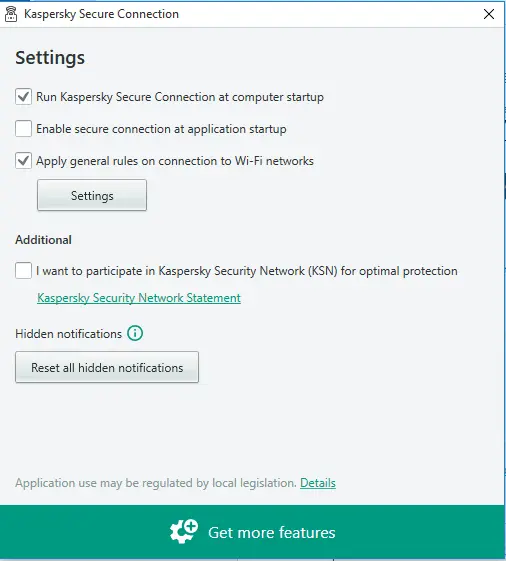 You can tell the app what it should do if you connect to a new and unsecured WiFi network.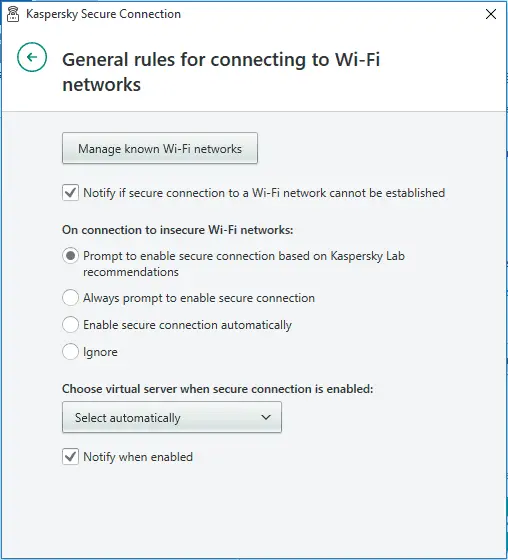 The Manage Known Networks feature lets you set what the app does when you connect to an already known WiFi network.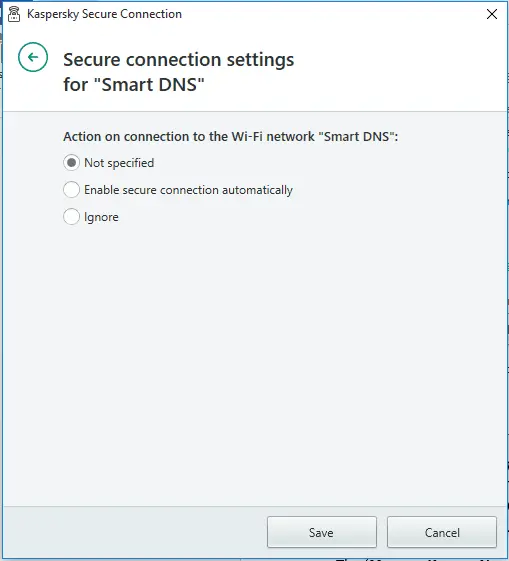 If there's a network you use whose security is of concern, you can set the app to Enable a secure connection automatically.
We can say that the only notable thing in the features section is the ability to set up what you want to secure with the VPN, be it an app or a website.
The other feature is the ability to configure your WiFi network behavior. Other than that, Kaspersky Secure Connection doesn't offer much.
Kaspersky Secure Connection speed test
Because the connection is tunneled through the VPN server, it's highly important for your client to be fast.
Otherwise, the internet will slow down tremendously. That's why in this review we also conduct several speed tests on Kaspersky VPN's servers.
Speeds are not the greatest positive for Secure Connection.
A test that was done with a connection of 100 Mbps for both download and upload showed a considerable decrease in speeds.
Without the VPN, the connection didn't perform exactly as advertised, posting a download speed of 80 Mbps.

When connected to the nearest server which was suggested because it was the fastest, the drop was highly noticeable.

Connecting to far away servers reduces the speeds further.
However, this may not be a major concern for the VPN at the moment, since it's not meant for users who want to stream HD content.
Kaspersky Secure Connection customer support
Kaspersky Lab is not the best VPN provider when it comes to VPN customer support. Their website doesn't offer much regarding customer support.
On the Menu button of the VPN app, there's a support option. Opening it gives you the window below.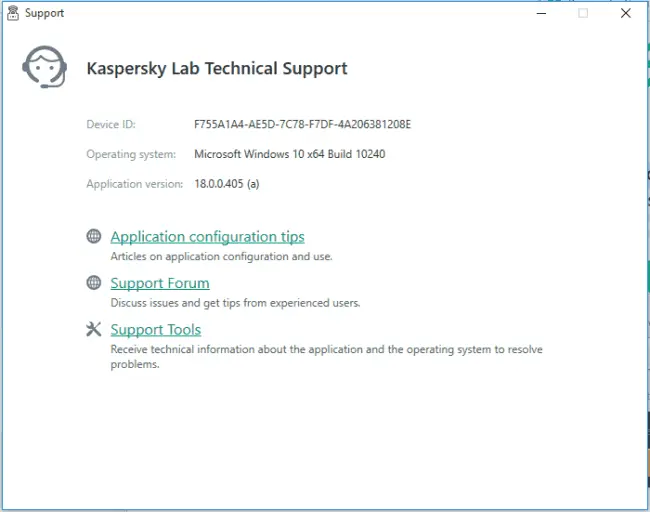 The first option will help if you have configuration issues, while the support forum will allow you get tips from other experienced users.
The Support Tools option allows you to send a report to the Technical Support tool.
There is no direct contact with the VPN support team by either Live Chat or Ticket System, which is not a good marketing point.
Kaspersky Secure Connection pros and cons
Pros
Super simple and clean interface
Free version
Affordable
Allows P2P
Money back guarantee
Rare Russian servers
Cons
Few servers
No iOS client
No Kill Switch, which secures users in case of a VPN connection drop.
No Bitcoin Payments for anonymity
Few features for advanced users
Conclusion
With Secure Connection, Kaspersky has become the latest big name to test the waters in the Virtual Private Network field.
We would describe this VPN as a great VPN for novice users, or people who just want to carry out general small tasks like securely accessing emails. This is because of its simplicity and low price.
However, the lack of really advanced features doesn't put it into the big-name VPN categories.
It will be interesting to see if Kaspersky Lab adds more features to its VPN or if simplicity is its aim.
Until then, we hope this Kaspersky VPN review gave you all the information you needed about this provider.
---