A VPN lets you play League of Legends in unavailable regions and unlock exclusive deals and features from around the world, but it's not always working.
When that happens, some users get error messages like There was an unexpected error with the login session, please try again, or simply an unexpected error occurred.
The good news is there's a way to keep playing with a VPN, and we'll show you soon. Keep reading
But first, let's explore why LOL may not work with VPN.
Why is League of Legends not working with your VPN?
Most likely, there's some underlying issue in your setup that stops League of Legends from working with your VPN:
Network firewall settings interfere with your VPN connection
Leaks of your true location and your actual IP
LOL may have previously blacklisted the VPN IP address you're using
Bad internet connection
Connecting to a VPN IP address from countries where LOL is not available
Your VPN software may be outdated or incompatible with League of Legends
Riot may flag your account if you change location to avoid hacking
Now let's see how you can fix those problems so you can play LOL with a VPN.
How to fix the LoL VPN issues?
Having issues with League of Legends not working with VPN? Here are some potential fixes for you.
1. Switch to a different VPN server
League of Legends might not function on specific VPN servers due to IP bans, excessive simultaneous connections, or inadequate configurations causing IP leaks.
Therefore, a prompt solution to fix League of Legends VPN issues is to select an alternate server. Here's how to do that:
Open your VPN app.
Disconnect from the current server.
Expand the server list and click connect or click on the search option to type a specific country name.

Connect to the server.

Launch LOL and see if you can connect.
For the best results: pick a server location closest to your physical location. This way, data won't have to travel that much so you'll have a faster connection.
Also, by trying out a few different servers, you can find one that is not overloaded by many simultaneous connections.
2. Allow your VPN through the firewall or antivirus
If firewall security settings or your antivirus block your VPN, it won't work with any online service, including League of Legends.
⚠️ Disabling your firewall or AV isn't safe, so it's best you whitelist the VPN or allow it through the firewall.
Here's how to do that on a PC:
Open Windows Defender Firewall.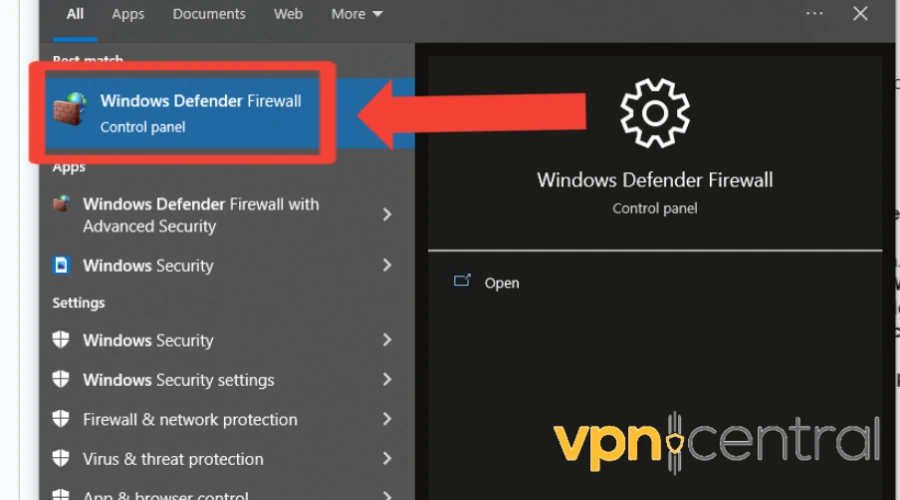 Click the Allow an app through the firewall link.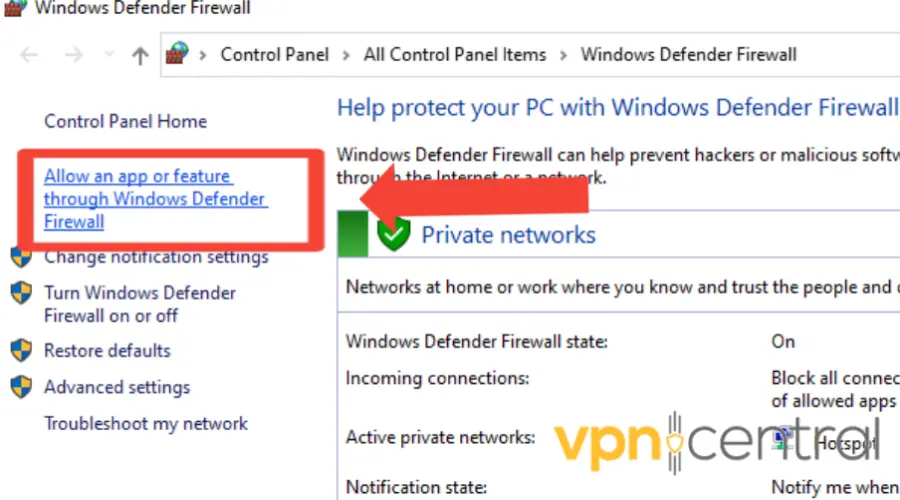 Find your VPN from the list of programs/apps
Check Public or Private to select the network type to run your VPN on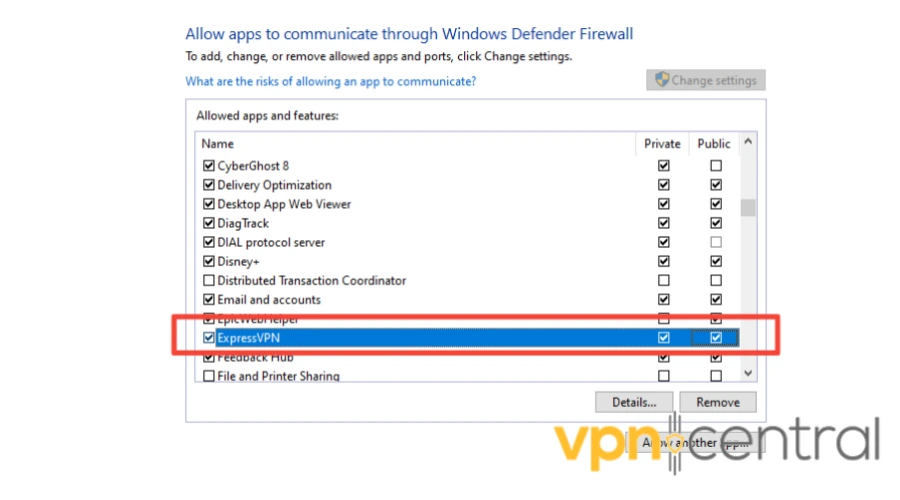 Click Allow another app if your VPN isn't on the list
Select your VPN
Click Add and then click OK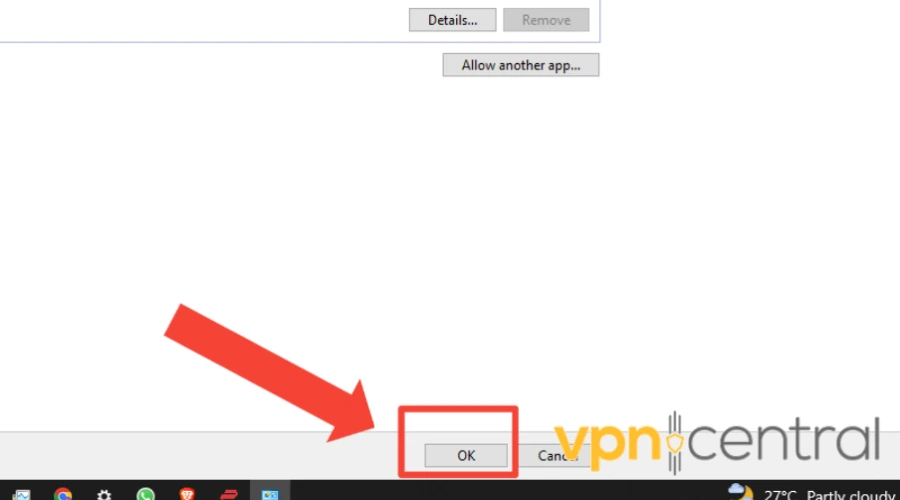 Allowing your VPN app through the firewall lets you connect to its network. As a result, the VPN will work with all apps that require internet access, including LOL.
3. Change your region in Riot Games
League of Legends may not work with VPN if the region of your Riot account does not match your VPN's location.
You can change the region on your Riot Games account to resolve this issue. To do it, you'll have to pay a fee of 2600 RP, which is approximately $20.
Nevertheless, here's a quick guide on how to do it:
Click on the store icon in the game and choose the Purchase RP option.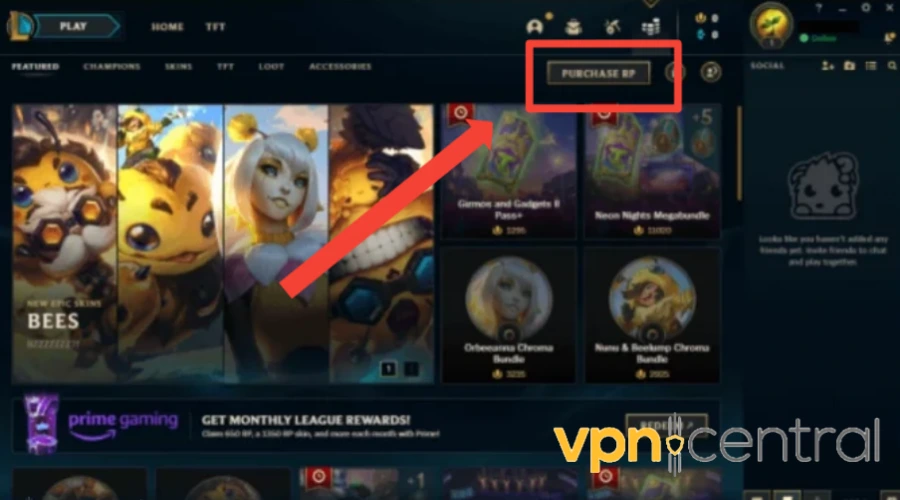 Select your preferred payment method.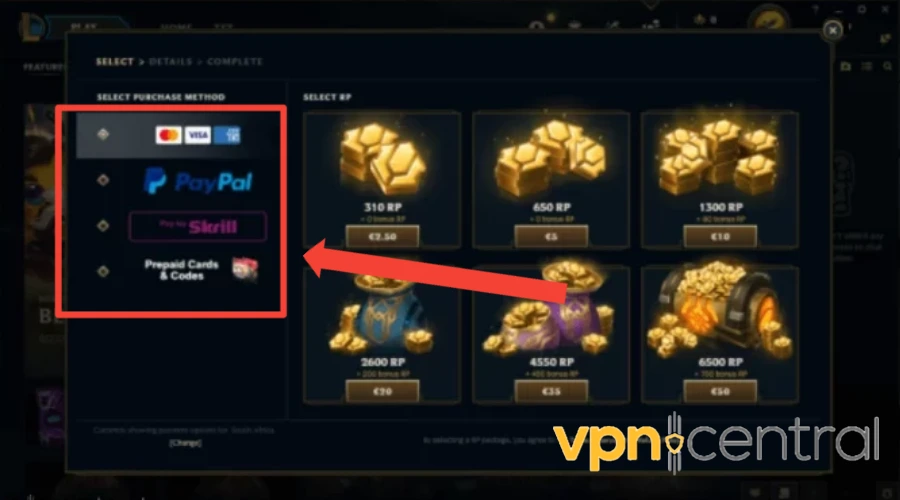 Make payment to complete the purchase.
Choose Account from the store page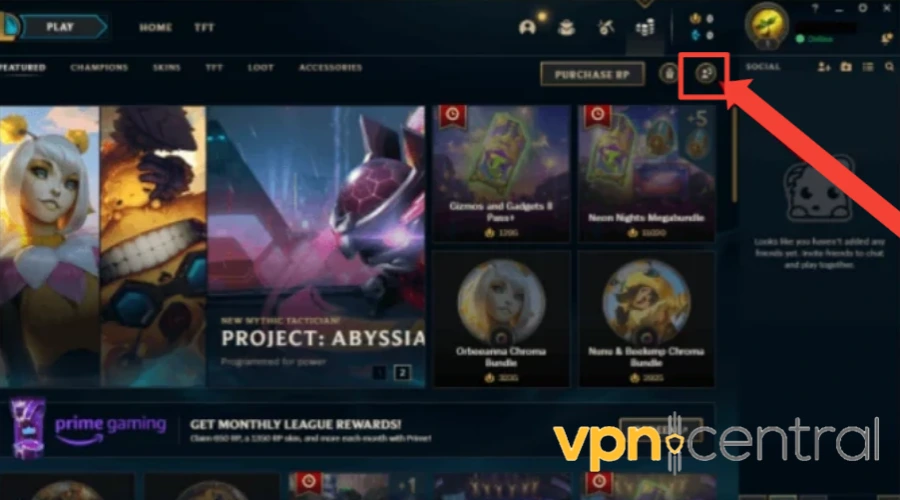 Select the region you wish to change to.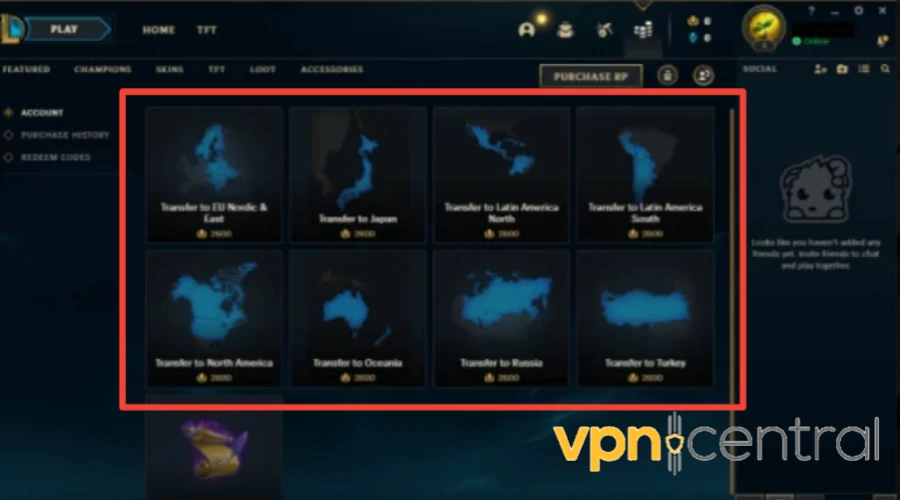 4. Change your VPN provider
Some VPN clients may not effectively conceal your IP address.
Therefore, if the above suggestions do not resolve your issues with LOL, it may be worth considering a different VPN client that provides better privacy and security.
We recommend using NordVPN, which has fast internet speed and IP leak prevention features.
Here's how to use it with Leagues of Legends:
Subscribe to a NordVPN plan and download the software.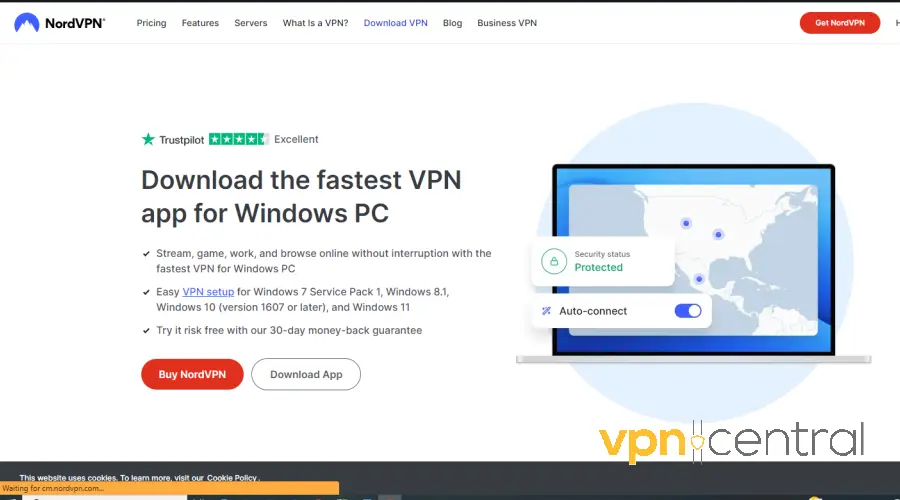 Install the app and login into your account.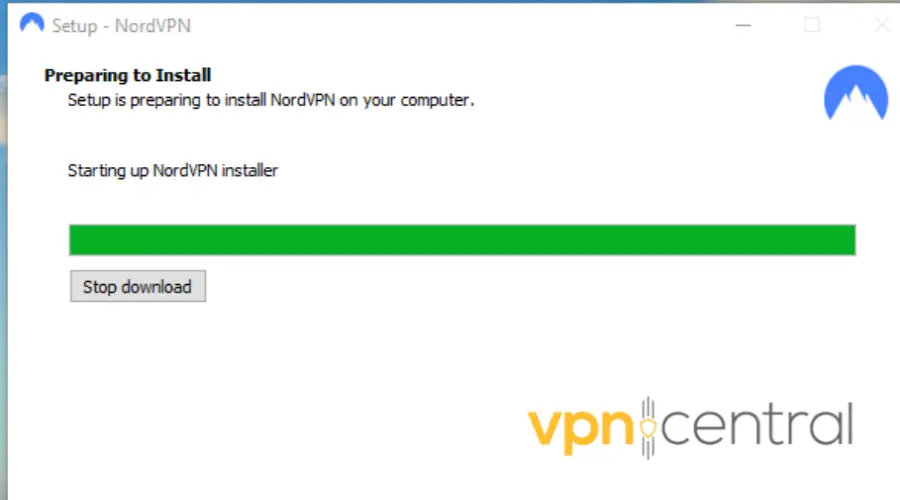 Browse the server list and select a server.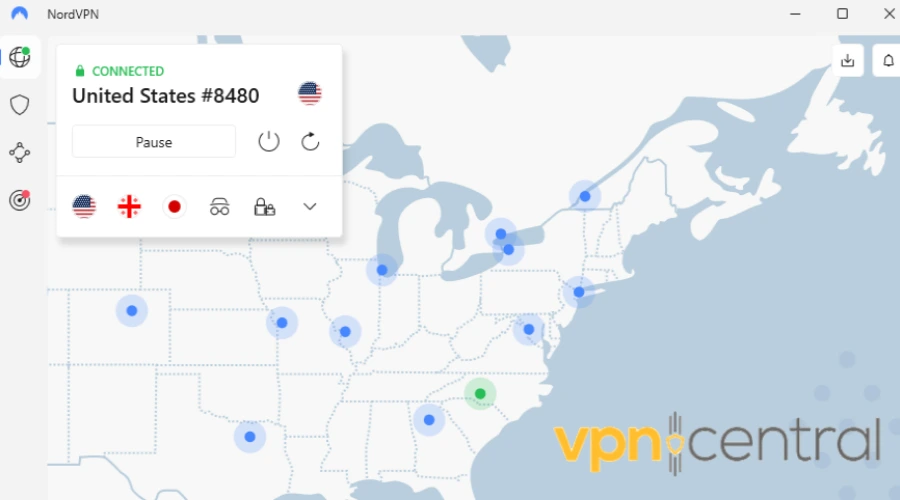 With your VPN connected, go to Riot's website and sign into your new PBE account to start playing.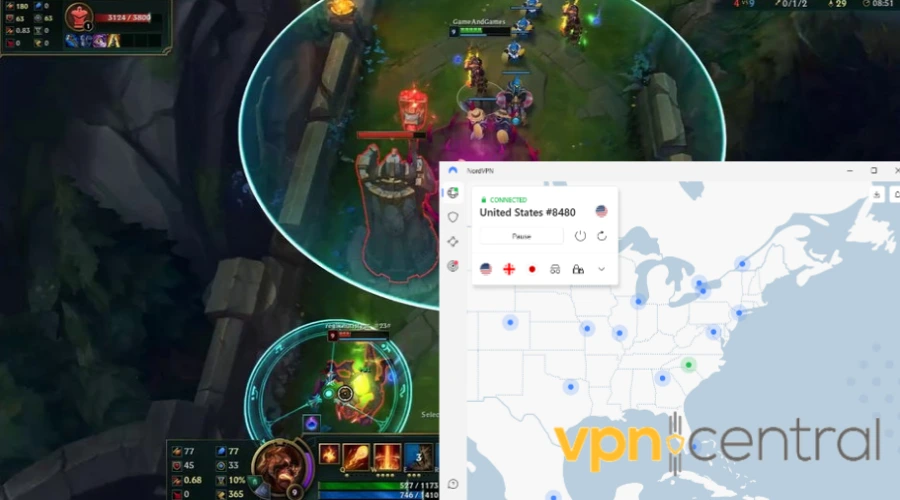 With 5000 servers in 60 countries, you'll have a broad range of servers and IPs to choose from in case one's not working.
Moreover, NordVPN has exceptionally fast speeds for gaming.
Not only that, but to protect you from malicious users, DDoS attacks, and tracking, NordVPN employs AES-256 GCM encryption, as well as a security killswitch, plus plenty of other security features.
Overall, with a VPN like NordVPN, you can unblock any geo-restricted chats and game servers and fix low FPS.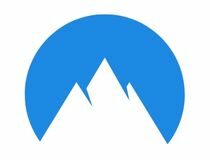 NordVPN
Get amazing download speeds for increased ping, top security, and error-free gaming on all LOL servers!
Summary
Slow VPN servers, security apps blocking the VPN as well as Riot games flagging your location change are the most common reasons why League of Legends is not working with your VPN.
Nevertheless, you did just see that the issue ain't that difficult to fix if you follow the correct steps.
We advise you to check all fixes above if one of them isn't working for you.