MakeMyTrip is an online travel company that lets users search, compare, and book a wide range of travel-related services. If you are traveling or living outside India, you might encounter an error saying MakeMyTrip is unavailable in your country.
But don't worry, there is a way to bypass this block and enjoy MakeMyTrip benefits anywhere in the world. All you need is a VPN.
In this blog post, we'll explain the reasons behind this geo-restriction and show you how to access the platform globally. Let's go!
Where is MakeMyTrip available?
MakeMyTrip is available in multiple countries across the world, including:
India
The United States
The United Arab Emirates
Singapore
Malaysia
Thailand.
It has established a strong presence in these countries, catering to millions of users' travel needs.
However, due to licensing agreements, legal constraints, or other factors, MakeMyTrip might not be accessible in some countries.
Why do you see this error MakeMyTrip unavailable in your country?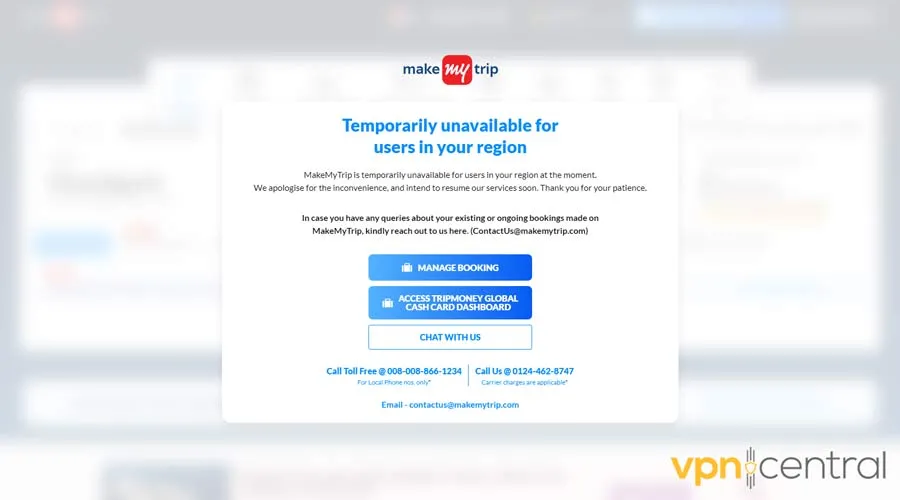 The main reason you see this error is that MakeMyTrip uses geo-blocking technology. It restricts access to its website based on your location.
Geo-blocking is a common practice among online services that want to:
Comply with licensing agreements
Protect their content from piracy
Offer different prices or products to different markets.
There can be several reasons for this restriction, including:
Licensing and Legal Restrictions — MakeMyTrip may have exclusive licensing agreements with certain travel providers. Additionally, local regulations and compliance requirements may pose challenges to its operations in certain regions.
Regional Competition — In some cases, MakeMyTrip's unavailability could be a strategic decision due to intense competition with other travel agencies.
Content Localization — MakeMyTrip might have localized versions of its website and services tailored to specific countries or regions. If your country doesn't fall within its target market, it may choose to restrict access.
Furthermore, geo-blocking works by detecting your IP address and your physical location.
So, if your IP address doesn't match the MakeMyTrip regions, it will deny you access to its services.
How to access MakeMyTrip from anywhere?
The answer is simple: use a VPN if you are outside India or any other country where MakeMyTrip is unavailable.
A VPN masks your IP address and encrypts your internet connection. This provides you with a secure and private tunnel to access the internet.
Several VPNs can help you access MakeMyTrip and bypass geo-restrictions. After trying out various options, one service stood out from the rest — ExpressVPN.
ExpressVPN is an excellent choice for those looking for a MakeMyTrip VPN. It has a vast server network of 3,000+ servers in 160+ locations across 94 countries.
It also offers top protocols like OpenVPN, IKEv2, and Lightway for a secure and fast connection.
Here's how to get the service up and running:
Visit ExpressVPN's website and subscribe to the service.

Download and install the software on your device. The app is available on nearly all platforms.

Follow the on-screen instructions to install ExpressVPN.
Launch ExpressVPN, sign in and choose a server location. Connect to it to access MakeMyTrip from a supported country.

Finally, visit the MakeMyTrip website.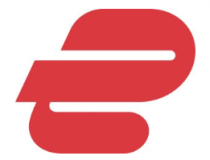 ExpressVPN
ExpressVPN's secure encryption and global servers will help you unblock MakeMyTrip anywhere.
Wrap up
MakeMyTrip is only accessible in select countries due to geo-restrictions. But with a VPN, you can get around this obstacle.
It encrypts and hides your IP address, so it's harder for others to track you.
So, is MakeMyTrip unavailable in your country? If yes, just install a premium VPN service and bypass the restrictions.