Global cyber threats are more than ever on the rise. As homes and businesses embrace technology, so is the upsurge of hackers.
Moreover, the 2020 COVID-19 impact saw organizations embrace work-from-home policies. The move, though productive, partly became the center stage for cross-border online attacks.
This positioned some nations as catalysts for cybercrime activities while leaving others vulnerable. And the threat is way more significant than you can imagine.
But how big of a problem is it and why should you care?
Tag along as we uncover the most dangerous countries for cyber attacks. Explore all details in depth and gain vital insights necessary for safeguarding yourself.
In this article:
Ready? Here we go!
Most dangerous countries for cyber attacks
Here's the list of countries that experience the most cyber attacks on the planet, as of the fourth quarter of 2022: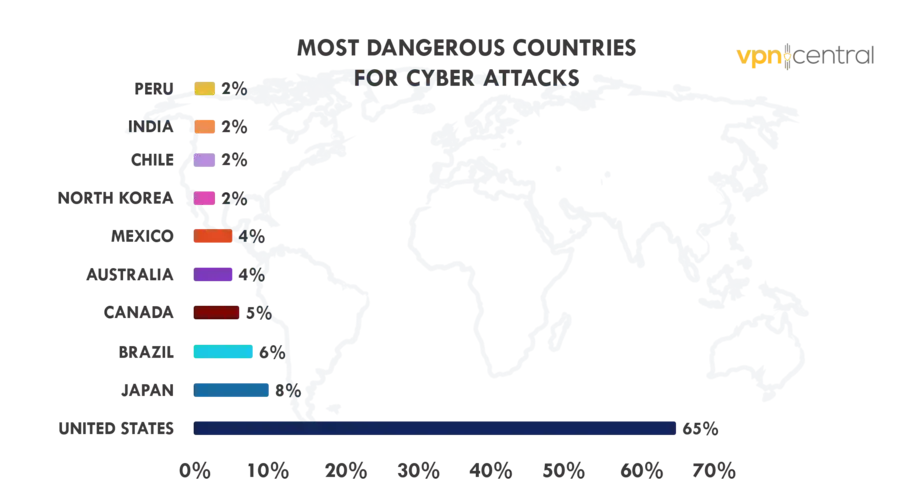 But why is this the case?
United States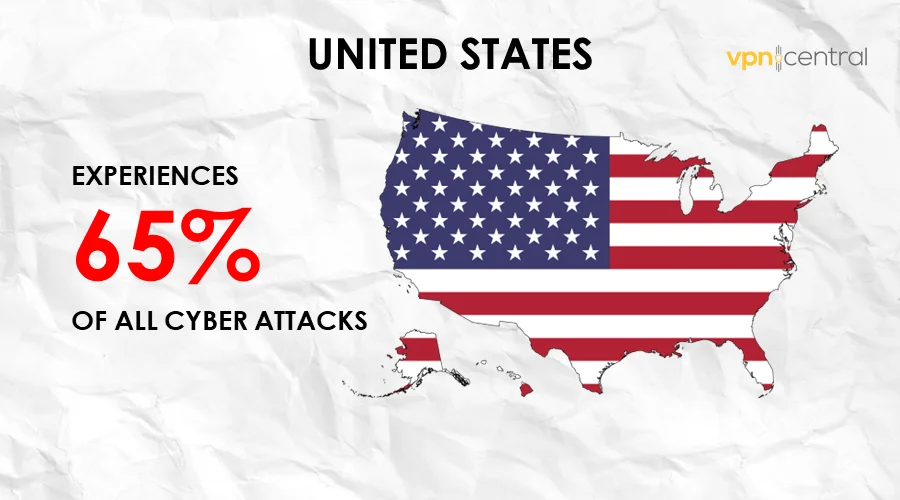 It's not surprising that the United States receives the most cyberattacks worldwide. The country is among the few with extensive infrastructure powered by technology.
America is also home to big tech giants like Apple, Microsoft, Intel, etc. Their massive portfolio of intellectual properties (IPs) makes them baits for cybercrime.
Additionally, its involvement in geopolitics attracts all manner of cyberwarfare from rival nations. Specifically, Russia, China, North Korea, and Iran rank as top aggressors.
Notably, the US ranks sixteenth on cybersecurity preparedness. This shows existing loopholes in the country's cyberspace, which put web users at risk.
Japan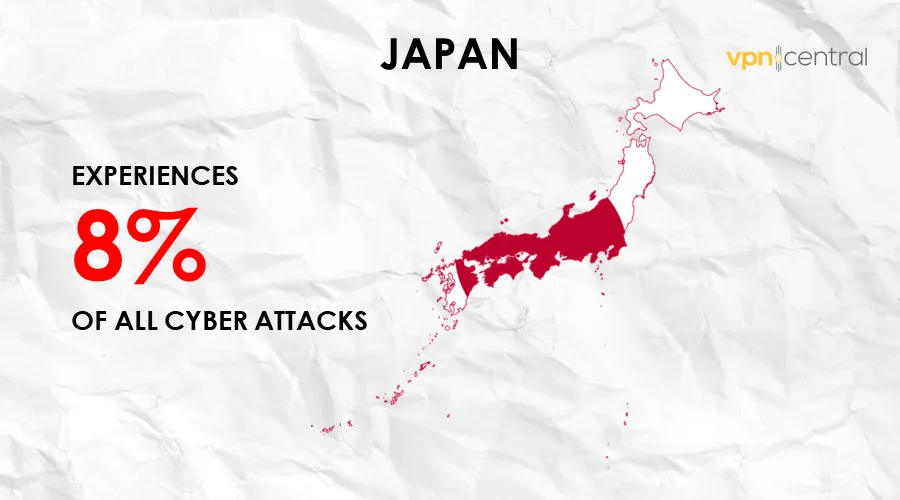 Japan is an economic superpower known for its massive automotive industry. Over 60,000 companies comprise the supply chain, which hackers target the most.
The country ranks twenty-second in readiness against digital threats. Unlike most developed countries, it lacks adequate expertise in handling cyber attacks.
Currently, local and overseas hackers unleash around 8,000 attacks daily. Out of this number, Japanese experts can detect about 34.5% early.
The figure is significantly lower than the global average of 42.2%. Consequently, most businesses notice cyber attacks when the damage is irreversible.
And it doesn't stop there:
Japan's close ties with the United States contribute largely to cyber attacks. Rivals like China are on record for spying and hacking the Japanese military.
Brazil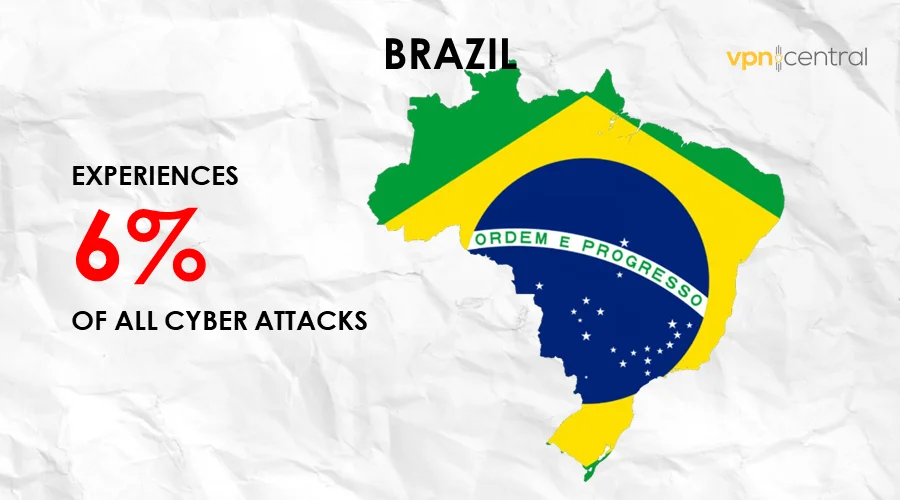 Brazil is the global breeding ground for financially focused malware. Since 2000, hackers have intensified operations targeting the country's banking system.
The operators in the country partner with other hackers from Russia and Eastern Europe. Such relationships enable them to develop tools capable of bypassing banks' security systems.
An estimated 40% of Brazilians fell prey to financial fraud in 2022. This cost banks and customers over $500 million in losses.
Canada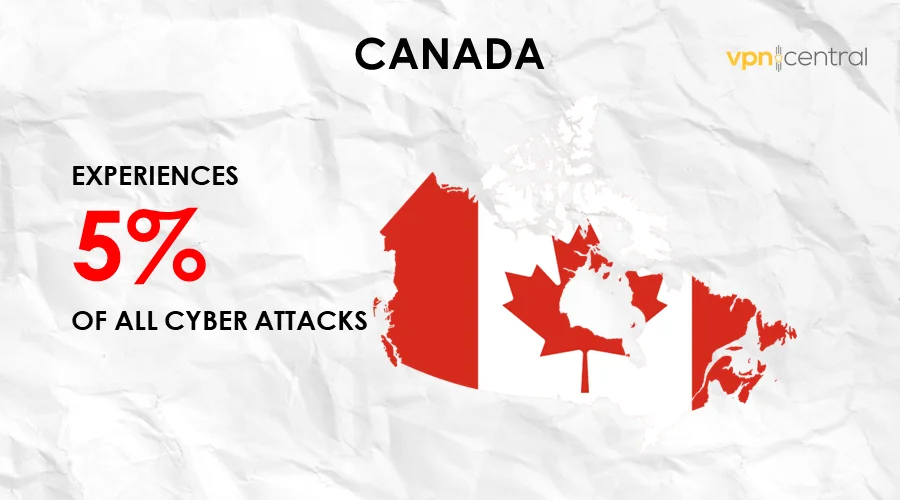 Canada isn't far from the United States in relying on technology. The country heavily uses automation across its entire economy. 
Despite all the advancements, it lacks adequate countermeasures against cyber threats. Likewise, it's part of NATO, which attracts state-sponsored attacks from Russia.
As a result, the country experienced a 20% increase in cyber attacks in 2022. The target industries included services – 19.62%, manufacturing – 15.82%, and the public sector – 10.13%.
Australia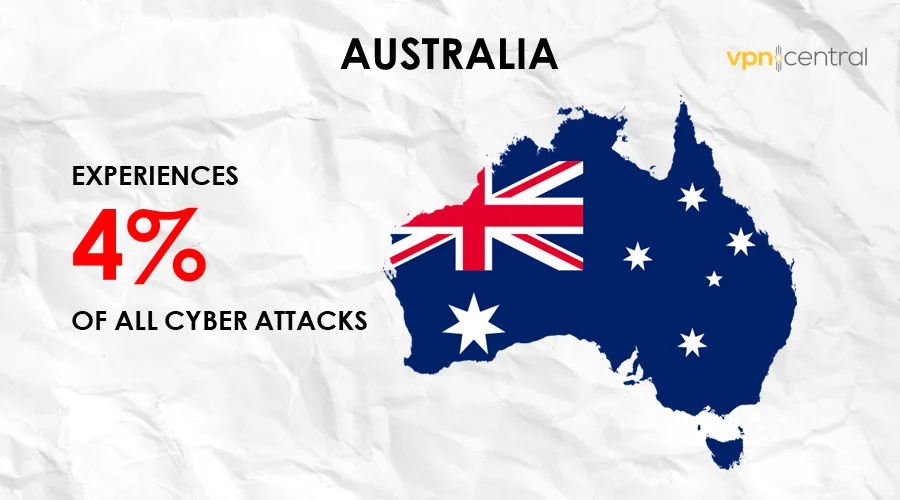 A cyberattack occurs every seven minutes in Australia. The country, on average, receives 76,000 incidents yearly.
Most cybercrime activities are largely concentrated in populous provinces. These are Queensland – 29%, Victoria – 27%, and New South Wales – 22%.
Below is the distribution of attacks:
Fraud – 26.90%
Shopping – 14.40%
Online banking – 12.60%
Others – 46.10%
The average cost for every incident is $25,000. But it can even exceed $53,000, depending on the industry.
Mexico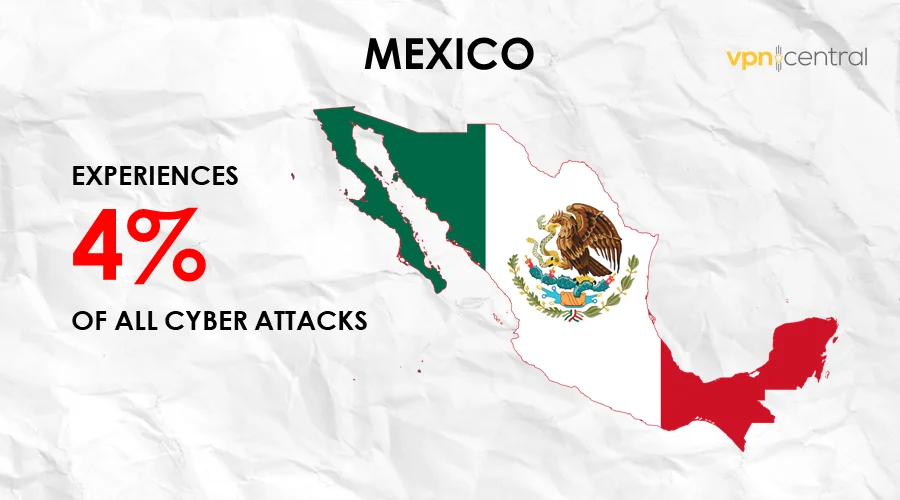 Cybercriminals targeted Mexico 187 billion times in 2022. That's over 50% of cyber attacks received in Latin America during the same duration.
The attacks concentrated on government installations, businesses, and individuals. To do this, bad actors employed ransomware, phishing, and malware to target victims.
Sadly, the country ranks sixty-fourth in cybersecurity capabilities worldwide. As such, organizations end up losing critical data whenever hackers strike.
North Korea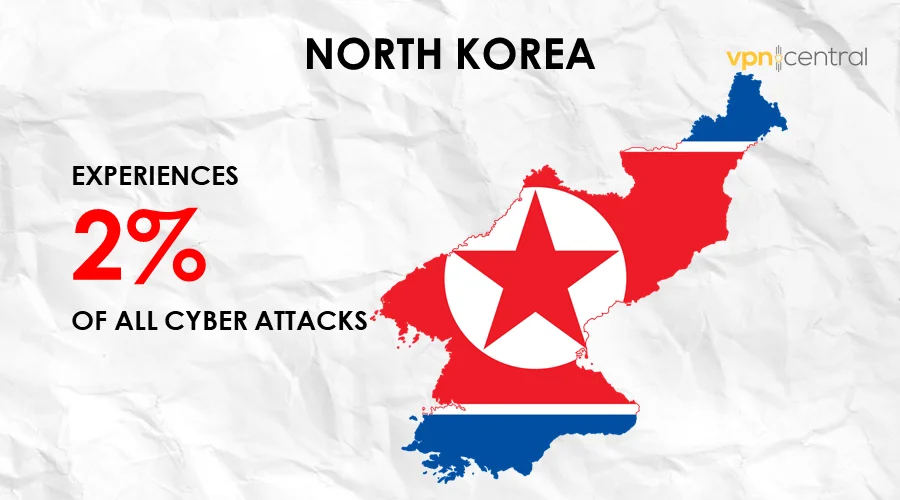 North Korea is an isolated and highly secretive nation. It's amongst the fewest regions where most residents lack internet access.
Despite that, the country is notorious for unleashing damaging cyber attacks worldwide. Some have even cost victims billions of dollars in damages.
Some of the victims are known to launch retaliatory attacks with devastating effects. One of them, known as P4x, took down the country's internet in 2022.
Chile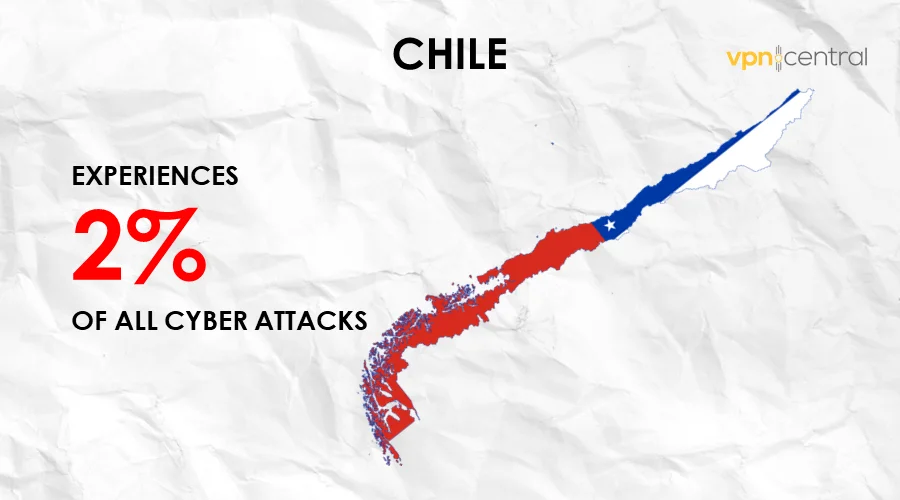 Chile has the highest internet penetration rate in Latin America. At nearly 100%, it creates an environment that attracts cybercrime.
True to that, the country experienced 9.6 billion attempted cyber attacks in 2021. COVID-19 partly fueled the incidents due to enforcing remote work by organizations.
Other than that, Chile is a victim of online espionage. The attacks center on interfering with the country's internet and telecommunications installations.
India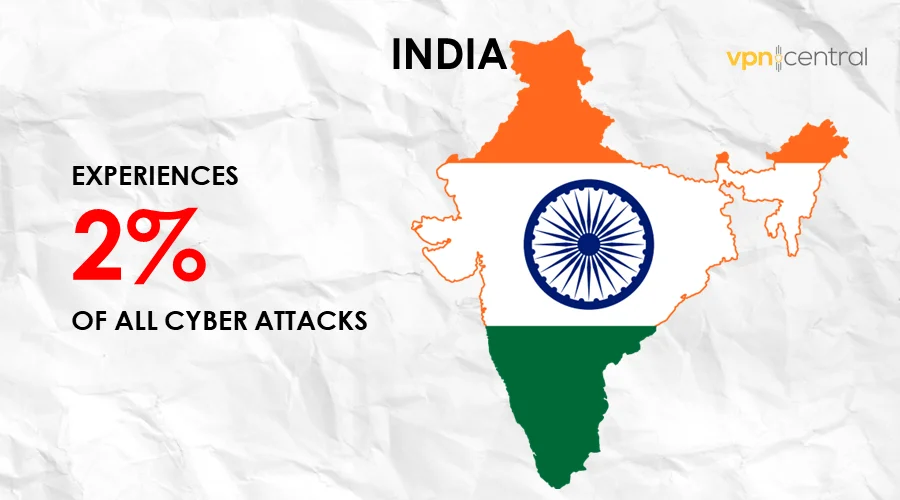 India has a population of approximately 1.4 billion people. But only about 27 million were victims of cyber attacks in 2021.
The situation is different for organizations in the country. Over 80% dealt with digital attacks that are financially motivated.
Shockingly, roughly 52% of entities are well-prepared to counter the threats. Cashflow challenges contribute to the inability to invest in cybersecurity.
Peru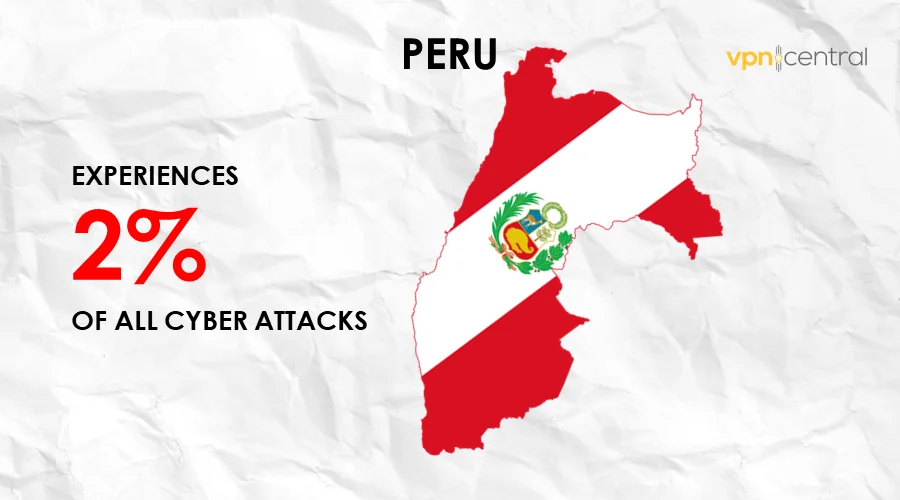 Peru ranks seventieth in cybersecurity preparedness globally. The country seriously lacks capabilities in combating cyber attacks. 
Current data shows it encountered 123 incidents every minute in 2022. These include a combination of ransomware, trojans, viruses, and phishing.
The incidents cost victims up to $4 billion every year. 50% come from electronic fraud, 20% from child sexual abuse, and 10% from phishing.
Here's where it gets interesting.
Where do most cyberattacks come from?
Surprisingly or not, a country that's vulnerable to cyber attacks can also be a major perpetrator. Below are the top countries where cyber attacks originate from, as of 2022: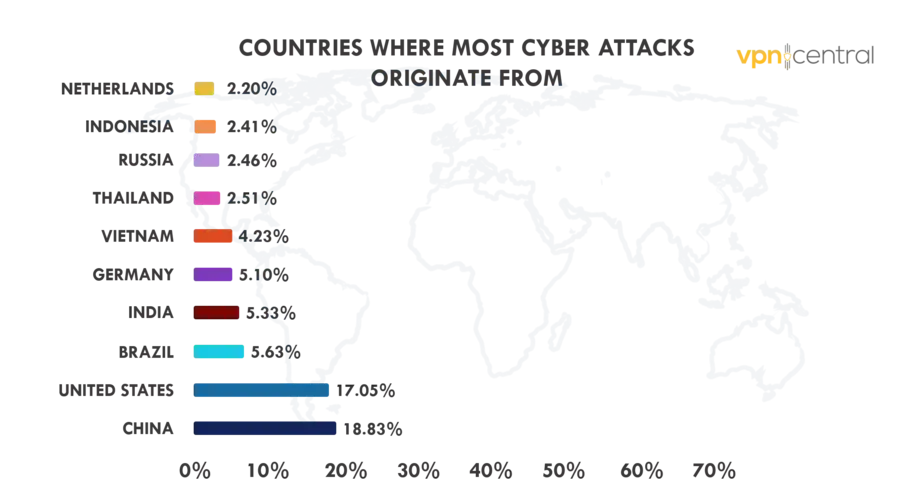 The above doesn't come as a surprise. Most of these nations have a high digital penetration and tech-savvy populations.
But what motivations are behind these attacks?
Let's find out.
China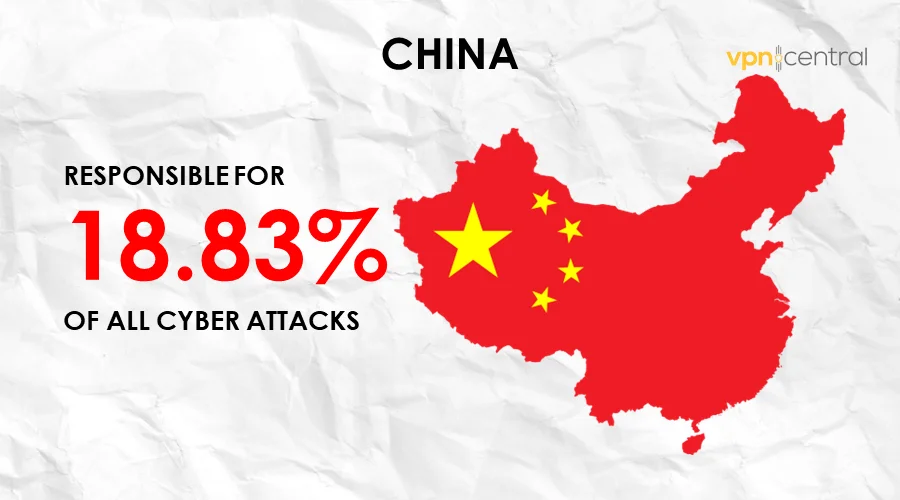 China is no stranger when it comes to cyber attacks. It's involved in cyber warfare, which receives the government's full backing.
Most operations originate from an elite team within the Chinese army. At some point, it's alleged to have had around 100,000 recruits.
The group, known as APT41, openly admits to conducting state-sponsored espionage attacks. They aim to spy on rival countries, disrupt organizations, steal trade secrets, etc.
Today, China's military has about 50 hackers for every US FBI cyber agent. It's a no-brainer why the country is responsible for the most cyber attacks globally.
The United States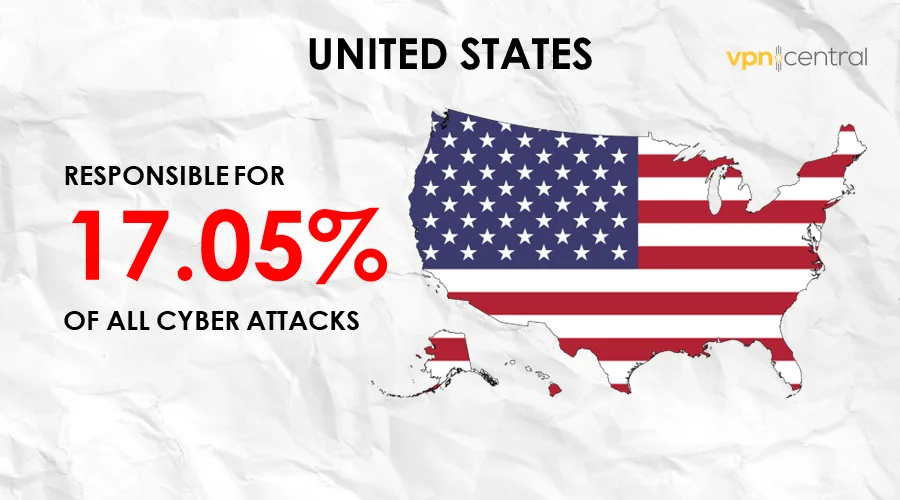 The United States claims to be the most cyber-capable country in the world. Like China, it heavily invests in cybersecurity built around several multi-agency teams.
They comprise:
The Cybersecurity and Infrastructure Security Agency (CISA)
Federal Bureau of Investigation (FBI)
National Security Agency (NSA)
The agencies serve the purpose of protecting the United States' cyberspace. They actively guard telecom networks, energy infrastructure, government facilities, and more.
But they're well-known to have unleashed some of the most notable espionage attacks.
Stuxnet is a good example where they paralyzed Iran's nuclear program.
The US cyber warriors are also famous for developing sophisticated hack tools. For instance, the NSA's spying software, which other hackers stole, is popular in ransomware attacks.
Brazil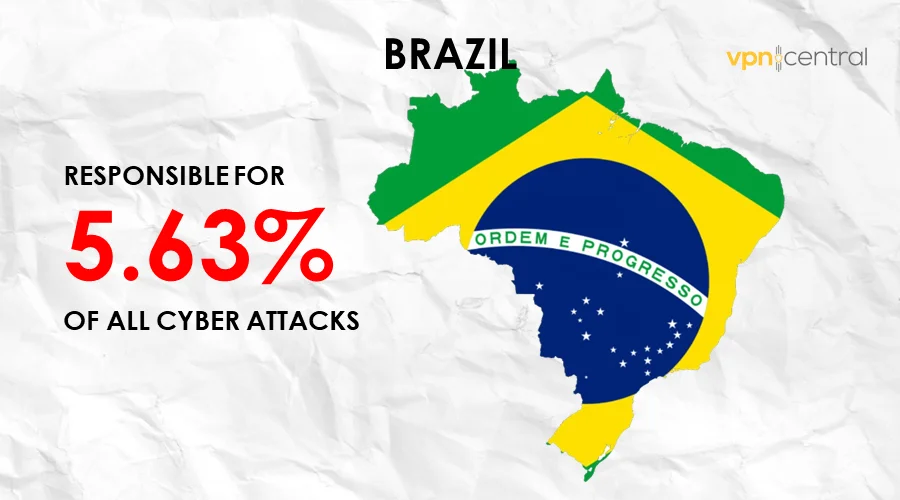 About 80.53% of Brazil's population uses the internet as of 2022. That's a sharp increase from lows of 2.84% from 2000.
At the same time, cybercrime activities surged from 10,000 to over a million yearly. Almost 50% of these are internal with the rest coming from outside.
Most cyber attacks are financially motivated and spearheaded by underground cybercriminals. They're on record for developing sophisticated malware like Guildma, Javali, Melcoz, etc.
The main targets include banks in Portuguese and Spanish-speaking countries. A majority of the affected victims are in Brazil, Portugal, Spain, Mexico, and Chile.
India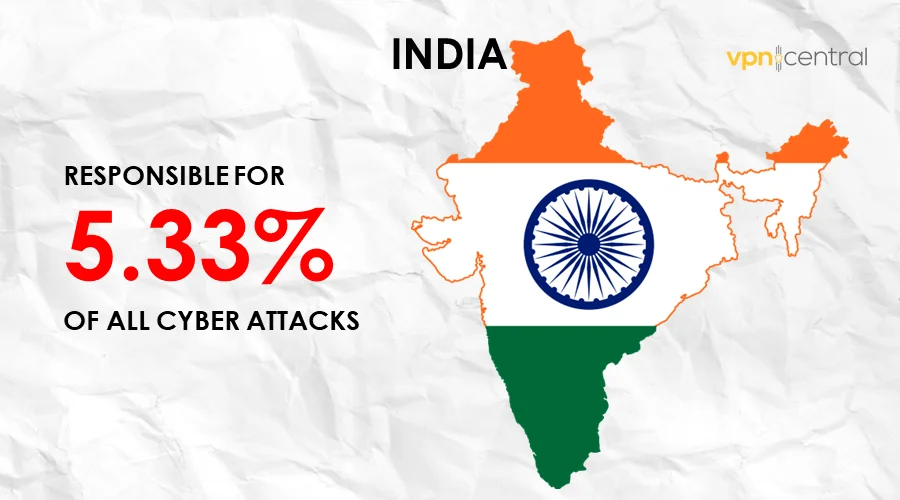 India has a history of rivalry with its neighbors, China and Pakistan. Notably, it faces extensive cyber-espionage originating from the Chinese military. 
To counter, the Indian government has, in the last decade, accelerated cyberwarfare against enemy states. The country now boasts a state-backed group known as SideWinder.
The entity comprises 1,000+ hackers stationed in the army, airforce, and navy. Together, they engage in extensive attacks targeting governments and organizations across Asia.
But that's not all:
Cybercrime groups from India are also thriving on the dark web. These include the likes of Dark Basin, Viceroy Tiger, and the Dropping Elephant.
Most of their activities intensified during and after the COVID-19 era. This saw a jump in global online fraud traceable to India spike by 28.32%.
Germany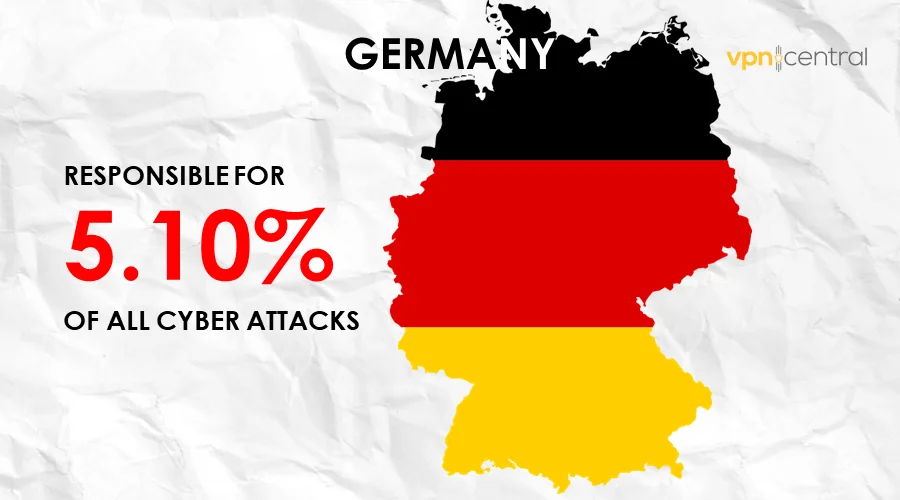 Germany is Europe's largest economy and a major player in global politics. And that attracts common rivals, especially when you're a US ally.
Some notable mentions are China, Russia, North Korea, Iran, and Turkey. They collectively engage in cyber warfare, with the aim of sabotaging the Germans.
Accordingly, Germany has a dedicated military spy agency to neutralize espionage. That way, it's able to stop threats and deploy counterattacks to gather intelligence.
Vietnam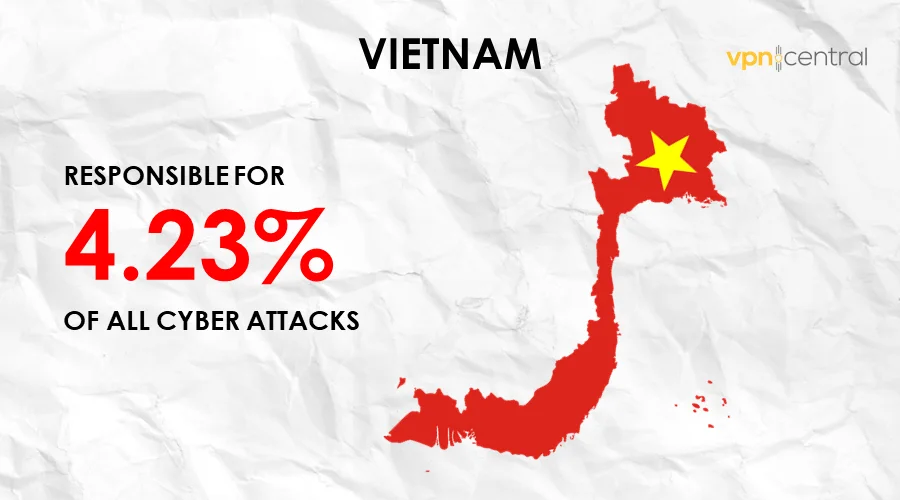 Vietnam is another country with state-sponsored hackers. Known as the ATP32, it's responsible for cyber attacks against foreign governments. 
The group takes aim at multinationals and Vietnam's government critics. Besides locals, other targets are in Cambodia, Australia, and the Philippines.
Vietnamese officials claim the operations aim at protecting the country's interests. All that is undertaken to sensor the public amidst the rising number of internet users.
Moreover, there's an increase of unknown actors from Vietnam targeting foreign organizations. Countries of interest comprise Bulgaria, China, and English-speaking nations.
Thailand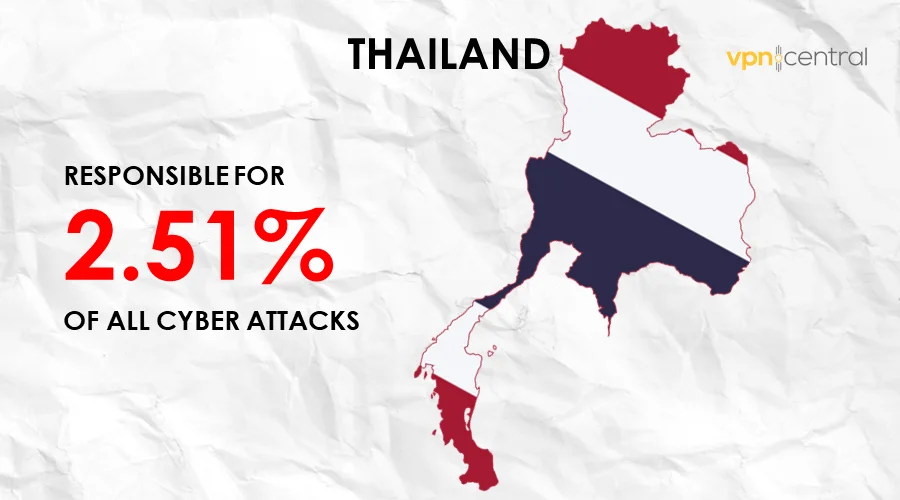 Unlike most countries, Thailand's cyber attacks are largely internal. Over 80% of the population are reportedly victims of phishing campaigns.
55% of the activities involve finance-related services targeting bank customers. The attackers lure victims into providing vital details before sweeping their accounts clean.
Consequently, Thailand froze 58,463 bank accounts and 118,530 telephone numbers in 2023. These were in the hands of well-coordinated criminal gangs engaging in cybercrimes.
Russia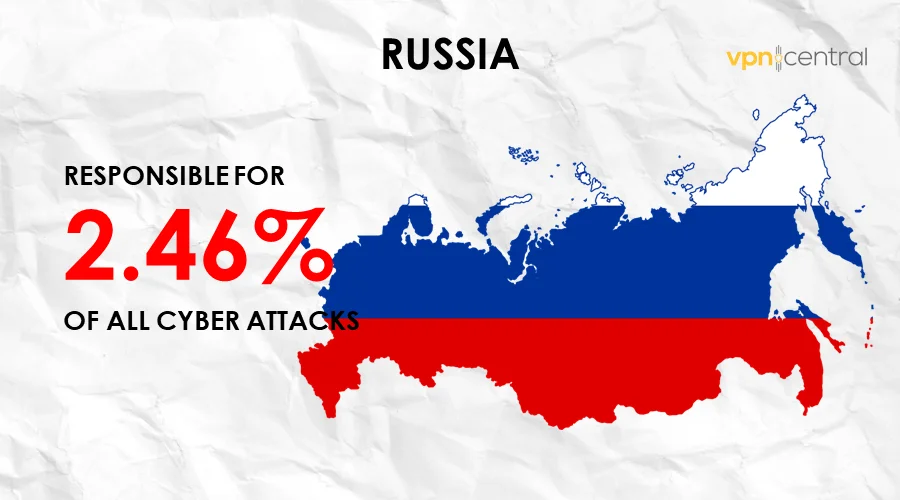 Russia and China are close allies when it comes to state-backed cyber-attacks. Hackers from the country widely target organizations in the United States. 
These include government agencies, tech companies, and data research firms. Other victims comprise NATO members, Ukraine, and Britain.
Surprisingly, Russian hackers have a success rate of over 30%. Of all targets, Microsoft is the most haunted due to its close ties with the US Govt.
Indonesia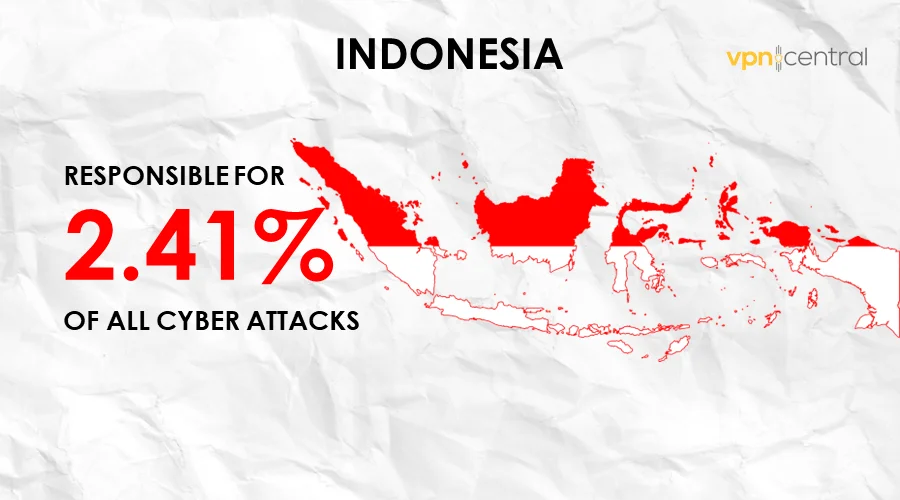 Indonesia is home to various cybercrime groups that are pro-Islam. They focus on foreign countries and organizations viewed as against the Islamic religion.
Recent targets included attacks on over 12,000 government websites in India. This was in retaliation over claims of the mistreatment of Muslims in the country.
Previous victims included the United States, Israel, and Sweden. The Indonesian hacktivists blamed hurtful religious views against Islamic communities for the vengeance.
Netherlands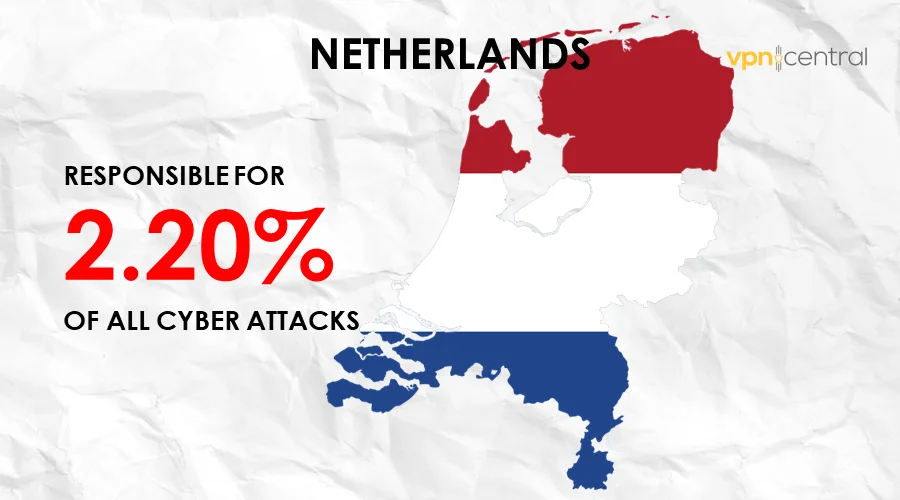 The Netherlands prides itself as a country with the best ethical hackers. However, some of them go astray and end up compromising organizations.
Recently, the Dutch authorities arrested such individuals responsible for ransomware attacks. They also possessed stolen data like credit cards, bank accounts, passports, etc.
Previous targets included healthcare organizations, especially during COVID-19. The stolen information ends on dark web forums and gets resold to the highest bidders.
And there's a huge price to pay.
How much does cybercrime cost?
The global cyber attacks cost economies about $8 trillion. This figure loosely translates to about $255,000 every second.
Even worse, the figure will exceed $10 trillion by 2025. But how does each country level up?
Let's find out:
China
Cybercrimes in and out of China cost about $850 billion. This figure is expected to surpass a staggering $4.40 trillion by 2028.
Entities using Microsoft Exchange servers faced the most damage. Recent attacks affected over 250,000 installations across 30,000+ organizations worldwide.
To date, the state-backed actors' activities have affected over 950 million victims globally. About 15.79% of that figure is in the United States alone.
United States
The United States is not only a source but also a target of global cybercrime. It faces approximately 65% of all cyber attacks worldwide.
The crimes cost the US economy over $10.3 billion in 2022. These losses are out of 800,944 reported cases in the same period.
300,497 complaints comprised phishing campaigns. However, attacks on investment schemes brought the biggest losses to victims.
This doesn't come as a surprise, considering US businesses face higher cybercrime costs. On average, the affected can lose $25,000 or more.
The situation gets worse when it comes to ransomware attacks. Organizations pay $4.5 million or more to get off the hook.
Brazil
Cyber attacks in Brazil are reportedly on a downward spiral. The country recorded 665,063 incidents in 2020 against highs of 875,330 in 2019.
The trend is due to increased regulatory compliance and funding for cybersecurity. Organizations collectively spend around a billion dollars annually in insurance to mitigate effects.
On the contrary, the cost of cybercrime activities of this South American giant is astronomical. Attacks from this country will cost businesses about $100 billion globally in 2023.
India
Cybercrime costs are pretty modest in India when compared to other countries. Most businesses lose an average of $2.2 million for every incident.
However, individuals bear the biggest harm arising from cyber attacks. In this case, around 31% of targeted victims lose money from such activities.
Losses average $185, with the involved financial institutions recovering 60%. Bank transfers lead by 43% as the main source for siphoning stolen funds.
Others include Gift Cards 38% with PayPal and Credit Cards tying with 32%. Bitcoin tops as the cryptocurrency of choice for transferring money lost to fraud.
Germany
Germany bears the biggest burden when it comes to global cybercrime losses. Businesses in the country lost a jaw-dropping $224 billion in 2022.
The mind-boggling figure results from 72% of businesses being targets of foreign espionage. Companies traced over 80% of the incidents to hackers in Russia and China.
German authorities attribute the high success rate to attacks becoming more professional. Furthermore, the state-backing of the actors makes the events aggressive beyond control.
Vietnam
Vietnam suffered the second-highest cyber attacks in Southeast Asia in 2022. However, there were 2.48 million incidents against 2021's 2.8 million.
The drop is even lower than the 3.0 million recorded during COVID-19. Still, financially-motivated scams remain a common attack vector in this region.
For example, Kaspersky Labs reported over 64,000 cryptocurrency phishing cases in 2022. Ransomware attacks were also present, costing businesses $1.85 million in losses on average.
Thailand
The Thai police obtained over 163,000 reports from cybercrime victims in 2022. Total damages from the incidents shockingly stood at $780 million.
Over half of the incidents were traceable to overseas call center cartels. Apart from that, over 55% of the attacks included phishing-related activities.
Surprisingly, the trend isn't slowing down any time soon. About 5,600+ incidents were obtained in a week in 2023, costing victims $13 million.
Russia
Russia's cybercriminals are reaping big from ransomware attacks. About 75% of all payments made through this scam go to Russian-linked hackers.
Such groups made over $400 million in crypto payments in 2021. The transactions go through cryptocurrency companies that aid in money laundering.
But there's more:
Russians aren't spared from the brunt of cyber attacks. The country records around 250,000 digital fraud incidents annually.
Loses arising from the attacks topped at $49 billion in 2020. The hacker groups extensively relied on phone and online phishing to scam victims.
Indonesia
Indonesia leads the pack when it comes to cybercrimes targeting Southeast Asia. Online attacks targeting businesses jumped 45% to 6.5 million incidents in 2022.
But only about 33% of organizations fell victim to digital crime. Most included small and medium enterprises (SMEs) that lack adequate defensive capabilities.
The losses arising from cyber attacks average $500,000 in this region. However, around 12% of businesses incurred roughly above a million in damages.
Netherlands
100% of organizations in the Netherlands suffered cyber attacks in 2020. On average, businesses reported 2.22 breaches within the same year.
This aligns with the surge in cybercrime activities during and post-COVID-19 era. Cybercriminals targeted industries in retail, entertainment, leisure, and energy.
And there was a huge price to pay.
Organizations in the Netherlands pay about $2 million in ransom to cyber attackers. Still, the cost can go higher depending on the targeted industry.
Besides that, 2.5 million Netherlandians fell victim to online scams in 2021. But only around 100,000 ended up losing money to the cybercriminals.
Let's wrap this up.
Summary
Cyber attacks will continue to be a growing threat to individuals, businesses, and governments globally. As you've seen, global politics plays a significant role in fueling such activities.
Aside from that, financial-driven motives add more wood to the fire. Hackers can simply make easy money by engaging in cybercrime activities.
With actors intensifying attacks, even the most secure stand no chance. This underscores the need to intensify cybersecurity efforts in combating cybercrime.
Overall, this analysis of the most dangerous countries for cyber attacks should serve as an eye-opener. It questions your level of preparedness and readiness to mitigate the threats.
---