With hacking becoming increasingly sophisticated, regular users are bearing the brunt of it. Certain social media accounts are especially vulnerable to cyberattacks.
With this in mind, VPNCentral's experts conducted a study to find out which accounts are the most targeted.
We analyzed ten popular platforms and their average monthly searches in relation to cybercrime. We focused on words like "account hacked", "hacking", and "hack."
The results might surprise you!
Accounts that are the most lost to hackers
We selected the following services for our study:
Facebook
Instagram
Twitter
Snapchat
Twitch
Spotify
Gmail
Microsoft
Amazon.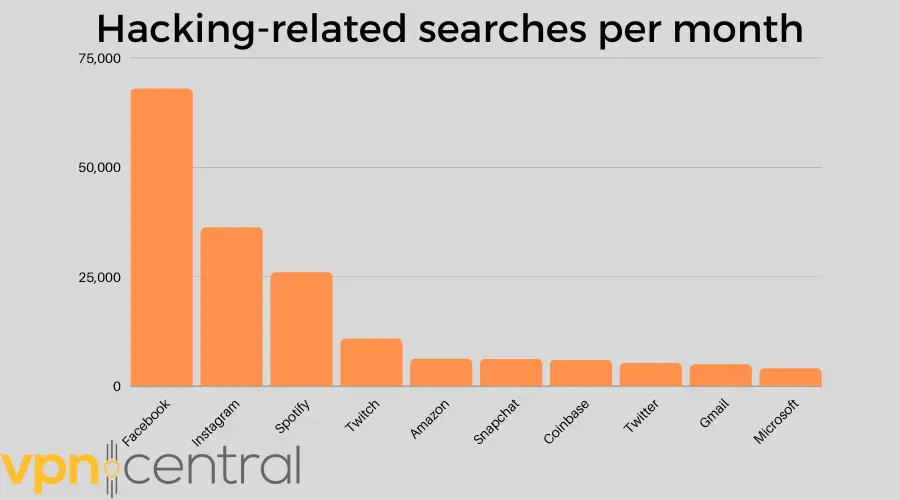 Facebook came out on top, with 67,940 searches per month. It's also the biggest social media platform with 2.934 billion monthly active users.
However, this placement makes sense considering Facebook's spotty past. One of the most devastating data breaches occurred in April 2021, revealing the personal data of 533 million users.
Instagram follows it with nearly two times lower searches — 36,220. Like its sibling, it also had a fair share of incidents. One of the more recent data breaches exposed 214 million accounts.
Perhaps unexpectedly, Spotify is in third place, with 25,920 hacking-related results. This music streaming service has suffered credential stuffing attacks affecting 100,000 customers.
Twitch is in fourth place on our list. The live-streaming service has 10,800 results per month.
You might remember the disastrous data leak in 2021. Twitch's source code was uncovered, together with information on the top-earning streamers.
Amazon concludes our top five with 6,170 monthly searches. Its former employee was involved in the 2019 Capitol One breach, stealing the personal information of over 100 million people.
Other than that, the lower-ranking platforms were pretty evenly matched:
Snapchat — 6,100
Coinbase — 5,900
Twitter — 5,190
Gmail — 4,920
Microsoft — 4,000.
Summary
On the whole, our findings indicate that hackers are focusing their efforts on various services, not just social media accounts.
For example, hacking-related searches for Spotify were unusually high!
So, there are no "unimportant" accounts that no one will target. You should secure each one to the best of your ability. Use strong passwords for each account and enable multi-factor authentication.
Also, consider using a VPN to hide your real IP and browsing data. It'll prevent tracking as well as breaches that occur over unsecured public networks.