PBS is a popular platform for streaming educational and entertaining content.
But like many other services, it imposes geo-restrictions. But fortunately, you can access it using a VPN, even if the service is banned in your country.
On the other hand, users may still experience issues since the platform has measures to block VPN connections.
So, in this guide, we'll explore why this problem occurs and the steps you can take to fix it.
PBS not working with VPN? Here's the fix
If you're using a VPN service to access PBS, you may encounter issues such as blacklisted servers or location detection restrictions.
Let's take a closer look at three solutions to help you enjoy uninterrupted access to PBS:
Change Server

If PBS has blacklisted the server you're currently using, switching to a different US server may help you get around the issue.

It is recommended to select a server that you haven't used before. Even if one IP address fails to work with PBS, there are numerous other options available to choose from.

Here's how to go about it:

1. Open your VPN and disconnect from the current server.
2. Select a new US one you haven't used before and click Connect.



3. Now check to see if you can access PBS again.



If the connection is still not working, try selecting a different server until you find one that works.

Clear the cookies and cache

Clearing browser history data is necessary for accessing PBS content.

If cookies are enabled for PBS, the platform can detect the location of the user and restrict access if they are outside of the United States.

Follow the steps below to clear the cookies and cache of Chrome:

1. Open the browser.



2. Click on the three-dot menu icon located at the top right corner of the window.



3. From the dropdown menu, select More Tools, and then click on Clear browsing data.



4. Select the specific time range for which you want to clear browsing data.

5. Next, check the boxes next to Cookies and other site data and Cached images.

6. Finally, click on the Clear data button to clear browsing data for the selected time range.



7. Go to the PBS website and check to see if the issue is solved.

Change your VPN provider

If changing servers and clearing cookies were ineffective, it's possible that PBS has blocked all IP addresses associated with your VPN.

In this case, you need to switch to a high-quality provider like ExpressVPN.

It has some of the fastest servers on the market and offers advanced security features. You also get numerous servers in the US that have been proven to flawlessly work with PBS.

Here's how to get started with it:

1. Visit ExpressVPN's website and pick a subscription.
2. Download the app for the device you wish to stream on.
3. Open it and connect to a server in the US.



4. Enjoy streaming your favorite PBS content.
Does PBS block VPNs?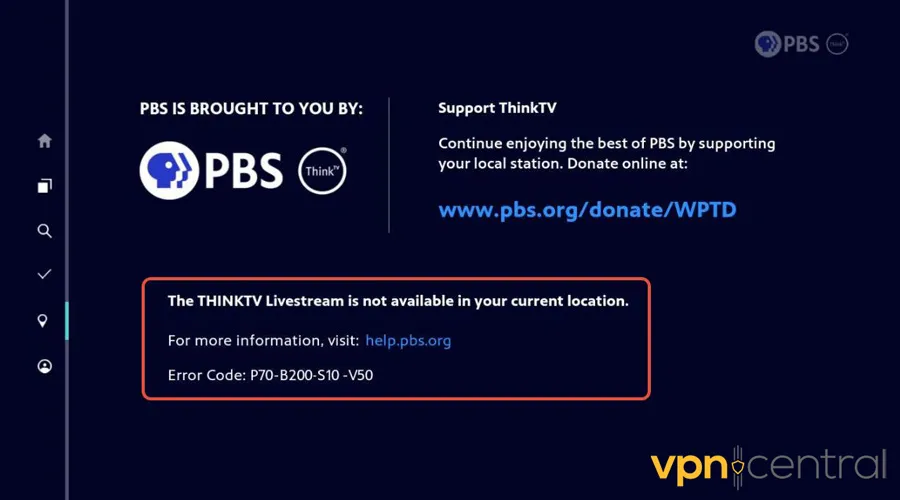 Yes. The PBS website has measures in place to detect the use of VPNs, and when it does, it can block their servers' IP addresses.
However, not all VPNs and servers are blocked by PBS, and some high-quality services can still bypass detection, allowing you to stream PBS content without issues.
Note that some users may experience issues when using a VPN with PBS due to technical difficulties or misconfiguration.
Some of these problems include selecting outdated VPN protocols, mistakes in split tunneling, etc.
In such cases, revising configurations is recommended to help resolve the issue.
How does PBS detect my VPN?
PBS detects VPN usage by identifying the number of users accessing its website with the same IP address and traffic type.
So, if a VPN is detected, PBS will block that IP address, which prevents you from using it again to access the platform.
This is mainly a problem with poor VPN services that don't effectively hide your actual location or don't have enough servers to provide variety for their clients.
Additionally, these VPN providers cannot replace their blocked servers effectively, which can leave you unable to stream content from PBS.
Does PBS work with a VPN?
The answer is yes, as long as you utilize a premium VPN. This is because PBS is capable of detecting low-quality services, as they can't hide their tracks.
Reputable VPNs can successfully bypass PBS's restrictions and allow users to access content from anywhere in the world, thanks to their advanced protocols and features.
However, you should note that it's possible that certain premium VPNs won't be compatible with the service you're trying to access.
So, to overcome the problem, we recommend you try several VPNs to find the one that works best with PBS.
Choosing a service with a large server network and robust encryption can also increase the likelihood of unblocking PBS.
For this purpose, we have gathered the best VPNs for PBS.
Best VPNs for PBS
Here are the top options you can choose from: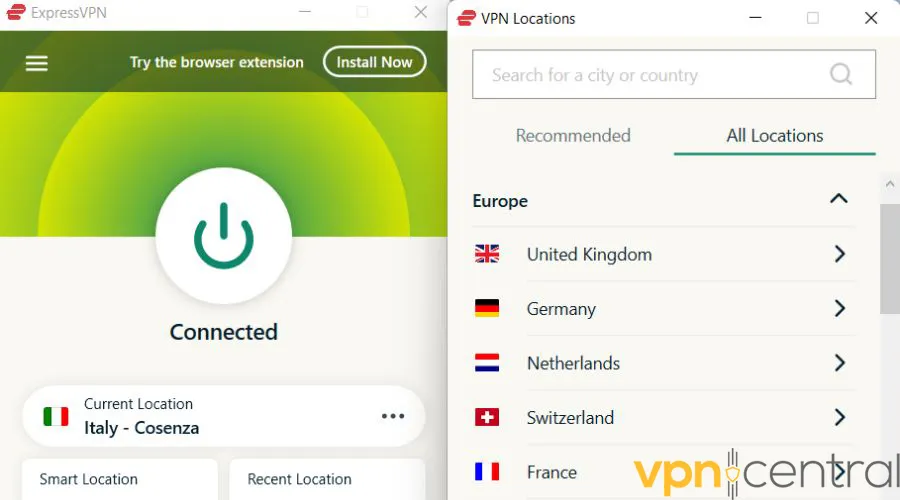 ExpressVPN is a reliable service that provides access to popular streaming services like PBS, Netflix, and Amazon Prime Video.
With over 3000 servers in 94 countries, it gives you ample options to choose from.
Regarding security, ExpressVPN employs 256-bit AES Encryption, a trusted and robust encryption standard that effectively safeguards user information.
It also includes a kill switch feature, which automatically shuts down internet traffic if the VPN connection drops, and thus prevents any exposure of sensitive data.
ExpressVPN supports multiple platforms, including Windows, macOS, Android, iOS, Linux, and routers, making it compatible with various devices for users' convenience.
Additionally, it provides a flexible money-back guarantee, allowing you to try the service risk-free.
Pros:
Servers in 94 countries

24/7 live chat support
Strong security and privacy features
Cons:
More expensive than most VPNs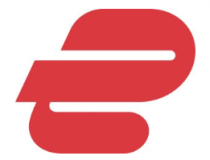 ExpressVPN
Easily unblock PBS from anywhere with this fast and reliable VPN.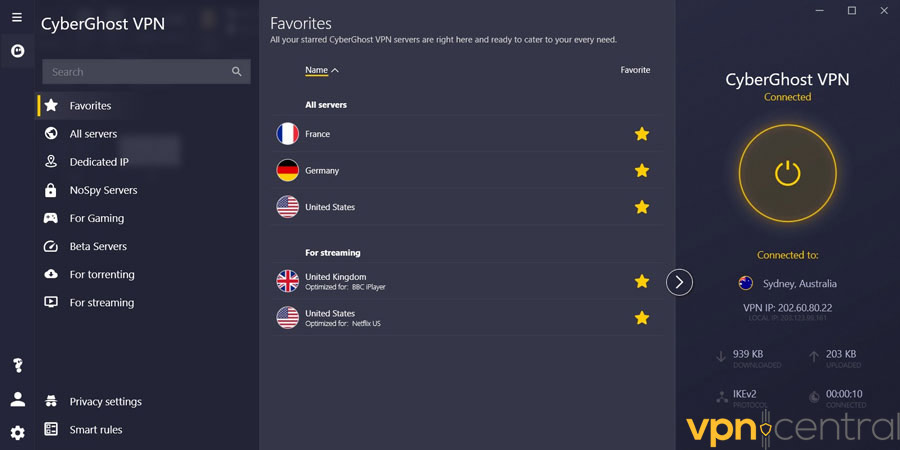 CyberGhost is a well-established VPN with a focus on streaming.
Accordingly, it can unlock geo-restricted content, including PBS, and works well with US Netflix and Amazon Prime Video.
CyberGhost has an extensive server network, with over 6900 servers in over 90 countries.
This VPN's IKEv2, OpenVPN, and WireGuard protocols, in addition to its 256-bit AES encryption, ensure the quickest and safest connections possible.
Moreover, CyberGhost VPN has a strict no-logs policy that doesn't record what you're doing online to ensure that your online activity remains secure and private.
Additionally, you get a kill switch feature that disconnects your device from the internet if the connection drops.
You can install it on various operating systems like Android, iOS, Linux, macOS, and Windows. You can also install it on other devices, including smart TVs, routers, and consoles.
CyberGhost VPN offers multilingual 24/7 customer support to assist users who may not be fluent in English.
Pros:
Streaming-optimized servers
Unlocks geo-restricted content, including PBS, Netflix, and Amazon Prime Video
Simultaneous connections on up to seven devices
Offers an ad-blocker and data compression feature
Cons:
Lacks some consistency when it comes to server speed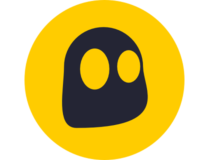 CyberGhost
Benefit from streaming-optimized servers and advanced security with CyberGhost.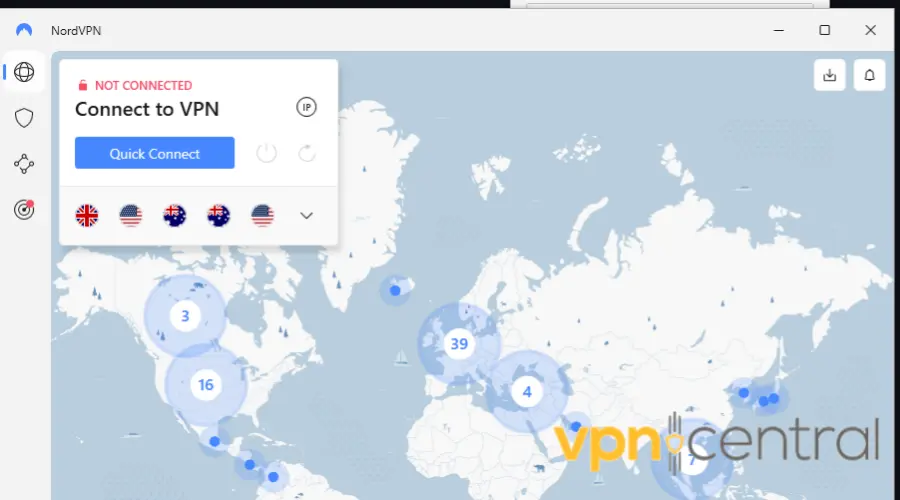 NordVPN is known for its speed, reliability, and ability to unblock geo-restricted content, making it ideal for accessing PBS, Netflix, Amazon Prime Video, and BBC iPlayer.
It has over 5000 servers worldwide, most of them located in North America and Europe.
Additionally, NordVPN offers AES 256-bit encryption, Double VPN, and CyberSec.
AES 256-bit encryption guarantees that your data remains secure and inaccessible to unauthorized persons.
Double VPN encrypts your data twice by routing it through two VPN servers.
CyberSec is another security feature offered by NordVPN that safeguards your device from malware and other cyber threats by blocking harmful websites and ads.
Moreover, this VPN is available on various platforms, including Windows, Mac, Linux, iOS, and Android. It also supports browser extensions for Chrome and Firefox.
Pros:
Fast servers for streaming high-quality content

Simultaneously use up to 6 devices

No-logs policy
24/7 support via live chat
Cons:
The desktop app could be more user-friendly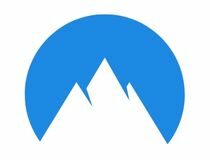 NordVPN
Enjoy top-notch security and great performance with NordVPN.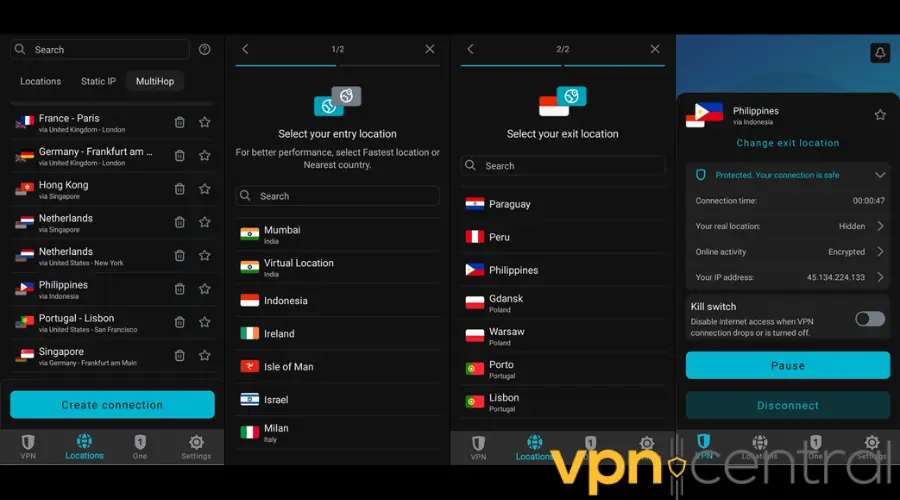 Surfshark is a reliable and fast VPN service that also prioritizes user privacy and security.
With over 3,200 servers across more than 90 countries, Surfshark allows you access to content from all over the globe.
This VPN offers cutting-edge protocols such as WireGuard, IKEv2, and OpenVPN to mask your online activities from prying eyes.
Additionally, the service implements privacy measures, including a strict no-logs policy that ensures user activity remains private.
Also, it has a kill switch that prevents you from reverting to an unsecured connection in the event that your VPN connection suddenly drops.
Surfshark is compatible with multiple platforms, such as Android, Chrome, Edge, Firefox, iOS, Linux, macOS, and Windows.
Additionally, all plans come with a 30-day money-back guarantee.
Pros:
Fast speeds for streaming, torrenting, and browsing
Unlimited device connections

Strong security and privacy features

No-logs policy
Cons
Some servers may be slower than others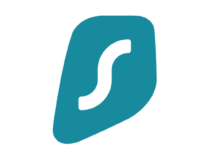 Surfshark
Seamlessly unblock PBS and stream on all your devices with Surfshark.
What can you watch on PBS from anywhere with a good VPN?
PBS offers a wide variety of programming, including news, educational shows, children's programming, and documentaries.
So, here's a list of popular TV programs and shows that are available on the platform:
Downton Abbey
Nature
Nova
American Experience
Victoria
Frontline
Antiques Roadshow
Summary
You VPN may not be working with PBS, as the platform implements anti-VPN measures.
To fix that, you can try changing the server, clearing your browser's cookies and cache, or upgrading to a reputable VPN provider such as ExpressVPN, CyberGhost, or Surfshark.
It's also essential to choose a VPN service that effectively hides the user's location and has a large server network and robust encryption.
So, with these steps, you can enjoy uninterrupted access to your favorite programs on PBS and other streaming platforms.
---