Just like a glitch, you may sometimes experience QVC not working with your VPN. This may be caused by a wrong server connection, a protocol incompatibility, or a DNS leak by your browser cookies.
QVC (Quality Value Convenience) doubles as both a free-to-air TV network and a shopping channel. It broadcasts to more than 350 million households in seven countries including the US, the UK, Germany, and Japan.
Since this service is geo-blocked in countries like Canada, Cuba, Sudan, most of Europe, and so on, some users utilize a VPN to beat this restriction.
But what do you do when QVC is not working with your VPN?
Read on to find out!
QVC Not Working With VPN – Fix
You may get an access denied error on the QVC website or have your VPN connecting in what seems like forever when there's an issue.
However, with one or some of these fixes, you should no longer have to worry about QVC not working with your VPN.
Let's get right to it already:
Change to another server

Citizens living in Cuba, Syria, Sudan, and so on do not have access to this platform. So, if you are active on a server in any of these countries, you'll be locked out.
Also, an overcrowded server is likely to be unstable thereby causing constant disconnection. Therefore, the first thing to do is to switch servers and see if there'll be any improvement.

To do this:

1. Launch and login to your VPN app.
2. Expand the ellipsis or arrow beside the existing location to see the server list.
3. Click on the server of your choice.
4. Once the connection is active, go back to QVC and try using it again.

Try a different protocol

Just maybe the default protocol that your VPN is using is weak and cannot maintain a secure connection. If this is the case, then try using a different one. 

It is best to go for OpenVPN or WireGuard as they are both modern and fast protocols.
Follow the steps below to use a different protocol:

1. Open and log in to your VPN app.
2. Navigate to Options or Settings.
3. Go to Connection and click on VPN protocols or VPN preferences.
4. Choose a OpenVPN TCP or a another protocol entirely.
5. QVC should now work with your VPN. Check it out.

Use an obfuscated server

Iran for example has a non-spoken rule about VPNs not registered with the government and it is one of the countries where QVC is not available.

To stay completely anonymous, you may want to use an obfuscated server as this server hide your VPN traffic. This in turn makes it appear as though you are using a normal network connection.

Follow these steps to get this done:

1. Launch your VPN app.
2. Log in with your details.
3. At the bottom-left of the window, click on Settings. Then select Connection.
4. Go to VPN protocols. Change it to OpenVPN TCP.
5. Return to the home window.
6. In the line of displayed countries, expand the arrow. 
7. Click on Specialty arrows. Select Obfuscated servers.
8. Click on the arrow in the dialog box that appears to choose a server.
Click to connect.
Get back to QVC and see if it works.

Allow VPN through the firewall

Your device firewall may interfere with the performance of your VPN if it suspects it to be malware. Hence, you will have to allow your VPN through it.
Continue with the steps below:
On the Start menu, search for Windows Security. Click to open it.
Click on Firewalls & network protection.
Select Allow an app through Firewall.
Click the Change settings button.
Check the box beside VPN if it is empty.
If you cannot find VPN on the list, click the Allow another app button at the bottom right of the window.
Check the box under the type of network: either Private or Public, you want VPN to access.
Click Ok.
Try using QVC again. It should give you access this time.

Clean cache and cookies

Even when using a VPN, QVC may track the remnants of your data and online activities stored on your browser cookies. With this, it can pinpoint your location and block you accordingly.

This is how to clear browser cookies and cache:
Open your browser.
Click on the three-dot in the upper-right corner of your browser to access the menu.
Scroll down to More tools. Click on it.
Select Clear browsing data.
On the Basic tab, click the drop down and select All time.
Check all the boxes besides Browsing history, cookies and other sites etc. 
Click the Advanced tab.
Repeat the same process.
Now click on Clear data.
The restriction on QVC should clear now.
Although this guide is for Google Chrome, it is pretty much the same process for other browsers.

Use a reliable VPN

You have possibly done everything on your VPN to salvage the situation and nothing seems to work. The last and only option would be to test out another VPN provider. In our experience as avid VPN testers, ExpressVPN is pretty much free of any error, regardless of website/service you want to access.

It should work hassle-free on QVC. Here's how to use it:

1. Get an ExpressVPN subscription.
2. Download and install the app on your device.
3. Click on the downward arrow below the active server. A drop-down list of servers will appear.
4. Choose a location in the UK, Germany, or Japan.
5. When connected successfully, try to gain access to QVC now. This should fix it.
Does QVC block VPNS?
No. QVC does not block VPNs, specifically, but it may block you for suspicious activity. So they may block you when you use a VPN, but not because you use a VPN.
This is because VPNs typically use a different IP address every time you connect. This may lead the platform to believe that your account is compromised and multiple people have access to it.
How does QVC detect my VPN?
QVC doesn't officially state if it does or does not employ VPN detection systems. However, some of the most common methods use by websites that do this include:
Track known VPN IPs
Port numbers: VPNs use specific port numbers to encrypt and route traffic – platforms like QVC can see if you access them through these ports
Checking your packet headers: The packet headers are the data that is sent with each packet of data that is transmitted over the internet. QVC can check the packet headers to see if they contain any identifying information about the VPN server.
Looking for unusual traffic patterns: VPN users often exhibit unusual traffic patterns, such as connecting to a VPN server in a different country than their home country. QVC can look for these patterns to identify VPN users.
Does QVC work with a VPN?
A VPN with advanced protocols and AES-256 encryption will assist you to unblock geo-restrictions on QVC and faster than you can imagine. Not only that, it will keep you safe while at it.
Furthermore, going for a VPN provider with a vast range of streaming-optimized servers would be good for streaming high-definition movies on QVC buffer-free.
Best VPNs for QVC
Out of hundreds of VPN providers in the market, there are exceptional ones that have ran the race and emerged top on the list. With them, you'll hardly face QVC not working with your VPN.
Below of the five (5) best VPNs for QVC based on users' testimony.
1. ExpressVPN – streaming-optimized servers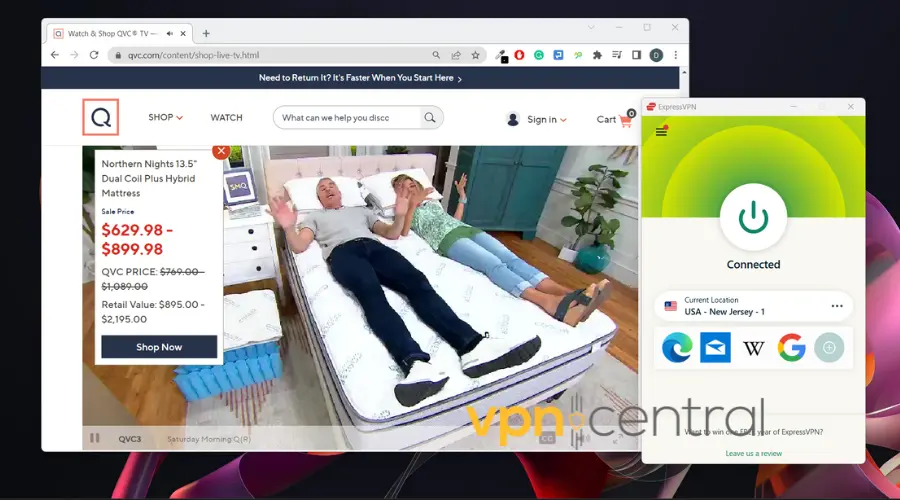 ExpressVPN has stood the test of time and millions of users all over the world trust it to deliver at any time and anywhere. This VPN is powerful at unblocking geo-restrictions.
All ExpressVPN servers are optimized for streaming, so you can easily watch QVC1, QVC2, QVC3, or In the Kitchen. While at it, you do not even notice even the faintest of lag.
Aside from that, ExpressVPN boasts 3000+ lightning-speed servers in 94 countries including Germany, Japan, and especially the UK. All you need to do is connect to one and you are good to go.
In this age of widespread blockchain technology, it will interest you to know that this VPN accepts payment in Bitcoin. Similarly, users are given a 30-day money-back guarantee.
Therefore, you are at liberty to try out the product before taking a decision. Since this VPN takes security and privacy seriously, it employs advanced encryption and protocols to lock in your data.
Pros
Zero activity log
Five simultaneous device connections
DNS leak protection
Dedicated apps for all devices.
24-hour customer support
Cons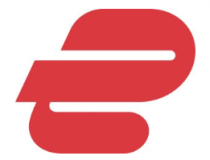 ExpressVPN
Use ExpressVPN for easy and unlimited access to QVC!
2. NordVPN – obfuscated servers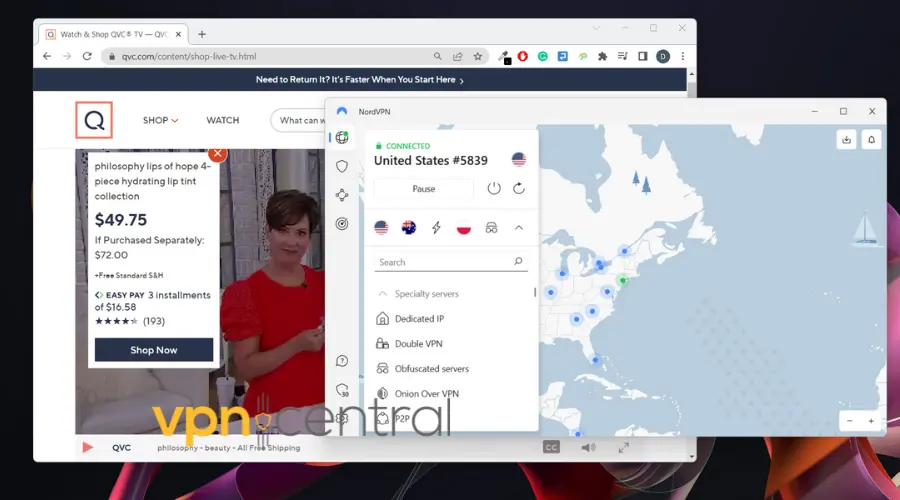 If you want to access the web without limitations or hide from your ISP then you should trust in NordVPN to deliver top-notch services. Especially as it offers a wide range of obfuscated servers.
What you gain from these servers is that it conceals your VPN traffic and you appear on the website to third-party as one using a normal internet. And, ta-da! You are totally anonymous.
Apart from that, this VPN boasts 5500+ servers in 60 countries around the globe with servers in the US, UK, Japan, and Germany – dominant QVC countries.
All these servers transmit at 10 Gbps, allowing you to stream HD content without experiencing lag. Also, with its unlimited bandwidth, you can watch movies with huge megabytes without issue.
Furthermore, NordVPN encrypts users' traffic with AES-256 encryption so that no one can intercept your data. Additionally, this VPN assures users of a strict no-log policy.
Pros
Six simultaneous device connections.
Strict no-log policy.
DNS protection.
30-day money-back guarantee.
Cons
Issues with upgrades on Apple devices.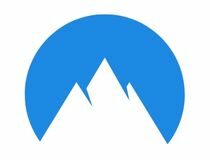 NordVPN
Browse through the catalog & watch the live QVC shows hitch-free with NordVPN!
3. PIA – large server network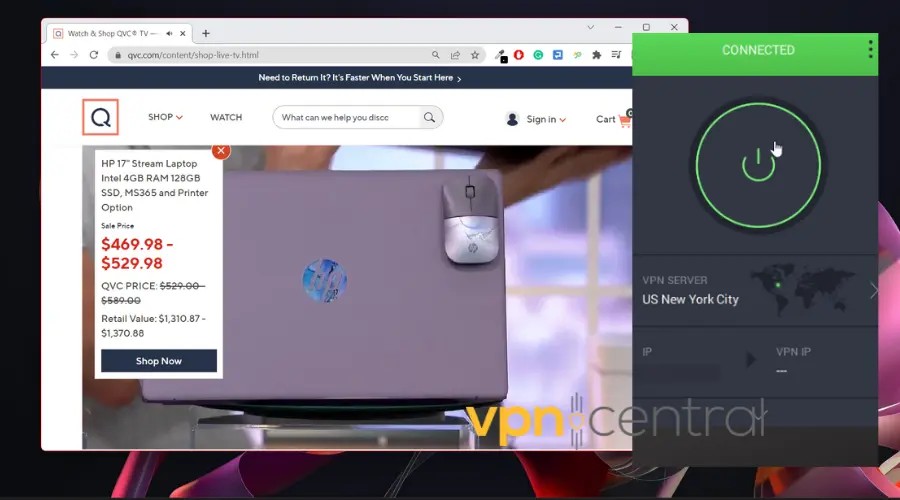 PIA (Private Internet Access) is an excellent choice for users who frequent QVC for the following reasons:
Firstly, PIA prioritizes user privacy and security so your online activities are shielded from prying eyes. PIA VPN achieves this through robust protocols and AES 256-bit encryption.
Moreover, PIA VPN boasts a vast network of over 35,000 servers spread across 84 countries. This network allows users to bypass geographical restrictions that may hinder access to certain QVC content.
Additionally, PIA VPN enhances your browsing speed and overall performance while accessing QVC. Through its server infrastructure, PIA VPN offers high-speed connections that minimize latency and buffering, ensuring a smooth streaming and shopping experience.
Furthermore, PIA VPN provides additional layers of protection against potential online threats. It includes features like a built-in ad blocker(PIA MACE) and malware protection.
Pros
AES-256 Military encryption
10 simultaneous device connections
No log policy
Split tunneling
Unlimited bandwidth
Cons
Inconsistent speed sometimes for longer locations.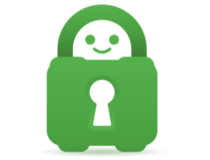 PIA
Use PIA for an amazing experience on QVC – no restrictions, no interruptions!
4. Surfshark – multiple simultaneous connections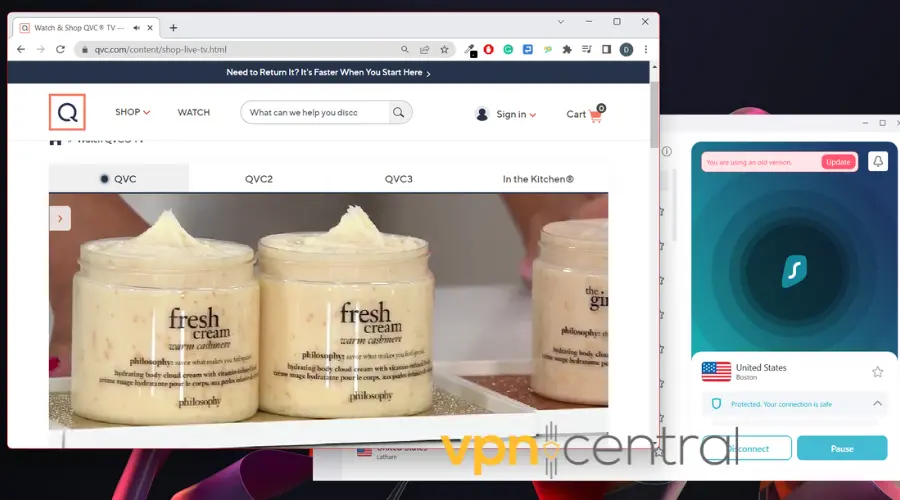 Surfshark gives users the option to choose from 3200+ speedy servers in 100 countries. Also with these servers, you can easily spoof your location and circumvent geo-blocks.
In addition, Surfshark offers unlimited simultaneous connections, meaning you can secure multiple devices with a single subscription.
This is especially beneficial for QVC shoppers who utilize various devices, such as smartphones, tablets, laptops, and smart TVs, to browse and purchase products.
Lastly, Surfshark offers a built-in ad-blocker that eliminates annoying ads and pop-ups, creating a clutter-free environment while you explore QVC's offerings.
Pros
WireGuard protocol
256-bit encryption
Zero logs policy
Cross-app platform support
Cons
No strong social media presence.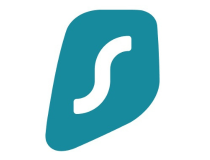 Surfshark
Give Surfshark a go and see how it can easily unblock QVC without being blocked!
Wrap Up
Now you have known how to successfully fix QVC when it's not working with your VPN, we hope you have a swell time shopping and streaming on the platform.
Ensure to always update your VPN because bugs from an old version may introduce performance problems, unstable connections, and data leaks.
---