Unlike other search engines, Qwant doesn't collect personal data and doesn't use tracking cookies.
However, some people can't access it because the search engine's website is not available in all countries. Moreover, the Qwant mobile app is not listed in the app stores of these regions.
Fortunately, you can fix all that if you use a Smart DNS or VPN to change your virtual location. Read all about that below.
Where is Qwant available?
Qwant doesn't have an official list of the countries where it's available.
However, if you access the search engine, you can see that they offer local searches in the following countries:
| | |
| --- | --- |
| Europe | France, United Kingdom, Germany, Italy, Andorra, Austria, Belgium, Bulgaria, Denmark, Spain, Estonia, Finland, Hungary, Ireland, Netherlands, Poland, Portugal, Sweden, Switzerland |
| North America | Canada, United States |
| South America | Argentina |
| Asia | China, South Korea, India, Malaysia, Thailand |
| Oceania | Australia, New Zealand |
Users from other countries can also access Qwant, but they won't get results in their native languages.
There are however still places where the search engine is not available at all. There's not an official list with those either.
Qwant's team only states they're not yet available everywhere, but they're expanding. If you happen to be in one of those locations, follow the guidelines below to unlock Qwant.
How to access Qwant if it's not available in your country?
There are two ways to access Qwant if it is unavailable in your country including using a VPN or a Smart DNS.
1. Use a VPN
A VPN encrypts your internet connection and routes your traffic through a server in a country where Qwant is available. Their team actually recommends using a VPN in regions where it's not available.
We recommend using a reputable VPN with wide server coverage so you can connect to multiple countries where the search engine is available.
NordVPN is a great option. Here's how to use it:
Subscribe to a NordVPN plan and download the software.

Install the NordVPN app on your computer.

Log in with your credentials.

Search for a server where Qwant is available.

Pick your preferred location and connect. We used the United States.

Open your browser and use Qwant. Now it should work without any issues.
NordVPN is a suitable VPN option thanks to its over 5,000 servers in 59 countries, including most of the locations where Qwant is available.
In addition, its military-grade encryption and no-logs policy add an extra layer of privacy to your connection.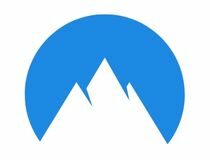 NordVPN
Use Qwant from anywhere with this reliable and easy-to-use VPN!
2. Use Smart DNS
Another way to unblock Qwant if it's not available in your country is to change your location using Smart DNS.
It works by rerouting DNS requests and removing location data to allow access to geo-restricted websites.
We recommend SmartDNS Proxy. It's one of the market's leading providers and it offers access to IP addresses in several countries. See below how to use it to unlock Qwant:
Go to the SmartDNS Proxy website to sign up.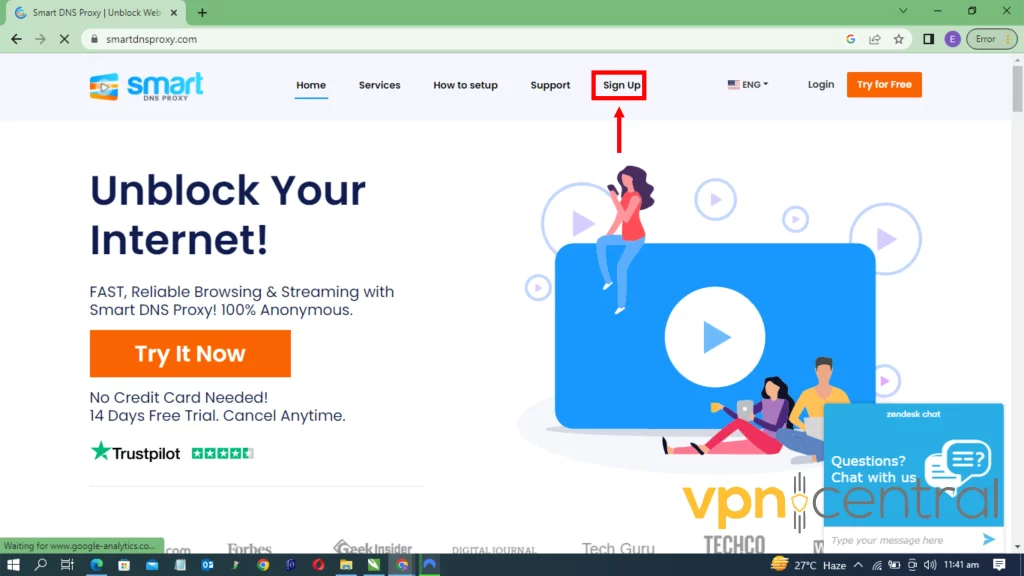 On your PC, right-click the Start button, then select Network & internet.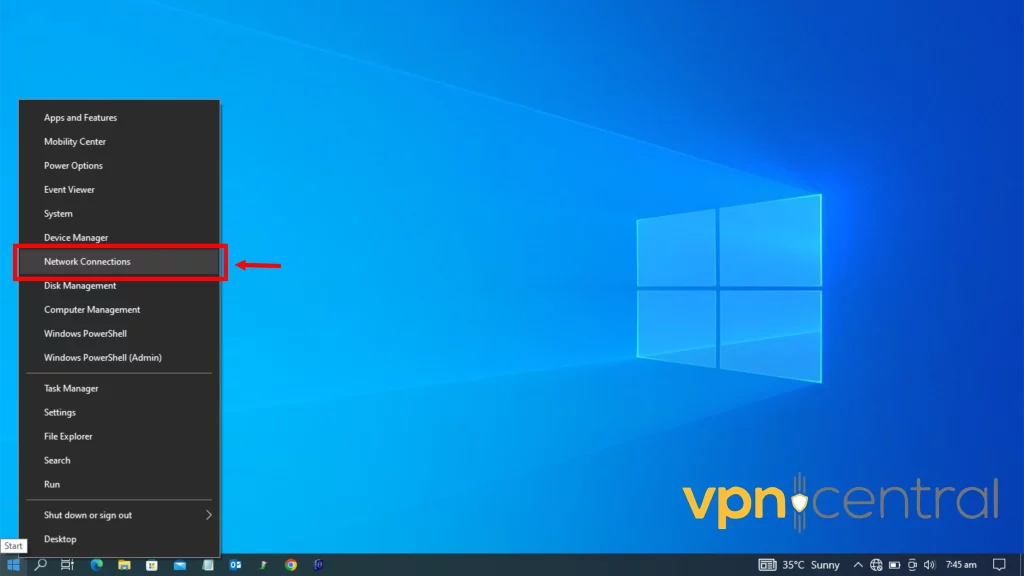 Select Change adapter options under the Advanced Network Settings.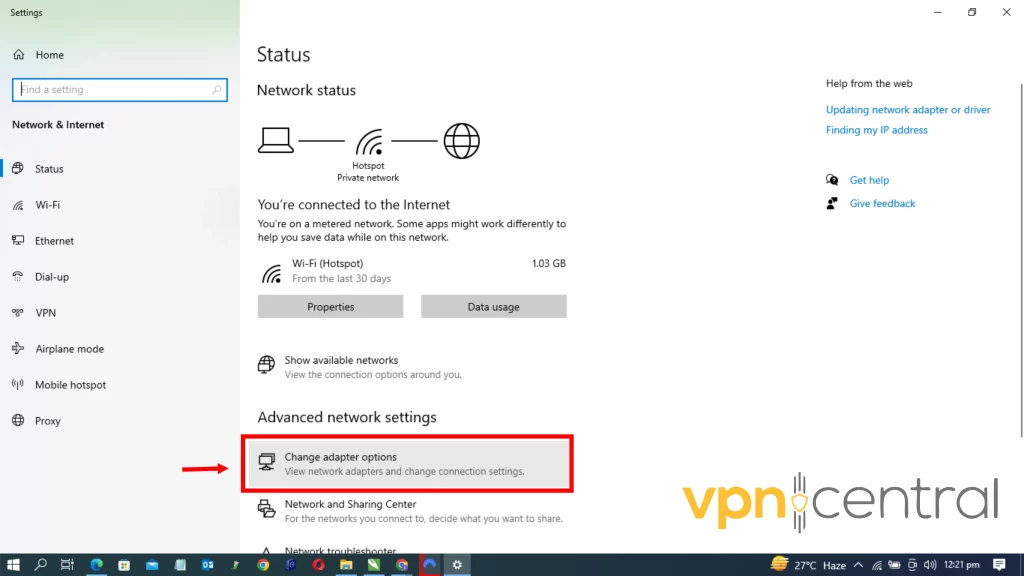 Right-click on your connected service to select Properties at the bottom.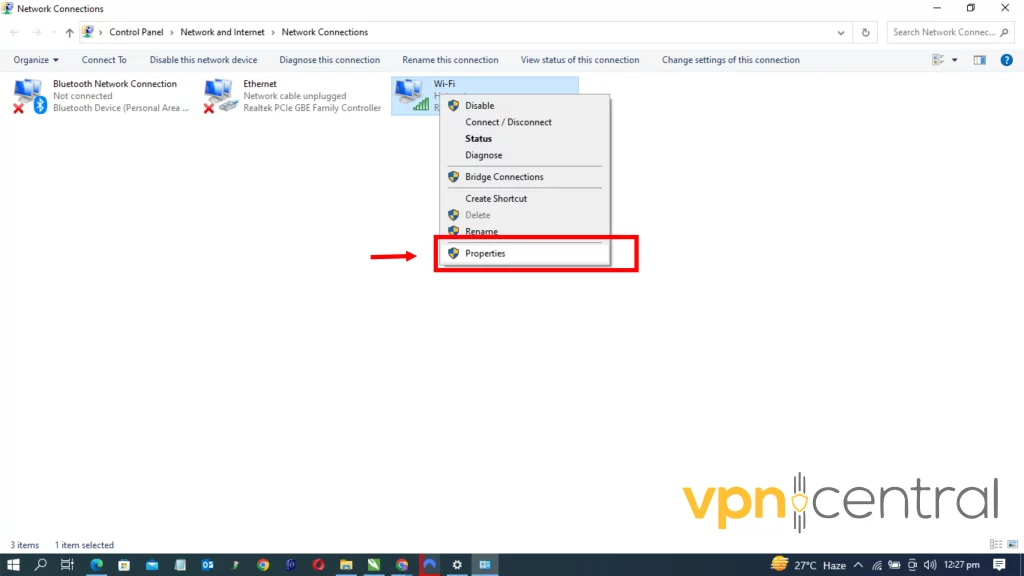 Untick the Internet Protocol Version 6 (TCP/IPv6).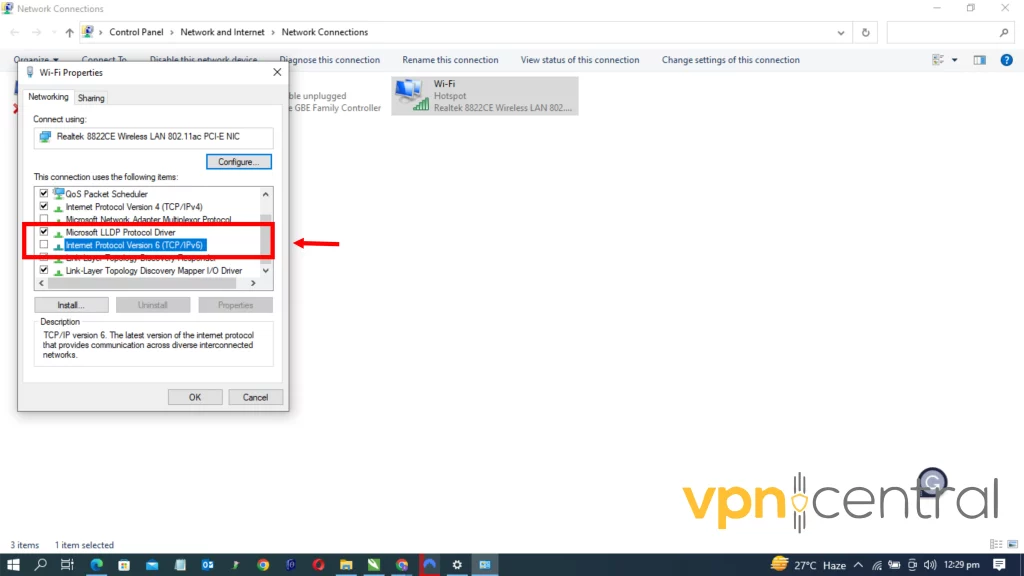 Back to your browser, go to Smart DNS Proxy's server list, and copy an address. We use a US address here.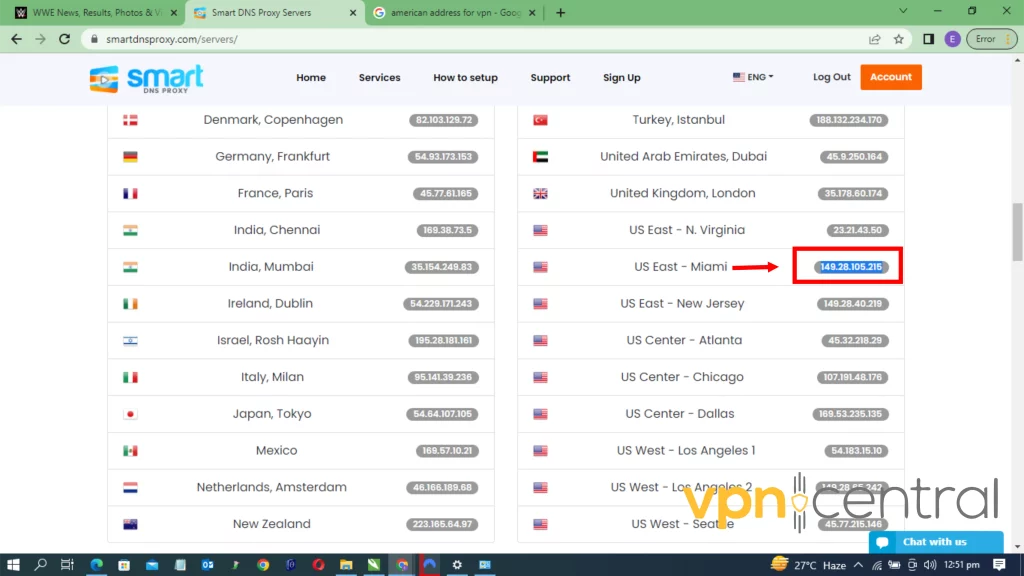 Return to the Wi-Fi Properties panel and double-click on the "Internet Protocol Version 4 option. Click Use the following DNS server addresses.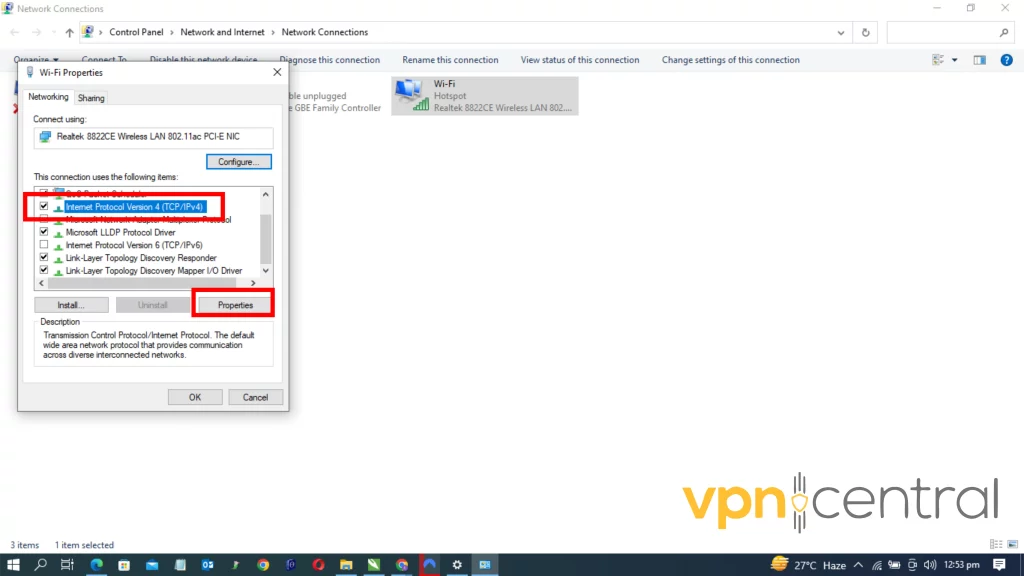 Input the address you copied. As shown below, we used the U.S Miami and U.S Chicago addresses for the Preferred DNS Server and Alternate DNS Server" respectively.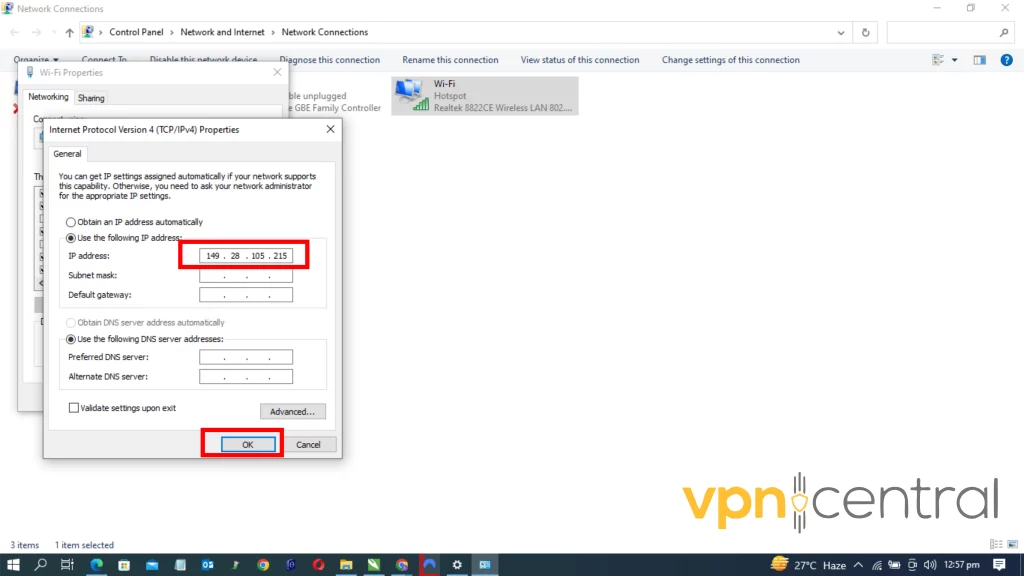 Click OK, restart your computer, and try accessing Qwant. It should now work.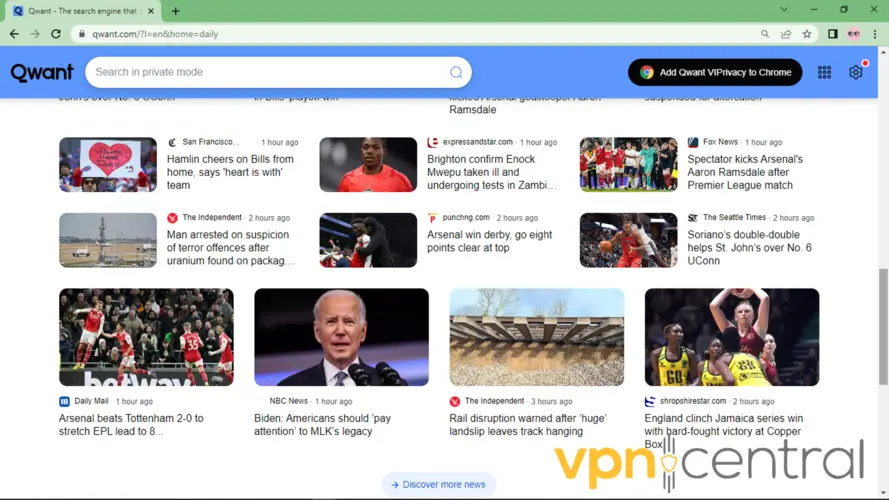 Using Smart DNS Proxy's American server addresses allows you to access content as if you are in the chosen region.
However, if your chosen IP is blocked, you can switch to another IP address in a supported region. Just repeat the above-shown process, but pick a different server location.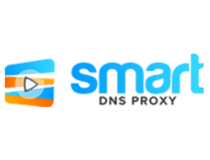 Smart DNS Proxy
Change your location to easily unblock Qwant and browse securely from anywhere!
Wrap Up
If Qwant is not available in your country, pick your preferred tool and follow the guide above. After that, you'll have full access to the search engine, both for your computer and mobile.