Starz Play is a streaming service based in the US. In view of this, its broadcast rights, copyright, and licensing laws limit its content access outside the country.
Many users previously based in the US and now resident or on vacation abroad experience issues accessing the streaming platform which is why they turn to VPNs.
But what if Starz Play is not working with VPNs as it should?
It can be frustrating to experience this error. But as an avid VPN reviewer and videophile, I can help you resolve any issue you're facing with getting access to the platform outside the US.
At the end of this post, you'll be able to fix the issue of Starz Play not working with a VPN. That's why you need to read to the end.
Let's dive right in.
Starz Play not working with VPN? Here's how to fix it!
Below are some effective steps to fix the issue of Starz Play not working with VPN:
Change your VPN server


Geo-locked streaming services are notorious for detecting and blocking VPNs. They do this by blocking all the IP addresses associated with any detected VPN server.

If you are connected to one of these blocked servers, Starz Play will not work with your VPN.

The solution?

Simply change your server. Connecting to another server in the US will provide you with a fresh IP address that will grant you access to the service.

Follow these steps to change your server:

– Launch your VPN app.
– Disconnect from the server you previously were connected to e.g. Atlanta.

– Connect to another server e.g. Chicago.

– Visit Starz Play, you should have access now.

Clear your browser cookies and cache


Websites use cookies to streamline your online activities and store information about your device and location.

Your browser cookies could leak your actual location information and interfere with your access to Starz Play.

To stop this from happening, follow these steps to clear the cache and delete cookies:
– Open the browser menu on your phone or PC and go to Settings.
– Select Privacy and Security > Clear browsing data.
– Select the duration of cookies and cache you want to clear.
– Select Clear data and then close the menu.

Try connecting again after this is done.

Note: The guide above is done on Google Chrome, but the same applies to all browsers, including Firefox, Edge, or Opera.

Update your VPN app


VPN providers regularly update their apps when there are bugs or inefficiencies in the older versions.

If Starz Play is not working with your VPN, then it may be because you're using an outdated app.

How to fix it?

Simply update to the latest version and try accessing Starz again.


Luckily, most VPNs are designed to scan for the latest version automatically and notify you if there's a new update to download.

Uninstall and reinstall your VPN app


In many cases, uninstalling and reinstalling the VPN software has been able to fix numerous connection issues, thereby granting access to Starz Play.

This fix works by clearing all preexisting data and information that may interfere with connection upon uninstalling. Reinstalling it resets the settings and driver configurations, giving it a fresh start.

To uninstall your VPN software:

– Launch your phone or PC.
– If using a phone, long press on the app and click uninstall from the list of actions that pop up.
– On PC, go to Settings > Apps > double-click on the app and click Uninstall.

To reinstall:
– Visit your VPN provider's official website.
– Download it on your device.
– Launch the software and connect to any US server of your choice.

Contact your VPN provider's support


This issue of Starz Play not working with VPN could be from your provider.

This is why you should contact their support team with your complaints and they should help you resolve the problem.

Change your VPN provider


If you have tried all the methods suggested above and nothing works, then it's a sign that you need to change your VPN provider.

If you're using a cheap or free VPN, you're bound to encounter certain difficulties which include identification and blocking of the IP addresses even before connecting to the streaming service.

This is why you need to opt for a provider that has numerous unblocking and bypassing abilities.

As you will learn in the sections below, a premium service like ExpressVPN or CyberGhost will give you the best experience with Starz Play and other geo-blocked streaming platforms.

Here's how to unblock Starz Play with ExpressVPN:

1. Visit the ExpressVPN official website and download the app to your device.
2. Launch the app after installation and connect to any US server.
3. Visit Starz Play website and enjoy watching your favorite series and movies.

Does Starz block VPNs?
Yes, Starz blocks VPNs.
The platform identifies and blocks suspicious connections suspected to be from any IP address belonging to a VPN.
Most times, when numerous connections are made to the platform from the same IP, it raises a red flag that triggers its VPN identifier.
In most cases, this automatically results in a ban on such IP addresses.
To avoid getting blocked, it's imperative to opt for a provider that has numerous IP addresses and servers, as this affords users the ease to switch to and from any server of their choice.
How does Starz detect my VPN?
Starz Play uses a bunch of GeoIP databases to detect IP addresses, especially ones provided by a VPN.
If your IP address is on any of the databases, the service will detect your real location and block you.
Also, Starz Play checks for DNS, IP, and WebRTC information as this can expose your true location if you're using a poor VPN service.
If you're using a cheap or free VPN, it's more likely the connection will be identified by these systems.
This is because free VPNs don't have the required security measures or protocols needed to adequately mask your location, IP, or the fact that you use VPN.
Starz can easily learn your actual location in this case and block your access to its platform.
In addition, numerous connections from one IP address raise suspicion and cause the platform to blacklist your IP address as belonging to a VPN, thereby restricting your access to the streaming service.
To avoid this, ensure that your VPN software has IP, DNS, and WebRTC leak protection to ensure that your connection is secure.
Does Starz Play work with a VPN?
Yes, Starz Play works with premium VPNs with strong unblocking abilities that can bypass its firewalls.
This is not to say that all free VPNs don't work with the platform.
Some free services may work but you can't really enjoy streaming on a limited bandwidth and overcrowded servers.
Premium VPNs like ExpressVPN with subscription prices from$6.67 per month and CyberGhost with prices of $12.99 per month have the necessary features for hassle-free streaming.
It's noteworthy that as opposed to free VPNs that don't replace IP addresses once blocked, ExpressVPN and Cyberghost are several steps ahead of Starz Play.
They have a huge server network that allows you to choose from a large number of IP addresses.
Best VPNs for Starz Play
With these services, watching Starz Play from any location in the world is the easiest thing to do:
1. ExpressVPN – Best overall for Starz Play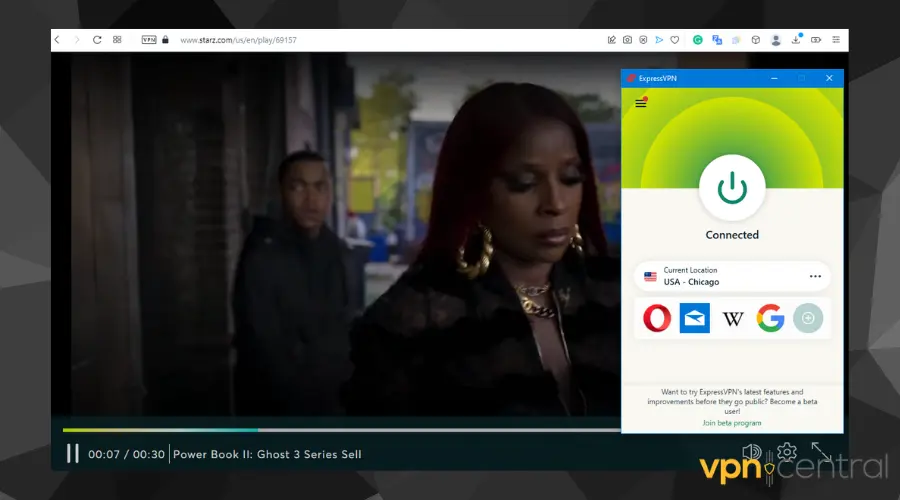 ExpressVPN undoubtedly remains the best VPN provider on the market for accessing geo-blocked platforms. like Starz Play.
It has a large number of fast servers that are compatible with various streaming websites, and devices.
Unlike cheap VPNs, it creates a new IP address once one of its servers gets blocked or blacklisted.
This is one feature you should look out for whenever you're choosing a VPN to use with Starz.
✅ Pros:
3000+ servers in 94 countries
Unblocks Netflix, Hulu, BBC iPlayer, Disney+, Amazon Prime Video, and lots more
Suitable for Android, Android TV, FireStick, Mac, Windows, iOS, Linux, Apple TV, and others.
30-day money-back guarantee
❌ Cons:
Expensive subscription prices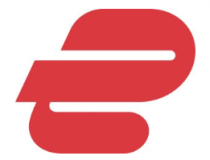 ExpressVPN
Use ExpressVPN for unrestricted access & best video quality on Starz Play!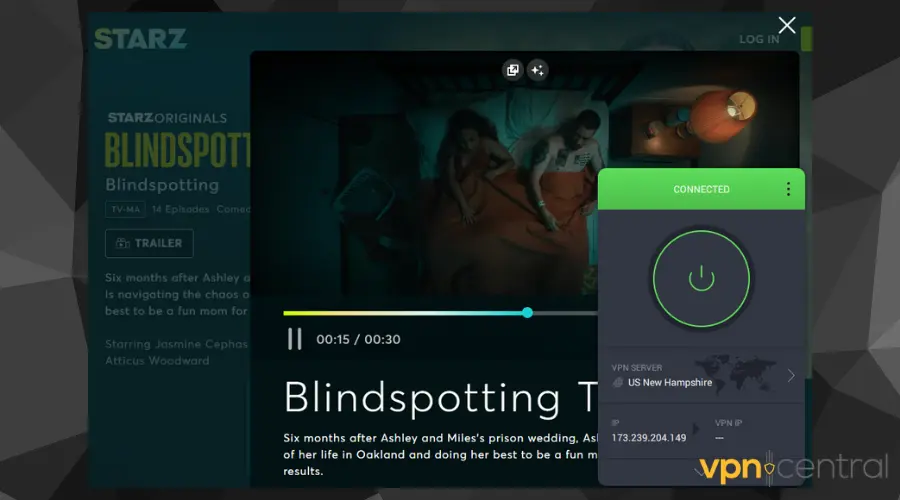 PIA is another of the industry-leading providers that perform excellently with numerous streaming services.
It's a US-based service with 35,000+ speedy servers globally, including servers in all 50 US states.
This means that there are lots of locations to choose from, thereby evading blocks on any US-based streaming service including Starz.
✅ Pros:
Allow for 10 simultaneous connections
24/7 live chat support
Unblocks Hulu, Netflix, BBC iPlayer, HBO Max, etc.
30-day money-back guarantee
❌ Cons: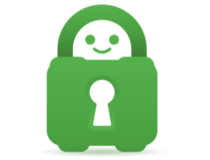 Private Internet Access
Connect to PIA to freely enjoy all Starz Play content from anywhere in the world!
3. CyberGhost – Reliable server speeds for streaming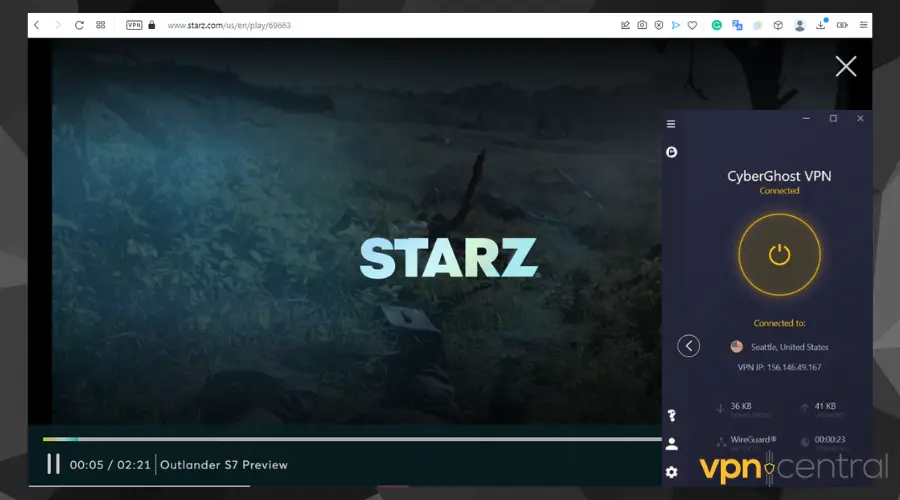 CyberGhost is another worthy mention on the list of the best VPNs that work well with Starz Play.
It has 9097 ultra-fast servers spanning a wide range of 199 locations in 91 countries to offer strong unblocking services and buffer-free streaming.
As with the previously mentioned VPNs, it's able to unblock major streaming services like Hulu, Disney+, HBO Max, US Netflix, Starz, and lots more.
✅ Pros:
Compatible with various streaming websites
Allows for 7 simultaneous connections
Strong unblocking abilities
Numerous IP addresses
❌ Cons:
What can you watch on Starz Play with a good VPN?
Below are a few of the amazing and interesting shows and series you can watch on Starz Play.
P-Valley

Outlander
The Serpent Queen
BMF (Black Mafia Family)
Hightown
Blindspotting
Party Down
Heels
Black Sails
Ash vs Evil Dead
Conclusion
Starz Play is home to many interesting shows and series that are only for viewers and residents of the US.
Over time, lovers of the streaming service have used VPNs to access the content they have but their IP addresses get blacklisted and blocked thereby denying them access to their favorite shows.
The fixes mentioned above have been tested and certified to help fix the issue of Starz not working with VPN and bypass the 1400 error on the platform.