With the consistent rise in data breaches and security threats, the use of VPNs has long gone from being a fad to a necessity for anyone who wants to feel secure while browsing the internet.
In fact, the global VPN market share in 2022 was $44 billion.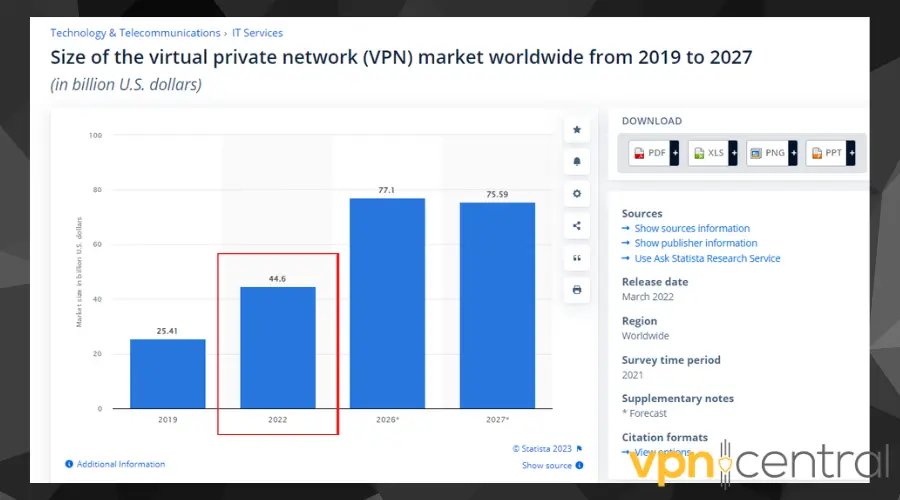 With huge figures like this going into the industry every year, it's only logical to ask how much it costs to start a VPN company.
If you've been wondering about the same thing, you're going to enjoy reading through this article.
Let's dive right in!
How much does it cost to start a VPN company?
Without a doubt, starting a VPN company can cost a lot of money.
However, there is no definite answer as to the exact amount needed to start or run one.
This is because running a successful VPN company depends on several factors:
server locations
web hosting
bandwidth
privacy and security features
number of users
There are also other essential points to consider such as the aim of the business, legal, and marketing.
This means that the higher and more advanced the features a VPN service provides, the costlier it will be to start.
That probably explains why VPNs are becoming more expensive.
However, with good business, some providers still manage to maintain cheap subscription prices.
Below, we take a closer look at a few essential factors that influence the overall cost of starting a VPN company.
❗ Please note that all the numbers we list are educated guesses based on available data from similar companies.
1. Location and rent
Your location can determine how much trust you'll garner from your customers as a VPN company.
Most significantly, if you're looking to start a privacy-focused VPN, you can't afford to base your service in the jurisdiction of any of the 14 Eyes countries.
If you're going to base in a privacy-focused country like NordVPN does in Panama City, then you can get a small office space for as low as $209 monthly.
However, rent in the same city can get as high as $2,000 per month if you want a bigger space.
➡️ Total cost: $209 – $2000
2. Servers
To start a VPN company, you need hardware for your virtual private servers.
The good thing is that many providers use colocation centers to run their servers in different countries. This helps to save the cost of maintaining these resources in-house.
Still, you have to choose a colocation provider that fits perfectly into your budget and needs.
🔵 Several factors such as rack space, internet costs, support, location, and setup costs affect the final price you'll pay to these centers.
Especially when you consider that the location of these servers must also match the services you aim to render to your customers.
If you plan to run a VPN for streaming, gaming, or torrenting, then you must have servers in tier 1 countries like the US, Canada, and Europe.
Based on available data, as of 2019, companies were paying monthly colocation fees ranging from $45 – $300 per 1U of server space in Atlanta.
However, if you intend to lease dedicated servers from these colocation centers, then you will spend an average of $200 per server every month.
➡️ Total cost: $45 – $300
3. Web hosting
This is another expense that definitely should be considered when starting a VPN company. You'll need a website that your users can visit to learn more about the services you offer.
This information includes:
Your server number and locations
The VPN about page
Terms of Service page
FAQ and lots more.
While choosing a hosting provider, you need to factor in the SSL certification, subscription plans, and pricing before finally deciding.
HostGator, GoDaddy, and Bluehost are reliable services with different hosting plans.
For instance, HostGator has a Hatchling plan that costs $2.25 per month and allows you to host one website with a free domain and SSL.
Bluehost costs a minimum of $2.95 a month while GoDaddy has offers for website building and hosting which will be beneficial to your VPN company.
Based on your needs and expertise, this can cost anywhere between $4.95 to $9.95 per month.
Quick summary:
Buying a domain name – $0 – $15 yearly
Getting an SSL certificate – $0 – $450 yearly
SiteLock – $2 – $24 yearly
Actual hosting – $2 – $739.99 yearly
➡️ Total cost: $4 – $739.99
4. Salaries
Your workers' salary should be factored into the whole expenses needed for starting a VPN company.
Although salaries of VPN company workers differ based on job role and location, Network Security Engineers in the US earn an average of $129,888 per year.
Software engineers earn an average of $139,952 yearly and you need at least one to build your VPN app.
Network Specialists earn $75,020 yearly on average while Help Desk Analysts earn an average of $49,152 yearly.
The figures for entry-level staff are much lower, but these above-mentioned numbers paint a more accurate picture of what to expect in terms of staff salaries.
Additionally, the cost of developing an app ranges between $10,000 and $300,000 over a period of 1,200 to 1,600 hours. The more complex it is, the costlier it is to build.
Hiring freelance talents can help lower these costs.
Still, it will cost between $15 and $95 per hour to get capable developers, programmers, and VPN specialists to develop and launch your apps on Android and Apple stores.
Assuming it takes up to 1,600 hours of work to build a fully functional app, it would cost you between $24,000 and $152,000 to hire a freelance team to get it done.
Quick summary:
Network Security Engineer: $129,888
Software Engineer: $139,952
Network Specialist: $75,020
Help Desk Analysts: $49,152
App Developer: $10,000 – $300,000
Launching on Playstore and Apple Store: $25 – $99
Alternatively, hiring a freelance team: $24,000 – $152,000
➡️ Total cost: $404,037 – $694,111
5. Marketing
Marketing is an essential part of any business as this serves as a fuel that keeps it running.
Owing to the fact that the VPN service provider market is competitive, you'll need an extensive budget to carve out a market share for your company.
This budget should cover activities such as:
Offering rebates for users and referrals
Creating reviews from various review sites
Hiring influencers for soft advertising
SEO and content marketing
PPC advertising (search engine ads)
This is all to convince people to subscribe to your VPN because you're better than your competitors.
➡️ There's no exact cost for this but it should cost between $300-$2000 monthly for a small VPN company.
6. Legal Staff
It's important to add the cost of your legal staff to the overall cost needed to start a VPN company.
This is because you certainly won't get 100% policy compliance from your users, and this will call for legal actions while running the business.
➡️ Based on relevant data, the cost of hiring a VPN legal team is between $151,450 to $167,723.
How much does it cost to start a VPN company – Final Amount
After considering just a few of the important factors, the yearly cost of starting a VPN company ranges between $559,345 to $888,873.99. That's an estimated $46,612 – $74,073 per month.
Here's the breakdown:
| | | |
| --- | --- | --- |
| Factors | Estimated Cost (Lowest) | Estimated Cost (Highest) |
| Rent | $209 | $2,000 |
| Servers | $45 | $300 |
| Web Hosting | $4 | $739.99 |
| Salaries | $404,037 | $694,111 |
| Marketing | $3,600 | $24,000 |
| Legal Team | $151,450 | $167,723 |
| Total | $559,345 | $888,873.99 |
Conclusion
Starting a VPN company is a lucrative opportunity as the global VPN market has been projected to reach a total of $77.1 billion by 2026.
The demand for privacy tools will only continue to rise, so now is probably the best time to start a VPN company.
If that's not in your plans, you might want to check this article to see if your provider is giving you a good deal.
Hopefully, this article has given you a better idea of how much it costs to start a VPN company and what to expect when you go into the business.
---