VPNBaron is a Romanian-based company that provides online users with fast and secure VPN connections.
It's one of the favorites for those that use torrent applications and streaming services.
It has a no-log policy, a feature that most companies don't offer. With speedy connections, strong encryption, and affordable prices, it's a great option for web privacy.
So let's go ahead and review VPNBaron's features.

VPNBaron features – overview
Security protocols such as OpenVPN (TCP, UDP)
Encryption algorithms AES-256-CBC, TLSv1/SSLv3 DHE-RSA-AES512-SHA, 2048 bit RSA
Over 30 servers in 18 countries (the number keeps going up)
Connects up to 3 devices simultaneously
No-log policy
24/7 responsive customer support
User-friendly client
Allows p2p traffic
Unlimited bandwidth
Having a wide range of servers to choose and switch from is a very important feature, especially if you're more interested in accessing geo-restricted websites and services.
This makes VPNBaron an ideal provider for those that want to use Netflix and other geo-blocked streaming sites at fast speeds.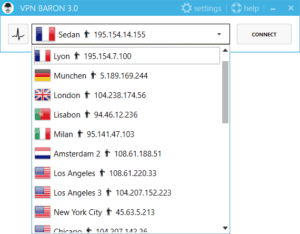 VPN Baron is also great for those that are keen on torrenting, since it allows peer-to-peer traffic, multiple VPN gateways, and unlimited bandwidth. It should also be mentioned that they don't restrict file-sharing traffic in any way.
VPNBaron comes with great security features especially for those that travel constantly and face various internet censorship laws.
More security features
Anti-DPI (Deep Package Inspection)
VPNBaron uses OpenVPN, the most stable and secure protocol available, supporting both TCP and UDP
TCP comes with an anti-Deep Package Inspection protocol. It basically makes your ISP or government unaware of the fact that you're using a VPN. It does it by using a combination of two other protocols such as:

SSL changes your browsing data to look like normal HTTPS browsing. If you're in China or Egypt, this feature is a must. Otherwise, you won't bypass blocks and risk legal penalties.
OBFSRPROXY also known as "TOR's OBFSPROXY Scamblesuit," this transport protocol changes your data packages to look like junk to your ISP, making traffic impossible to recognize.
These features will come in handy for those living in campuses that forbid VPNs, or in highly restrictive countries that block VPNs, such as China or Egypt.
VPNBaron DNS protection
Sometimes, the operating system can ask for your ISP's IP instead of your VPN's. In this scenario, there is a risk of data leaks.
VPNBaron doesn't let that happen as it has built-in DNS leak protection.
Kill switch
The kill switch feature disables the network card, killing your internet connection.
It helps in case the VPN disconnects or other breaches.
This eliminates the risk of exposing your real IP address if the VPN connection suddenly drops.
Security and anonymity
VPNBaron keeps none of the users' traffic logs, a policy that gives even more security and privacy while surfing the web.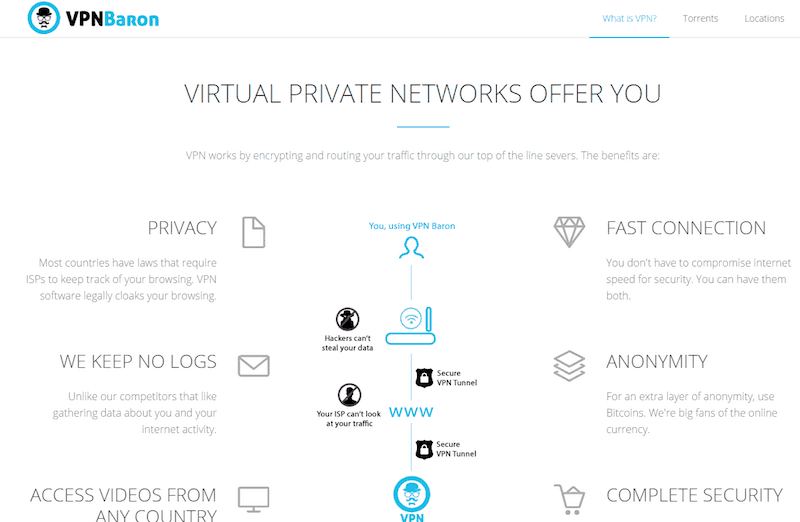 It encrypts all traffic. The protocols hide your IP and online activity from your ISP and any other eavesdropper.
This will also prevent DMCA notice, throttling, and other consequences that may arise if you use a VPN for seemingly suspicious activities like torrenting.
This has not and will not happen with VPNBaron.
Because it's under Romanian jurisdiction, there's no chance of sending any DMCA notice. Moreover, even in the extreme case of a subpoena or court order, there are no records to begin with.
All the VPN has on you are your login credentials which are of no real use to authorities.
Simply put, a no-log policy ensures total anonymity.
It uses the AES 256-bit cipher, a strong and indispensable key in the encryption of the world's most classified information.
Pricing plans
Now let's review VPNBaron's pricing
The VPN offers maximum security and privacy at affordable prices and substantial discounts for longer period plans.
The service comes in three packages named Bronze, Silver, and Gold.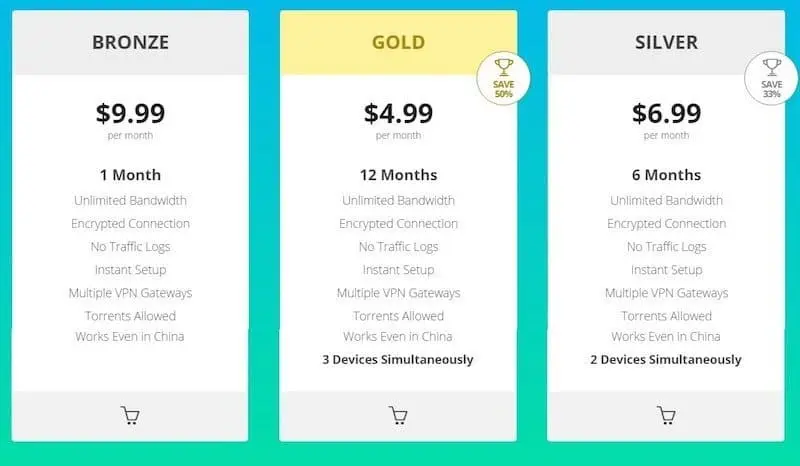 The Bronze plan is basically the VPN's services for a month and it will cost you $9.99 per month.
The Silver plan is a 6 month plan that lets you connect 2 devices simultaneously for $6.99 per month, saving you 33%.
And lastly, the Gold plan, this 1 year subscription offers 3 simultaneous connections for only $4.99 a month, which makes it a 50% save.
Installation and compatibility
VPNBaron's setup requires little to no effort, having a simple and clean client. You just have to introduce the username and password that were provided by mail, choose a server from the dropdown, and you're all done.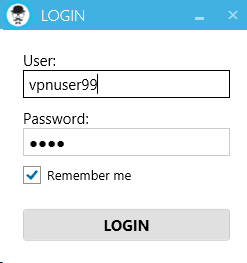 The advanced settings let you choose which VPN protocols you want to use (since some make your connection to move a little bit slower), set a DNS and activate the Kill Switch feature.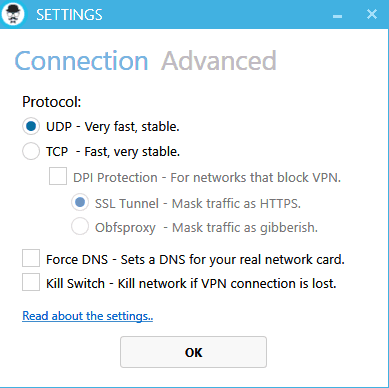 You can have great streaming speed and security on operating systems such as Windows, macOS, Android, iOS devices and if you're a Linux user, there is a guide on how to setup VPNBaron in their knowledgebase in the Installation Guide section.
Devices that also need configuring, such as routers, have a step-by-step tutorial to help you out, and the same can be said for iPhones and iPads.
Money back guarantee
There are no free trials, but VPNBaron provides a 7-day money back guarantee provided you do not exceed 10GB of bandwidth.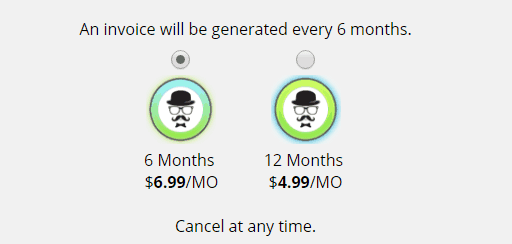 If you want to test the quality of VPNBaron's services you can easily subscribe and check things out for yourself. If you are not satisfied or you're just looking to test VPNs, you can always ask for your money back and you will receive a full refund, no questions asked.
Payment methods
Payment methods include PayPal, credit cards, and a number of virtual currencies, such as Bitcoin and DogeCoin. If privacy is of high priority to you, it's a good idea to use Bitcoin and other cryptocurrencies, as such payments cannot be traced back to the user.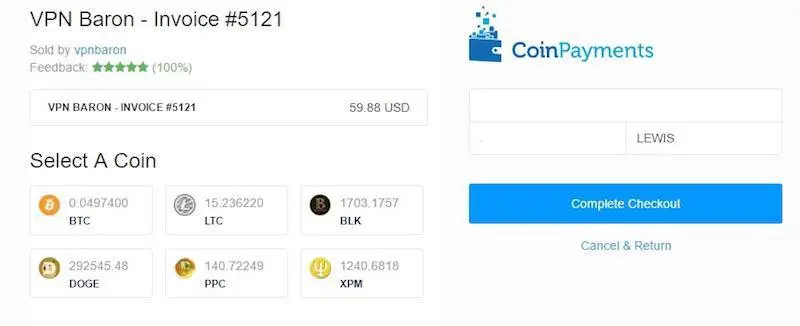 Customer support
A reliable and competent support team is of extreme importance when choosing a VPN provider. If some mishaps occur, you need to know there is someone ready to help you with your problem at any given hour.
You can solve any problem by opening a ticket in your client area or sending an email. Usually, the response time is within minutes and the problems are solved without complications.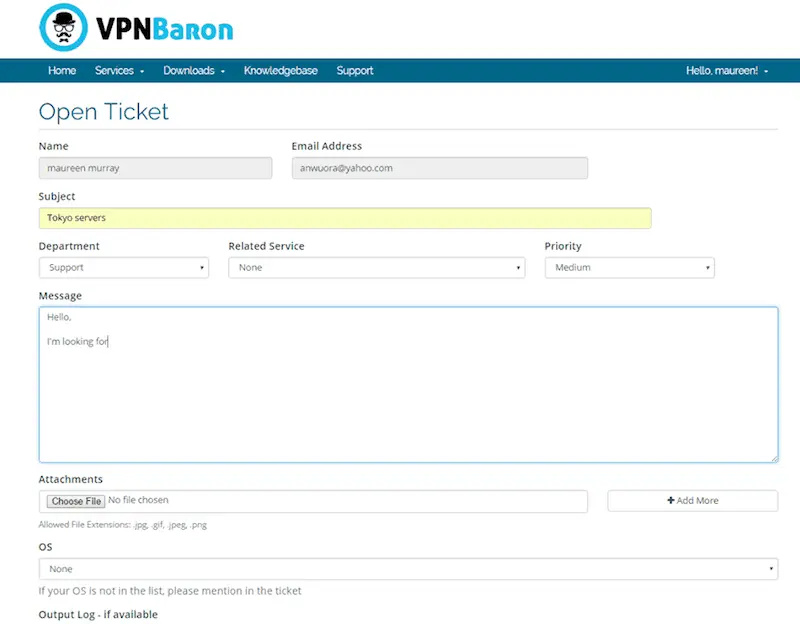 The site's user-friendly design directs any new and unknowing user to a knowledge base with several tutorials and guides regarding configurations, setups and other common security issues (such as WebRTC leaks).
VPNBaron speed test
From speed tests it can be seen that the connection is fast and stable, making it perfect for streaming films and torrenting (VPNBaron supports P2P traffic).
First, let's run a test without connecting to the VPN, just to see what our internet connection can do.



VPN Server in Amsterdam:

VPNBaron's speed is very good! It can easily keep up with our connection. The speed loss was minimal to non-existent.
VPNBaron Conclusions
VPNBaron has been attracting many privacy-driven users, and the numbers are still growing year to year thanks to its great services and almost instant installation process.
High speed coupled with complete anonymity and strong security features at affordable prices and plans make VPNBaron an ideal provider for those seeking a smooth streaming experience, fast and undisturbed torrenting, all under a cloak of anonymity.
To conclude, VPNBaron is a reliable service provider that does everything it says, enforcing the user's right to privacy through its efficient protocols.