If you're wondering how to watch German TV channels in Ireland, I totally get it – connecting to it might seem tricky due to geographical restrictions.
But fear not because I've got a hack for you! With the right tools, you can access German TV stations like ARD, ZDF, RTL Television, ProSieben, and more from Ireland.
Once you've sorted that out, get ready for a warm hug from Germany! Watch familiar faces, stay updated on news, and enjoy top-notch entertainment, all right on your screen.
So, follow this hack, relax, and enjoy the German TV goodness! Prost!
How to watch German TV in Ireland?
Geographical restrictions, like IP-based limitations, can hinder your access to German TV channels and streaming platforms while in Ireland.
→ As a result, when you're trying to connect outside Germany, they detect your non-German IP address and block your access to their content.
However, there's a smart solution to reclaim your access to German TV: using a VPN. This tool lets you connect to servers in Germany, masking your real IP and replacing it with a German one instead.
Consequently, you can unlock and enjoy all the German shows, movies, and sports events previously out of reach in Ireland.
Follow these steps to watch German TV with a VPN:
I recommend CyberGhost for its excellent speed, security, network coverage, privacy, and protection.
Here's how to use it, step-by-step:
Visit the CyberGhost website and choose your preferred VPN plan.

Install the app on your device and log in with your credentials.
Click on the arrow next to the Server location to browse for servers. Select one located in Germany.

Open your browser or app and stream the German TV channel you want to watch. For example, you can easily access ZDF and enjoy their popular programs without issues. 
Why do you need a VPN to watch German TV abroad?
You need a VPN to watch German TV because, without it, you'll get a geo-restriction error.
That's because these channels are only available within Germany, but the VPN can make it seem as if yoo are accessing them from inside the country.
This is a common situation with local TV channels in various countries, as they typically restrict access to residents living within their specific regions.
So, if you attempt to watch geo-blocked content like ZDF from Ireland or any other location outside Germany, you'll encounter an error message in German stating:
For legal reasons, this contribution can only be shown in Germany.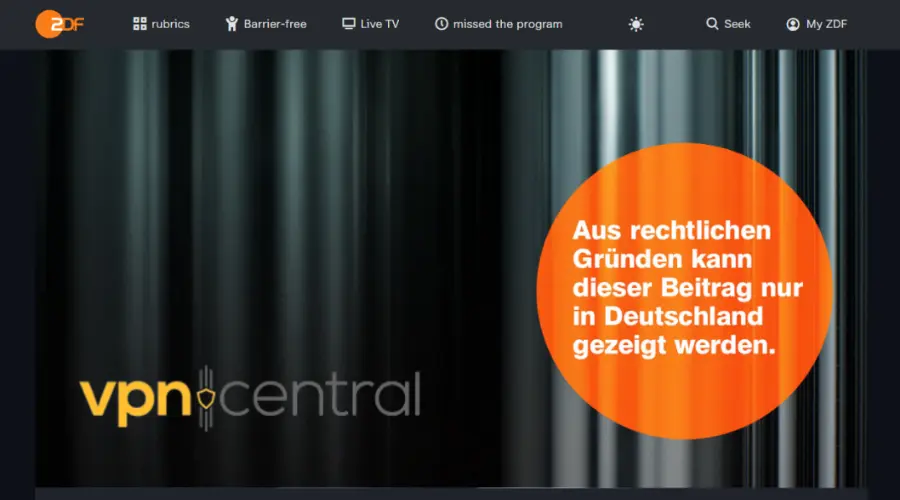 The geo-restrictions are in place to uphold content distribution agreements and protect the rights of copyright holders.
Best VPNs for German TV
The right VPN makes a difference for accessing German TV abroad. Not every VPN works, as some lack German servers or have subpar security features that can expose you to cyber threats.
That's why I recommend using premium-tier VPNs that won't log your data and have connection problems. Unfortunately, that's just the reality for most free VPNs.
After an analysis of their performance, availability of German servers, privacy, security features, and customer service, here are my top picks for the best VPNs for German TV:
1. CyberGhost — easy access to German servers with strong privacy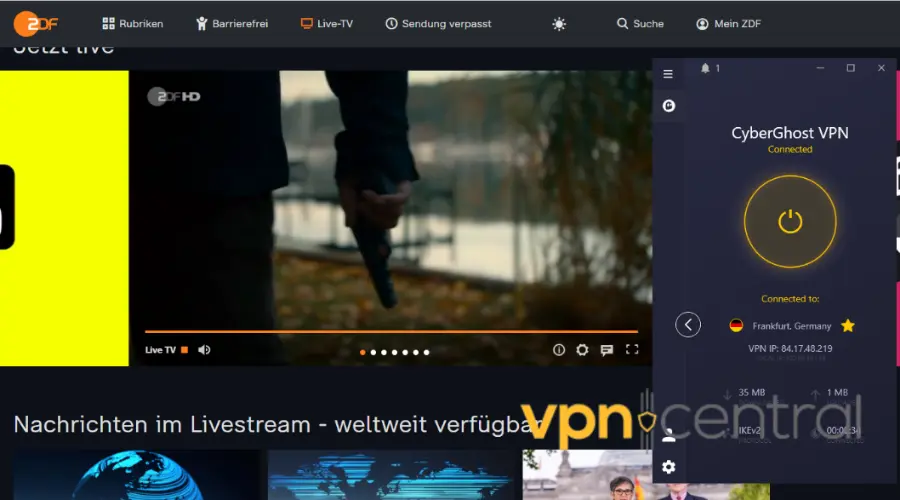 CyberGhost offers 1,623 high-speed servers in Germany, providing you with many options to choose from.
So, you can enjoy uninterrupted streaming without worrying about crowded servers.
With unlimited bandwidth and fast VPN protocols like WireGuard, you will enjoy optimal performance on streaming-optimized servers that use 10 Gbps speeds in high-traffic locations.
This guarantees you can watch your favorite German channels like ZDF and ARD or enjoy Bundesliga matches with great video quality.
Moreover, your online activity is safeguarded with CyberGhost's powerful 256-bit AES encryption. This ensures your sensitive data remains safe from prying eyes and cybercriminals.
Plus, the kill switch feature blocks all traffic in case of a lost connection, preventing your actual location from being revealed to the TV channel.
Furthermore, with CyberGhost, convenience is key. A single subscription enables you to connect up to 7 devices simultaneously.
Should you encounter any issues or need assistance, its friendly 24/7 Customer Support team is available via live chat or email.
✅ Pros:
Fast and reliable service
User-friendly interface
Supports up to 7 devices simultaneously
Generous 45-day money-back guarantee
24/7 live chat support is available
❌ Cons:
Some servers may experience crowding
Not compatible with certain router models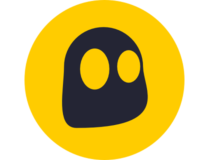 CyberGhost
Employ CyberGhost's reliable service to unlock German entertainment from Ireland in the blink of an eye!
2. NordVPN — securely watch German TV with advanced encryption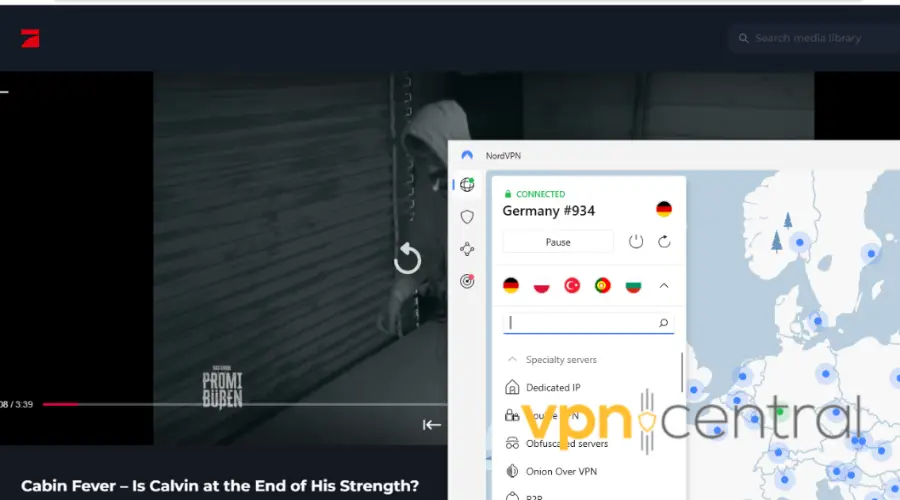 NordVPN is another great choice! With 240+ fast and secure servers in Germany, you'll always find one that works like a charm for your streaming needs.
But that's not all – what sets it apart is its impressive Threat Protection feature. It goes beyond ordinary VPNs by blocking annoying ads and suspicious sites.
In terms of privacy, NordVPN takes no chances. It uses military-grade AES-256 encryption to safeguard your personal information, keeping it safe and hidden from third parties.
Public WiFi can be risky, but with NordVPN, you can confidently stream anywhere. It hides your location and makes it impossible for anyone to snoop on your browsing habits.
For an extra layer of protection, it offers the Double VPN feature, which ensures your data passes through not one but two secure servers.
Oh, and here's something fantastic – NordVPN's independently audited no-logs policy. That's right, they don't track where you go online, so your privacy remains intact.
So, with NordVPN, you're in for a blazing-fast streaming experience. No limits on HD or 4K, just smooth and uninterrupted streaming for all your favorite German TV programs.
✅ Pros:
Affordable monthly pricing
Extensive server network
Apps designed for Fire Stick and Android TV
❌ Cons:
Router setup can be complex for some users
Apps may experience occasional sluggishness.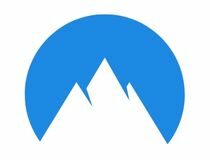 NordVPN
Unlock German TV in Ireland with NordVPN and enjoy limitless shows, movies, news, live sports, and much more!
3. ExpressVPN — lightning-fast speeds for seamless German streaming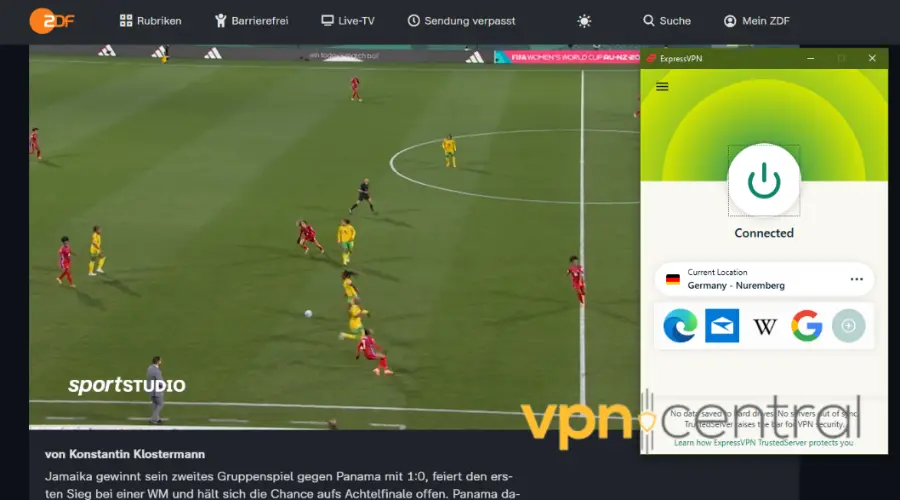 ExpressVPN is a standout choice for accessing German TV programs abroad, thanks to its array of top-notch features.
With ultra-fast servers in Germany, you can easily stream your favorite shows.
Security is a priority with ExpressVPN. It employs 256-bit encryption and advanced leak protection to secure your streaming connection.
The kill switch feature automatically cuts off your internet if the VPN connection drops, safeguarding your information.
ExpressVPN's strict no-logs policy and TrustedServer feature further ensure your online activities are never recorded, so your data won't be tracked or sold to third parties.
MediaStreamer is another fantastic perk, extending VPN protection to devices without native VPN support, such as smart TVs, gaming consoles, and streaming media players.
Plus, across popular devices like Windows, Android, macOS, iOS, and Linux, ExpressVPN works seamlessly and ensures smooth playback without interruptions.
✅ Pros:
Ultra-fast servers in Germany
Top-notch leak protection
Consistently maintains fast and stable connections
Enables HD streaming with unlimited bandwidth
Apps available for various devices
❌ Cons:
Slightly higher price compared to some competitors
Servers occasionally get blacklisted due to popularity
Allows only five device connections at a time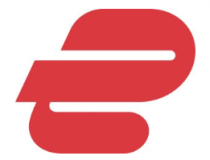 ExpressVPN
Unlock German TV shows from Ireland! Install ExpressVPN to stream hassle-free and in HD.
4. PIA — enhanced privacy with no-logs policy for German servers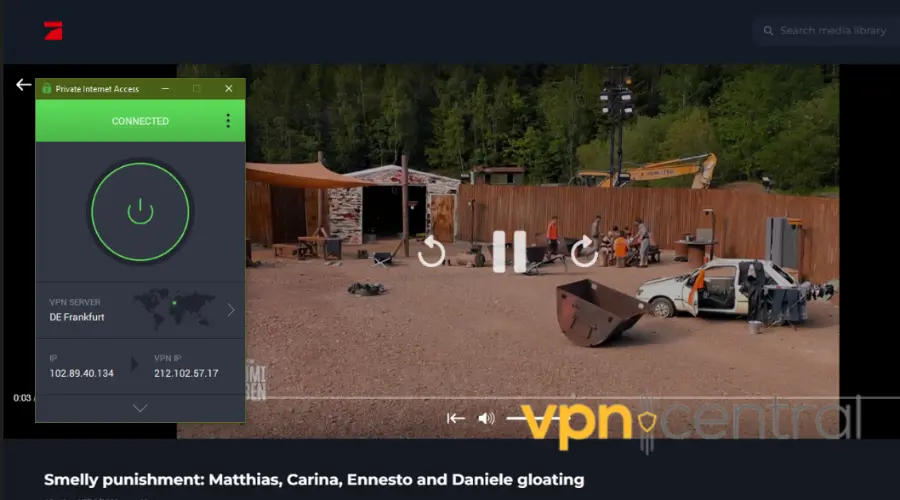 PIA stands out as an excellent VPN choice for accessing German TV programs abroad, with its lightning-fast speeds and an extensive selection of over 147 servers in Germany.
Thanks to powerful 10 Gbps NextGen servers, you can bid farewell to frustrating lags and buffering and enjoy seamless 4K streaming without delays.
Plus, with unlimited bandwidth, you can stream your favorite German shows like Babylon Berlin, The Swarm, Dogs of Berlin, and Deutschland 86, without worrying about data caps.
Moreover, it offers robust encryption. You can choose between 128-bit or 256-bit AES ciphers.
This ensures privacy and security for your streaming activities, shielding them from ISPs, third parties, or even German channels attempting to track your incoming traffic.
What's more? The Smart DNS feature allows you to change your virtual location directly from your Smart TV, which ensures connection speeds remain unaffected.
Alternatively, installing the VPN directly on your router secures your entire network and devices. This way, your online activities are safeguarded with PIA's reliable VPN.
✅ Pros:
Compatible with major streaming services
Impressive streaming speeds
Allows unlimited device connections
❌ Cons:
Live chat support may have slow response times
Speeds might fluctuate depending on the server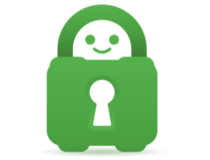 PIA
Download PIA VPN to easily catch your favorite German shows in Ireland! Enjoy boundless streaming of foreign media libraries.
5. Surfshark — watch German TV on multiple devices simultaneously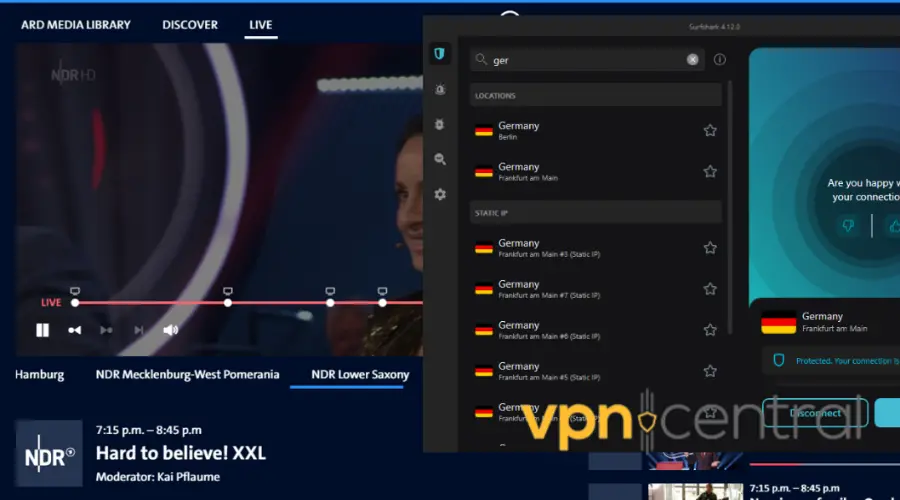 Surfshark emerges as a top-notch VPN for accessing German TV programs abroad, offering many impressive features at an affordable price of just $2.49 per month.
An example is unlimited data and unrestricted bandwidth, which help you stream your favorite German channels without interruptions or data caps.
Furthermore, the ability to connect unlimited devices simultaneously is a huge bonus.
These include seamless streaming across multiple platforms like Windows, Mac, Android, iOS, and more!
Additionally, you can enjoy your favorite German programs and film channels in high-definition or even 4K quality without compromising connection speed.
To deliver top-notch online security and privacy, Surfshark uses advanced protocols, including OpenVPN, IKEv2/IPsec, and WireGuard, all powered by AES-256-GCM encryption.
The convenient kill switch feature automatically cuts off your internet connection if the VPN connection drops.
With features like CleanWeb blocking annoying ads, trackers, and malware, Surfshark provides a clean and uninterrupted streaming experience.
✅ Pros:
Unlimited device connections
Impressive streaming speeds
Offers extra features like virus protection
❌ Cons:
P2P performance may be inconsistent
Smaller server network compared to some competitors
No free trial is available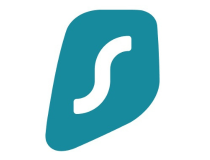 Surfshark
Unblock your favorite German TV shows right in Ireland using this reliable geo-unblocking tool! Wave farewell to regional blocks!
Which German channels can I watch online?
If you're looking to tune in to some German TV, here are some popular channels you might want to check out:
1. ARD (Arbeitsgemeinschaft der öffentlich-rechtlichen Rundfunkanstalten der Bundesrepublik Deutschland):
As a prominent public broadcaster, ARD offers an extensive array of captivating programs that cater to a diverse audience in Germany.
From up-to-date news coverage and thought-provoking documentaries to engaging dramas and entertaining shows.
Some popular shows on ARD include:
Tatort features different investigative teams solving intriguing cases across various German cities.
Babylon Berlin (2017-present) is a German historical drama series in the Weimar Republic.
Deutschland 83 (2015) is a German spy thriller series set during the Cold War.
Dark (2017-2020) is a German science fiction thriller series about a group of teenagers drawn into a web of time travel.
2. ZDF (Zweites Deutsches Fernsehen):
Another esteemed public broadcaster, ZDF, ensures a rich blend of content that caters to various interests in Germany.
Some of its most popular shows include:
The Swarm (2023) is a German ecological thriller based on the novel of the same name by Frank Schätzing.
Bad Banks (2018-2020) is a German drama series about the world of high finance.
Löwenzahn (1979-present) is a German children's educational television series about the natural world.
3. RTL Television (Radio Télévision Luxembourg):
RTL Television is a German-language TV channel, part of the RTL Group, based in Cologne. It provides free broadcasting to viewers.
It is one of the largest private television networks in Germany and one of the most popular television channels in Europe.
Here are some of the different channels under RTL Group:
VOX: A German television channel that focuses on entertainment and lifestyle programming. Some of its popular shows include Club der roten Bänder and Sing Meinen Song.
n-tv: This German news channel provides 24-hour coverage of current events. It is also available in HD.
Super RTL: A German children's channel that broadcasts cartoons, anime, and live-action shows. Some of its popular shows include Ninjago, Peppa Pig, and LazyTown.
RTL Zwei: This German entertainment channel broadcasts various programming, including reality shows, game shows, and movies.
RTLup: A German streaming service that offers a variety of programming, including original series, movies, and documentaries.
A leading private channel, ProSieben stands out for its focus on pure entertainment.
You can watch popular shows on ProSieben, such as:
Die ProSieben Märchenstunde (2022) is a German comedy show in which well-known fairy tales are retold humorously.
Wer stiehlt mir die Show? (2021) is a German game show in which a celebrity guest tries to steal the show from the host, Joko Winterscheidt.
Das große Promi-Büßen (2022) is a German reality show in which celebrities are challenged to face their past mistakes.
Lucky Stars – Alles auf die Fünf! (2022) is a German game show in which contestants try to win money by answering questions and completing challenges.
Is it legal to watch German TV in Ireland with a VPN?
Yes, it is generally legal to watch German TV in Ireland with a VPN as long as you comply with copyright and other applicable laws.
However, to stay safe, check the terms and conditions of the German channels you wish to watch before using a VPN.
Additionally, opt for a reputable provider with a strict no-logs policy and a commitment to safeguarding your personal information from third parties.
Summary
Throughout this journey, I have walked you through how to watch German TV channels in Ireland with VPNs.
To stay safe, check the terms and conditions of the German channels you wish to watch for a seamless experience.
With all the knowledge at your fingertips, I wish you happy streaming and a delightful exploration of the finest German TV entertainment!
Plus, it's an awesome way to stay updated on the latest happenings back in Germany, including sports events like the Bundesliga.
---