Working from home comes with challenges, and most of the time, you have to figure things out yourself.
So, what do you do when you want to start your day but you're hit with the VPN not working error?
Issues like this aren't only frustrating but can even be dangerous when exchanging critical files with your colleagues.
Luckily, there are fixes for many common working-from-home VPN issues, and we'll list them all below.
What are the most common VPN issues when working from home, and how to fix them?
Most of the issues you'll encounter are easy to fix and don't require a lot of technical knowledge.
Let's take a look!
Your Internet isn't working
One of the problems remote workers often face is not being able to establish an encrypted connection.
Sometimes, this happens because their Internet isn't working, and therefore, it's impossible to hop onto a VPN server.
So, the first thing you should do is check whether you're online.
How to check if your Internet is working
There are a few easy ways to do that:
Open your browser and try accessing a website.
Check whether your cable is plugged into the router.
Check whether you've used the right password if you're using Wi-Fi.
Call your ISP to check if the connection is working.
If you discover that you can surf the web without any problems, it indicates something else is stopping you from connecting to a VPN server.
Your VPN settings need changing
Like most programs, VPN software comes with various options you can change based on what you need.
Companies that use a VPN often have recommended configuration settings for their employees. If this is the case with you, checking whether your settings match those is a good idea.
Any potential deviation can cause the VPN not to work and make it impossible to connect to a server.
How to change your VPN settings
These are some of the most common VPN settings that need adjustments when working from home:
Port settings – Different protocols use different port settings. Check the instructions to see which port you should opt for.
DNS settings – VPNs assigned a wrong or no DNS server address won't work.
Server locations – Some locations may not work with your company's network. Check if the instructions mention anything about that.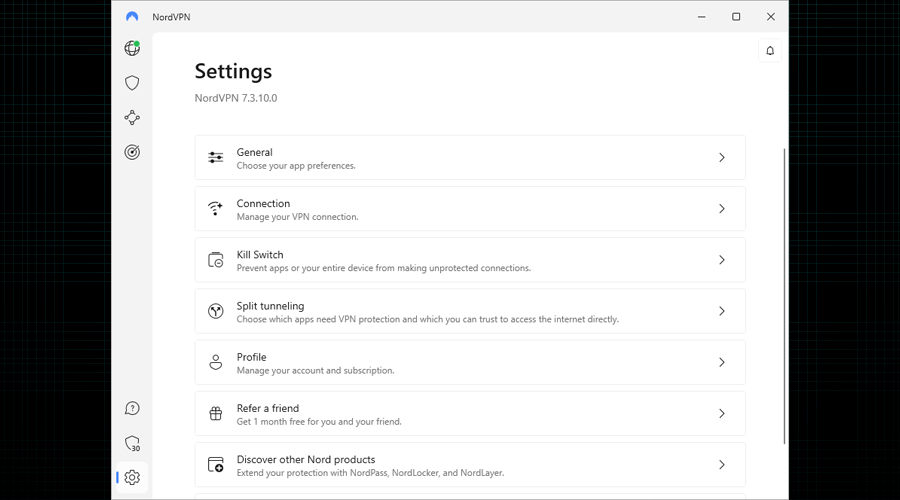 You can find most of these options in your VPN's settings tab.
Make any necessary changes, and try connecting to a server again. If it still doesn't work, something else is causing the problem.
Incorrect account information
Sometimes, your account information can get mixed up. That happens if your company has multiple employees using the same account.
How to fix incorrect account information
If there's a problem with your VPN credentials, logging out of your account and logging back in should fix the problem.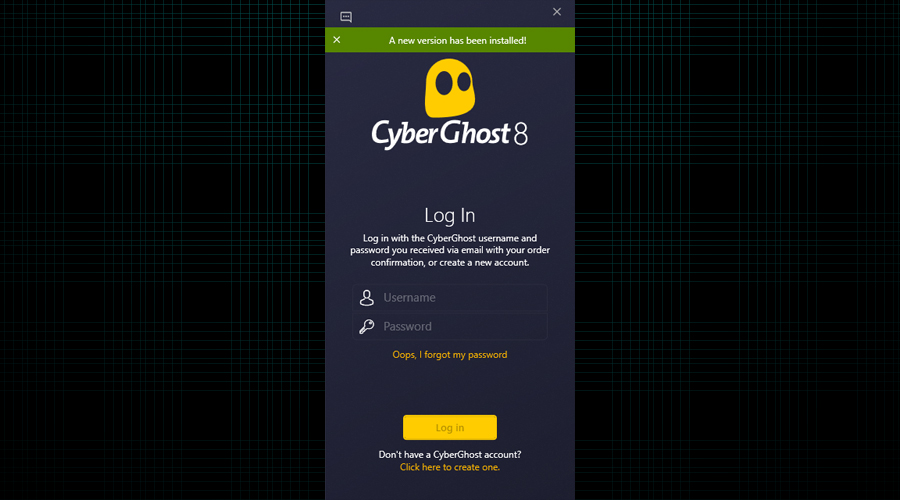 Your VPN needs an update
It's important to update your VPN software regularly to eliminate bugs and security risks and to properly connect to its servers.
So, if you're struggling, checking whether you have the latest version of the app is a good idea.
How to update your VPN
Some VPNs update automatically, so you don't have to do anything. With some of them, however, you have to turn this feature on in the settings tab.
On the other hand, many VPNs require manual updating, which is usually rather simple.
Most apps will notify you on the home screen that there's an update available. All you have to do is click on the link and follow the instructions.
Another VPN is running
One of the common causes for working-from-home VPN issues is that you have another VPN running while trying to connect to the one you use for work.
When connected to one VPN server, any other VPN app will fail to establish a connection.
If you have multiple VPN apps installed, it may be worth making sure that you're not connected to one of them.
How to turn off other VPNs
Simply check if any VPN apps are running in the background while you're trying to establish a connection.
If there are, disconnecting from the server and turning the extra VPN off will fix the problem.
Busy servers
If you've managed to connect to a VPN server, but the speed you get is extremely low, it could indicate that there are too many users on that specific server.
This issue is called server congestion, and you'll rarely see it with high-end VPNs. However, if you use a free or lower-tier VPN, you might experience it from time to time.
How to avoid busy servers
Server congestion is one of the problems you can't fix since the issue exists on the provider's end.
On the bright side, you can disconnect from that server and hop onto another one. It's a good idea to try a few servers in different locations until you figure out which one works the best. Sometimes it's a good idea just to restart the VPN app.
If all servers are slow, it could indicate that you need a better VPN.
Top options on the market, such as ExpressVPN and NordVPN, have thousands of servers, and you won't experience such problems.
Your firewall is blocking the VPN software
If you're struggling to connect to a VPN server, it could be because your firewall detects it as a threat and marks the incoming traffic as unusual.
While your firewall helps you stay safe online, it may also be what's causing this problem.
How to disable your firewall
To test if it's your firewall blocking the VPN, you can temporarily turn it off and try to connect to a VPN server to see if the problem is still present.
Doing so is easy:
Enter Control Panel in the Windows search bar and open it.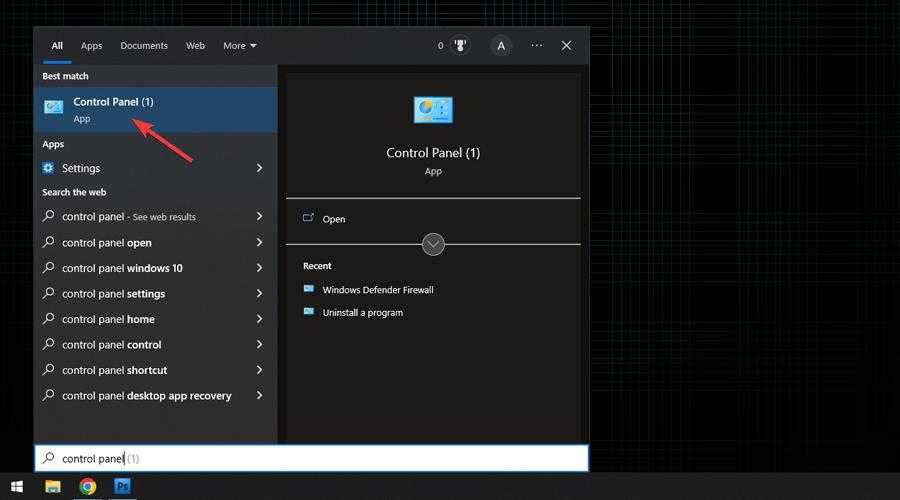 Click System and Security.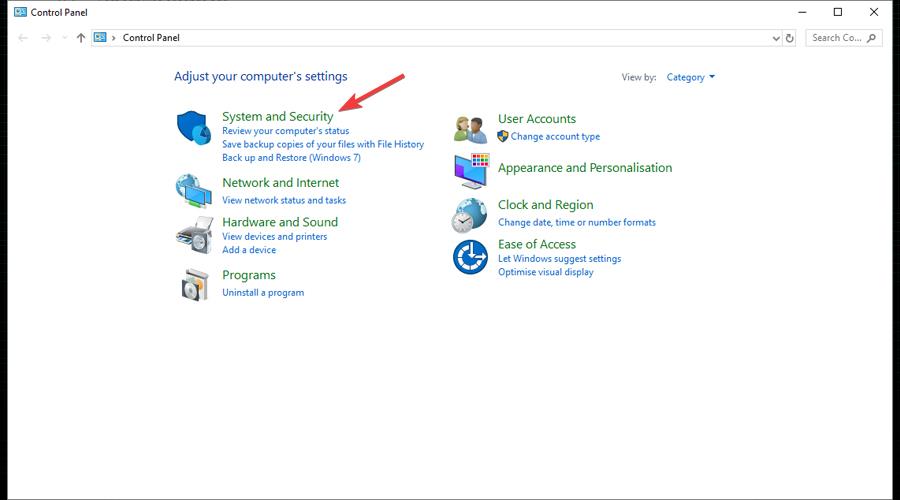 Click Windows Defender Firewall.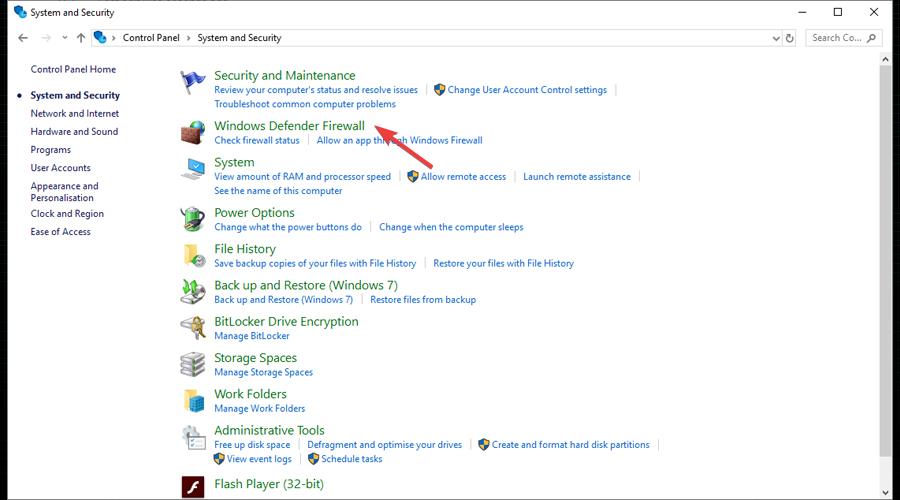 Click the Turn Windows Defender Firewall on or off button in the left sidebar.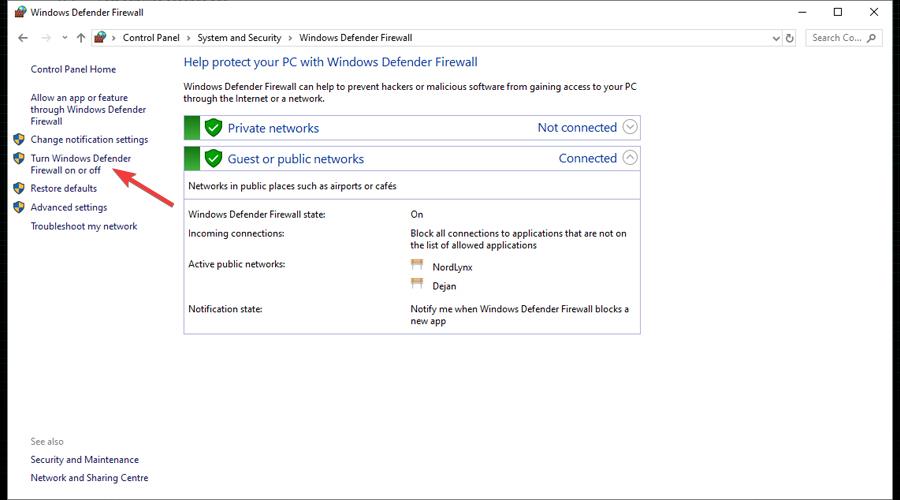 Select Turn off Windows Defender Firewall for both private and public networks and click OK.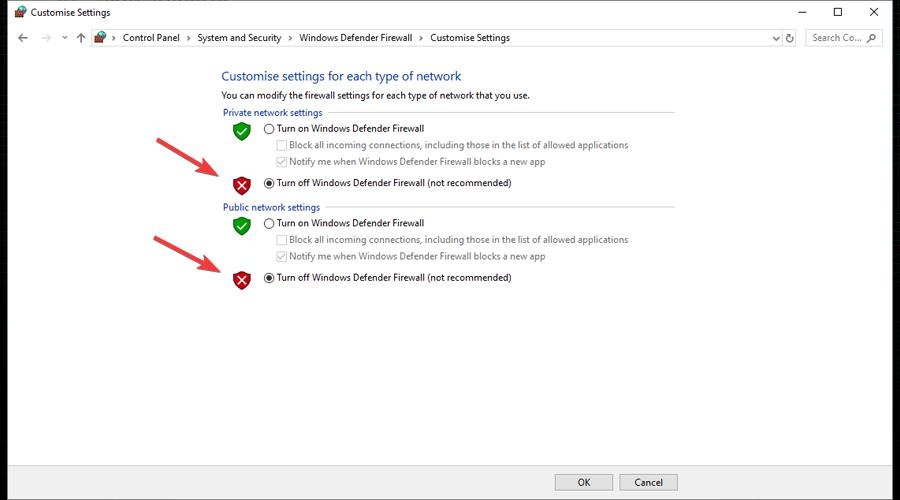 Check if your VPN works.
Your IP address belongs to the same subnetwork as your company's
You may fail to connect to a VPN server because your IP belongs to the same subnetwork as your company's IP.
Therefore, changing your IP should fix the problem and let you use the VPN.
How to change your IP address
To check if that is causing the problem, you first need to compare it to the one belonging to your company.
You can quickly do so through the Windows Command Prompt tool:
Type Command Prompt in the Windows search bar and open it.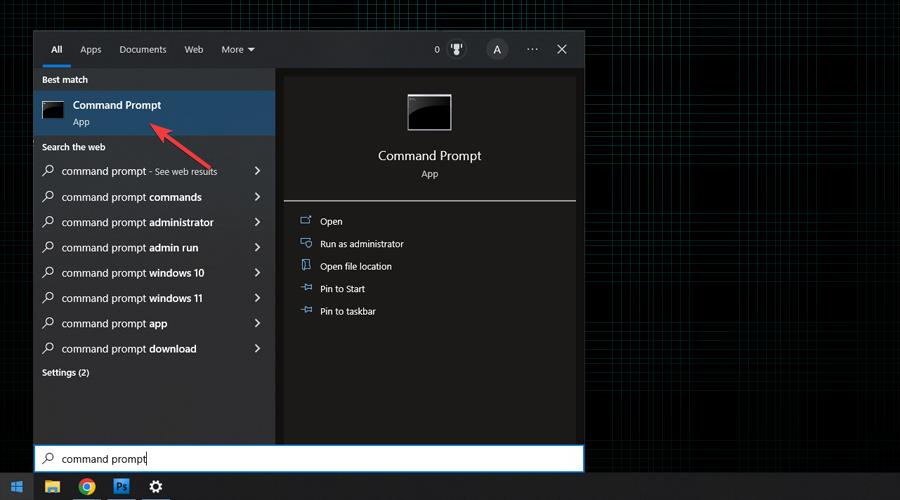 Type IPCONFIG in the app.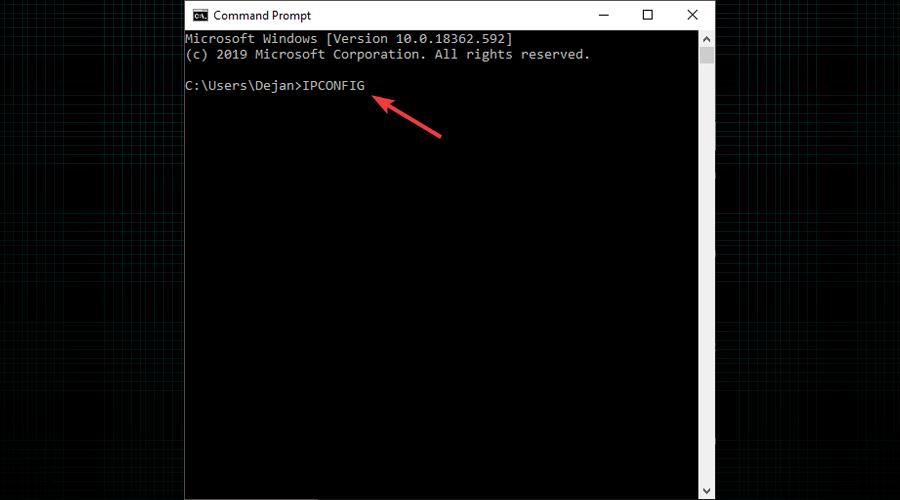 Look for your IP and compare it to the one of your company.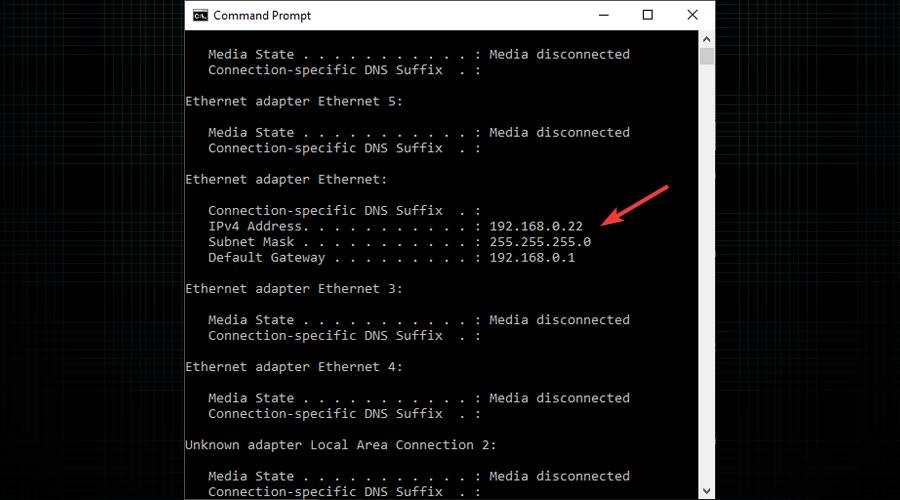 If your IP is causing the problem, all you have to do is change it. You can do so with a few clicks:
Open Settings through the Windows search bar.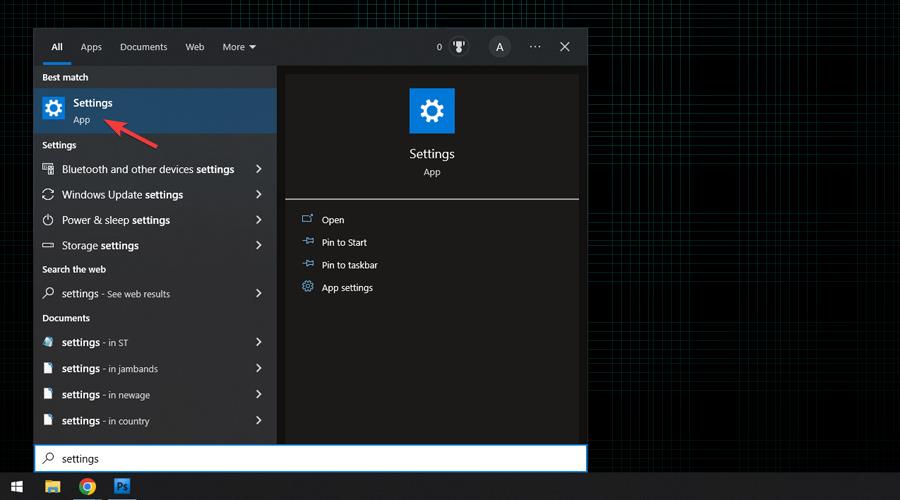 Then click Network and Internet.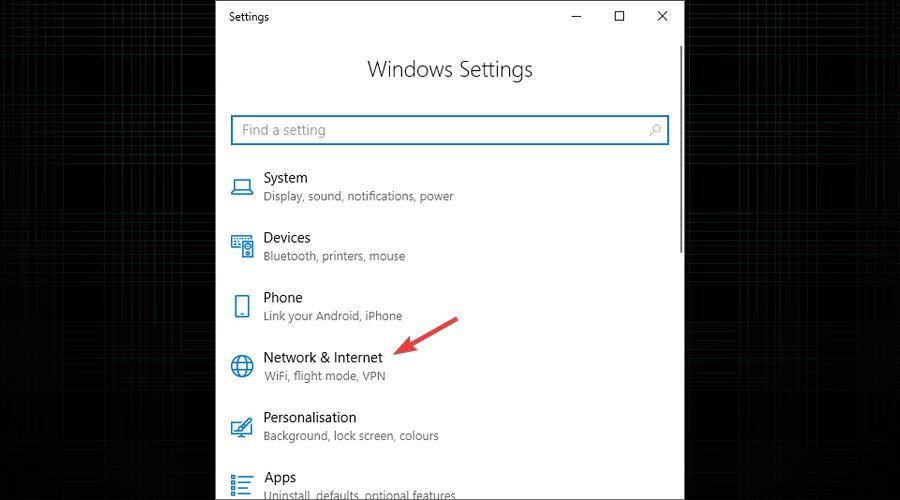 If you're connected through cable, press Ethernet and select your network.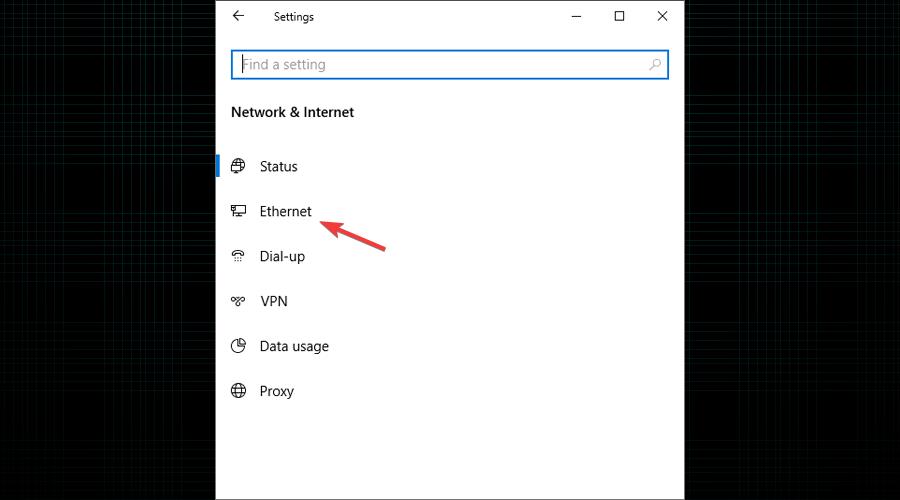 Click Edit.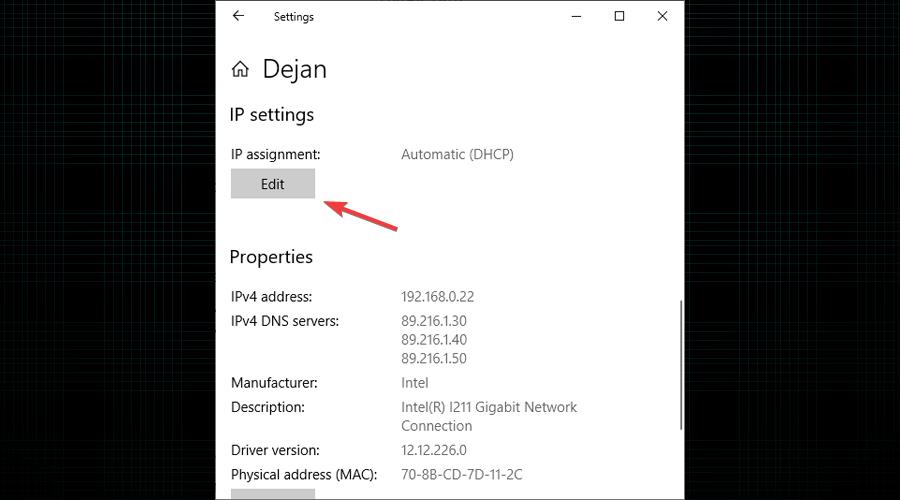 Change the IP setting to Manual and toggle on IPv4.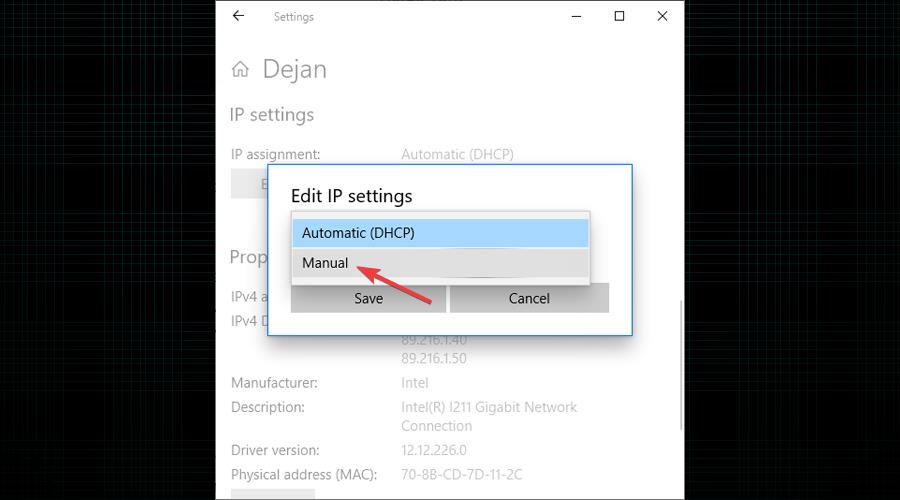 Enter the new IP address manually.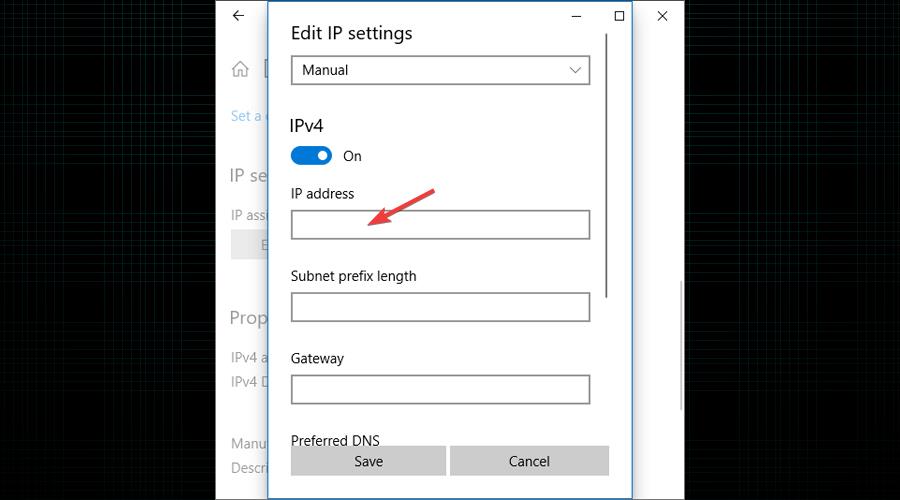 Check whether you can connect to a VPN server.
Your real IP has leaked
Sometimes, you'll manage to connect to a VPN server, but you still won't be able to do what you need for work.
What's usually behind this problem is that your real IP address is leaked, revealing your actual location and preventing access to your work-related files or links.
How to prevent your real IP from leaking
To check if an IP leak is the problem, you have to run a test with a suitable online tool.
In this example, we ran it through ipleak.net, and it showed us that our VPN isn't leaking our actual IP.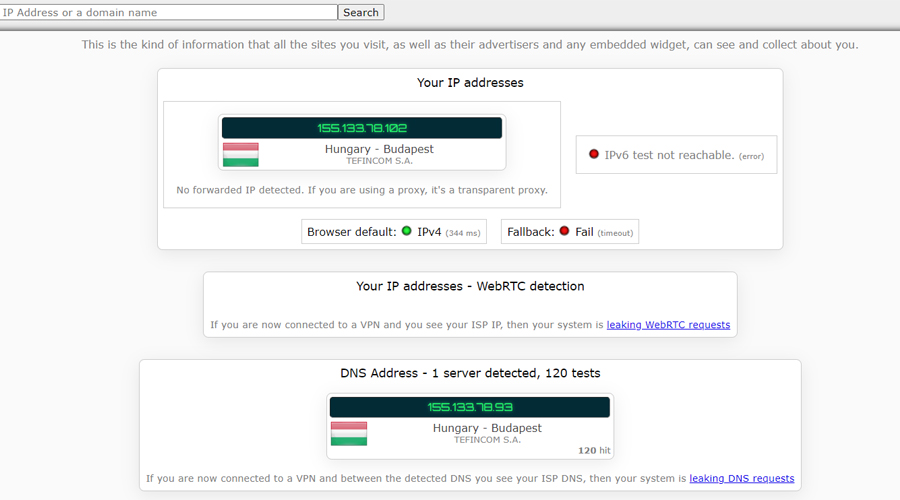 If you see your actual location or IP in the test, it indicates your VPN has failed to prevent the data from leaking.
That may happen with free and lower-tier VPN software. Therefore, you might want to consider changing your VPN provider and opting for one of the more renowned options.
Wrap up
Hopefully, you found the solution to your working-from-home VPN issues in this guide.
Alternatively, you can contact your VPN provider's customer support or your company's IT support team and ask for help.
Let us know how things worked out for you in the comments section below!