ZEE5, previously known as OZEE, is one of India's most popular streaming services.
It has over 4000 movies, 2000 shows, and 250 originals in 18 languages, including Bengali, Hindi, and Punjabi.
However, some of its content is geo-restricted, and viewers outside the country can't access it. Don't give up hope just yet, though!
Below, we'll show you several tested workarounds for this problem. So, let's get down to business!
Why is ZEE5 not available in your region?
ZEE5 has to comply with licensing and distribution agreements that determine content availability. If you're not from an approved region, you won't be able to view it.
Although initially only accessible in India, the platform is now available globally. In October 2018, it launched across 190+ countries, including the US, the UK, Canada, and more.
Still, users have reported getting error messages such as:
"Entertainment will soon have a new destination. Coming soon to your country."
On top of that, ZEE is constantly on the lookout for VPNs and blocking unusual activity. Like other streaming platforms, it tries to prevent users from circumventing geo-restrictions.
Here's what you can do about that!
How to unblock ZEE5 from anywhere?
There are several ways to watch ZEE5 anywhere and never miss out on your favorite shows.
1. Use a VPN
Using a VPN is the most reliable way to unblock ZEE5.
Here's how it works in short.
Every time you connect to the service, it'll check your IP address. If it doesn't place you in India, you'll be unable to watch geo-restricted content.
But, with a VPN, you can reroute your queries through Indian VPN servers, and ZEE5 won't be able to tell the difference.
Additionally, many providers are optimized for streaming, and you'll notice a boost in your speed and video quality.
For this, we recommend ExpressVPN. It has proven to be a reliable tool for unblocking streaming platforms, and its connection speeds are lightning-fast.
Follow these steps to watch ZEE5 with it:
Subscribe to ExpressVPN and download the software.

Follow the instructions to install the app.

Open the app and find a server in India in the VPN locations list.

Click on the server to connect. You'll be notified if the connection is successful.

Go to ZEE5's website and log in to watch!
ExpressVPN has two virtual servers for India that will connect you via UK or Singapore.
The service removed its physical servers because of Indian government directives requiring VPNs to log user activity for five years or longer.
Luckily, that way, you can still obtain an Indian IP address and keep your data safe.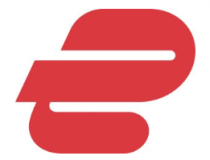 ExpressVPN
With this premium VPN service, you'll be able to watch your favorite shows from anywhere!
We've also prepared a guide in case you experience any issues with your VPN and Zee5.
2. Use a proxy
Alternatively, a proxy server will serve a similar purpose to a VPN. You can use them to bypass geo-restrictions and freely stream ZEE5.
They act as an intermediary between you and the website you want to connect to. Once you make the request, the proxy intercepts it and forwards it to the destination server.
However, proxies don't employ encryption, which makes them relatively faster, but much less secure.
Additionally, you can set them up to work on a single website. So, if you intend on using a proxy for ZEE5, it'll only reroute your requests to that platform.
Unfortunately, they don't have the same success rate as VPNs when it comes to unblocking streaming services. Furthermore, they're often prone to connection drops and lag due to overburdened servers.
Still, proxies are a much cheaper solution than VPNs, and you can even set them up to serve as a web filter and firewall.
3. Use Smart DNS
Smart DNS is another viable option for ZEE5.
It will reroute your DNS requests and make it look like you're from somewhere else. So, it basically combines aspects of both proxy and DNS servers.
It also works on a much broader range of devices than a VPN. And it's faster!
Unfortunately, the available server network can be rather humble, allowing you to connect to a few select locations.
Furthermore, Smart DNS won't envelop your traffic in an encrypted tunnel, either. It simply redirects your queries without scrambling your data.
But if you feel like giving it a go, we recommend Smart DNS Proxy for its excellent unblocking capabilities.
4. Use a browser extension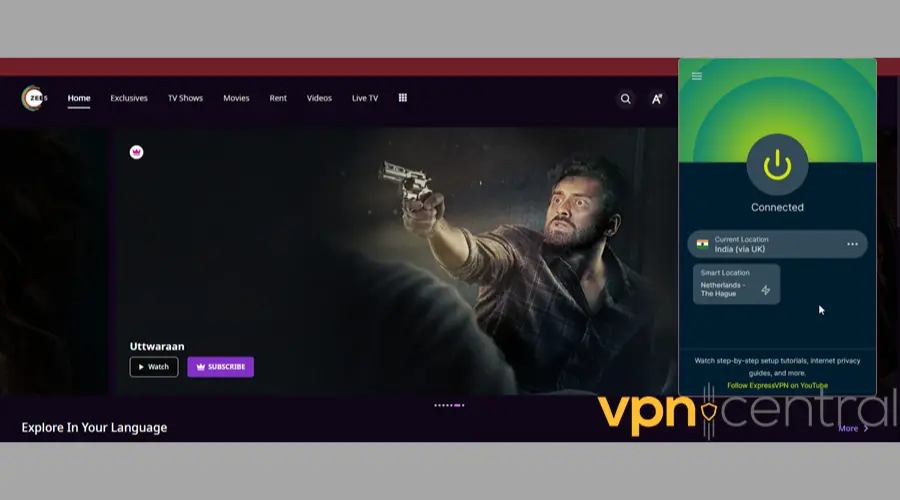 A VPN browser extension can do the same things as the client version. Some can even work independently, while others require the native app.
However, it will only encrypt your browser's traffic — not your entire device's online activity.
On the brighter side, it's lighter and easier to use than the app. All you have to do is click on the country you want to connect to.
Just make sure that you've installed the right version for your browser (Google Chrome, Mozilla Firefox, Microsoft Edge). 
Wrap up
Although ZEE5 became globally available, some content is still exclusive to India. That can be frustrating, especially if you're a premium user.
Still, it's not an insurmountable obstacle. The next time you encounter the ZEE5 not available in your region error message, try the solutions discussed above.
A reliable VPN is by far the most successful method, so we recommend checking ExpressVPN's offers.
Let us know how it worked out for you in the comments section!
FAQ
In which country is ZEE5 not available?

ZEE5 used to be exclusive to India, but now it's globally available. 

However, many users worldwide still encounter error screens due to geo-blocks.
How do I change my country on ZEE5?

ZEE5's app doesn't let you change your country, but you can do it with a VPN, proxy, smart DNS, or a VPN browser extension.

With any of them, you can appear to be in India and access restricted content.
Will ZEE5 work on VPN?

Yes, you can use a VPN with ZEE5. 

However, you'll need a reliable service to bypass the platform's IP blocks and maintain good stream quality.
Why is the ZEE5 app not available in the US?

The ZEE5 app is now available in the US. You can download it on the Google Play Store and App Store.

But if you get the ZEE5 not available in your region error message, you can try the solutions listed above.