Audible is a popular audiobook service brought to you by Amazon.
As you can expect from such a platform, Audible lets you buy, download and listen to a wide variety of audiobooks.
However, depending on your region, you may be unable to experience Audible, either partially or at all.
On the bright side, this unfair limitation is quite easy to circumvent.
The best part is that sometimes you may not even need to resort to conventional tools such as VPNs to change your location.
In our guide, we'll tell you what you need to do if Audible is not available in your region.
What countries is Audible available in?
Is Audible available worldwide? While the platform is present in a lot of regions, it's not available in all the countries of the world.
Some countries have the platform available in their respective language:
North America: US, Canada
Europe: Germany, Austria, France, Italy, Spain, Switzerland, Belgium, UK, Ireland
Asia: India, Japan
Oceania: Australia, New Zeeland
How do I change my region on Audible?
Open your Audible application.
Select your profile set-up.
Tap on the sing-out button.
Now go to the main menu and select Marketplace.
You'll get a list of all audible marketplaces. Select one.
Enter your log-in credentials.
How to bypass Audible's geographical restrictions?
1. Use a VPN to use Audible in any region
Buy a compatible VPN. We recommend Private Internet Access for its huge server network and ease of use.
Download the VPN installer
Install the VPN on your PC,
Log in with your credentials.
Connect to a location where Audible is available.
Go to the Audible website.
Create an account or sign in to your existing account.
A VPN can help you change your virtual location effectively, to make it seem like that's your physical location.
Therefore, if you're trying to use Audible or create an Audible account and it's not available in your region, a VPN can help you bypass this limitation.
However, note that using a VPN is not only required while you're creating an Audible account, but also every time you want to access your account.
2. Use Smart DNS
Smart DNS is a surefire way to access geo-restricted content from just about anywhere in the world.
Although some would argue that it's even better than using a VPN, the truth is that a VPN can also protect your privacy at the same time.
Smart DNS services can replace your ISP-assigned DNS and make it seem like you're in a whole different place.
However, it won't encrypt your traffic and won't cloak your IP address, either.
On the bright side, since it lacks encryption, it is definitely faster than a VPN.
Ultimately, you can decide whether using Smart DNS is right for you, based on your privacy/security needs.
3. Use a proxy server
One of the pioneers of hiding your online identity and spoofing your virtual locations, proxy servers still seem to work in this situation.
Proxy servers can easily change your virtual location and let you access Audible from an unsupported region.
On the downside, this method has some drawbacks.
First of all, most proxy servers are free, which makes them quite attractive to users who don't want to spend money.
However, the very thing that makes them attractive also brings their downfall.
Given that a lot of users connect to proxy servers, you may experience slow speeds due to overloading.
Furthermore, if many users try to access Audible from the same IP address, the service could become restricted due to suspicious behavior.
To avoid that from happening, we suggest you invest in a paid-for proxy server or use a VPN if you're worried about privacy.
The methods listed above are most effective in all Audible region-locking scenarios, including:
Audible not available in your region
Certain payment options not available in your country
Not being able to buy or access some titles on Audible from your region
4. Change your account details
Log in to your account
Click the arrow button next to your account name
Access the Account Details section
Click the Payment button
Locate your credit card
Click the Edit button next to it
Change your address to match the content you want to access
Note that this method only works if you can create an Audible account, and you're able to access said account.
Otherwise, you'll have to check out our first method, create an Audible account, and log into it before you try this method.
5. Connect to Audible from Tor
While Audible is very much accessed on the mobile, you can still use it on the web without a problem. Another option to bypass geo-blocks and unlock restricted books is to use Tor.
Tor is a private browser that connects you to the web via a proxy server. You can select your location before accessing your website.
For example, you can type Audible in the search bar and then select the United Kingdom as your preferred region.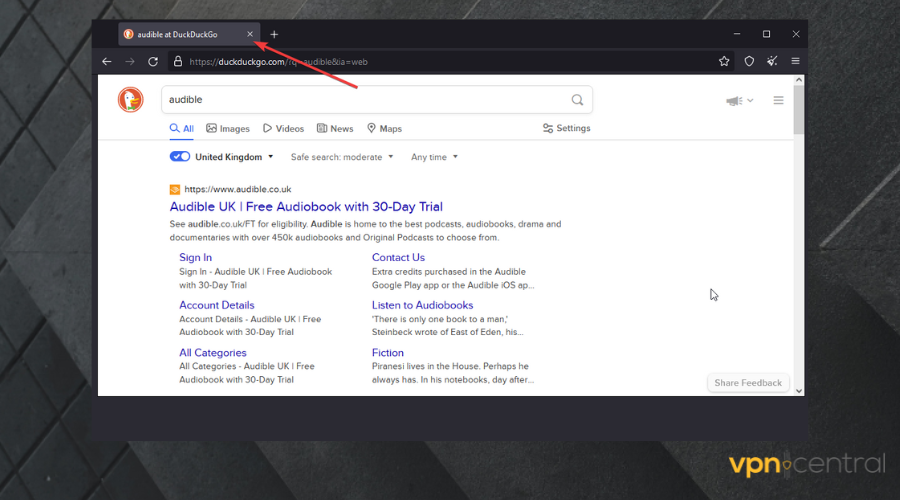 What to do if a title is not available in this region on Audible
Sometimes, a title may be unavailable in your region. This happens due to publishers restricting content to certain territories. Besides that, distribution laws and licensing issues are also to blame.
To help solve that, do the following:
Change Audible region – Check other Audible marketplaces for a title's availability other than Audible.com. The alternatives include Audible.ca, Audible.co.uk, Audible.com.au, etc.
Change your region – Use a VPN to change your location to different Audible-supported regions. Doing so will let you access titles previously unavailable to you.
Change billing address – Consider changing your address to a region where a title is region-locked. Online generators like Fakexy should be handy if you don't have one.
Send as a gift – Audible allows users to send titles as gifts to others. As such, you can benefit from this loophole to your satisfaction.
How do I make Audible books available in my region?
If you want to listen to a certain book that is not available in your current location, you will have to change your profile settings and select a different marketplace.
Check in what country the book you want is available (usually a simple Google search will reveal that) and then follow the instructions we provide at the beginning of the article to change your location.
To make sure you do not get banned or locked out of the platforms, connect to a VPN server before doing these changes to your profile.
Make sure to select a server location from the same country you add to your profile.
How to get US audiobooks available in the UK?
If you are in the United Kingdom and want to listen to audiobooks from the American library, the quickest way around it is to connect to a VPN server from the US.
Our VPN recommendation, Private Internet Access is great for this job because it has thousands of servers in the US alone, in multiple cities. Select a server and change your location on the app to US.
Now you should be able to browse the US Audible book library and listen to its contents without an issue.
And if you are having trouble accessing content on other popular streaming platforms, check out the following easy guides:
Conclusion
All in all, if you notice that you're not able to access Audible from your region, there are some things you could try.
Using VPNs, Smart DNS, or proxy servers could help you circumvent this unfair limitation in no time.
However, if your issue is not being able to access specific titles from your region, a simple modification of your account details could also do the trick.