Boasting over 57 million songs in their catalog and over 225,000 high-quality videos, TIDAL is the go-to place for music enthusiasts and audio & video content consumers in general.
But what if Tidal is not available in your country? Should you just give up and move on to another music streaming app?
Short answer: no, there are ways around the geo block. So, if you live in or are traveling in a country where Tidal's not launched yet, keep reading.
We'll show you 3 methods to change virtual location to get & use Tidal as if you were in an available country.
TIDAL available countries
TIDAL is now available in 60 countries, with the goal to expand internationally in the near future. Some of these countries include:
| | |
| --- | --- |
| Albania | Denmark |
| Argentina | France |
| Belgium | Germany |
| Brazil | Greece |
| Canada | Israel |
Check Tidal's updated list of available countries to see all locations.
Wondering why your country isn't yet on the list? Here's what we know about the places where Tidal is highly sought after, but not yet available:
Turkey – from the 10th of November 2021 TIDAL will no longer provide services in Turkey because of the country's new internet regulations.
Philippines – still unavailable, however, there have been numerous inquiries from people in this country.
India – TIDAL hasn't launched its services yet
As mentioned, Tidal plans to gain global coverage. So people from unavailable regions would just have to wait.
That said, the service won't operate in highly restrictive countries like Turkey which may force it to restrain its catalog.
💰 TIDAL price by country
As for many services, Tidal's prices vary based on location.
Why should you care?
Because if the service isn't available in your country, you'll have to purchase it as if you were in another country anyway. So why not pick a country with a cheaper price range while you're at it?
Here's an overview of some price ranges around the world.
USA: $9.99 / month
United Kindom: £9.99 / month
United Arab Emirates: $5.50 / month
Romania: starting from RON 19.99 / month
Bulgaria: starting from BGN 8.99 / month
Argentina: ARS 99 / month
Brazil: R$16.90 / month
✍🏼 Note: Prices may change without notice. They can differ depending on the subscription plan, geolocation, and time. When entering the app, always verify the official pricing and compare the options.
If you want to explore the Tidal library without worrying about geo-restrictions, you could have a look at some of the best VPN software options that are fully compatible with the service.
In case your country is not on the list and TIDAL does not plan to extend its service to it soon, we've come up with a few solutions that will do for you.
Also, feel free to check out the following guides if you're experiencing similar issues with other popular platforms:
How do I change my region on TIDAL?
1. Use a VPN service
In case you are not familiar with the concept of a VPN (Virtual Private Network), rest assured: we've got you covered. A VPN bypasses geographical restrictions by allowing you to connect to the Internet from a server in another country.
If TIDAL is not available in your country, we strongly recommend Private Internet Access (PIA) – a VPN that we've tested a long time – because it has a very large server coverage across the world, so it is able to surpass any restrictions regardless of what exactly you want to access.
It is also very user-friendly and ranks among our list of VPNs with the cheapest monthly prices.
PIA encrypts your traffic through a secure tunnel, adding an extra layer of security to your privacy and protecting your sensitive data.
Moreover, the service has a very transparent privacy policy. It does not log any user activity and it has a killswitch feature that ensures that your data stays safe even if the connection drops.
So, if TIDAL is currently unavailable in your location, you can use PIA to access a location that will surpass the restriction. The software can automatically connect to the optimal server for your specific needs, but you can also pick the server manually if you prefer to do so.
➡️ How to access TIDAL with Private Internet Access
Go to the PIA website and select the subscription plan that suits you best.
Enter your information and create an account.
Download the PIA version for your OS.
Launch the installer and follow the installation prompts.
Log in and connect by clicking on the power button in the UI.
That's it! Now you can stream without restrictions and enjoy your favorite audio and video content hassle-free.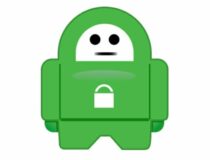 Private Internet Access
Listen to your favorite Tidal music from anywhere in the world with this reliable and fast VPN!
A DNS (Domain Name System) is a protocol that allows domain names to be translated into IP (Internet Protocol) addresses.
With a Smart DNS, you can mask your geo-location and access geo-blocked content from other parts of the world.
When using it, the DNS address (which contains information that can reveal your location) assigned by your Internet Service Provider will be replaced with the address of a new dedicated Smart DNS Server.
While VPN allows you to access restricted content by hiding your IP address, a Smart DNS service masks your original DNS address.
When it comes to speed while accessing geo-restricted content, Smart DNS is the winner.
If you care more about security and privacy and less about speed, then you should stick with a VPN since it encrypts your online traffic, thus protecting you from surveillance and hackers.
Smart DNS might be a solution for you to access TIDAL from where the service is blocked, but it's up to you to decide what works best for you given the characteristics and comparisons presented.
3. Use a proxy server
Proxy servers act as relays between the website you're visiting and your device.
A proxy helps you surf anonymously on the Internet by routing your web requests and Internet traffic through the proxy server.
For the recipient server, your traffic appears to originate from the proxy server IP address rather than your real IP address.
Therefore, you can access geo-blocked websites and apps (in this case TIDAL) with the use of a proxy since it conceals your real location and routes your traffic through a server from which the blocked content is available.
Proxies only work on the application level (unless the system allows you to install them system-wide, as in Windows 10), that is, they only reroute the traffic coming from a single app you set the proxy with and they also don't encrypt your traffic.
Since most proxy servers available online are free, this means they will be overcrowded, which will make your surfing experience slower and less secure because of less support, fewer configuration options, and slower infrastructure.
Although using a proxy will help you surpass access barriers when using TIDAL, you definitely need to take into account the characteristics described and how they compare to VPN or Smart DNS.
How do I get Tidal Premium for free?
Use the free trial to try out the service free. Tidal has no free version, but you can't test it free of charge for 30 days. After your trial expires, you will have to pay to continue using the app.

How to get a cheaper Tidal subscription using a VPN: You can, however, get cheaper subscriptions if you use a VPN. The Tidal app has different price ranges, depending on location.
Users around the web recommend getting a subscription for Argentina. We suggest you connect using Private Internet Access because it has 50+ servers in Argentina.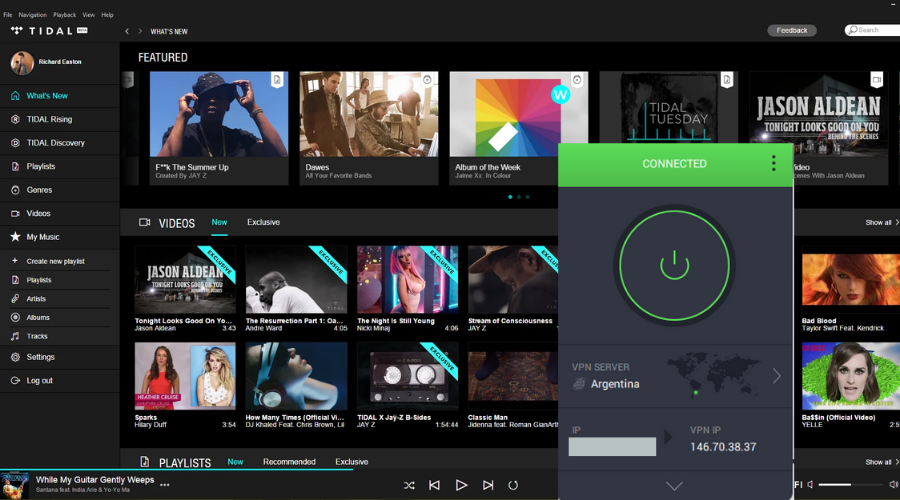 Just get PIA on your PC and connect to an Argentinian server (or another supported location. Then head to the Tidal website and get a subscription.
Conclusion
TIDAL is a Norwegian-American music, podcast, and video streaming platform. It earned its spot as one of the most popular services of its kind next to iTunes, Spotify, Deezer, iHeart, Pandora, SoundCloud, etc.
Tidal's highly praised for its superior audio quality when compared to similar services. Users also pick it because it offers exclusive access to live footage of concerts, and it also integrates its own shows and documentaries.
Each of the solutions presented above will show you how to get TIDAL outside the supported countries. Depending on your specific needs and options, choose the one that serves you best.
However, if you are very concerned about online security and privacy and want to have a smooth and trouble-free experience with TIDAL, you should choose a VPN.