The best VPN for TiviMate should be able to allow you to watch unlimited streaming content without buffering on interruptions. If you are interested in what to look for in such a VPN and what are the best options, check our overview below!
TiviMate is an IPTV service that links streamers to Live TV series and movies at a particular cost. This service is considered reasonably cheap and a compatible alternative to traditional viewing methods.
The service is based online and requires a connection to access. Unfortunately, this presents users with the threats and dangers of insecurity online.
No worries. In this article, we look at the best VPN for TiviMate and how users can stay safe and private online.
VPNs are great tools for streaming platforms not only for their advanced privacy features but also thanks to their capability to circumvent geo-blocking.
You will understand the scope of online streaming and particularly how VPNs are a one-stop shop for all-around online security and privacy needs.
How To Use A VPN With TiviMate?
You can also start using a VPN with TiviMate at any time. Follow this simple guide to start safe and secure streaming on TiviMate or any other streaming platform.
Choose a reliable VPN
It starts with choosing a reliable VPN client. Most modern VPNs will require a certain subscription fee after which they offer you their wide range of security technologies. We consider Private Internet Access VPN in this situation and trust its encryption technology to offer maximum safety online.
Download, Open and Input your credentials for access


Select a Server


Using a VPN with TiviMate requires that you connect to a server. VPNs have private servers that are secure, preventing online tracing or hacking.
Open TiviMate and start streaming.
It is important that you connect to a server before you start streaming on TiviMate. This allows the VPN to secure your connection to the streaming platform.
Which is the best VPN for TiviMate?
We have researched and tested a few VPNs that will work for a safe TiviMate streaming experience. While your budget or other preference may impact your thoughts towards them, we are certain you will find one that suits you.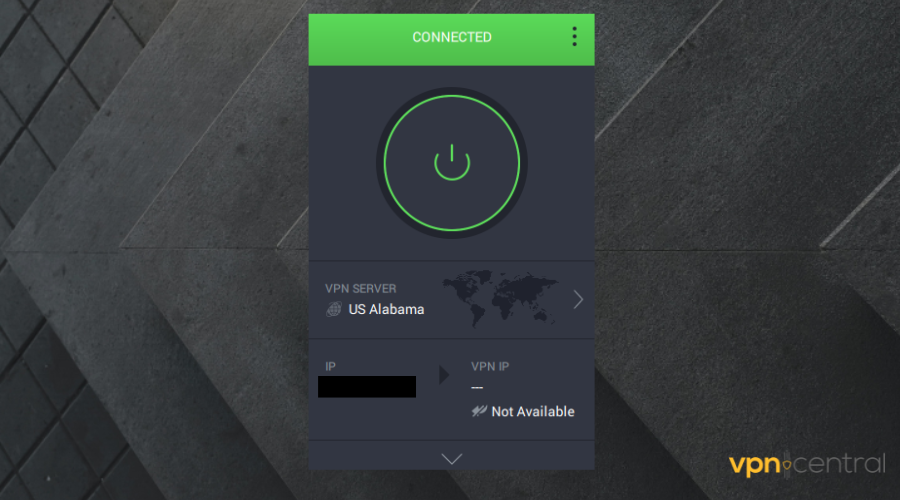 Private Internet Access is among the reliable VPNs we can trust for use with TiviMate. The client offers security and privacy protocols that keep users safe whether when playing live games, streaming, or surfing the internet.
PIA is subscription based, like most other reliable VPNs. Upon subscription, users will have access to a wide range of sophisticated features including a kill switch that enhances connection safety.
This VPN client leverages technology to provide a Multi-hop feature so you have additional security without prying eyes or tracking.
You can also trust the VPN to reduce the lag of your videos on TiviMate, thanks to its impressive bandwidth and lag-free nature.
We think you will love PIA for more of its notable features below:
VPN Kill Switch '
Multi-hop feature
AES 256-bit Encryption (Military Grade)
Split Tunneling
Anti-throttling
Streaming Compatible
Unblocks Sites
Customer Support
Up to 10 Simultaneous Connections
30,000 Servers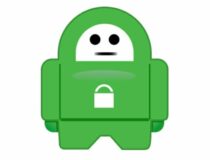 Private Internet Access
Enjoy unlimited content on TiviMate and get lag-free streaming on any device!
2. Nord VPN – Best privacy features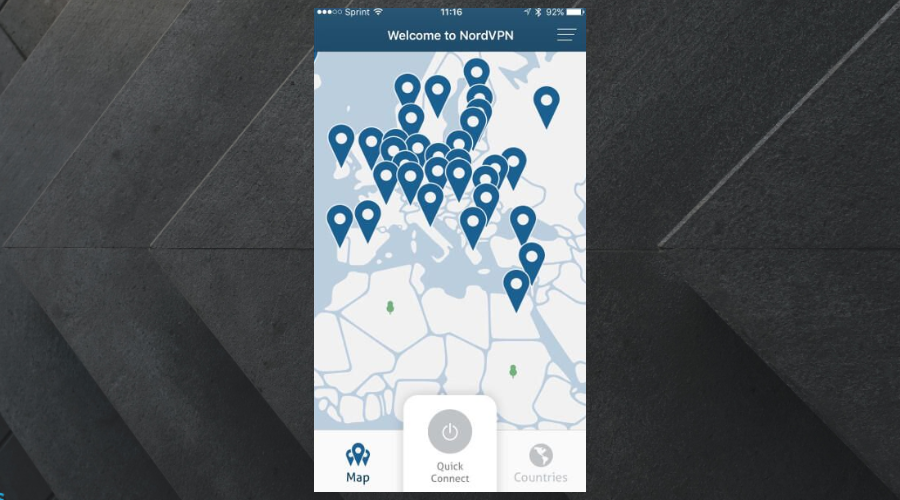 Nord VPN tops the list because we think you deserve the best safety services in the industry. You will find Nord VPN to keep you safe on TiviMate and any other streaming platform, thanks to its sophisticated protocols.
This VPN client prides on its Industry standard CyberSec Ad-blocker feature to keep distractions away and mitigate against malware threats.
There's more, for a memorable streaming experience, Nord VPN provides lag-free and fast servers its for users. It's a great streaming VPN capable to bypass restrictions on NOWTV, HBO Max, or other similar platforms.
Connection is encrypted with its Military-grade AES 256-bit encryption while its Kill Switch feature keeps every loophole sealed, in case of a connection break.
Other notable features of Nord VPN include:
Double VPN
Split Tunneling
Kill Switch (Automatic)
AES 256-bit Encryption
CyberSec Ad-blocker
No-log Policy
Anti-throttling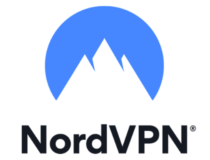 NordVPN
Enjoy seamless streaming with this fast and secure VPN for TiviMate!
3. Surfshark VPN – Unlimited Connections and Multiple Protocols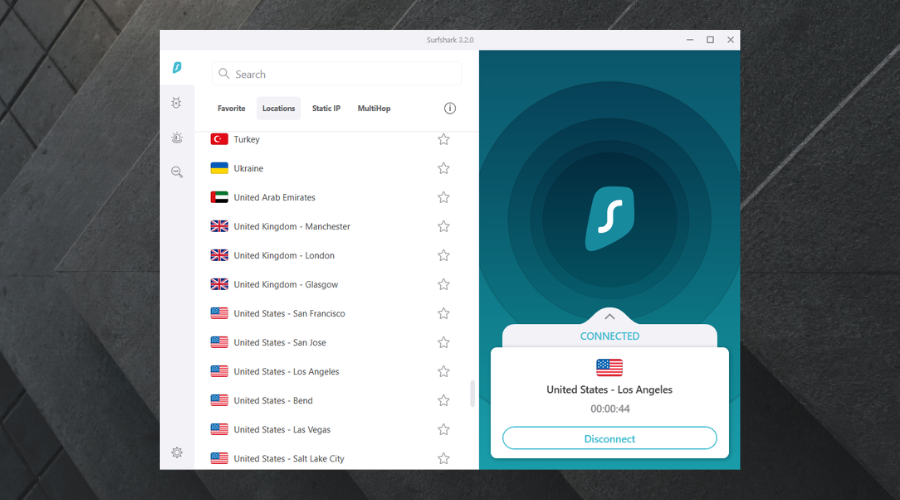 Surfshark is among the top VPNs in the industry that offers great features compatible with streaming. Not just streaming, Surfshark offers protection when you're surfing or playing live games as well.
Like other reliable VPNs in the market, Surfshark requires a subscription before users can have full access to its privacy and security features including its military-grade AES 256-bit encryption.
Surfshark VPN with TiviMate means you don't experience lag, thanks to its impressive bandwidth and strong servers.
Its powerful encryption makes it an excellent candidate to help you watch any sort of streaming platform. If you want to learn how to properly configure it for streaming, check our guide on what to do if Surfshark is not working on Netflix.
You will love its kill switch feature which keeps you safe and secures your connection all through your time on TiviMate.
Some notable features of Surfshark are:
Industry Standard Encryption
Kill Switch (Automatic)
Split Tunneling
Simultaneous connection
DDoS and Leak Protection
Personal DNS
Customer Care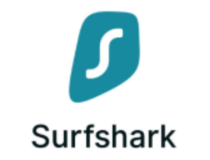 Surfshark
Watch your favorite shows for as long as you want with unrestricted, unlimited VPN bandwidth!
4. Zenmate VPN – Strong and Fast Servers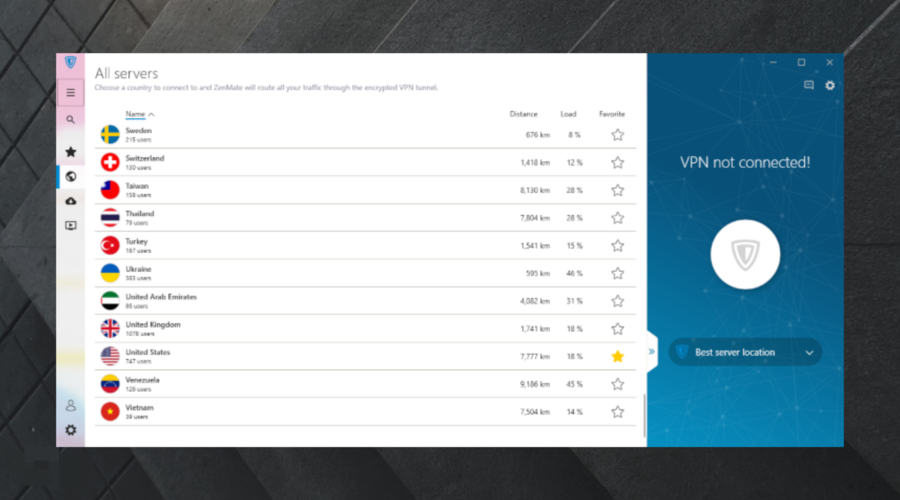 Zenmate is a user-friendly VPN that offers protection on multiple devices. The VPN requires a subscription fee before users can access its security and privacy features.
This VPN keeps users safe while streaming, surfing, or gaming online. It utilizes its industry-standard AES 256-bit encryption to protect users' connections and keep them anonymous.
The VPN has unlimited bandwidth so users can have a lag-free experience while streaming. You can connect to one of its over 4000 servers without worry about tracking or data leaks.
The its Kill Switch works effectively to secure connections even in case you temporarily disconnect from VPN. It block traffic data unitl a new connection is up and running.
Zenmate supports torrenting and has customer support that is always ready to answer user queries. You can always check out other options in the list if they don't find Zenmate satisfying enough to try.
. See notable features you can get on Zenmate:
Kill Switch
No Logs Policy
Torrenting
24/7 Customer Support
4800+ Strong and Secure Servers
30-day money-back guarantee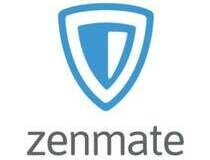 ZenMate VPN
Protect your identity and watch IPTV without restrictions with this powerful VPN!
5. CyberGhost VPN – Military Grade Encryption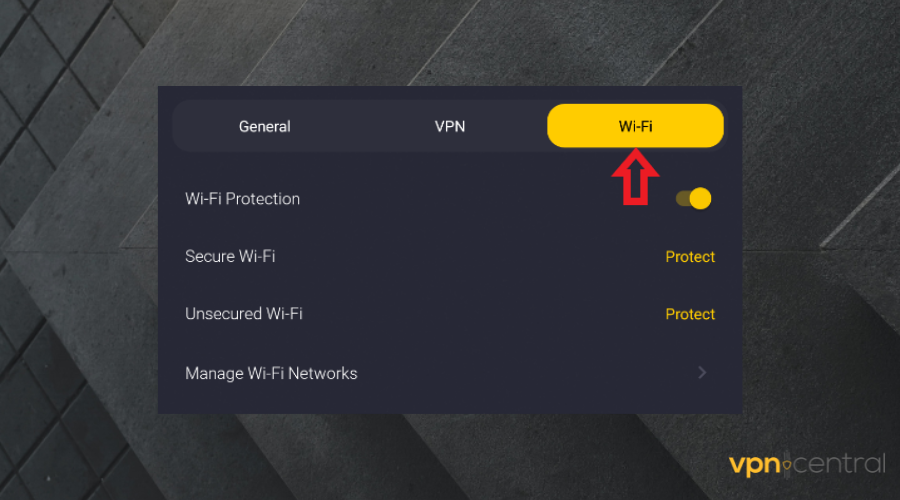 CyberGhost VPN offers the safety you want when on any platform. Think about wanting no distractions or keeping your data safe and secure throughout your streaming, then you will like CyberGhost.
The VPN employs Military grade encryption to secure its servers and keep hackers at bay. Its VPN Kill Switch offers industry standard protection to users on various devices and operating systems.
CyberGhost will not only unblock restrictions on IPTV services, you will also you can also maintain total anonymity and prevent Internet Service Providers from monitoring you.
It's a great option if you want to access restricted content. As you probably know, you can watch media from multiple sources on TiviMate, and a VPN can help if, for example, your ISP is throttling YouTube.
The VPN has multiple protocols to permit flexibility, including IKEv2, Wireguard, OpenVPN, and L2TP/IPsec.
Notable features of CyberGhost are:
Up to 7 Connections per subscription
Streaming Compatible
DDoS and Leak Protection
7-day free mobile trial
1 day free PC
VPN Kill Switch
Automatic server selection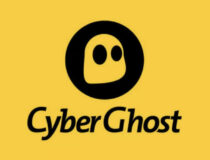 CyberGhost VPN
Watch unlimited content on TiViMate by using a fast CyberGhost VPN server!
TiviMate Not Working With VPN
It is possible to find that a VPN doesn't work with TiviMate. While we have tested the VPNs in this list to work fine and effectively with TiviMate, sometimes your configuration may not be the best.
TiviMate Not Working With IPVanish VPN
It's possible that you come across issues with using IPVanish VPN for TiviMate. Switching off the VPN and then on again can solve the issue for some users.
Make sure to check if VPN is enabled on your PC and try flushing your DNS. Check our guide on what you can do if your VPN is connected but not working for more in-depth instructions.
TiviMate Not Working With Express VPN
There are common complaints about Express VPN not working with TiviMate. While the VPN boasts high-end safety and privacy features, TiviMate happens not to work with Express VPN due to errors unknown.
Most commonly, you may be accessed from a blocked IP. This can happen if another user has used ExpressVPN and broken the rules and regulations of the platform. Just switch to a different server.
Conclusion
Using a VPN with TiviMate does not negatively affect your streaming experience. On the contrary, a VPN will provide you maximum safety and privacy such that your data is not exposed.
It is interesting that these VPNs offer more than online safety. They also offer personal DNS services where you get a unique and untraceable address. Enjoy TiviMate with a VPN today and tell us how safe you feel.