Using a VPN with Apple TV is a sure way to bypass its geo-restrictions from any part of the world.
Unfortunately, sometimes even reputable tools like ExpressVPN won't work on Apple TV.
But let's face it:
ExpressVPN is the best VPN you can use to get seamless unblocking with any streaming service.
So why wouldn't it work? Well, there are a few reasons why it might not work for you.
The good news is, I can help you resolve the problem and get you back to enjoying unrestricted access to the platform's content.
So, keep reading to learn how to fix the issue of ExpressVPN not working with Apple TV.
ExpressVPN not working with AppleTV? Try this!
➡️ Preliminary checks:
Take a quick speed test to check and ensure that you have a working internet connection.
Check your VPN provider's website to see if you are using the latest version. If not, update the app to get the best performance.
Restart your devices, including your router (if you're using one).
These simple steps are important because they can resolve the issue in many cases.
However, if they don't, here are some fixes you can try in order to fix the issue:
Delete all cookies and cache

To clear cookies and cache in your browser:
 Click on your browser menu to reveal its settings.
2. Go to Privacy and Security > Clear cookies.

3. Select the duration of cookies and cache you want to clear.
4. Click Clear data to finish the process and ensure it's cleared before trying to reconnect.

If you are on a mobile device, you should also clear the ExpressVPN app cache and see if it fixes the problem.

Here's how to do that:

1.Open your Settings app.
2. Navigate to Apps > Manage apps and select ExpressVPN from the list.

3. Click on Storage.
4. Click on Clear data.

5. Select the Clear cache option.

Your browser stores cookies from various websites you visit and they often contain details including your location.

Websites use information gathered by these cookies to streamline and limit access to them.

These cookies can interfere with the location provided by the VPN.
When this happens, it leads to your IP address and connection getting blocked.

Change servers

If you're using AirPlay on your Apple TV or ExpressVPN on your router, try this fix.
1. Launch your VPN app.
2. Disconnect from the previous server.

3. Connect to a different server in another location.

4. After a stable connection is established, try visiting the website on your device to see if this fixes the issue.

When ExpressVPN is not working with your Apple TV, it's important to note that the service you're trying to visit has blocked your connection.
This happens when it detects your VPN connection, mainly because you are connecting to a server on its blacklist.
However, this doesn't imply that all the VPN servers have been blocked.
Rather, you can switch to another VPN server and gain access to the service you want.

Reinstall your VPN

Most times, the solution is just as easy as deleting your VPN software and reinstalling it.
Here's how to do it on mobile devices:
1. Long press on the VPN app and a couple of options will pop up.
2. Select Uninstall.
3. Alternatively, go through your Settings app > Apps > Manage apps.

4. Then select the VPN app and click Uninstall.

5. Go to your app store and install it afresh.

If you're using the VPN on your PC or router, simply follow these steps:
1. Open Settings and go to Apps.
2. Select the Uninstall Apps option.
3. Click the app you want and select Uninstall.

To reinstall:
1. Visit the official website of your preferred provider.

2. Select your preferred subscription
3.Input your payment details to make payments
4. Download the software to your device
5. Launch and configure it for use with the Apple TV.

This fix ensures you get a clean slate so you can install your VPN correctly especially if the app already had a faulty configuration.
When you delete your VPN app, you've also deleted anything causing the connectivity issues with the Apple TV.
Alternatively, you can try updating your VPN app if there's a new update released by the developer.
Over time, updating apps has fixed countless connection issues as older versions may no longer work effectively with the app.

Use MediaStreamer

MediaStreamer is a set-and-forget DNS service offered by ExpressVPN for devices that don't allow VPN installations just like Apple TV.
Here's how to set it up on your device:
1. First, you have to give ExpressVPN your IP address to get approval to use the service.
2. Next, you will get a MediaStreamer IP address that works with Apple TV.
3. Configure the DNS settings on your Apple TV to use the MediaStreamer IP address.
4. Restart your Apple TV device to apply the settings.

Please note that the entire process involves more than what is listed above. You can get the complete setup instructions on ExpressVPN's site here.

Change your VPN provider

If you've tried all these fixes and the issue still persists, how about changing your VPN provider?
Although ExpressVPN is arguably the best provider available today
There are other premium services that offer impressive features that can help you enjoy watching content on your Apple TV.
For example, CyberGhost is an excellent alternative to use with Apple TV as it performs excellently when it comes to streaming.
Follow these steps to watch Apple TV with CyberGhost:
1. Visit CyberGhost's official website to choose the subscription plan you want.

2. Make payments and install the software on your device.
3. Launch the app and connect to a server.
4. Connect to Apple TV and see if the issue is fixed.
Does Apple TV block ExpressVPN?
NO. Apple TV doesn't block ExpressVPN or any VPN at all.
However, it doesn't support the use of VPNs either.
In cases where a VPN doesn't work, it's more likely to be because the streaming website you want to use blocks VPN connections.
For example, geo-restricted platforms like Hulu, Disney+, Netflix, and BBC iPlayer can block your VPN connection on Apple TV.
These streaming services analyze traffic and block any requests coming from a VPN once it is detected.
This is because they are bound by copyright laws and licensing agreements that could result in huge fines and legal procedures if they're compromised.
How does Apple TV detect ExpressVPN?
As mentioned earlier that Apple TV doesn't block VPNs but the streaming platforms available on the service do.
These platforms use a series of technologies to identify and block IP addresses they've seen to belong to VPNs.
Connecting to a streaming platform reveals your IP address and these platforms believe in having a minimal number of connections to their server per IP address.
Once there's an unnecessarily high number of connections coming from the same IP address, the service then knows it's from a VPN and blacklists it.
This is what happens with cheap or free VPNs as they don't have that many IP addresses to shuffle and choose from so many users tend to overcrowd one IP address.
Also, services like Maxmind technologies allow these streaming platforms to look through the existing database that has numerous IP addresses of VPNs in them.
These databases help such geo-restricted websites quickly identify and block VPN IP addresses from accessing their content.
Therefore, if your VPN gives you an already blacklisted IP address, you can be sure that your access will be restricted.
Best VPNs for Apple TV
Now that you know how VPNs get blocked on Apple TV, let's see which providers are configured to bypass these detection methods.
1. CyberGhost – Large server network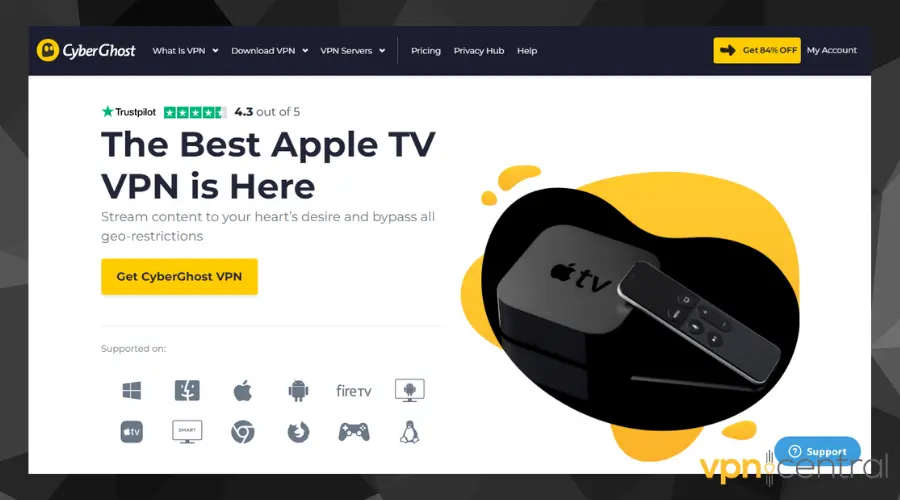 CyberGhost currently has a huge network of 9097 servers in 91 countries.
In view of this, it's able to access a large number of restricted content on many region-locked streaming sites including Netflix, Amazon Prime Video, Netflix and BBC iPlayer.
This VPN is fast and uses AES 256-bit encryption.
Also, it operates a strict no-logs policy and has an automatic kill switch that prevents data leakages when there are sudden connection drops.
Furthermore, you also get DNS leak protection that makes it impossible for your ISP's DNS to give away your actual location information.
It's available on Windows, Mac, Linux, Android, iOS, and lots more.
Pros:
Fast server speed for buffer-free streaming
No-logs policy
Secure and strong encryption protocols
Wide server network
Suitable for Apple TV via router connection
Extensive 45-day money-back guarantee
Cons:
It doesn't have an app for routers
Doesn't work in China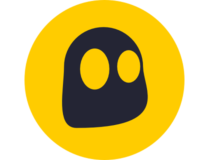 CyberGhost
Easily unblock streaming content on your Apple TV with this reliable VPN!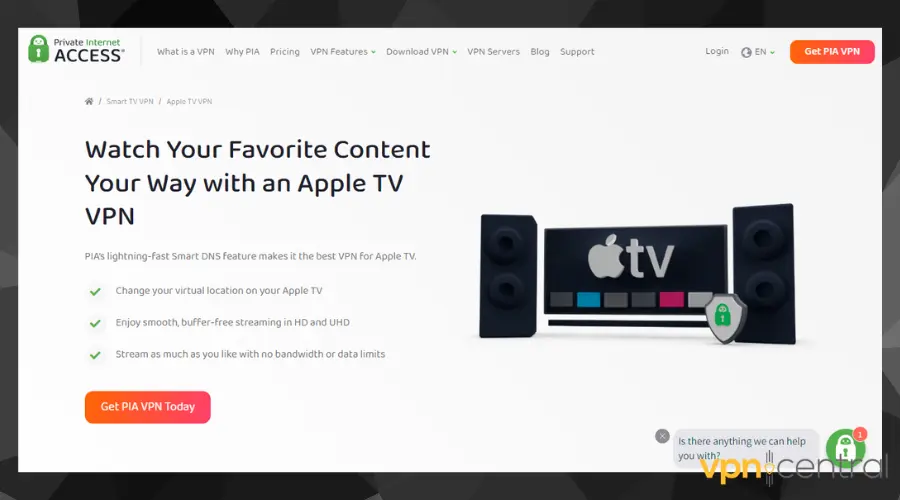 Owing to its use of Smart DNS, it's a great option for use with Apple TV.
Its Smart DNS feature allows for seamless streaming on Apple TV.
With over 35,000 RAM-only servers globally, it does an excellent job of unblocking top streaming platforms without logging your activities.
This means that your privacy is secure while also unblocking sites like Netflix, Disney Plus, YouTube, Amazon Prime Video, Hulu, and lots more.
In addition, PIA also has a kill switch that takes you offline when your connection fails to prevent leaks.
It has apps for Android, iOS, Amazon Fire TV, Mac, Linux, and many routers.
Pros:
Strong security features
No logs policy
Fast connecting servers
Allows connection on up to 10 devices simultaneously
Huge server network
30-day money-back guarantee
Cons:
Not well functioning in China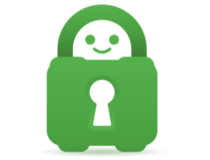 Private Internet Access
Get PIA for unrestricted and high-speed streaming on Apple TV!
3. NordVPN – Reliable streaming speeds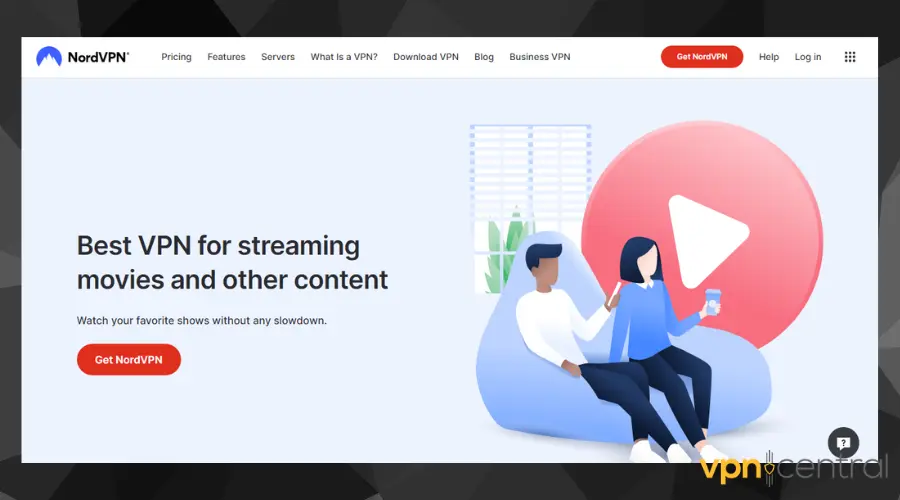 With 5057 speedy servers in 60 countries, NordVPN is another alternative to ExpressVPN for Apple TV.
It has a strong record of unblocking streaming services like Netflix, Amazon Prime Video, Hulu, and BBC iPlayer to mention a few. Therefore, it's an exceptional choice for Apple TV.
It uses military-grade encryption and has an encrypted DNS proxy called SmartDNS.
This is essential for a seamless unblocking of geo-restricted content across the globe.
In addition, it has the same premium features as PIA and CyberGhost, plus specialty servers like obfuscated and P2P servers.
Another amazing feature is it supports a lot of routers. In fact, many routers come configured with NordVPN out of the box and have all you need to unblock content on Apple TV.
Pros:
Compatible with Apple TV
Super fast connecting servers
Huge server network
Unblocks various popular streaming platforms
Strong security features
30-day money-back guarantee
Cons:
The app interface is tricky and not beginner friendly.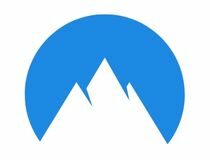 NordVPN
Watch your favorite shows error-free & unblock any type of content with NordVPN!
Summary
Apple TV not working with ExpressVPN isn't because Apple TV has blocked your VPN or your device is bad.
Instead, the websites you're trying to access from the device are the ones blocking your VPN connection due to their geo-restriction.
To fix this issue, you can either delete your cookies or change the server you're connected to.
Alternatively, deleting the VPN software works just fine, and changing to another VPN provider is a sure fix as well.
All these fixes will help sort the connectivity issues of Apple TV not working with ExpressVPN that you're experiencing.
---