Some users reported that Hulu won't work even if the VPN software is enabled. It seems like this is a pretty common problem, so there are plenty of ways to fix it.
Hulu is a leading video-on-demand platform, but it's only available to US residents. In fact, you need some form of payment issued in the United States in order to sign up for an account.
But it's frustrating when you travel outside the US and can no longer access your favorite movies and TV series, although you have an active subscription plan.
Unfortunately, Hulu actively blocks any forms of Internet circumvention tools designed to conceal your IP address and change your geo-location, including VPN and proxy.
If you tried using a VPN to watch Hulu but failed, you probably ended up with an error message on your screen that says like this:
Fastly error: unknown domain: www.hulu.com. Please check that this domain has been added to a service.
So, even if it looks like you're using a VPN, Hulu might not work as expected. Some users reported encountering this problem while running software like NordVPN, Private Internet Access, VPN Unlimited, or SurfShark and if you're in the same boat, you don't have to worry!
Fortunately, we've compiled a list of steps that will definitely help. Discover how to troubleshoot this problem using 8 foolproof solutions.
Why can't I watch Hulu with a VPN?
Many users are wondering what is the reason why Hulu is blocking their VPN. Keep in mind that all of this is related to licenses.
Hulu only has the right to broadcast content only in the US. Various broadcasters in other countries own the rights to this content in their regions.
Like any other major platform, Hulu blocks VPNs from accessing its content to protect the investments.
In case Hulu didn't police its digital border and allowed Internet connections from all over the world to stream from its servers, it would have to start paying for global licenses for its content.
Now, let's see what you can do if Hulu won't work even if your VPN is enabled.
What can I do if I can't watch Hulu with VPN?
1. Uninstall any free VPN or proxy tool
In case you can't watch Hulu with a VPN or proxy that's free to use, you shouldn't be surprised that it doesn't work.
If Hulu is good enough to detect and block premium VPN services like NordVPN or Surfshark, then it will certainly flag a free tool that uses public IP addresses.
In this matter, it is recommended to uninstall it and check if the problem persists. If so, make sure you keep on reading.
2. Use a premium VPN with advanced features
It's tricky to choose a paid VPN service if it doesn't allow you to test it for free. Luckily, there are a few that come with a 30-day money-back guarantee, so there are no strings attached.
When it comes to a VPN capable of unblocking Hulu, we recommend ExpressVPN.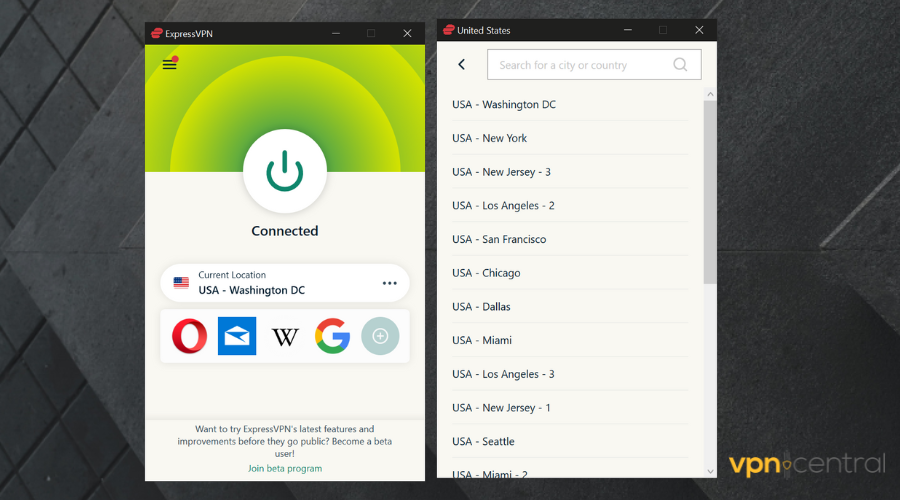 To protect yourself from DNS leaks, use a high-quality VPN service that actively works to prevent the most common causes of DNS leaks from occurring in the first place.
ExpressVPN protects you from DNS leaks because our app blocks DNS requests to any DNS server other than our own. We also make certain that all DNS requests are encrypted and routed through the VPN tunnel.
When there is a leak, you may believe you are browsing privately, but your ISP or another snooping third party can see every website you visit.
Leaks are especially concerning now that ISPs in many countries are required to log and record specific traffic, and ISPs in the United States can even legally sell your internet data.
A potentially more serious issue is that you may have visited websites or searched for content that you would not have done otherwise, believing that your VPN was protecting your internet history.
If you're not sure about the full process if ExpressVPN on your Windows operating system is working, make sure you check the following steps:
Download and install ExpressVPN for Windows according to the on-screen instructions that you get.
Launch the app and log in with your credentials.
Select a US location from the list of servers and connect to it.
Try to access Hulu in your web browser.
3. Change your DNS servers
Click Change adapter options.
Right-click your Internet connection and pick Properties.
Select Use the following DNS server addresses.
Click OK
Make sure the VPN is using the computer's DNS servers
Connect to a VPN server and try to access Hulu again
If your VPN service doesn't allow custom DNS servers, you can manually adjust DNS settings on your device.
We suggest using Google Public DNS because it provides free, publish, speedy, and secure DNS servers that aren't flagged by Hulu. You can also try using Cloudflare or OpenDNS.
4. Change the VPN protocol
The VPN protocol tells your VPN server how it will connect to a remote host by taking into account the encryption and authorization mode. Examples include UDP, TCP, and IKEv2.
Each VPN protocol uses specific ports that might get automatically blocked by Hulu. What you can do here is explore the various VPN protocols supported by your virtual private network solution.
We suggest experimenting with OpenVPN or Lightway, or Wireguard, depending on your VPN provider.
5. Disable WebRTC in your web browser
WebRTC leaks are one of the reasons why your VPN isn't seemingly hiding your location. It's not its fault, but your browser's.
Make sure to disable WebRTC in the web browser you use to watch Hulu. Look up free browser extensions in Chrome Web Store or Firefox Add-ons since there are numerous options.
But first, check the settings of your VPN browser extension (if you have one).
6. Check your VPN app
You should always be using the latest version of your VPN application. Otherwise, you could miss out on important security patches that fix any IP leaks, including on Hulu.
While doing this, it's also a good idea to reinstall the TAP drivers for your VPN.
7. Turn on the VPN kill switch
The VPN kill switch protects you from IP leaks in case your VPN connection drops unexpectedly.
Without this feature, your computer could expose your true IP address in the time it takes to reconnect to the VPN server, resulting in Hulu connectivity issues.
ExpresssVPN's kill switch, Network Lock, is enabled by default and will engage automatically if necessary. Unless you disable it, your network traffic is protected without your intervention.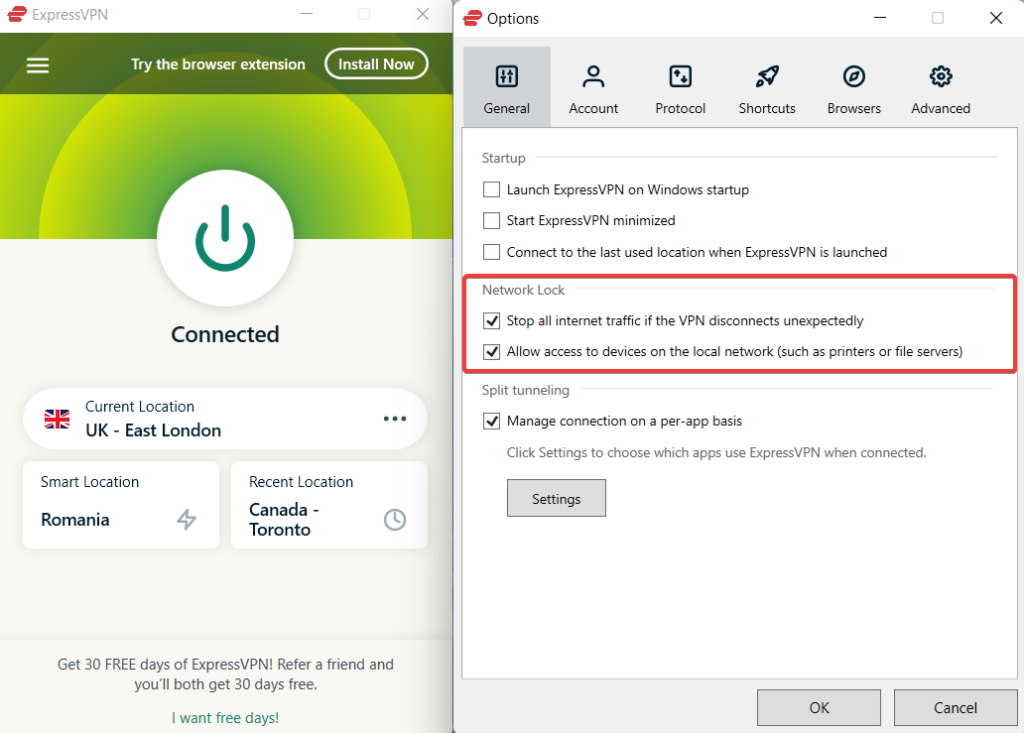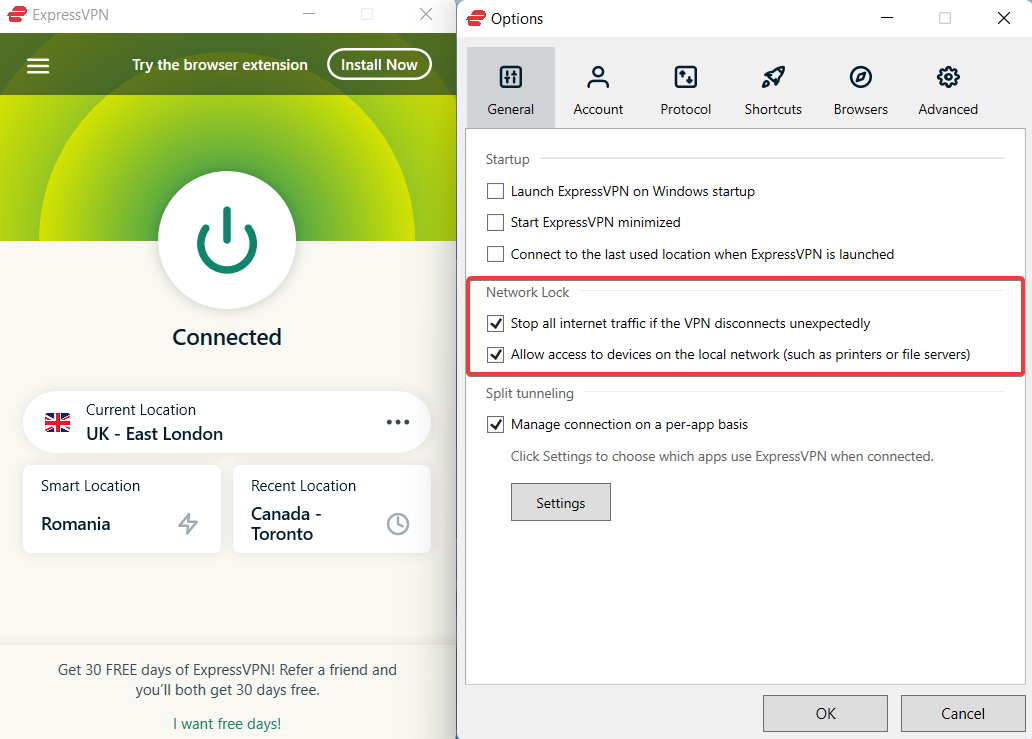 8. Use split tunneling
Some people don't want to use a VPN to watch Hulu but for any other activity on their computer, like anonymous torrenting while they're watching a movie.
If you're one of these users looking for a simple workaround, there's nothing better than VPN split tunneling.
It lets you choose which apps will be connected to the VPN server and which of them will continue using the public Internet directly.
Here's how to set up split tunneling in ExpressVPN. Keep in mind that you must be in the US for this to work:
Open ExpressVPN, then go to Options.
In Split tunneling, check the box for Manage connection on a per-app basis and click Settings.
To choose which apps will use the VPN, select Only allow selected apps to use the VPN, then click the Plus icon.
Check the box next to each app you want to protect with the VPN. If you cannot find a certain app, click Add Another App to add it to the list.
How is Hulu detecting my VPN?
A lot of streams are wondering how can a platform like Hulu detect their VPN. This is a pretty common question and we're going to give you all the answers you need.
In the first instance, Hulu can perform a routine check for IP, DNS, and WebRTC leaks. This is a simple process, so most reliable VPN solutions will pass it.
The second method is related to GeoIP databases. Broadcasters are using these to check the IP addresses streamers are connecting from. In case your VPN utilizes an IP address that's already on Hulu's list, you won't be able to access the platform.
Last, but not least, Hulu can perform its own IP verification. Most of the time, this is probably the one that causes VPNs to stop working. This implies checking the number of connections established on the same IP address.
Hulu says I'm using a VPN but I don't
Are you receiving the message "Error playing this video. "It appears that you are using an anonymous proxy tool." when trying to connect to Hulu?
Because anonymous proxy servers prevent Hulu from accurately verifying geographical locations, you must disable them before viewing Hulu videos. If you're not sure why you're receiving this error, here are a few common scenarios that can result in you being identified as using an anonymous proxy:
Can't watch Hulu with VPN
Hulu doesn't work with VPN
Hulu VPN block workaround
There's a chance Hulu has targeted and blacklisted the server you're currently using. Try a different one to see if it resolves the issue. Just make sure you connect to a US server. Only in that country is Hulu content available.
If you don't use a reliable VPN that blocks DNS leaks, your VPN and proxy connections may occasionally drop, resulting in traffic leaks. Turn on your VPN's service Kill Switch and smart DNS feature to avoid this.
To recap, if you have trouble connecting to Hulu over a VPN on your device, make sure to deactivate any free VPN or proxy tool you might be using since it will likely get flagged.
Instead, use a premium VPN service that can actually bypass the Hulu proxy error. You can also change your DNS servers, use a different VPN protocol, and disable WebRTC leaks in your web browser.
Make sure to update your VPN app to the latest version and reinstall its TAP drivers. Lastly, you can turn on the VPN kill switch or use split tunneling mode.
Did these solutions help you? What other workarounds have you found to successfully connect to Hulu through a VPN? Let us know in the comment section below.