From free-to-air channels to on-demand content, Fetch TV, which comes in mighty mini set-top boxes is a great media option for Australians. With it, you can stream movies like The Succession, John Wick 4, and many more, even the classics.
However, once outside the borders of Australia, this service is inaccessible. That's because Fetch TV only has distribution rights in that area. So the way to get access is to use a VPN with Australian servers.
Now the question is, which is the best VPN for Fetch TV? Unfortunately, they're not all the same, and you need to make sure you get one that actually works.
Worry not, we tested a few services and only included the ones that were the best.
If you are in a rush, here are the best VPN services for Fetch TV:
Why do you need a VPN to watch Fetch TV from anywhere?
If you are a huge fan of Fetch TV but you are in an unsupported region, a VPN can make it seem as though you live in Australia as long as you connect to an Australian VPN server.
It does this by concealing your original IP address and replacing it with an Australian IP.
Once it completes this process, Fetch TV will allow you to browse through its content as it will believe you are in Australia.
Here are other ways a VPN can serve you:
Privacy – It keeps your personal information intact by scrambling your traffic and hiding your IP address.
ISP Interference – a stealth VPN protects your connection from ISP throttling. Some even offer unlimited bandwidth.
Internet speed – A VPN therefore prevents buffering during streaming this by enhancing network speed.
Public WiFi security – By using a VPN you can protect your connection while using Public WiFi as it is often vulnerable to hacking attempts.
Now without further ado, let's grab the icing on the cake. The next section will explain the best VPNs for Fetch TV and why. Let's get started!
Best VPN services for Fetch TV
Now let's take a look at the top-performing VPNs for this streaming service.
1. ExpressVPN – best overall for Fetch TV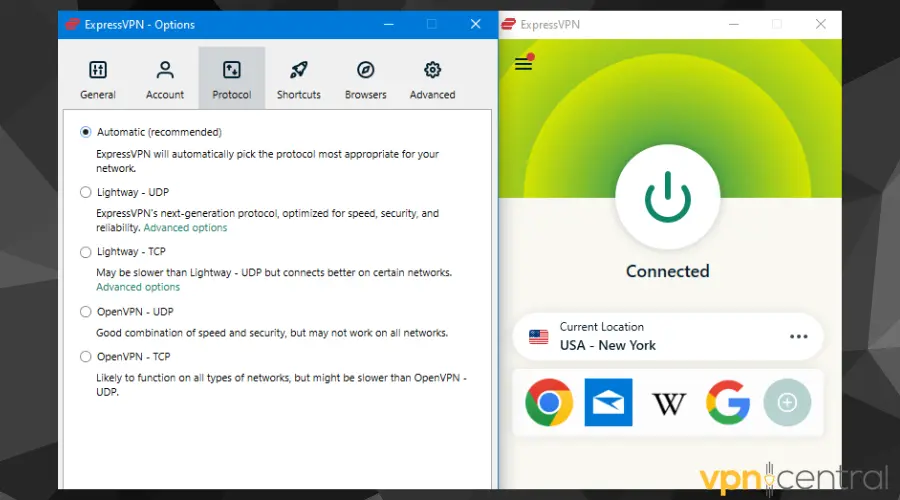 ExpressVPN is a reliable and popular VPN service that offers several features that make it well-suited for Fetch TV.
Firstly, it is known for its fast connection speeds. It operates a vast network of 10Gbps servers spread across 94 countries including five locations in Australia.
With these optimized servers, ExpressVPN ensures minimal impact on your internet speed while streaming content on Fetch TV. Also controlling congestion due to its huge server collection.
Additionally, utilizes robust encryption protocols to protect your online activities and data. It employs AES-256 encryption, which is considered highly secure and virtually unbreakable.
This ensures that your Fetch TV streaming sessions are encrypted and protected from potential hacking attempts.
Furthermore, Being outside the Five Eyes alliance ExpressVPN operates under favorable privacy conditions, ensuring your online activities are shielded from undue scrutiny.
What's more?
ExpressVPN assures users of unlimited bandwidth and DNS leak protection, which prevents your internet service providers from seeing your DNS queries. Therefore, impeding throttling.
Lastly, this VPN offers the kill switch, which automatically disconnects your internet if the VPN connection drops, preventing accidental exposure of your real IP address.
Pros
AES 256-bit military encryption.
Zero logs policy.
3000 servers in 90 countries.
DNS leak protection.
Streaming optimized servers.
Cons
High subscription fee.
Slow customer support response.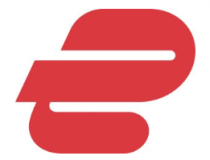 ExpressVPN
Easily unlock Fetch TV for unlimited streaming!
2. CyberGhost – Easiest to use & dedicated streaming servers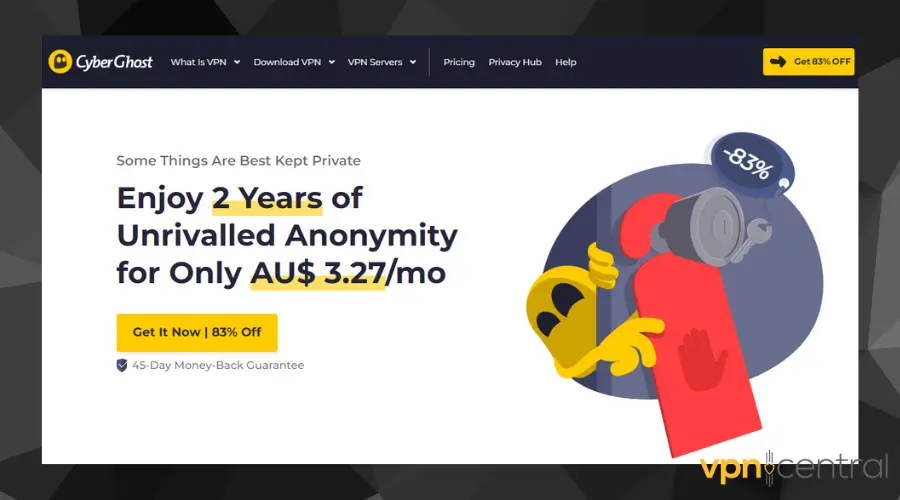 One of the key factors that set CyberGhost apart is its high-speed servers. With over 9700+ servers in 91 countries, users can enjoy smooth and uninterrupted streaming.
These servers are strategically located to ensure optimal performance and minimal latency, resulting in a seamless viewing experience.
It's also worthy of note that CyberGhost has a whopping 213 servers in Australia, spread sufficiently across, Melbourne, Sydney, and Brisbane. Therefore making it an excellent choice for Fetch TV.
Additionally, this VPN offers DNS protection. By redirecting DNS queries through its encrypted servers, CyberGhost prevents unauthorized parties from monitoring your browsing.
With this commitment to privacy, CyberGhost ensures that your digital footprint remains virtually invisible, granting you the freedom to enjoy Fetch TV without concerns about your data being tracked.
Moreover, CyberGhost offers a range of additional features like split tunneling and automatic kill switch that enhance the overall user experience.
Pros
45-day money back guarantee.
Large Australian server network.
WireGuard protocol.
Cryptocurrency payment.
DNS leak protection.
Six simultaneous device connections.
Cons
Fewer Apple app features.
A tad pricey.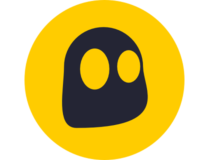 CyberGhost
Watch Fetch TV from anywhere in the world, restriction free!
3. PIA – large server network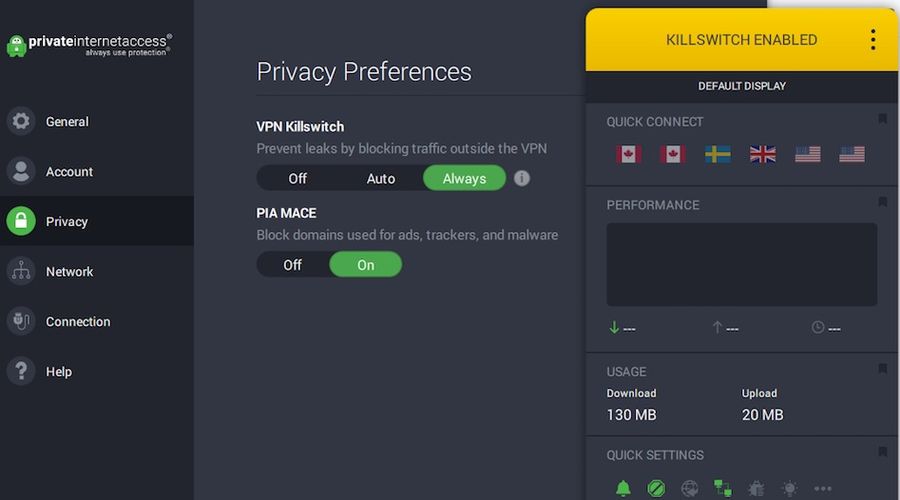 First and foremost, PIA boasts strong military encryption which guarantees that your Fetch TV activities remain private.
Additionally, PIA boasts over 35,000 servers across the globe with four locations in Australia. This extensive server network enhances your Fetch TV experience by offering a multitude of options for bypassing geo-restrictions.
Another key advantage of PIA lies in its impressive connection speeds. Fetch TV demands a stable and fast internet connection to deliver high-quality streaming without interruptions.
This VPN excels in this aspect by employing cutting-edge technologies and optimizing its infrastructure to provide users with a swift and reliable connection.
Lastly, PIA's affordability and flexible pricing plans make it an attractive option for Fetch TV users seeking value for their money. It offers competitive pricing tiers, allowing you to choose a plan that suits your needs and budget.
Pros
DNS leak protection
Kill switch
Cross-platform compatibility
Affordable pricing plans
24/7 customer support
30-day money-back guarantee
Cons
Outdated app design
Obsolete data in the help documentation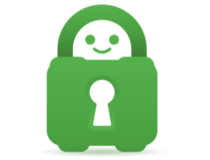 PIA
Stream movies, series and live TV regardless of where you are!
4. NordVPN – unlimited bandwidth for unlimited streaming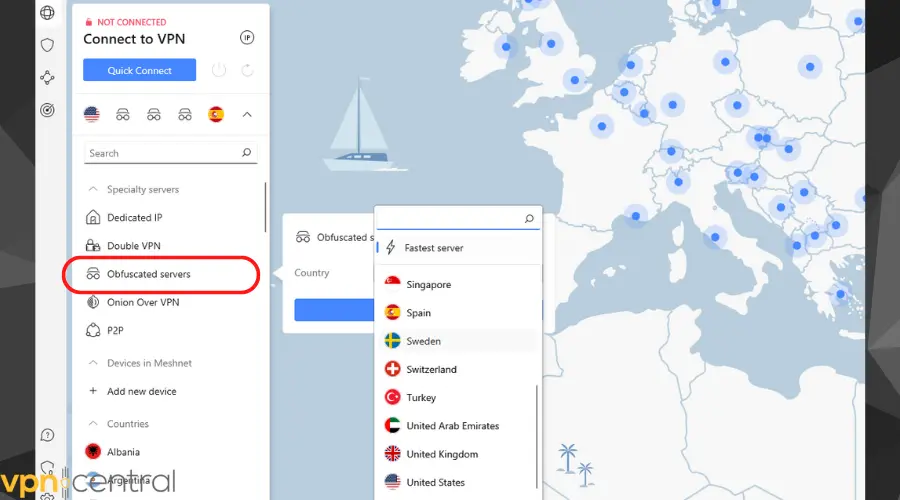 NordVPN boasts an extensive network of servers in 60 countries worldwide including 131 servers spread across five cities in Australia.
Whether you want to stream movies, TV shows, or sports events, NordVPN allows you to bypass geo-restrictions effortlessly.
Additionally, NordVPN prioritizes user privacy and security with its robust encryption protocols. By employing AES-256 encryption, it guarantees that your activities on Fetch TV remain private.
Moreover, NordVPN is renowned for its strict no-logs policy, which means it does not collect or retain any user data.
In terms of speed, NordVPN does not disappoint. Its servers are optimized for high-performance streaming, ensuring minimal buffering and smooth Fetch TV experience.
Furthermore, NordVPN offers user-friendly applications for various platforms, including Windows, macOS, iOS, and Android.
Pros
Strict no log policy
Dedicated IP
Six simultaneous device connection
Cons
Installation issues with iOS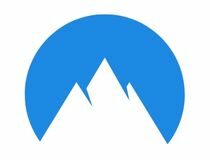 NordVPN
Binge your favorite shows on Fetch for as much as you want, from anywhere!
5. Surfshark – the most reliable budget-friendly option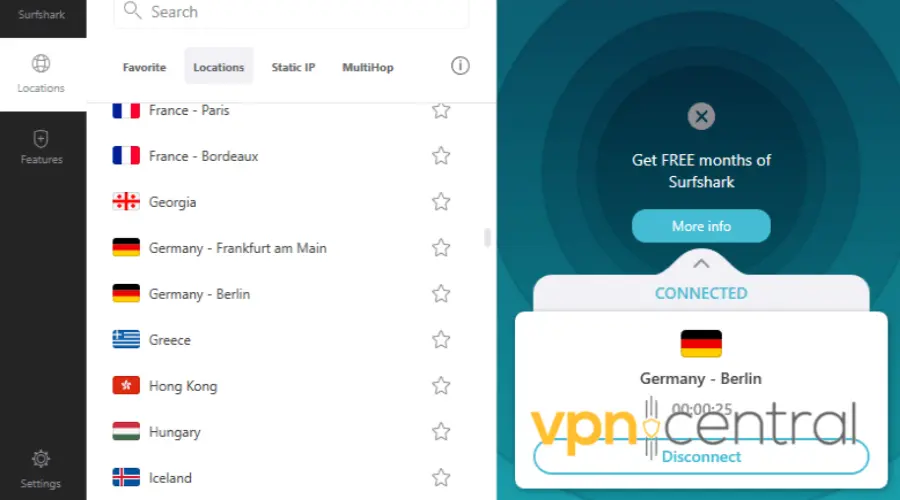 With Surfshark's military-grade encryption and strict no-logs policy, users can rest assured that their online activities and personal information remain completely confidential.
Additionally, Surfshark offers a built-in kill switch feature that automatically cuts off the internet connection if the VPN connection drops, preventing any data leaks or exposure.
Moreover, Surfshark boasts a vast network of streaming-optimized servers in 100 countries with 91 servers in Australia, guaranteeing high-speed and reliable connections for Fetch TV streaming..
Surfshark offers an unlimited simultaneous connection feature. This means that Fetch TV users can protect multiple devices with a single Surfshark subscription.
Last but not least, Surfshark offers excellent value for money. Despite its impressive features and capabilities, it remains competitively priced.
This makes it an affordable option for Fetch TV users seeking a reliable VPN service. Moreover, Surfshark frequently offers discounts and promotions.
Pros
No-borders mode
Automatic kill switch
Simultaneous device connection
WireGuard and OpenVPN protocol
AES-256 encryption
Cons
Customer support response can be slow sometimes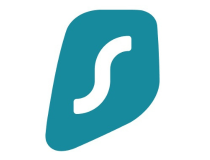 Surfshark
Unleash web freedom and watch Fetch TV on your own terms!
What to do if Fetch TV blocks your VPN?
Since Fetch TV is not available for people living outside Australia, it will block any such attempt. Also, any slight data leak while you are using a VPN may make this service detect and block you.
Aside from that, this service also uses technologies such as deep packet inspection, IP address analysis, and so on to discover VPN usage.
Also, it's possible that on your VPN, you connected to a server in another country. So, check to ensure you are using an Australian server.
Regardless of what the situation is, use the tips below to unblock your VPN after Fetch TV blocks it.
Switch to a different server 

Your VPN provider will assign you a new IP address when you connect to a different server. This may give you a new identity, hence, saving you from VPN ban.
How to do this:
1. Launch and login to your VPN app.
2. Expand the ellipsis or arrow beside the existing location to see the server list.
3. Click on the server of your choice.
4. Go back to Fetch TV and try to access it again.

Use an obfuscated server

An obfuscated server masks your VPN connection, creating the illusion of you using a regular internet network. This solution provides a quick and effortless fix for the problem.
To do this:
1. Launch your VPN app.
2. Log in with your details.
3. At the bottom-left of the window, click on Settings. Then select Connection.
4. Go to VPN protocols. Change it to OpenVPN TCP.
5. Return to the home window.
6. In the line of displayed countries, expand the arrow. 
7. Click on Specialty arrows. Select Obfuscated servers.
8. Click on the arrow in the dialog box that appears to choose a server.
9. Click to connect.
10. Try using Fetch TV again

Change VPN provider 

If all solutions fail, you may consider using a different VPN entirely. Choose from the list of VPNs we have recommended for Fetch TV.
Follow the steps below to complete the process:
1. Subscribe to the VPN provider of your choice. We'll use our top pick, ExpressVPN for this example.
2. Download and install the app to your device.
3. Click on the ellipsis to display the server list.
4. Choose any location of your choice.
5. Fetch TV should work this time.

Try each of these fixes until you can use Fetch TV again. However, if you still have difficulty, you would need to contact Fetch TV customer support.
Wrap up
Since its launch in 2010, Fetch TV has been the go-to streaming platform for all shows, movies, sit-coms and so on for Australians. Sadly, its citizens miss out on all the fun once they leave the country..
Thankfully, the VPN technology exists to solve such problems and help people spoof their location from anywhere in the world. Hence, this article explores the best VPNs to bypass geo-blocks on Fetch TV.
---