Port forwarding allows you to bypass firewalls and connect to a private network remotely. Although this technique may enhance speed during gaming and torrenting, it has its downsides too.
For example, it can leave your connection open to cyber attacks.
For this reason, using VPN is recommended.
But finding a decent free VPN with port forwarding can be a daunting task. That's why we did comprehensive research for your sake.
Unfortunately, we discovered that only one VPN provider offers this feature totally free of charge. You can find an overview of its feature below + a few premium recommendations.
Best free VPN provider with port forwarding
After thorough research, we did realize that most VPNs offer port forwarding as a premium feature. Despite this, one VPN – FineVPN – stands out from the crowd as the only free provider with this option.
What does this VPN have to offer?
FineVPN – supports multiple devices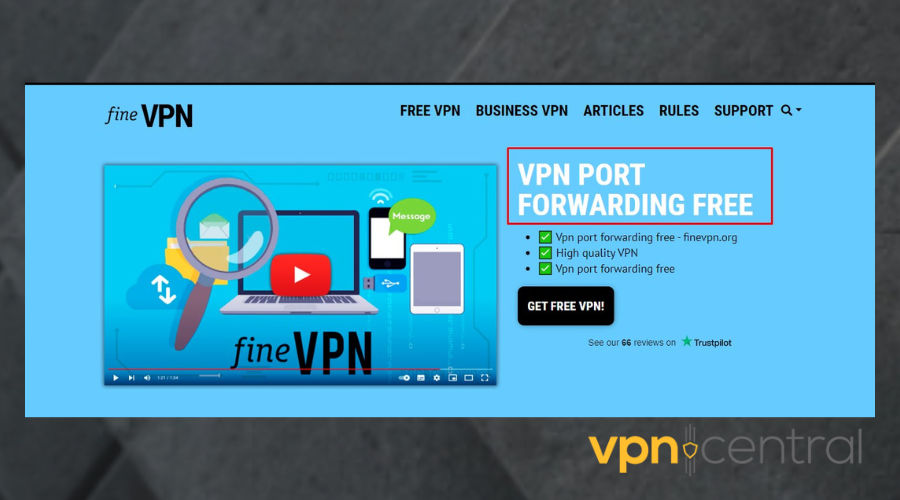 FineVPN, a cybersecurity service created by a non-government organization (NGO) offers port-forwarding as a totally free feature.
This VPN has servers spread across 20 of the world's countries including the US, England, and China. This gives you access to a range of online content.
Thanks to its support for OpenVPN and L2TP/IPsec, you can trust that your online activities would always be secure and private.
There's more:
FineVPN also boasts lightning-fast connection speeds and round-the-clock technical support, so you can get the help you need whenever you need it.
Lastly, with its rock-solid commitment to users' privacy, it maintains a zero logs policy.
Simply put, once you use this VPN, all your activity becomes 100% anonymous. Moreover, enabling the port forwarding option is easy.
Key features of FineVPN
OpenVPN and L2TP/IPsec
No logs policy
Fast severs in 20 countries
Supports major mobile and PC operating systems.
Best paid VPN provider with port forwarding
Since port forwarding is an advanced feature, it is no wonder most VPN providers, even ones with free versions, only offer it in their premium-tier software.
On the other hand, you'll get more from paid versions. From more servers and better encryption to safe browsing options and non-sketchy privacy policies, you may be better off in the end.
Check out the best paid VPN for port mapping:
1. ProtonVPN – easy-to-configure port forwarding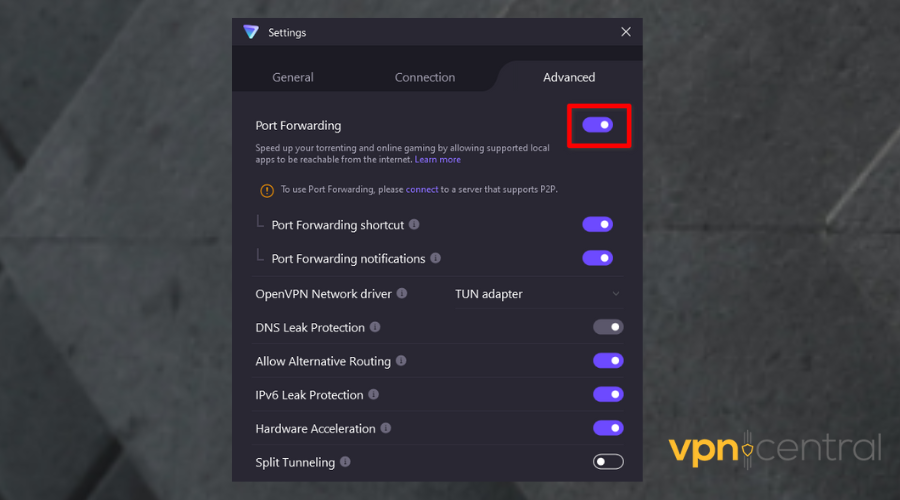 Although ProtonVPN is a freemium VPN, it does not give out port forwarding as a freebie. However, the fee is fair and you get access to 1900+ servers in 65+ countries.
But that's not all:
This provider offers a strict no-logs policy and the ability to access blocked content with ease.
However, the freemium ProtonVPN plan only has servers in the US, Japan, and the Netherlands, and supports just one device at a time.
That said, access to these servers is not limited, as opposed to most free/freemium VPNs which have data caps.
Moreover, thanks to its emergency killswitch, and stealth protocol (obfuscation) you can rest assured that your online activity is always secure.
What ProtonVPN offers
Easy to configure port forwarding
Money-back guarantee

Great in-app navigation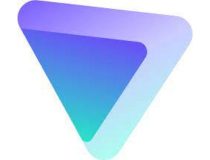 Proton VPN
Use ProtonVPN for secure and easy-to-configure port forwarding!
2. TorGuard – supports OpenVPN for secure port forwarding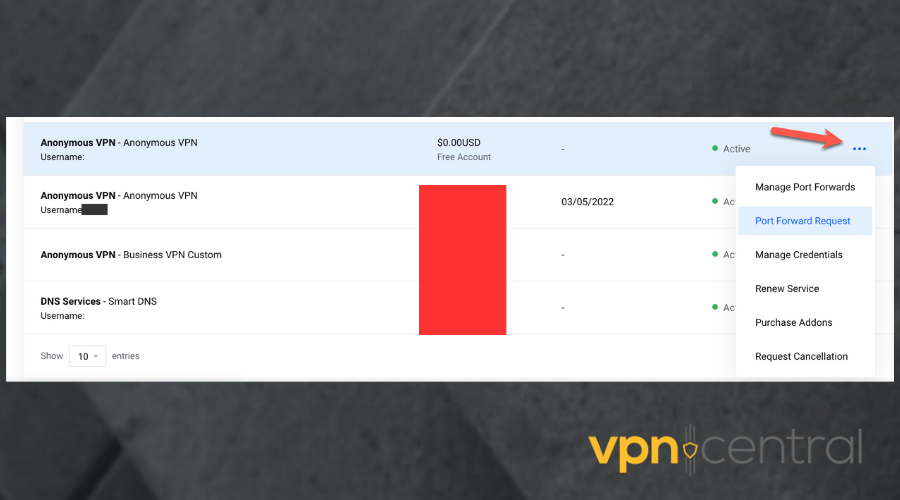 While this popular VPN for port forwarding is primarily a paid service, it also offers a generous seven-day free trial.
But what makes TorGuard stand out from the competition? For starters, it boasts an impressive network of 3000+ servers spread across over 50 countries.
This means that you can always find a fast and reliable connection no matter where you are in the world.
TorGuard also supports modern protocols like WireGuard and OpenVPN, so you can rest assured that your online activity is safe and stable.
It also offers a dedicated IP address to prevent fluctuations and limit restrictions during port forwarding.
Lastly, with its unlimited speeds and bandwidth, you can browse, stream, and download to your heart's content – without worrying about data caps or throttling.
What TorGuard has to offer:
Double protection

Supports all OS and devices
Router support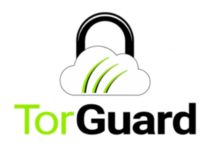 TorGuard
Get amazing port forwarding options with this reliable and fast VPN!
3. PIA – dedicated IP address for steady setup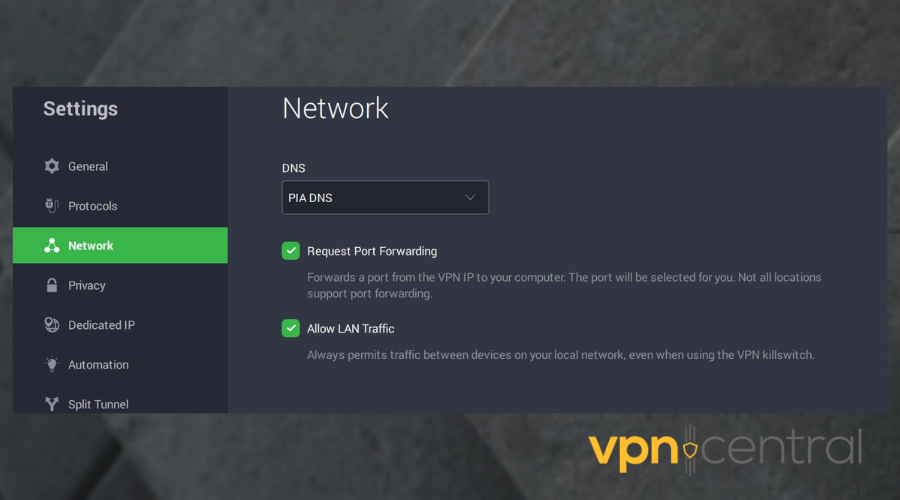 PIA has a database of over 35,000 servers worldwide that has been optimized for 10 Gbps network speed.
It also supports industry-standard protocols like OpenVPN and WireGuard which are secure, flexible, and easy to set up.
Furthermore, using PIA's dedicated IP address ensures that opened ports remain consistently accessible and IP does not change each time you connect to the VPN.
Additionally, with its powerful encryption and no-log policy, you can tell that PIA places the security and privacy of users as a priority.
Key features of PIA
10 simultaneous device connection
Advanced split tunneling
Compatible with most operating systems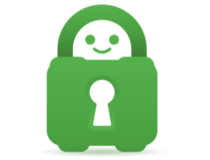 Private Internet Access
Configure port forwarding in two-clicks with this reliable and user-friendly VPN!
4. ExpressVPN – stable and swift connection (router only)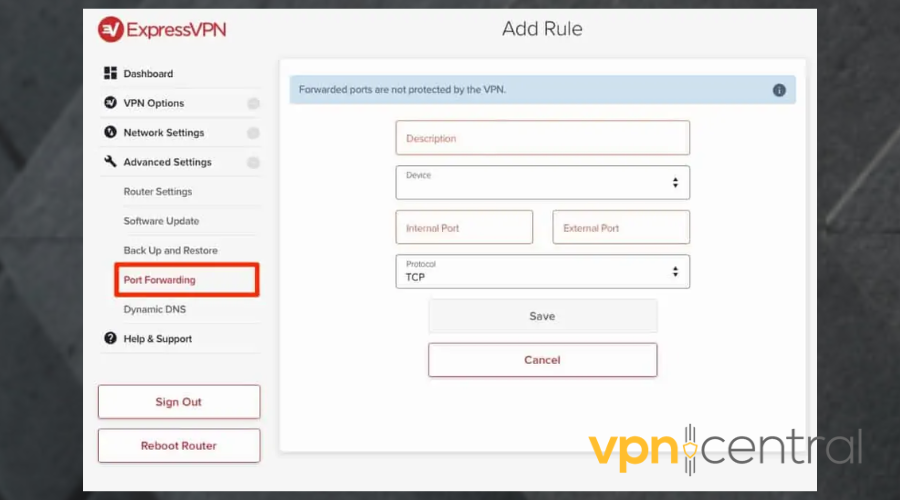 ExpressVPN is not free but you can leverage the 30-day money-back guarantee it offers. Another drawback is that you can set up port forwarding for this VPN only on routers.
Take all these aside and ExpressVPN is an amazing VPN with over 3000 servers in more than 90 countries.
In addition to this, it supports OpenVPN protocol, which is a key player in port mapping configuration as it is recent and more reliable.
Moreover, using AES military-grade encryption, this VPN keeps your privacy in check and ensures that you are safe from a good percentage of cyber threats.
Because it scrambles your traffic, making it difficult for anyone to successfully intercept and read your information.
You can count on ExpressVPN to keep you safe during port mapping.
Key features of ExpressVPN:
Very fast connection speeds

Live chat support

Zero data leaks.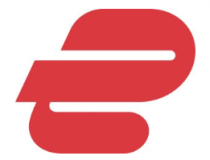 ExpressVPN
Get all the port forwarding benefits whilst securing your data with this top-level VPN!
While these services aren't completely free of charge, some offer free trials or money-back guarantees, so you can test them out without any commitments.
Moreover, all of these VPNs offer exclusive deals on a regular basis, so be on the lookout for that.
Pros and cons of using port forwarding
While port forwarding can provide benefits in certain situations like allowing you to control your home devices remotely, it also comes with some drawbacks.
Below is a list of its pro and cons:
| | |
| --- | --- |
| 👍 Pros | Cons 👎 |
| Enables remote access to devices and services | Poses security risks like cyber attacks |
| Increases flexibility in network configurations | Exposes sensitive data to the internet sometimes |
| Makes it easier to run servers or host websites | Can cause connectivity issues and network conflicts |
| Provides faster data transfer speeds | Can be complex to set up and configure |
| Can improve network performance | May require additional hardware or software |
| Facilitates multiplayer gaming | Can cause issues with dynamic IP addresses |
Port forwarding is an approach used in computer networking to redirect a communication request from one port on a router or firewall to another port on a different device.
This means that you can open a previously closed port on your device to allow traffic to flow freely to it from anywhere in the world.
It allows external access to a device or service located behind a firewall or NAT (Network Address Translation) device.
Most commonly, it is used to facilitate faster connections for file sharing, gaming, and remote access.
As you can see, there are a lot of benefits to it. But let's go ahead and break down the pros and cons further.
Advantages of port forwarding
Enables remote access to devices and services: For example, you can access a security camera or a file server at your home from anywhere in the world using port forwarding.
Increases flexibility in network configurations: Network administrators get more configuration freedom. This can be useful if they have multiple devices that require traffic to be directed to them.
Makes it easier to run servers or host websites: You can send incoming traffic to the correct device or server. Therefore making it easier to manage and run websites on your network.
Provides faster data transfer speeds: By using port mapping, you can ensure that incoming traffic is directed to the device or service that requires it, resulting in faster data transfer speeds.
Can improve network performance: You can prevent network congestion and reduce latency, by mapping the network to the appropriate service.
Facilitates multiplayer gaming: Port forwarding ensures that gamers can connect to each other's games or servers, thereby having seamless online gaming experiences.
Downsides of port forwarding
Security risks: Port forwarding can make devices vulnerable to hacking and cyberattacks by granting access to previously blocked ports.
Exposure of sensitive data: It sometimes reveals sensitive information on your devices to the internet, making it accessible to anyone with malicious intent.
Connectivity issues and network conflicts: Improper configuration of port forwarding can cause connection problems.
Complexity in setup and configuration: It requires technical knowledge and can be complicated to configure, especially for non-technical users.
Additional hardware or software requirements: Some setups may require extra devices or programs, which can add to overall cost and complexity.
🛠️ How to configure port forwarding
Setting up port forwarding is like being the traffic director of a busy city. As roads connect different neighborhoods, devices in a network rely on ports to communicate with one another.
However, sometimes these devices need to send and receive information from the outside world, and that's where port forwarding comes in.
Before we begin, having a Static IP address is important if you want to maintain a port forwarding rule for a longer period of time.
That's because the dynamic address used by most devices changes frequently and this can render your port mapping setup invalid.
Hence, it will direct traffic to the wrong port.
Now that is settled, let's go ahead and configure port forwarding.
How to set up port forwarding
Launch your web browser.
Enter your router's IP address into the address box and continue.
Input your router's username and password.
Go to the port forwarding settings for your router. Depending on the brand you are using, you may find this option in the Advanced section and under Firewall, Virtual servers, Gaming, NAT, or Security.
Click Add New or Add Custom Service to create a new port forwarding rule.
Enter the name of the service you want to use. You can use any name.
Type in the port number of your choice.
Choose a protocol between TCP/UDP or use both.
Type in your computer's IP address.
Click Save or Apply to enter your settings.
Summary
Port forwarding makes it easy for people to connect to outside servers and for anyone to access devices from anywhere in the world.
That is not to say this process doesn't have its downsides.
However, as long as you configure it correctly, and use a reliable VPN for it, you shouldn't have any problems.
FAQs
Will VPN bypass blocked ports?
Not all the time.
VPN can potentially bypass port-based restrictions. That's because some network filters or firewalls may only work on encrypted traffic or on certain VPN ports.
On the other hand, some network administrators may employ more advanced techniques to detect and block VPN traffic altogether. 
In such cases, even if the VPN connection is established, the restricted ports may still remain inaccessible.
What ports need to be forwarded for VPN?
The specific ports that need to be forwarded for a VPN connection depend on the VPN protocol being used. 
Here are the commonly used VPN protocols and the corresponding ports they typically require for forwarding:

PPTP (Point-to-Point Tunneling Protocol): TCP port 1723.
L2TP/IPSec (Layer 2 Tunneling Protocol/Internet Protocol Security): UDP ports 500, 1701, and 4500.
SSTP (Secure Socket Tunneling Protocol): TCP port 443.
OpenVPN (UDP or TCP): UDP port 1194 or  TCP port 443 or the custom port specified in the OpenVPN server configuration file if it has been changed to a different port.

Some VPN providers may use non-standard or custom ports for their services. 

In such cases, you should refer to the documentation or support resources provided by your  VPN service to determine the required ports for forwarding.

Additionally, if you are behind a router or firewall, you need to forward these ports on the respective device to allow incoming VPN traffic to reach your VPN server or client.
How do I manually configure a VPN?
Manually configuring your VPN depends entirely on your operating system.

Windows:
1. Click on the Start button > select Settings.
2. Go to Network and Internet.
3. Select VPN > Click on the + button to add a VPN connection.
4. Enter all the required information like the VPN provider name, server address, and so on.
5. Click Save to apply settings.

For macOS:
1. On your Mac, click on the Apple menu > System Settings.
2. In the sidebar, scroll down to select VPN.
3. Click Add VPN configuration. Then select the VPN connection setup type.
4. In the Display Name field, enter a name for the new VPN service.
5. Use the default configuration or click on the pop-up menu to choose a different configuration.
6. Enter settings for the VPN. This includes server address, account name, and so on.
7. Click Create.

On Android:
1. Open the Settings app on your device.
2. Go to Network and Internet.
3. Tap Advanced > Select VPN.
4. Select the addition sign.
5. Input the VPN's information.
6. Select Save.

For iOS:
1. Go to the Settings app.
2. Select General.
3. Tap VPN.
4. Select Add VPN configuration.
5. Press Type to select a VPN protocol.
6. Type in a description, a remote ID, and a server for the VPN.
7. Input your username and password.
Click Manual or Auto to enable your proxy server(if you are using one).
Press Done.