Due to laws governing online gambling, the usage of GGPoker is prohibited in many parts of the world, including most states in the US, Iran, the UAE, Pakistan, and Saudi Arabia.
That's why many people try to use VPNs. But they don't always work because GGPoker blocks VPNs.
Fortunately, we found a few reliable options that can actually get past the VPN block on GGPoker. Read more about them below.
In a rush? Here are the best VPNs for GGPoker
Wanna hop on GGPoker right away? Here's a quick overview of the best VPNs to use with it and what they include:
| | |
| --- | --- |
| 🥇 NordVPN | Specialty servers to fight off any form of restriction |
| 🥈 Surfshark | Reliable unblocking abilities and affordable plans |
| 🥉 ExpressVPN | Great connection speed for long poker sessions |
| 4️⃣ CyberGhost | Up to standard privacy features to remain undetected |
| 5️⃣ PrivateVPN | Highly customizable with built-in IP leak protection |
Find below more in-depth info on why you should use a VPN with GGPoker and what all of the above-mentioned services include.
Does GGPoker block VPNs?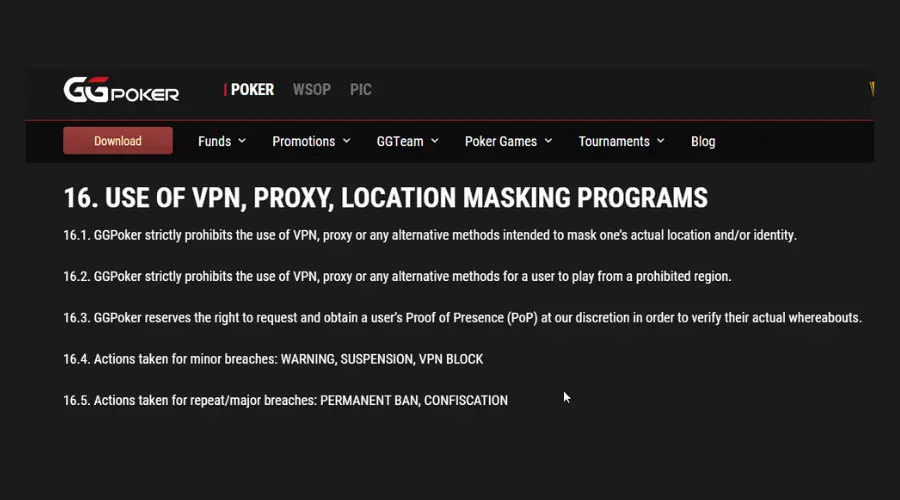 GGPoker mentions the use of VPNs in its terms and conditions, more specifically in section 16.1 of its Security and ecology agreement.
It reads as follows:
GGPoker strictly prohibits the use of VPN, proxy, or any alternative methods intended to mask one's actual location and/or identity
Under subsection 2 of the Agreement, it further states Actions taken for minor breaches: WARNING, SUSPENSION, VPN BLOCK.
To help fix this, we've listed some VPNs with strong encryption that will safely unblock GGPoker without leaving any trace.
GGPoker supported countries
GGPoker is available in some selected countries for players around the world.
Here is a list of all the countries where GGPoker is currently accessible:
| | |
| --- | --- |
| Europe | Spain, Latvia, Hungary, Moldova, Germany, Italy, Norway, Poland, Austria, Alb Albania, Andorra, Cyprus, Croatia, Luxembourg, Iceland, North Macedonia, Malta, Norway, Ireland, Belgium, Finland, Monaco, Germany, Romania, Montenegro, Slovakia, Netherlands, Slovenia, Liechtenstein, Gibraltar, Isle of Man, Jersey, |
| Asia | China, Japan, Thailand, Afghanistan, Indonesian, Kuwait, Lebanon, Mongolia, Maldives, Philippines, Qatar, Mongolia, Bangladesh, |
| Africa | Nigeria, Ghana, Cameroon, Morocco, Angola, Guinea, Madagascar, Egypt, Kenya, Senegal, South Africa, Mauritius |
| South America | Argentina, Ecuador, Paraguay, Perú, Bolivia, Chile |
| North America | Canada, New Jersey, US, Costa Rica, Dominican Republic, Bahamas, Belize, Canada, Honduras, Panama, El Salvador, Mexico, Jamaica, Guatemala |
| Oceania | Australia, New Zealand |
What are the Best VPNs for GGPoker?
Due to the risk associated with using GGPoker with VPN, it is advisable to always use a VPN that offers the best security and reliability.
1. NordVPN – wide server network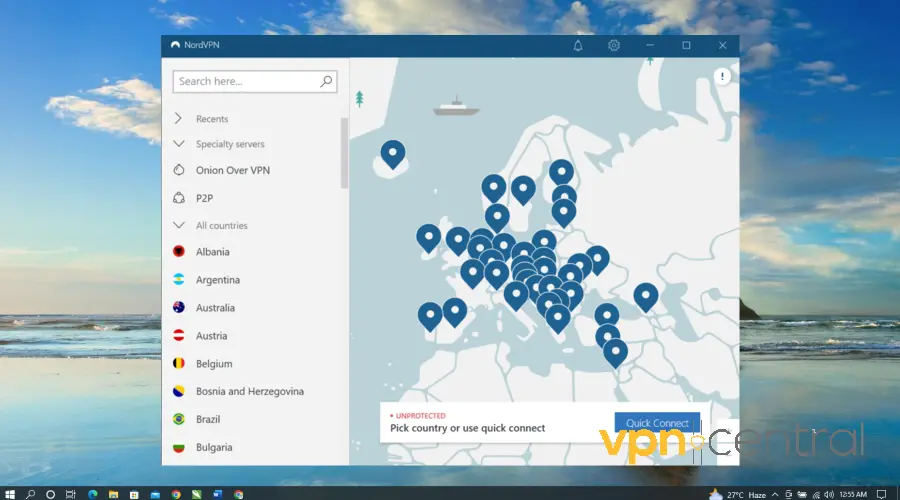 We chose NordVPN because of its excellent array of servers. Plus it has a specialty, obfuscated servers that can hide the fact that you use a VPN.
Additionally, NordVPN supports double VPN. This diverts your connection across two VPN servers as opposed to only one.
In that manner, even if one leg of the connection is somehow compromised, the other legs will still be safe.
Your digital privacy is protected by the VPN's strong encryption, kill-switch, and leak-prevention features.
Additionally, you can use a single NordVPN plan to sign in and play GG Poker on up to six different devices at once.
Top NordVPN features:
5,400+ servers in over 60 countries for pokers
Kill Switch and Split Tunneling
Excellent pricing
P2P support
Anti-virus and dark web monitor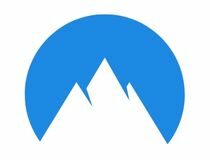 NordVPN
Safely access GGPoker with no room for tracking or anti-VPN detection!
2. Surfshark – affordable and reliable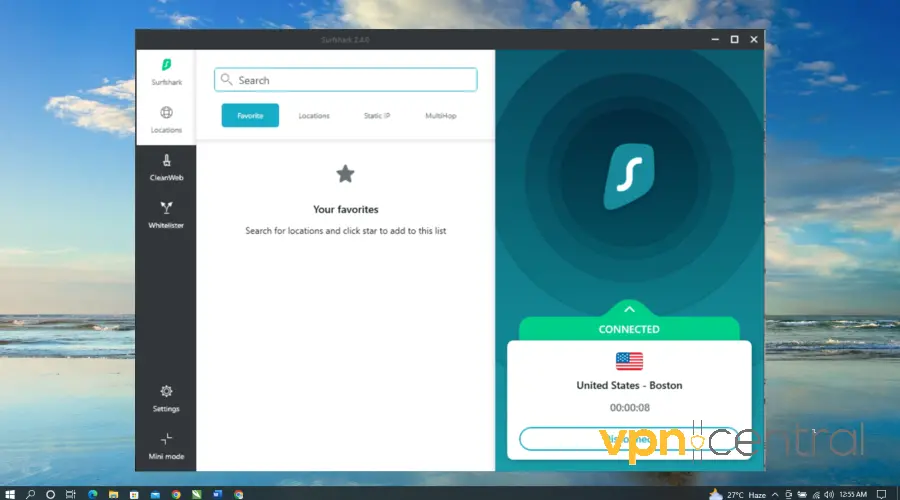 Surfshark is one of the finest VPNs for high-bandwidth activities like poker matchmaking on GGPoker.
Its servers regularly surpass 100Mbps, and you can make use of its limitless concurrent connections.
This is excellent for households with a large number of network users.
Although Surfshark isn't as quick as NordVPN (up to 369Mbps), you won't see any performance drops when using its servers to play poker.
In fact, by bypassing ISPs that throttle your online poker gameplay session traffic, you might get faster Internet.
You can play the game on whichever app you want because Surfshark is both mobile and desktop compatible and incredibly simple to use.
More about Surfshark:
Multi-hop (double VPN)
3200+ servers in 100 countries
Kill Switch and Split Tunneling
Anti-virus and safe browsing feature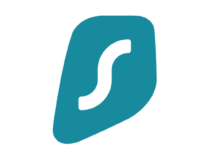 Surfshark
Unlock GGPoker from anywhere with this unblockable VPN!
3. ExpressVPN – wide compatibility range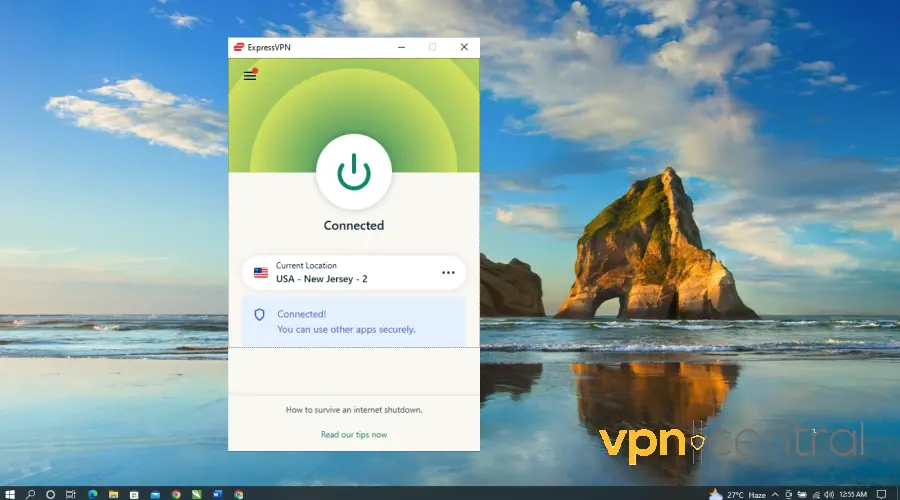 Because data must travel through an encrypted tunnel, VPNs may slow down your internet speed. That's why many people give up on them, leaving their data exposed on apps like GGPoker.
However, ExpressVPN, which supports connections of up to 400 Mbps, makes internet speed not really affected by data traveling through an encrypted VPN tunnel.
Excellent content-unblocking abilities are provided by this VPN. You will therefore be able to visit poker websites like GGPoker, PokerStars, 888Poker, and others, even from restricted countries.
It also does a remarkable job of boosting online security because of its usage of industry-leading encryption, functional kill switch, and no-logs policies.
You can quickly switch to another if one goes offline. It has thousands of different servers and covers 94 other countries altogether.
Other ExpressVPN features:
Advanced leak prevention
Kill switch
Manual protocol selection
30-day money-back guarantee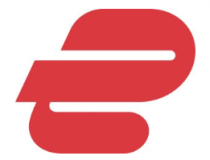 ExpressVPN
Protect your data and enjoy uninterrupted poker sessions from anywhere in the world!
4. CyberGhost – the most user-friendly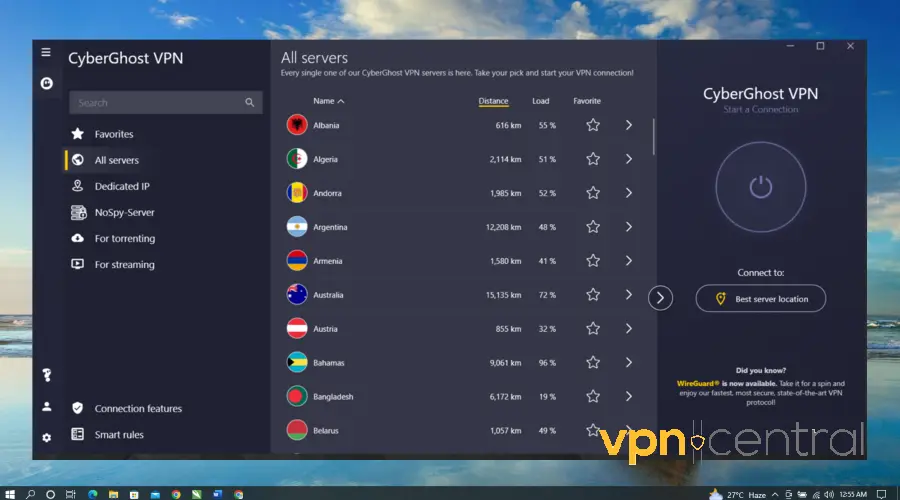 CyberGhost VPN, created by Kape Technologies, stands out as one of the finest options for security when it comes to playing poker online and unblocking websites.
Some ISPs might throttle bandwidth, which would result in slow connections, while others might completely block access to GGPoker. All this becomes a thing of the past with CyberGhost VPN.
That's because this VPN company places a high priority on security.
Because of this, it features the kill switch option and employs AES-256 encryption to always secure your IP, so your ISP can't throttle you, because they have no data about your activity in the first place.
CyberGhost VPN combines the quickest and safest protocols available, such as IKEv2, WireGuard®, and OpenVPN, to provide excellent privacy and quick connectivity.
You'll also receive a 45-day money-back guarantee, giving you plenty of opportunity to test out all of its features before committing.
Here is what CyberGhost VPN offers:
Over 7,000 servers across 91 countries
Split tunneling and built-in leak protection
Windows, Mac OS, Linux, Android, Chrome, Firefox, and Opera compatible
Ad-blockers
45-day refund guarantee (1-day free trial with no credit card)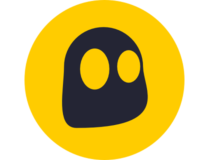 CyberGhost
Connect to CyberGhost for unrestricted access to GGPoker!
5. PrivateVPN – excellent data protection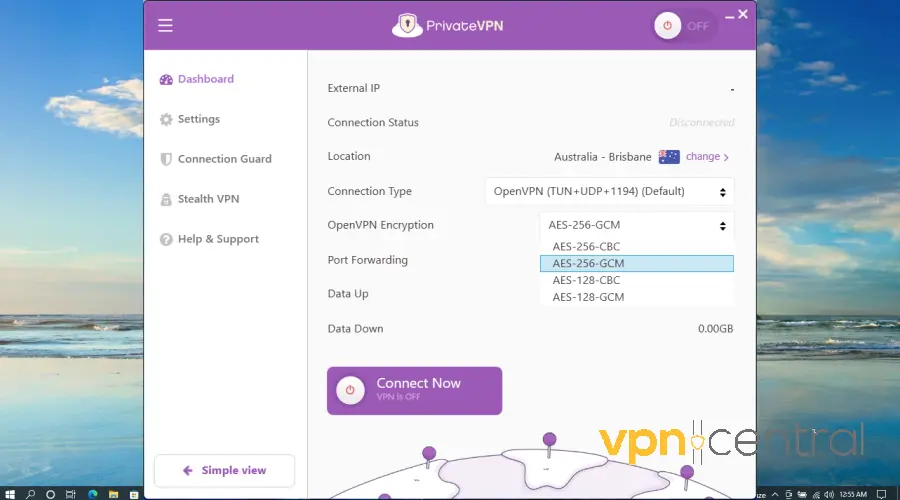 Accessing poker sites from any jurisdiction is made possible using PrivateVPN's Stealth VPN feature.
To blend in with regular traffic, it masks your VPN connection as a standard internet connection. This will get rid of the risk of getting blocked by GGPoker because you use a VPN.
Additionally, when playing GGPoker on public WiFi, there are several risks like man-in-the-middle (MITM) attacks, malware distribution, and others.
PrivateVPN reduces those thanks to its AES 256-bit encryption, perfect forward secrecy, DNS & IP leak protection, and other security features to keep you safe from prying eyes.
In the event of an unexpected disconnection, PrivateVPN's kill switch and Application Guard provide an additional degree of security. It stops your device from accessing the internet until your VPN connection is back up.
So you remain untraceable on GGPoker even if the VPN disconnects for a little while.
To top it all off, PrivateVPN offers a solid zero-logs policy that ensures that your data is protected from governments with extensive surveillance.
Other exciting features of CyberGhostt are:
Remote setup support
Referral program
Up to 10 concurrent connections
Unlimited speed
Military-grade encryption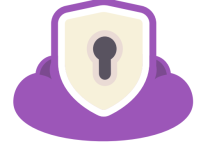 PrivateVPN
Connect to PrivateVPN and get easy access GGPoker while keeping al your data safe!
How to access GGPoker from anywhere?
Now that you know which VPNs are the best, here's how you can use one to unlock GGPoker.
For this guide, we used our top pick, NordVPN:
Subscribe to NordVPN and download the software.

Install the software on your device.
Once installed, open the app. Use the search bar to find an unrestricted server and select it to connect. In this case, we choose Australia.

Then launch your GGPoker.
Use the search bar to find an unrestricted server and select it to connect. In this case, we choose Australia.
Is GGPoker legal?
GGPoker is illegal in countries where online gambling is illegal.
Where you are, determines what happens. It's critical that you familiarize yourself with the laws and regulations governing GGPoker in the region where you are.
However, many places, including Canada, Singapore, some US states, Australia, the UK, Spain, and France, allow GGPoker.
Poker sites spend a lot of money on VPN detection because not doing so could result in penalties if players from unauthorized locations are allowed to play.
Some of the unauthorized places include most US states, Israel, UAE, North Korea, and Afghanistan.
Disclaimer: Only GGPoker mentions the use of VPNs in its terms and conditions, more specifically in section 16 of their security and ecology agreement.
If a VPN is discovered, GGPoker may ban your account and you can lose all money you won on the platform.
You should read the Terms and Conditions of the website so you are aware of any potential repercussions.
Under subsection 2 of the Agreement, it states Actions taken for minor breaches: WARNING, SUSPENSION, VPN BLOCK.
You can only use GGPoker with VPN at your own risk.
Related reads:
Wrap Up
If you like touring several regions as a regular poker player or your winnings /bank information is on the line, using a trustworthy VPN might be a wise investment.
Reliable VPNs may be used to get around geographic restrictions.
It adds an extra degree of protection, which is beneficial for both casual and die-hard players.