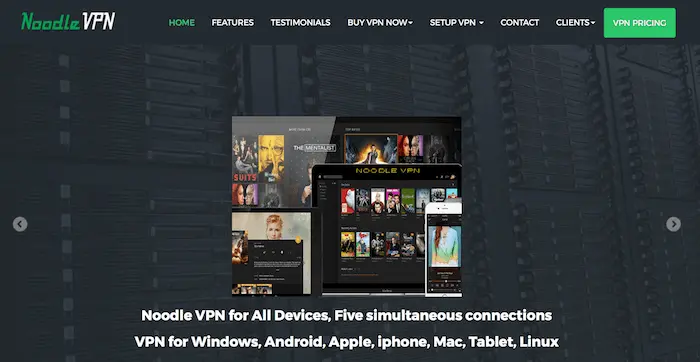 Noodle VPN is an American VPN service provider that was established in 2009 and carries all its operations from the US.
It is dedicated to offering quality services at economical prices and with 24/7 support.
In this exhaustive Noodle VPN review, we shall take a closer look at this VPN service, so as to help you decide whether it suits your VPN needs.
Pricing & plans
Noodle VPN has quite a number of packages from which you can choose one that suits your needs. These packages can be chosen depending on the country or server that you want to connect to.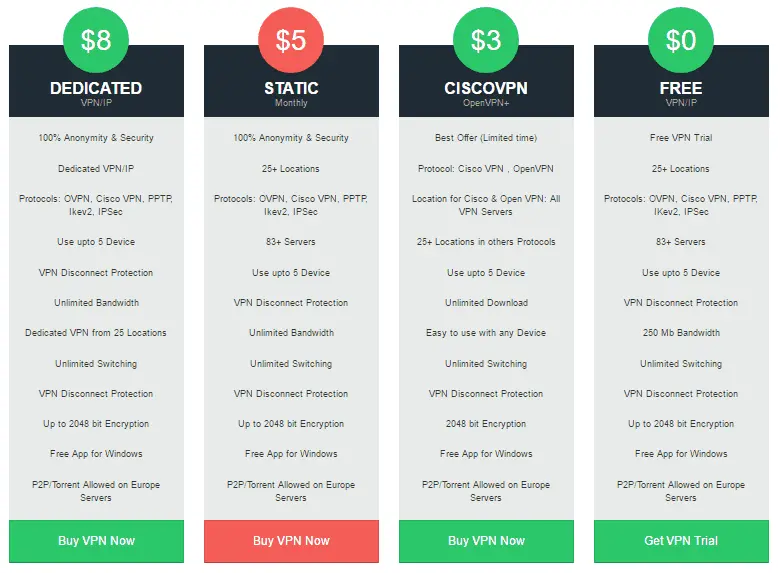 Dedicated package
This is their premium package, with which you can enjoy all Noodle VPN services.
The plan gives you a dedicated IP address, such that you won't be given a new IP address every time you log in.
The plans cost $8 per month.
If you want to purchase this plan, you will need to choose a server. What caught our attention here is that different servers cost differently, and they range from $7.8 to $11. You will have 26 servers from which you can choose.
Static plan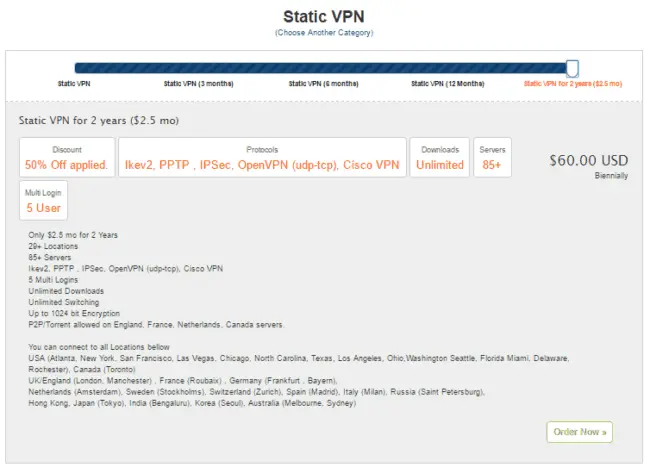 This plans costs $5 a month, and it offers 25+ server locations, 83+ servers, and unlimited bandwidth. You can also purchase it for more months and get certain discounts.
The Quarterly plan will cost you $14, with a saving of $1
The Semi-annual plan costs $26, which will see you save 20%
The Annual plan goes for $47, which is 20% off the initial price
The 2-year plan will see you half the price to $60 for 24 months, which is $2.5 per month.
All protocols will be available to use, and switching is unlimited.
Cisco VPN Plan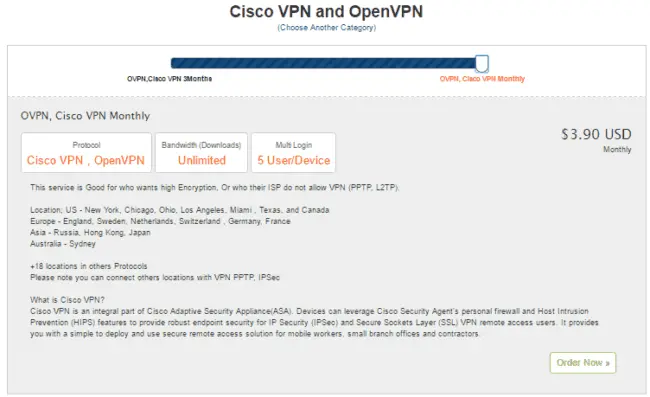 This service is good for you if you want high encryption standards, or if your ISP does not allow VPNs (PPTP, L2TP).
The package however limits your protocols to only OpenVPN and Cisco VPN, but in return only costs $3.9 a month. Buying the 3-month plan will see the price drop to $10 for 3 months, which is about $3.3 a month.
The free plan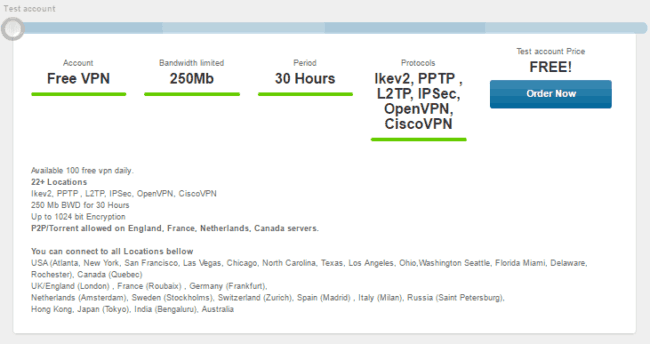 Noodle VPN also offers you a free trial so you can effectively test their service. We find this test plan quite impressive as it offers almost all the features offered by the dedicated plan, except that you can only use it for 30 hours.
It also has unlimited bandwidth, and you can only use 250 MBs within the specified time frame.
To use this free trial, you will need to create an account, but you won't have to pay a penny or provide your payment details.
This is quite impressive as some other VPN providers even require you to pay for a plan so as to be eligible for the free plan.
You can take advantage of this and get to see the kind of service that Noodle VPN offers.
Payment options
You can pay for your Noodle VPN account using various options. They include Perfect Money, Bitcoin, Okpay, Money Polo, LightCoin, Dogecoin, Webmoney, and PayPal.
Noodle VPN Features
Compatibility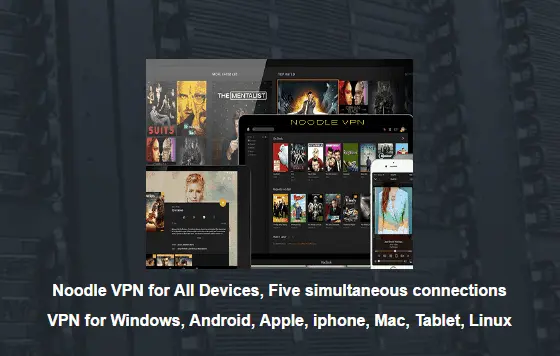 Noodle VPN is compatible with almost all major operating systems.
These include:
MAC
Windows
Linux
iOS and
Android
You will be able to connect up to 5 different devices using your account.
Although they do not have a proprietary VPN client, it is simple and easy to set up Noodle VPN, and you won't even require technical know-how to do it.
When you have subscribed for the dedicated VPN service, you will be given a dedicated IP address such that you won't need a new one on your next connection.
Servers & locations
As mentioned earlier, this VPN offers above 83 servers based in over 25 different locations. These servers are however only found in around 15 countries.
In comparison to some other VPNs that offer 500+ servers in 50+ countries, the number is quite small.
Since the VPN offers a country-based VPN service, it is not possible to switch servers and unlock local content from more than one country, with only one subscription.
The company also allows P2P (Torrenting), but this can only be done through Switzerland servers. This means that you will have to subscribe to the Swiss VPN plan.
The server locations are;
USA (Atlanta, New York, San Francisco, Las Vegas, Chicago, North Carolina, Texas, Los Angeles, Ohio, Washington Seattle, Florida Miami, Delaware, Rochester)
Canada (Toronto)
UK/England (London, Manchester)
France (Roubaix)
Germany (Frankfurt, Bayern),
Netherlands (Amsterdam)
Sweden (Stockholm)
Switzerland (Zurich)
Spain (Madrid)
Italy (Milan)
Russia (Saint Petersburg)
China (Hong Kong),
Japan (Tokyo)
Korea (Seoul)
Australia (Melbourne, Sydney)
Security & Privacy
Privacy
Your privacy lies in the heart of Noodle VPN. Their special equipment is designed to protect you against eavesdropping. Moreover, Noodle VPN does not log user data so you remain 100% secure against all forms of internet exploits.
The company respects the privacy of its customers and it will not hand over customer data to anyone unless forced to do so by law enforcement agencies.
Security
Of course, as you've already seen in this review there are many reasons to choose Noodle VPN, but security is a major one. Noodle VPN gives you access to a whopping 6 protocols, all in one package.
These include IKEV2 protocol, OpenVPN, PPTP, L2TP, IPSec, and Cisco VPN.
Any of these protocols can be set up easily and the service creates a secure tunnel to protect common online activities like browsing, FTP, VOIP, ICQ, and emailing.
It does a great job of securing your banking transactions, passwords, and social accounts when you are using low-security wireless networks.
They also provide encryption from 128- to 2048-bit depending on the VPN protocol you use.
The IKEv2 protocol
Noodle VPN boasts of being one of the few providers of the IKEv2 protocol. This protocol is faster than PPTP, SSTP, and L2TP, as it does not involve the overhead associated with Point-to-Point protocols (PPP).
One strong point of the protocol is that it is very stable, especially when it comes to switching a network or reconnecting after a lost internet connection.
It is also very secure and supports AES 128, AES 192, AES 256, and 3DES ciphers. What's more, it is also very easy to set up.
Getting started with Noodle VPN
To start using Noodle VPN, you won't have to go through much hustle. The first thing you will need to do is create an account with them.
To do this, you have to choose a package for which you will create the account.
While on the Noodle VPN website, just point the cursor to the Buy VPN Now button.
A drop-down menu will appear, showing you the options. You can choose one that you like. You can even choose the free VPN.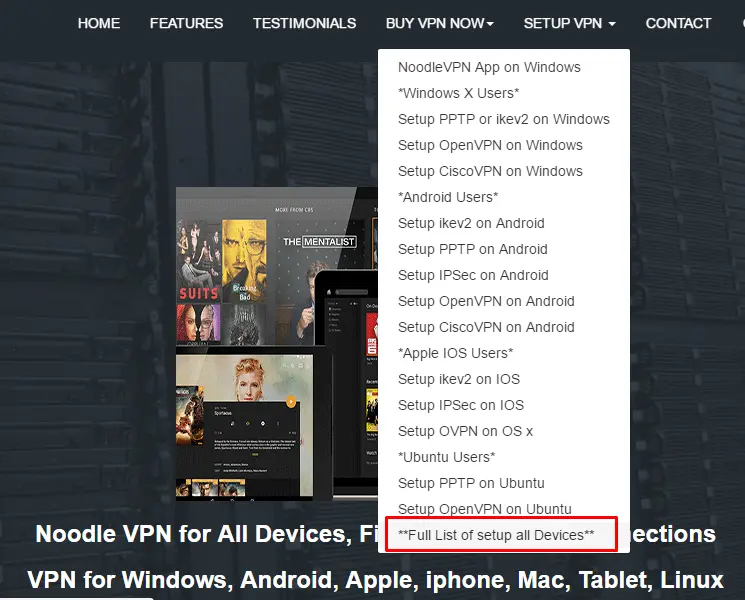 If you choose the dedicated package, the next page will require you to choose a server of your liking.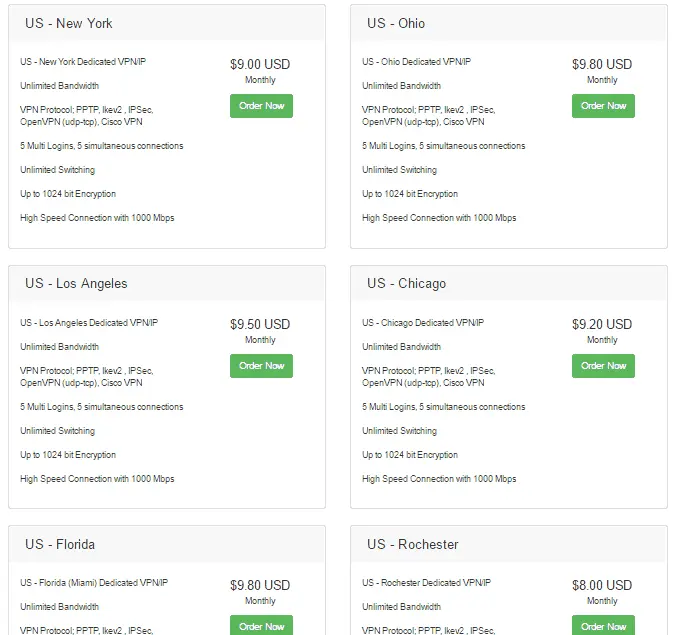 You can choose a payment schedule and then Continue.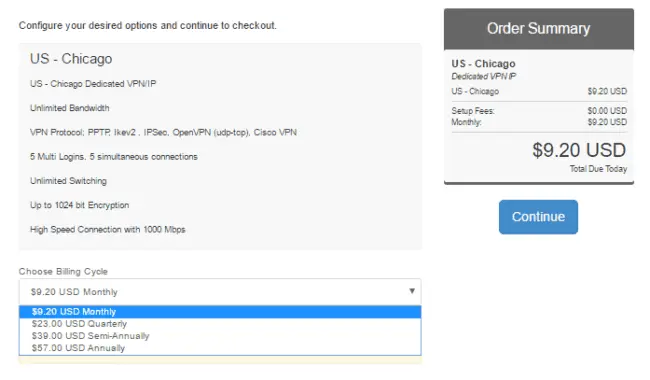 You will then be required to fill out your details and according to them, only your email address is necessary.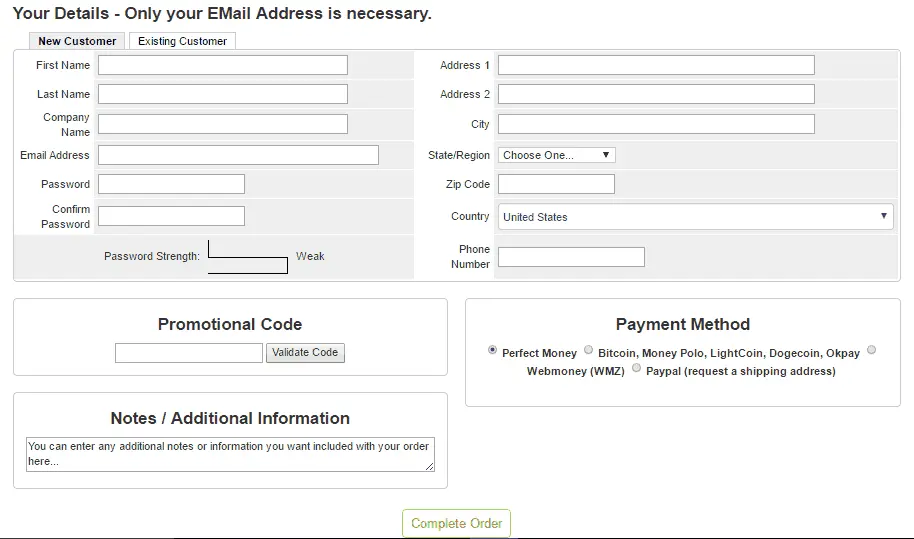 After Completing the order, you will then receive an email.
Among the contents of the email are your account details, i.e. username and password.
Setting up protocols
After you have created your account, you will have many methods of connection available to you, since noodle VPN supports a wide range of devices.
Noodle VPN provides exhaustive tutorials on its website, such that you won't have trouble when configuring any of your devices.
Just visit their website and click Setup VPN, and you will have all possible setup options.
Windows client
Noodle VPN has a proprietary client for Windows users, which makes sense as they are the majority.
Once you have an account, it is very easy to set this up. On opening, it will require your account username and password to continue.
You can enter the details, and choose to save if you want.
After logging in, you can then choose a protocol and a server. Different protocols have different servers.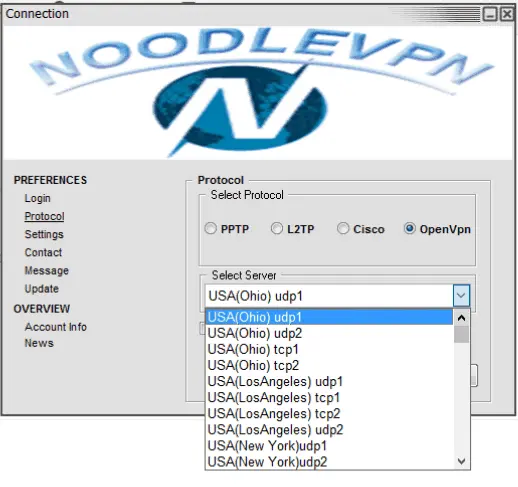 After that, you can click Connect.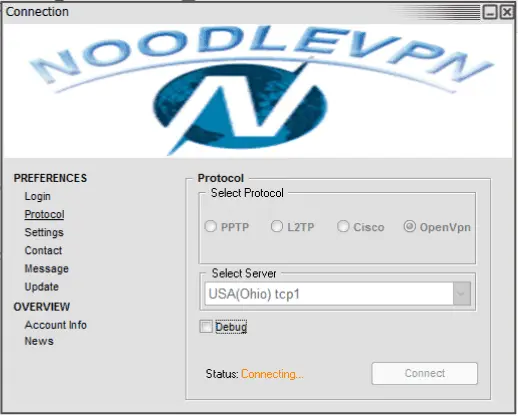 You will be connected in no time.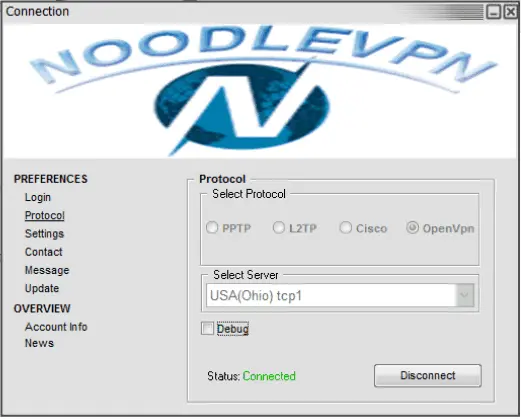 The only other feature we can mention here is the Account info, which allows you to see your account details.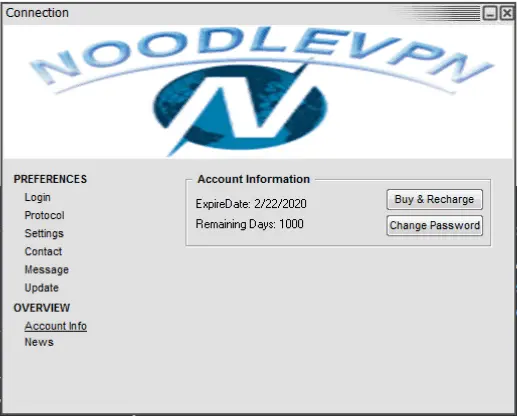 We found the app to be very simple and user-friendly. Even novice users will surely be comfortable while using it.
VPN speeds & speed test
One of the most important things a VPN can offer is speed. Bad speed basically ruins a promising tool.
So let's review Noodle VPN's speed.
First, you must know it delivers high speeds and bandwidth through 100 MBPS dedicated ports.
The speed and bandwidth they provide work great for downloading, VOIP, streaming, gaming, and torrenting. The company guarantees 99% uptime so you can expect to get an uninterrupted service for long durations.
Here's a speed test of the Swiss VPN plan using an iPhone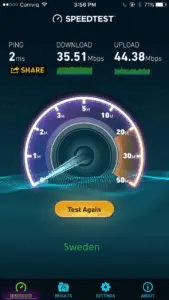 Noodle VPN pros & cons
Pros
Unlimited bandwidth
Offers 6 protocols
VPN disconnect protection
Doesn't keep logs (It's based in the US though)
Cons
Relatively fewer server countries
No server switching between different countries
Customer support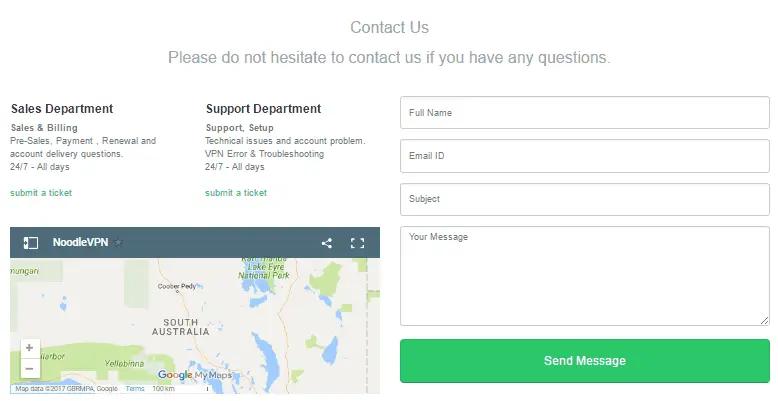 We found Noodle VPN support to be quite remarkable. Customer support is mainly done through a 24/7 ticket support system, and we found out that Noodle VPN doesn't offer Live chat.
Through the ticket system, you can contact either the Sales department or the support department.
The Sales department deals with Sales & Billing, which includes Pre-Sales, Payment, Renewal, and account delivery questions.
The Support department on the other hand handles technical issues, account problems, VPN errors & troubleshooting.
There is also a knowledge base on their website where all troubleshooting and installation guides are published. You can use this and it will help you fix things on your own.
Conclusion
Overall, when we did this review, we found Noodle VPN to be a very dependable VPN service.
However, its price and the fact that you can't hop between servers in different countries means that it probably is not appropriate for budget-conscious users that would like to have unlimited server switching.
If you do not care about switching servers and would love to have a dedicated IP VPN service, then this is the VPN for you!
---