VPN.ac is a VPN service based in Bucharest, Romania.
It started its operations in 2012 and it is run by a security company, Netsec Interactive Solutions.
The VPN keeps on improving, and now it has dedicated client apps for most platforms, an improvement from using the OpenVPN GUI client.
The company has also gone the extra mile for ISO27001 and ISO9001 certifications, certificates that give VPN.ac an edge over the competition.
This way they can keep tabs on the vulnerable areas in the security infrastructure.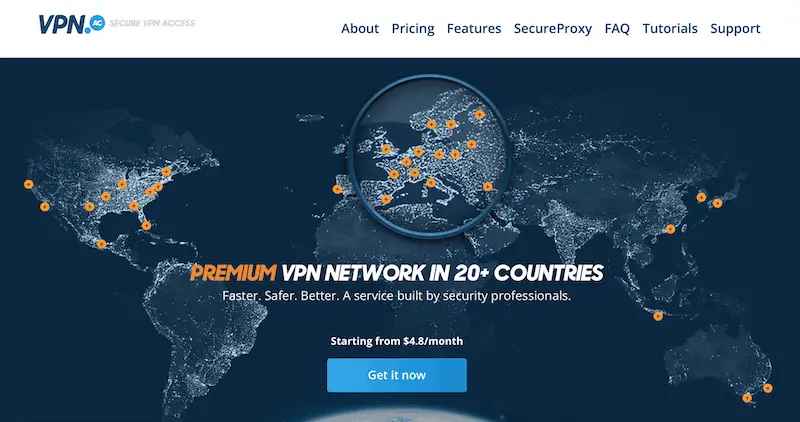 This VPN may not be one of the biggest names out there, but it sure beats some big players in many areas.
Continue reading this VPN.ac review to know more about this VPN service.
Pricing and plans
During this VPN.ac review, we notice that the service provider tries to keep everything simple and tidy.
There are no complicated VPN packages that have different features.
All plans offered can be termed as Premium with the only difference coming regarding the length of the subscription.
The longer the subscription, the less you pay.
The pricing is also pretty standard. Here is a breakdown:
1 Month: $9
3 Months: $24 (Equivalent of $8 per month, saving you 11%).
1 Year: $58 (Equivalent of $4.8 per month, saving you 46%).
2 Years: $90 (Equivalent of $3,75 / month, saving you 62%)
VPN.ac refund policy review
With VPN.ac, you get a 7-day money-back guarantee.
This refund policy is unconditional and so if for whatever reason you are not happy with their service, then you are entitled to a refund.
They only ask that you contact them first to see if they can help fix any issues you're experiencing. If not, then you get your money back.
The following is an extract from their FAQ

VPN.ac free trial?
From what we noticed during this VPN.ac review, the VPN doesn't have a free trial.
This is however made up for by their 7-day money-back guarantee, so you can just use it to test out the service.
They have also introduced a 1-week trial account for only $2.
This account allows only 3 simultaneous connections since it's just for trial purposes, compared to 6 simultaneous connections for the regular account.
Though the trial account is not free, they go ahead and offer you a free SecureProxy service.
VPN.AC Secure Proxy service review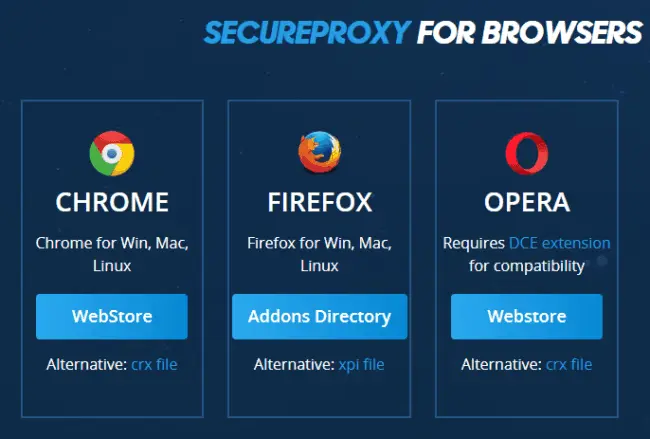 This SecureProxy is in the form of an add-on that you just need to install on your browser.
When it's enabled, it encrypts your browser traffic through a secure tunnel, and therefore third-party services and other agencies can't spy on your internet activity.
It gives you strong encryption through the use of TLS (pure HTTPS traffic). Therefore it is a great security option if you don't have the money to buy the VPN.
It will also enable you to visit geo-restricted websites since it makes use of TLS and advanced Firewalls/ DPI.
When inspected using DPI technologies, the connections using the SecureProxy don't trigger alerts as a classic VPN would usually do.
Proxy servers are in 33 countries, and the add-on is available for Chrome, Firefox, and Opera.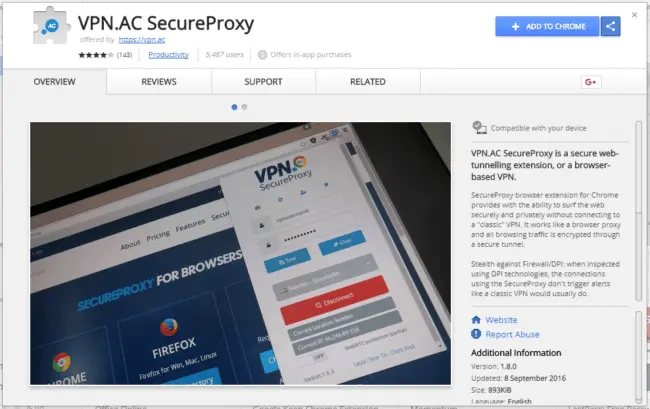 VPN.ac payment methods
You can pay for this VPN using credit and debit cards, as well as other modes of payment like UnionPay, PayPal, WebMoney, iDeal, and Alipay. Region payments like SEPA direct transfer also work.
If you want to pay anonymously, you can also use Bitcoin or various gift cards.

VPN.ac features
VPN.ac offers 86 servers located in 20+ countries.
Not only are these locations chosen strategically, but the providers are usually adding more VPN servers regularly to ensure against overuse of servers at any given time.
However, something that we noted during this VPN.ac review is that all their servers connect to 1000 Mb/s (gigabit) channels.
This is a great feature to ensure that the client always has remarkable speeds and reliability. VPN.ac servers also don't have any bandwidth limitations or data restrictions of any form.
Another feature that our VPN.ac review notes are that there is a VPN Nodes Status page on their Website. This page is helpful in checking each server's information at any given time.
From there, you can be able to see a server and its bandwidth usage based on an average of 15 Minutes.
This info is very helpful in determining the servers that can offer you the best speeds at any given time.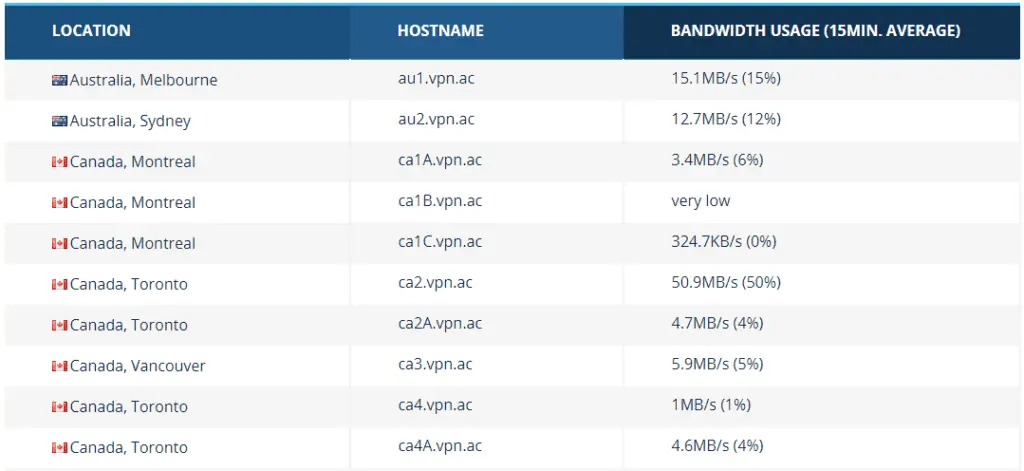 Double-hop feature
VPN.ac also offers its clients the double-hop feature. This is a feature that routes your traffic through two servers located in different jurisdictions.
When traffic from your device is routed to a server, it is then channeled to the second server which then encrypts it again, hence the name double-hop.
Such a connection gives you significantly high levels of anonymity, privacy, and security. One would surely need sophisticated timing attacks to have any chance with traffic that is streaming from multiple locations in different jurisdictions at the same time.
Currently, the VPN has about 18 double-hop routes. Below is a list;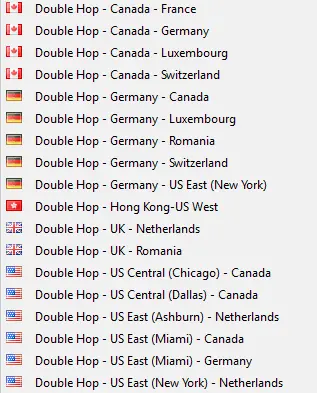 By using this feature, you double your privacy from any intruders.
Privacy
Being based in Romania is one great boost for VPN.ac in terms of your privacy.
Data Retention laws in Romania were overthrown by the Romanian Constitutional Court back in 2014. Even before that, they only applied to telecom and ISP operators, not VPN providers.
Their Zero-log policy, therefore, puts you at ease knowing that no court order can demand your data from the VPN.ac providers.
However, the VPN logs your actual IP address, your connection time details, and the total traffic data (in sizes, e.g., 200 Mb) used during the session.
But even though these details are collected, they are only kept for one day, and they are only meant to help improve performance. Furthermore, they are kept in an encrypted server in an undisclosed location.
Security
While doing this VPN.ac review, we noted that VPN.ac take its security seriously. First, they use shared IP addresses, something that makes it practically impossible to trace a particular user.
Their OpenVPN connection uses 256-bit AES encryption, and the L2TP/IPsec is also 256-bit.
For both 128 and 256-bit AES, the VPN.ac uses RSA-4096 and Elliptic Curve (ECDHE).
The SecureProxy uses AES 128-GCM with 4096-bit RSA certificates.
Now let's go ahead and discuss the user experience you'll have if you decide to go for VPN.ac.
Getting Started
VPN.ac trial account
To get the trial account, you need to navigate to the FAQ section. The first question there is about the trial account. Open it and you'll find a link.

You'll then be directed to a page where you can Sign Up, feed your Payment details and Confirm your order.
VPN.ac sign up
To sign up, navigate to the VPN's home page.
From there, you can click the Get it now button.
You can now choose your preferred Package.
Upon selecting one, you'll be directed to the sign-up page.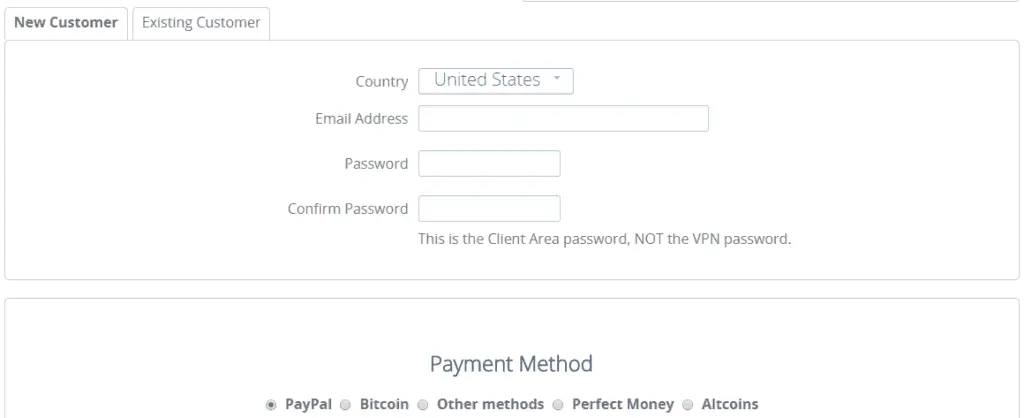 To get an account, you just need to fill in your email and password. You can then select a preferred form of payment.
After you have completed the process, you'll get three emails. The one titled 'VPN Activation' has the log-in details for the client.
Note that the username and password you provided are only used to log in to the client area, not the VPN.
After completing the sign-up process, you can now go to the client area and download your client app.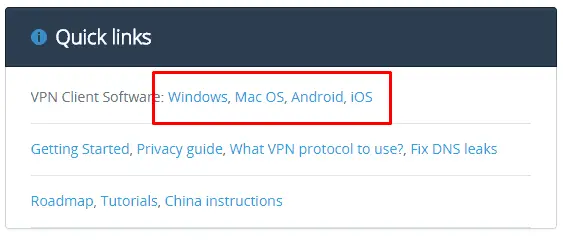 VPN.ac client app review
The VPN has a user-friendly client app that will give you no trouble.
For the first time you use it, you will need to log in. Make sure you tick the Save Password box, so you don't have to look it up again.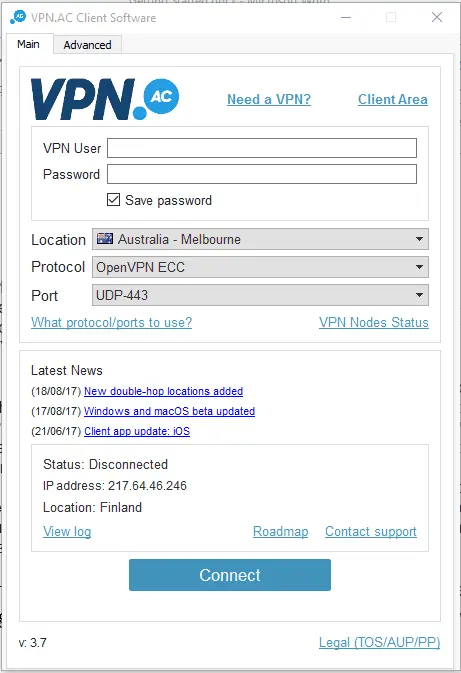 After that, you only need to pick your server from the drop-down list. You can then select the protocol you want to use.
For the best speeds without much security, you can use PPTP. For a good mix of security and speeds, OpenVPN is the best (And it's the recommended option).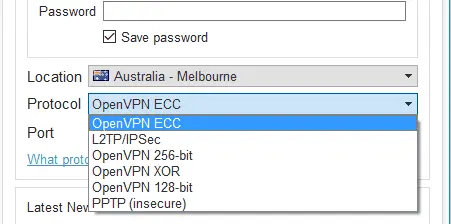 You will then have the option to choose between UDP and TCP connection. UDP offers greater speeds and is best for HD streaming, while TCP offers reliability at a relatively slower speed.
Choose one depending on your needs.
There is also an Advanced tab on the client.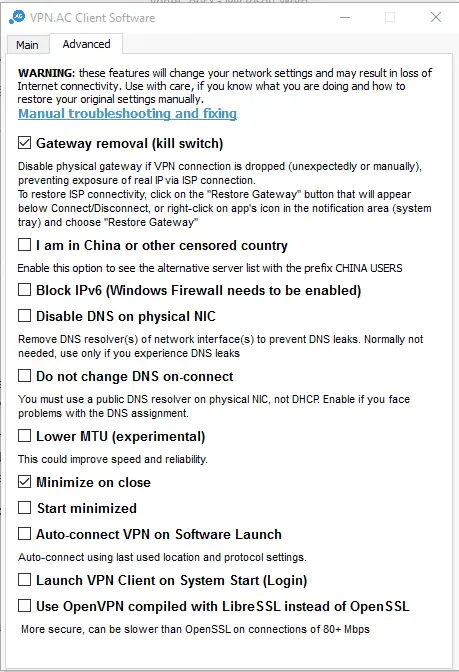 The two stand-out features here are the Kill Switch (Gateway Removal) and the China User Option.
Kill Switch: This feature is very useful in that it disconnects your ISP connectivity in case your VPN connection is dropped.
It makes sure that you are not exposed to the ISP's tracking and that your details are safe.
China Option: This feature is useful if you live in a highly censored country like China or North Korea. It opens an alternative server list with the prefix China Users.
When you have already set up the client, you don't have to open it again to reconnect. In the system tray, you get a complete list of servers that you can just tap to connect.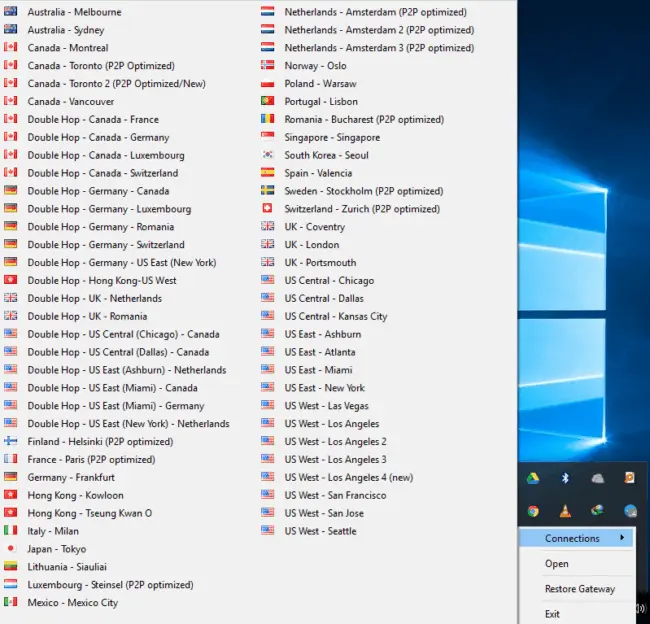 Compatibility
VPN.ac has a VPN Client app for Windows, macOS, Android, and iOS.
For other Operating Systems and devices, they provide step-by-step connection instructions using 3rd party VPN software or OS-specific, built-in settings.
Customer support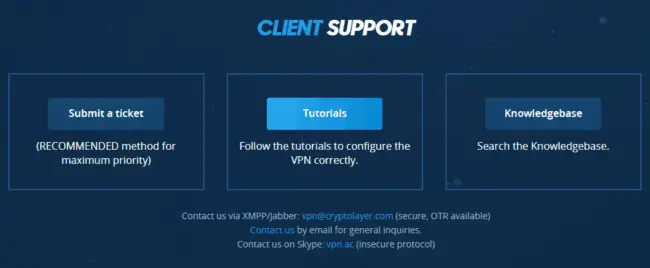 This VPN.ac review can confidently state that VPN.ac has one of the most comprehensive customer support services. You can get support via a ticket, email, Knowledgebase, xmpp/jabber and even Skype.
They also have one of the most outstanding FAQs around, and it will surely answer most of your questions.
All these methods make up for the lack of a Live Chat Support System.
VPN.ac speed test
We were impressed by the speeds provided by VPN.ac. We noted that the Upstream bandwidth here is not limited, unlike many VPNs that limit it to save on server costs.
Using a wired connection of 200 Mbps, the VPN hits 150+ Mbps when connected to local servers using the OpenVPN ECC 128-bit Protocol, which is the protocol recommended by VPN.ac for fast speeds.

This is a very impressive speed, though it decreases by about 40 Mbps when connected to far servers. That is still a very high speed though.
Pros and Cons of VPN.ac
✅ PROS
Free Encrypted Proxy
Kill-Switch and stealth mode
No 'Activity' logs
Torrent-optimized servers
7-day money-back guarantee
Based in Romania
Accepts Bitcoin
❌ CONS
Conclusion
During our VPN.ac review, we were really impressed with the service. Speed, Privacy, Security, and compatibility are top-notch.
The pricing is also reasonable and with all the features provided, the value is commendable. VPN.ac is still growing in terms of the user base, and therefore with a subscription, you can be sure of reliable service and unsaturated servers.
We didn't notice any glaring flaws during the review, something which makes us rate VPN.ac among the most reliable VPN services available today.