PandaVPN is one of the smaller VPN providers on the market, but its servers and features have evolved into a competitive package since its launch in 2018.
The intuitive app is available on desktop and mobile, and will successfully encrypt your connection while changing your IP to a region of your choosing.
| | | | |
| --- | --- | --- | --- |
| Number of regions | 80 | Kill Switch | No |
| VPN Protocols | IKEv2, OpenVPN, WireGuard | Value for money | 8/10 |
| Speed | 8/10 | Split Tunnelling | Yes |
| Torrenting | Yes | Stealth/Obfuscation | No |
| Apps | Windows, macOS, Linux, iOS, Android | No Logs | Yes |
Features
Panda has most of the core features you'd expect from a premium VPN, along with some nice extras too.
Read our full PandaVPN Pro review to explore its capabilities in detail.
Encryption
PandaVPN encrypts all traffic passing through its servers. Unlike most VPNs that use AES, Panda employs something called ECC encryption. This is a form of public key cryptography that uses elliptic curve algorithms.
This method is particularly well-suited for mobile devices, where it can provide strong encryption with relatively low resource consumption. That's why Panda's mobile app is so quick.
In terms of security, ECC is 256-bit and just as reliable as AES – virtually impossible to crack. However, unlike most other VPNs, Panda doesn't boost its security with extra features like a kill switch.
This protects your real IP and internet activity if the connection to the VPN server drops.
With Panda, you always need to double-check your connection before performing new tasks.
Mock GPS Location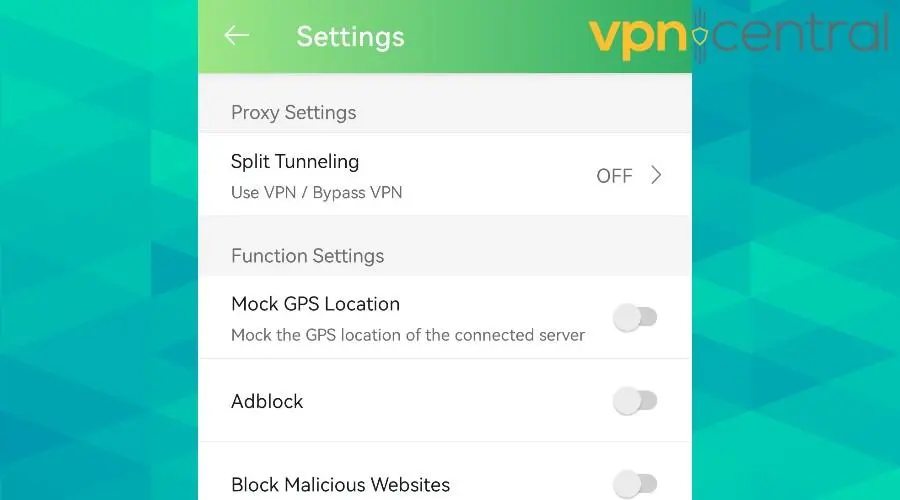 Where Panda deserves credit is its Mock GPS Location feature, which isn't that common despite being quite important.
On Android and iOS devices, apps draw secondary data from "location services" that can reveal your real whereabouts. While you can turn this off completely or revoke individual app permissions, some apps won't work without it.
To get around this, Panda changes your GPS to the same general area as the VPN server.
Split tunneling
Split tunneling is a common VPN feature that lets you decide which traffic should go through the encrypted VPN server and which should connect directly to your regular network.
Our review showed that PandaVPN Pro implements it well with an app-based blacklist or whitelist. I.e., you check all the apps you wish to encrypt or bypass encryption.
For example, you might only use the VPN for the Netflix app, or you might only exclude an online game, so you get the fastest speed possible.
Panda can improve the feature by letting you enter specific URLs as well. Currently, it only supports apps.
Secure proxy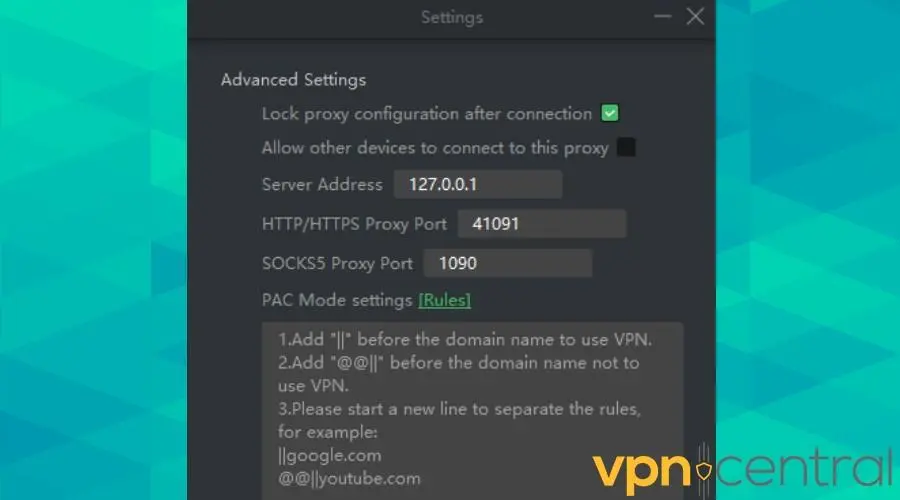 Under Advanced Settings, you'll find the details to set up a proxy. This lets you manually connect other devices via the main VPN connection.
Since Panda has desktop and mobile apps, there's not much use for a proxy but the option is there for those rare cases.
Ad blocker
A nice extra feature is Panda's ad blocker. You turn it on with a simple slider and you don't need to mess around with other settings. Like most ad blockers, it doesn't filter everything, but it's effective enough to stop the most intrusive popups and ads.
Secure browsing
The extras also include a safe browsing feature, which blocks malicious sites. It's not clear whether it's working from a blacklist or real-time detection, but the aim is to stop malware and phishing.
Apps
PandaVPN has a versatile selection of apps, so you don't have to go through any complicated manual configurations.
You can get it on Windows, macOS, Linux, iOS, Android, and Android TV. They are easy to use and contain all the core features.
Once you've signed in, the main window has a connect button. By default, this is in Smart Mode, which connects you to the fastest server based on your current geographic location.
However, if you need to connect to a certain region to bypass geo-blocking, one click or tap opens up the full list of servers.
This list provides some useful information, such as connection strength and latency. It also tells you whether the server is optimized for a certain task, such as Netflix or BitTorrent.
Server Network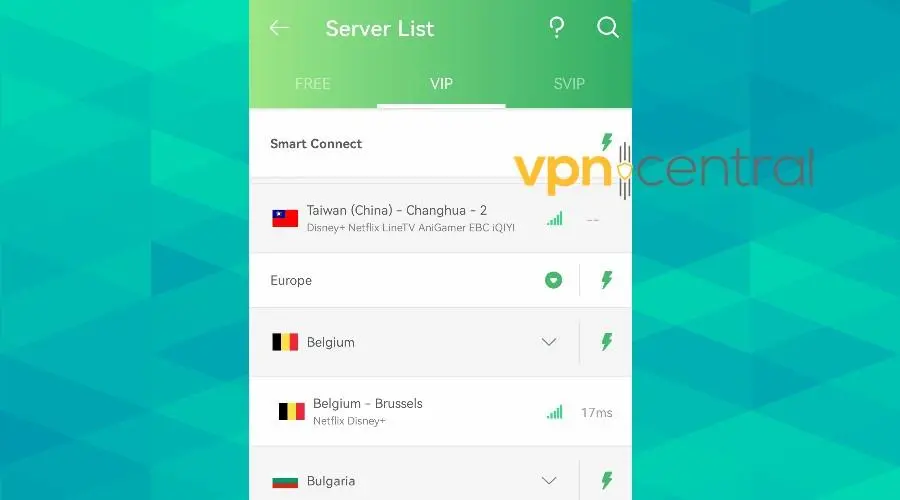 PandaVPN has grown its server network to 80 countries with more than 3,000 individual servers. This is an impressive amount of coverage, comparable to any top-rated VPN.
Meanwhile, free trial users get access to a handful of free locations in the US, Canada, Australia, England, and Germany. This is a good selection to test the service before committing.
Also, there are many servers optimized for certain tasks. But still, the quickest way to get the best performance is to choose the server with the lowest latency in the relevant region for your game or streaming platform.
PandaVPN Pro Speed
Testing PandaVPN Pro for this review gave very good results performance-wise.
VPNs always have some impact on speed unless your internet provider is deliberately throttling. In that scenario, it might increase speeds. 
Everybody's base level is different, so to measure PandaVPN, let's take a before and after speed test and measure the percentage drop.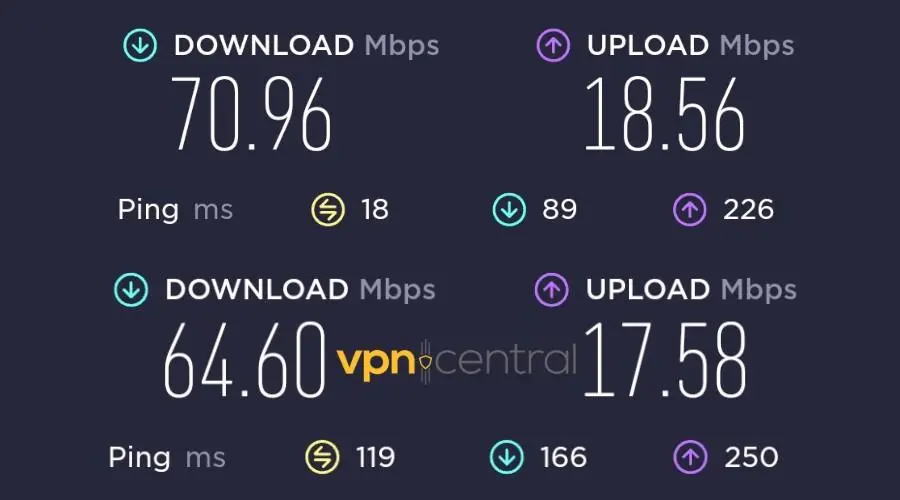 Using SpeedTest.net and connecting via Smart Connect for the fastest server, PandaVPN saw a 9% drop from 70.96Mbps to 64.60Mbps. For upload, the drop was even less – around 5%, from 18.56Mbps to 17.58Mbps.
These are very strong numbers and suggest streaming in 4K won't be a problem unless your network is busy.
The only problem was that it seemed to take a while for the VPN to kick in. Although the app displayed the connected message, our browser couldn't load a page for several minutes.
Protocols
All the common protocols are available on PandaVPN, though this varies from server to server. By default, it uses IKEv2, but you can choose OpenVPN or WireGuard by clicking Smart Mode and scrolling to the list of available protocols.
Both OpenVPN and WireGuard are considered very secure, though OpenVPN is more widely compatible and WireGuard is often faster.
As a rule, choose WireGuard if available. If not, letting Panda decide is ok.
Privacy
On the face of it, PandaVPN has strong privacy practices. Not only does it claim a no-logs policy, which means it won't store any of your VPN usage activity, it also doesn't require an email address for registration.
The downside is you can't pay anonymously, so there's always going to be a record somewhere that you paid for a VPN.
Nonetheless, it appears to be headquartered in the Republic of Seychelles, so it's not compelled to share any information about you with any nation's law enforcement or government.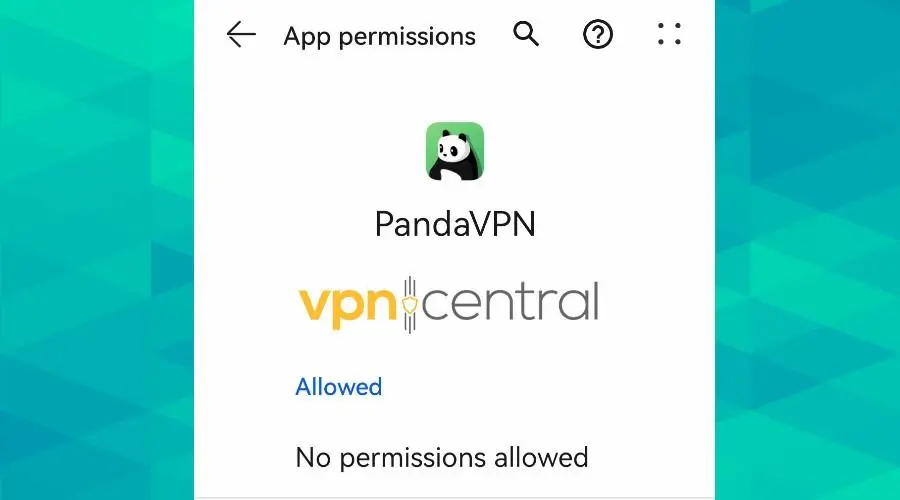 In terms of app permissions, it didn't request nor require any specific permissions on Android.
This is rare for any app, so we would hate to learn that it might be accessing data without permission. However, there are no reports of the company ever having data breaches or cooperating against the interests of its users.
Is PandaVPN Pro safe?
A key test of a VPN is its ability to maintain privacy and prevent common data leaks, such as your real IP (very important) and DNS (not as important).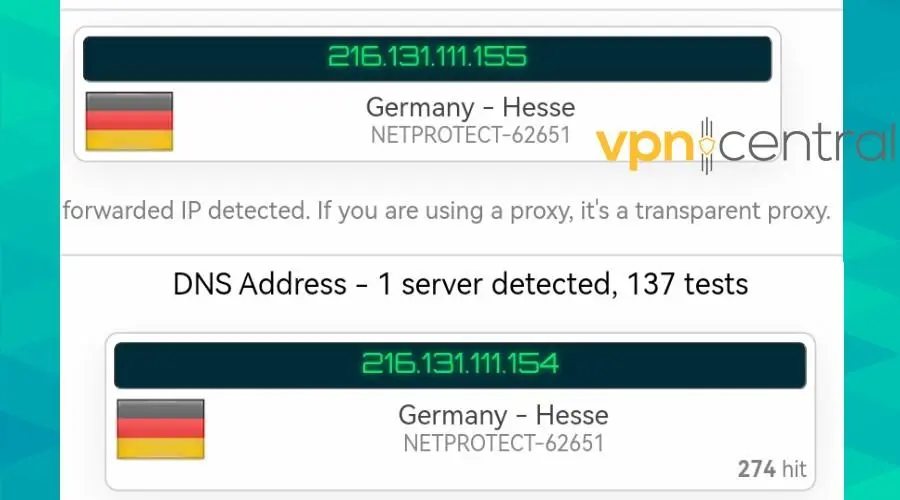 Using IPLeak.net, PandaVPN didn't cause any leaks of our UK-based IP or DNS when connected to a German server.
This tells us PandaVPN Pro is safe when connected.
Is it good for streaming and torrenting?
PandaVPN Pro showed no technical restrictions when it comes to the type of internet activity. Its speeds are generally fast enough to perform any bandwidth-intensive task.
Streaming
PandaVPN is capable of streaming video up to 4K with limited buffering, depending on your regular internet speed.
While it isn't blocked by the likes of Netflix in your home region, its ability to unblock international streaming libraries is a bit hit-and-miss.
For example, it took several server changes to load the US version of Netflix from the UK. Furthermore, while it does have optimized servers for certain platforms, there's no guarantee they'll work as intended.
Nonetheless, most VPNs aren't perfect, and Panda was able to bypass geo-restrictions with a bit of perseverance.
Torrenting
You can use BitTorrent clients with no limitations and some servers are even optimized for file sharing.
Speed will vary depending on the server, your real location, and the number of other peers sharing the file. However, the main thing is that PandaVPN works with torrents.
PandaVPN Pro pricing
PandaVPN is a bit more affordable than a lot of premium providers. There are several plans to choose from, with substantial money off if you commit for longer periods:
Monthly: $9.99
3 Month: $20.97 ($6.99/mo)
6 months: $23.94 ($3.99/mo)
12 months: $29.98 ($2.49/mo)
All plans come with a 7-day money-back guarantee. Meanwhile, if you download the mobile app, you're entitled to a 3-day free trial. This gives you access to a limited number of servers.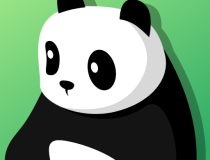 PandaVPN Pro
Looking for an affordable and reliable VPN solution? PandaVPN might be right up your alley.
Conclusion
To wrap up this PandaVPN Pro review, the service is good value for money and does a solid job of protecting your internet activity. Its server network is now as big as any of the top providers.
While some expected features are missing, like a configurable kill switch, this is countered by other features that aren't very common. The mobile GPS changer and safe browsing features stand out the most.
Speed is impressive on paper, but it loses some points due to a slow and spotty initial connection and inconsistent streaming unblocking.
Fortunately, its 3-day free mobile trial gives you enough time to test it for your needs before committing.