Reddit is a massive collection of forums and communities with millions of active daily users.
Users can access this platform from most regions of the world but some governments and ISPs have banned it.
Fortunately, you can bypass these restrictions with a VPN, but sometimes, the website identifies your connection as a threat, resulting in the Reddit not working with a VPN error.
So let's check out the ways you can fix that and get back on the platform in no time:
Reddit not working with VPN? Try these fixes!
Generally, Reddit's got no beef with VPN connections. You can keep visiting the website, as usual, using most VPNs.
So try the methods below to fix the issue for good.
Restart your VPN


Most premium VPNs keep no logs of your connection. After each reboot, they erase all data related to your traffic from their servers.

Restarting your VPN will refresh your connection and resolve Reddit not working with VPN.

To do that:

1. Turn off your VPN, quit the app, and reopen it.
2. If you use a browser extension, restart your browser.
3. Connect to your VPN again, and check if the issue is resolved.

Delete website cookies from your browser


Cookies aim to enhance your browsing experience by storing data about the websites you visit and the options you choose.

These files can store information about your location too. So, even if you're running a VPN, cookies might expose your data and prevent you from accessing Reddit.

Here's how to erase them, using Chrome as an example:

1. Run Chrome and click the three dots icon at the top right.



2. Select More Tools and click Clear Browsing Data.



3. Set the time range to All Time and check the boxes for Cookies and other site data and Cached images and files. Then, click Clear data.



4. Check to see if you've regained access to Reddit.

Note: The steps would be pretty similar on other major browsers.

Switch to a new VPN server


If Reddit doesn't work with VPN, there's a chance that Reddit or your ISP has blacklisted the IP address of your current VPN server.

Fortunately, premium VPNs pack numerous servers across different locations, and connecting to a new one can resolve your issue.

Here's how to go about it:

1. Run your VPN app and disconnect from your current server. Then, open the server menu.



2. Connect to any new server and try visiting Reddit again.



Note: You can choose any location as long as it's outside banned countries like China, North Korea, Turkey, Bangladesh, Kazakhstan, and Indonesia.

Change your VPN protocol


Some VPN protocols perform better in unblocking restricted content. When Reddit is not working with VPN, choosing a different tunnel might fix your problem.

You can do that by following these steps (we used ExpressVPN, but the process is relatively similar for other VPNs):

1. From the ExpressVPN dashboard, select VPN Options.



2. Open VPN Preferences.



3. Choose a new VPN Protocol and hit Save. We suggest going with OpenVPN.



Note: You must restart your VPN to use the new tunnel.

Update your VPN


Whenever a VPN service provider releases an update, it resolves the previous version's security and performance flaws.

If security bugs or performance issues cause your VPN to stop working with Reddit, consider installing your service's latest version.

To ensure you have the newest update installed:

1. Right-click on the Start menu and select Apps and Features.



2. Uninstall your VPN app.



3. Download the latest version from its official website and install it.

Change your VPN provider


Sometimes, your VPN lacks the necessary technologies to mask your IP and location well.

Alternatively, it may use unreliable VPN protocols.

If that's the case, the only way of resolving Reddit not working with a VPN is to switch to a reputable provider.

Premium VPNs like CyberGhost pack numerous quality servers across different locations and perform very well in unblocking restricted websites like Reddit.

To set up CyberGhost on your device:

1. Visit CyberGhost's website and pick a subscription.

2. Sign in with your credentials.


3. Visit the Download Hub from your dashboard and download the relevant app for your device.



4. Once it's installed, connect to a server of your liking.

5. Enjoy being back on Reddit.


Does Reddit block VPNs?
No, Reddit doesn't block VPNs because it has no policies against using VPNs.
However, if you're having issues accessing Reddit while using a VPN, your ISP or VPN is most likely to blame.
Since users with suspicious IP addresses pose a security risk through cyberattacks, Reddit and most other websites work hard to block them from accessing.
You may fall into this group if you use a free VPN that doesn't have a solid reputation, in which case these websites will restrict your access while the VPN runs.
However, if you live in a country where Reddit is banned, it's possible that your ISP discovered you're utilizing a VPN and prevented you from visiting this site.
Here is a list of countries where this platform is not allowed, in case you were unaware:
Bangladesh
Indonesia
Turkey
China
North Korea
and Kazakhstan
It's also conceivable that you've been banned from a single Subreddit (Reddit community), and you're presuming that the VPN isn't working.
Note that when Reddit bans you, you receive error code 403 (forbidden).
Does Reddit detect VPNs?
Reddit doesn't detect VPNs. However, like most websites, it monitors IPs and blocks suspicious ones.
The IP assigned to a user by their ISP is typically secure, and the IP assigned by an unknown VPN is what causes it to be detected and blocked.
No official source states exactly what methods Reddit uses to identify these shady IPs and VPNs.
Still, most websites and streaming services employ one or more of the following methods:
Deep Packet Inspection (DPI): DPI is an advanced method of monitoring network traffic. Through it, websites can examine every data packet separately and respond based on its content.
Deep Packet Inspection can pinpoint the network traffic's origin.
IP blocking: The websites you visit, including Reddit, usually track your IP address. When using a VPN, you share a particular IP with other users. Reddit can then detect it and block you.
Website cookies: As we mentioned earlier, cookies can store information about your real IP and location, exposing your VPN connection.
Browser fingerprinting: Fingerprinting is more invasive than other online tracking methods like cookies.
Website owners might create a unique profile containing general information about your IP address, the type of device you use, as well as specific details such as the fonts installed on your device or the extensions you've installed.
The more unique your device settings are, the easier websites can create a digital fingerprint. If you get fingerprinted, Reddit can detect your VPN connection even when you connect via a new server.
Does Reddit work with a VPN?
Reddit doesn't have any policies prohibiting VPN use, so yes, it does work with a VPN.
But there's a caveat to this rule: if the VPN is not safe, Reddit's IP monitor system may prevent you from accessing the website.
So, if you want to use a VPN with Reddit, make sure to opt for a premium service like CyberGhost, ExpressVPN, PIA, or NordVPN.
These VPNs prevent users from being identified as a danger by IP monitor systems thanks to their extensive IP pools and secure protocols.
Here's a deep dive into the best services for Reddit:
Best VPNs for Reddit
A premium VPN with solid servers is an ideal tool for accessing Reddit or any other online services anonymously.
After testing the leading providers, here are our top suggestions for you: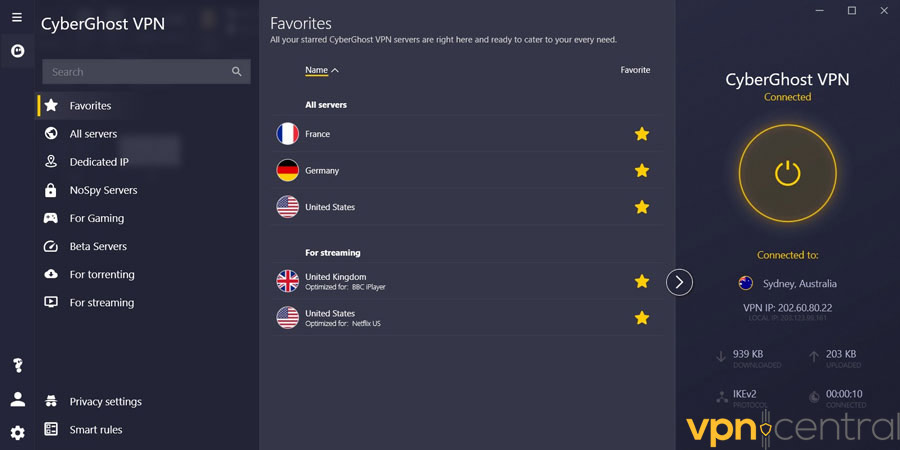 CyberGhost VPN features NoSpy servers managed exclusively by the company, guaranteeing top-notch privacy and security.
This VPN also packs specialized servers for downloading, gaming, and torrenting.
CyberGhost offers 9800+ servers across 91 countries. With 1453 servers located in 11 cities across the US, this VPN can unblock Reddit with no trouble.
Additionally, this VPN is an excellent choice for streaming too. It offers specialized streaming servers with unlimited bandwidth.
CyberGhost comes with a dedicated IP service as well. Since the only user connecting via the dedicated IP is you, it ensures that you won't be flagged as a threat.
Pros:
Extensive region coverage

Excellent for streaming

No-logs policy
Cons:
Ad-blocker needs improvement

Complicated Linux app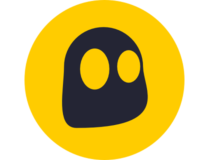 CyberGhost
Easily unblock Reddit from anywhere with this fast and reliable VPN.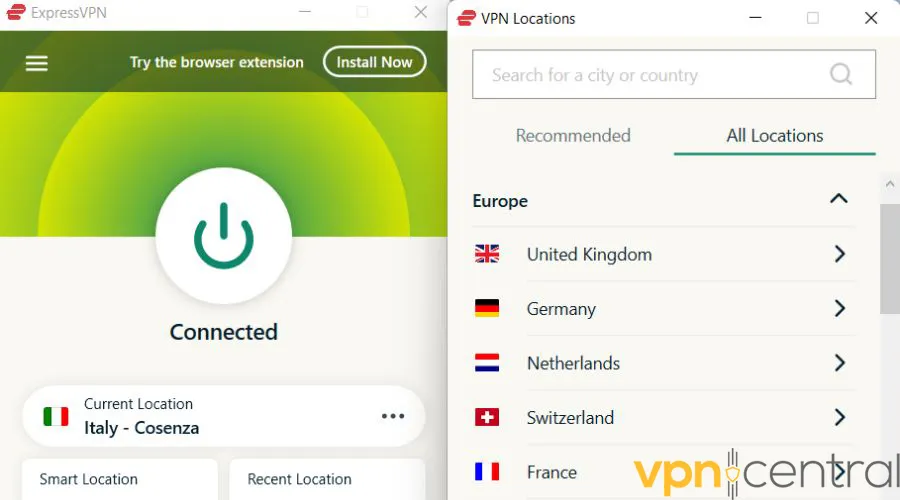 One of the most prominent names in the industry, ExpressVPN packs more than 3000 servers across 94 countries.
It supports all major tunneling protocols, including OpenVPN, PPTP, and Lightway, ExpressVPN's customized version of WireGuard.
ExpressVPN is one of the best tools for unblocking Reddit, thanks to its stealth servers and IP address rotation technology.
So, if Reddit is banned in your country or workplace, ExpressVPN changes your IP, preventing the website from pinpointing your location.
Furthermore, this VPN protects your IP from your ISP by preventing WebRTC, DNS, and IPv6 leaks.
The VPN's TrustedServer feature also erases all data related to your connection from the servers after every reboot.
Pros:
DNS protection and no-logs policy

Fast Lightway protocol

Extensive location coverage
Unlimited bandwidth and decent speed
Malware detection
Cons:
More pricy compared to its peers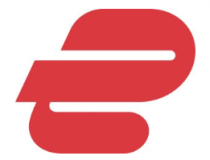 ExpressVPN
Enjoy a high-level combination of speed and security with ExpressVPN.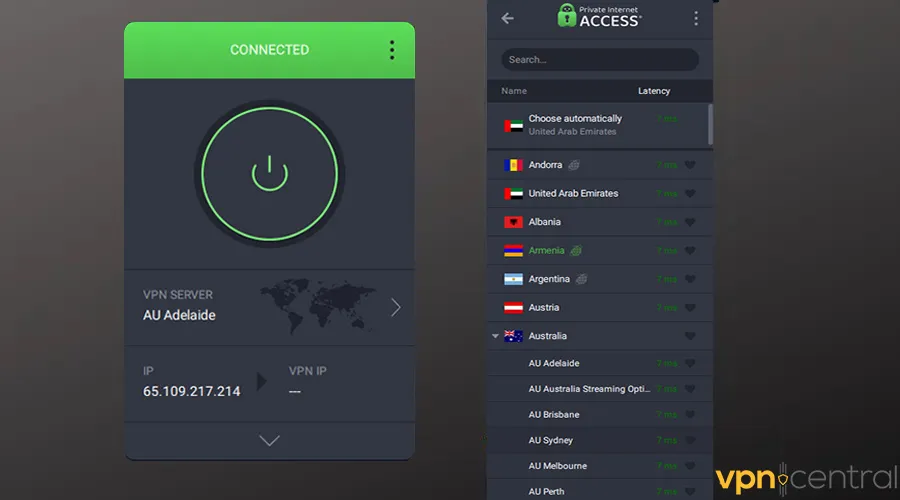 Private Internet Access, or PIA, has one of the largest server pools among its peers. With over 35000 servers across 84 countries, PIA can unblock Reddit from anywhere.
This VPN also supports various protocols, including OpenVPN, IKEv2, WireGuard, and PPTP.
PIA allows you to determine the level of encryption. It also features an advanced ad-blocking technology called MACE that ensures you're not bothered by pop-ups when browsing.
In addition, this VPN supports port-forwarding and split-tunneling. Plus, it allows the use of proxies.
More importantly, you can install PIA on your macOS, Windows, or Linux device. It also offers mobile apps and browser extensions.
Pros:
Unlimited simultaneous device connections

Various protocols

No-logs policy
Cons:
Not as fast as its peers
Minor bugs in the Windows app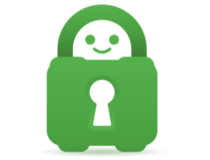 Private Internet Access
Connect all your devices and unblock Reddit wherever you are with PIA.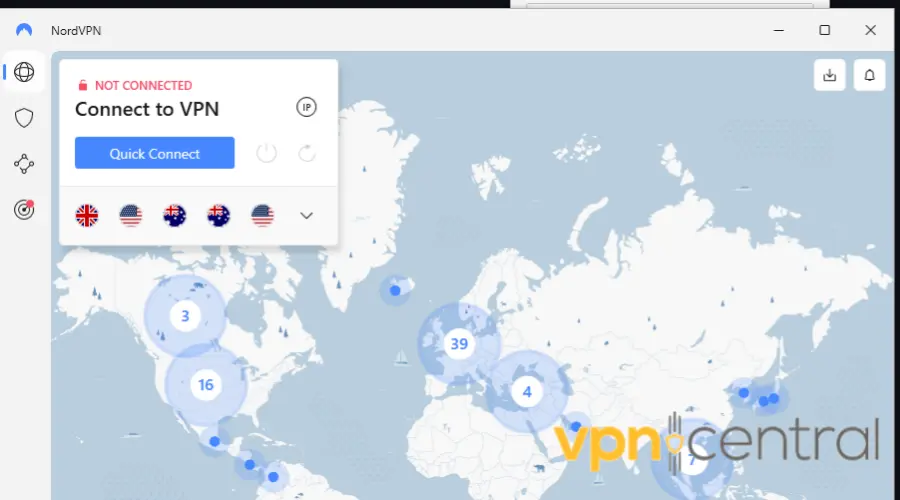 NordVPN is one of the fastest VPNs on the market. And with 5700 reliable servers across 60 countries, it can bypass restrictions imposed by ISPs.
This VPN is also known for unblocking geo-restricted content thanks to its advanced SmartPlay feature, which helps you securely access all types of content.
Additionally, NordVPN servers are owned and managed exclusively by the company. This reduces the chances of external data breaches.
This VPN packs advanced protocols such as IKEv2/IPsec and OpenVPN.
On top of that, Double VPN, Onion over VPN, and obfuscated servers can mask your location and protect your actual IP, resolving Reddit not working with VPN.
Pros:
Blazing fast speeds

High-end P2P technology

Customized NordLynx protocol

Excellent customer support

An ideal choice for streaming
Cons:
Linux version works only through the terminal
Fewer features in browser extensions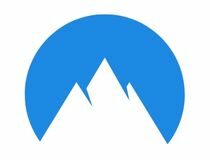 NordVPN
Benefit from advanced security features and lightning-fast speeds with NordVPN.
Summary
Reddit is accessible in most regions worldwide and allows VPN use for all users. However, this website is unavailable in several countries.
Using a premium VPN can resolve the issue if that's the case for you. If you have the problem of Reddit not working with a VPN, you can reaccess the website by trying the above fixes.
You should note that using a quality VPN, like those we suggested, would be best to prevent the problem from occurring again.
---