Keeping your private data secure when torrenting can be a hassle if Transmission is not working with a VPN. Luckily, the issues are mostly minor and easy to fix with some tweaks in your configuration.
Many users turn to a VPN service when downloading or uploading torrents, in order to preserve their anonymity and protect their identity from ISPs.
However, some users complained about having issues with Transmission and the VPNs, where the torrents fail to download or upload when connecting to a VPN.
Does Transmission work with VPN?
Transmission doesn't have a built-in VPN or proxy option, but it fully supports third-party VPN usage to protect your data when torrenting.
Setting up a Virtual Private Network (VPN) connection when torrenting will ensure your traffic data is encrypted. This will protect you from being tracked down, which is a known risk of using torrents.
💡 How can a VPN improve torrenting on Transmission
➡️ Stop ISP bandwidth restrictions: if you torrent, you probably download huge amounts of data at a time, and if your ISP restricts traffic, you may run out really fast. A VPN with good encryption and unlimited bandwidth will hide your traffic, making you untraceable and giving you the possibility to download and upload as much data as you want
➡️ Prevents tracking and hacking: VPNs hide your IP address when torrenting and encrypt your data ensuring that you are less likely to be tracked down when torrenting or sharing files via P2P. No one will be able to detect your location or know what you do online, how much traffic you use, and so one
➡️ Improve download speed: VPNs that give access to server locations close to the servers you are torrenting from can potentially improve speed. Moreover, some VPNs have dedicated P2P servers with maximum security as well as optimized configuration for fast speed
Why use Transmission
🔵 Free and open-source BitTorrent client licensed under GNU General Public License, with parts under the MIT License. Being open-source provides transparency and allows anyone interested to check if the software has malicious code, is secure, and respects privacy.
🔵 Lightweight and versatile and comes with a visually appealing and easy-to-use interface that combines both good functionality and simplicity. It's available for all the major operating systems
🔵 Better user experience compared to other more complex competing services. It can be configured to download files from folders, RSS feeds, etc. without having to control it manually.
🔵 Advanced features such as support for encryption, download scheduling, remote management, IP filtering, command line tools, and more
Is Transmission better than uTorrent?
Both Transmission and uTorrent are free BitTorrent clients that let you download huge amounts of data.
They offer similar user experiences and are safe to use (provided you torrent from trusted sources).
Each client is compatible with multiple operating systems, so it comes down to your own preferences. There are a few differences as far as the UI goes, but nothing major.
How can I make Transmission work with a VPN?
1. Turn on the VPN network lock or kill switch
Most VPN services have a kill switch or network lock (this one is different from the Windows Defender firewall) which disconnects your internet when there is no VPN connection.
Your VPN connection can be disrupted for various reasons, and you might not even be aware of that.
When this thing happens, the torrent download will not stop or pause but will continue downloading without the VPN connection.
Enabling the kill switch or Network Lock feature depending on the VPN service could help you if your Transmission BitTorrent client is not working with a VPN connection.
When the kill switch is turned on, Transmission will pause any downloads on a non-VPN connection. The feature forces Transmission to use a VPN server to avoid data leaks.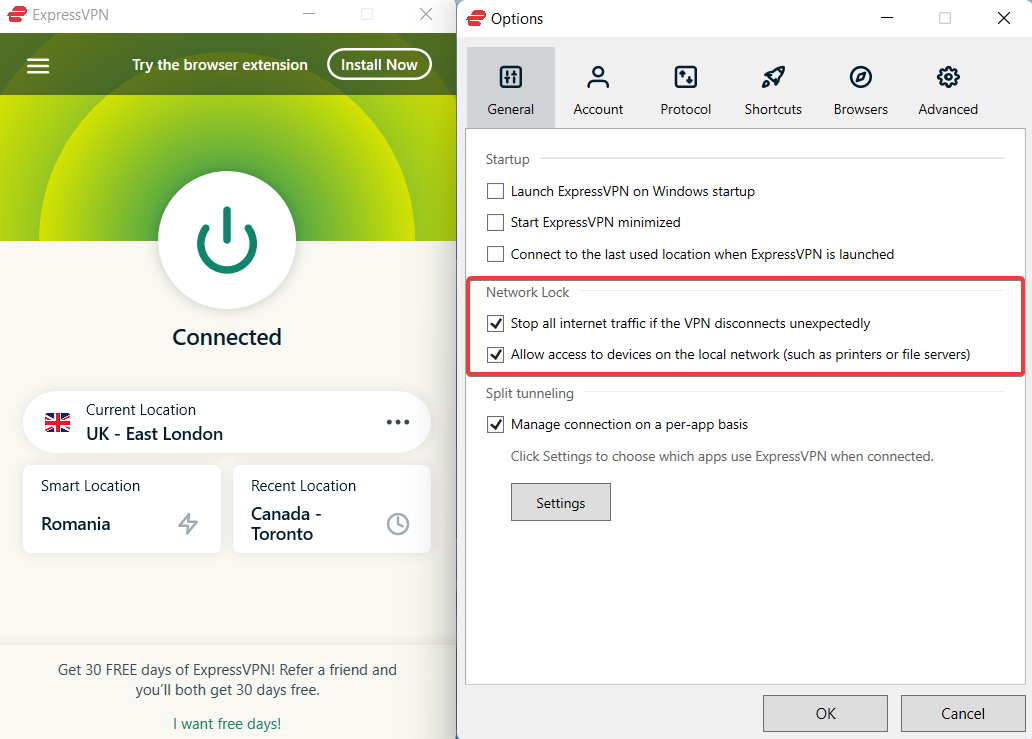 Some VPNs have what is called a network lock feature which is equivalent to a kill switch.
In case your VPN has a system-wide firewall that stays active after you exit the VPN client, we recommend that you activate it.
2. Make sure there are no connection leaks

When you use a VPN service, all your data are tunneled through the VPN network. To make sure there are no leaks and that your torrenting client is actually on VPN traffic, check your DNS.
Sometimes you may experience some leaks, especially when your data escape from the VPN.
Since some Internet Service Providers have filters that detect and restrict P2P traffic, a leaking connection will make your Transmission downloads not work.
Fortunately, you can check your VPN connection for leaks by using free online services like IPX, Browserleaks, ipleak, etc.
Try some of these services, check for leaks and in case you find any, you need to switch to a more reliable VPN to download Transmission torrents successfully.
3. Use a VPN server that supports P2P traffic
Torrenting is considered a peer-to-peer (P2P) activity, and since users use it for illegal activities, P2P traffic is blocked in some countries. If Transmission is not downloading when on a VPN, this might be the root cause.
Also, some VPN services have blocked P2P traffic in order to comply with certain regulations.
If your VPN server does not support P2P traffic, your Transmission downloads may not be working, and therefore, you should get your downloads working again by switching to a server that supports P2P operation.
Since some VPN servers don't work with P2P traffic and you download a lot, go for a VPN that supports this kind of traffic and always choose P2P-enabled servers when you are torrenting. Our suggestion is ExpressVPN as it has excellent encryption features.
4. Disable IPv6 on your device
Here's how to disable IPv6 on a Wi-Fi network on Windows 10:
Type Settings in the search bar and click on the app
Click on Network & Internet
Under Advanced network settings, click on Change adapter options
Righ-click on your internet adapter and select Properties from the context menu
Go to Internet Protocol Version 6 (TCP/IPv6), uncheck the box next to it on the left and then click OK
Your computer supports two internet protocols, namely, IPv4 and IPv6, with IPv4 being the most used protocol, while IPv6 is newer and not very much supported.
Because of that, most VPN services are not equipped to protect IPv6 traffic from your Internet Service Provider.
While some VPNs pretend to support IPv6, they may not inform their users about all the limitations and that is why disabling IPv6 on your device is the best recommendation if you cannot use Transmission on your VPN connection.
How to set up a VPN on Transmission
Decide on a VPN client. We recommend ExpressVPN because it has top-notch encrypted servers and is very fast in comparison with other VPNs.
Download the app to your device.
Open the app and connect with your credentials.
Click the three vertical lines to open the Options menu.
Go to the Protocols menu and select OpenVPN – UDP.
Open your torrenting app and start downloading.
Note: Port Forwarding can increase download speed when torrenting. However, it is not available on all VPN servers, depending on the legal regulations that are in place in the home countries of these servers.
ExpressVPN doesn't offer any P2P-optimized servers. But on the other hand, ExpressVPN has over 3,000 servers in 94 countries, and server congestion has never been a problem in our tests.
If you need a specific location that doesn't have port forwarding, just make sure to secure your connection as shown in the fourth step.
Will I get caught torrenting with a VPN?
When downloading torrents from a client such as Transmission, it's a good choice to use the fastest VPN servers because it offers you a safer browsing experience and protection from entities trying to steal information or spy on you.
A VPN server hides your real IP address so that peers can't see your actual location, and it encrypts your internet traffic, which blocks your ISP from finding out that you are using a torrent site.
That being said, you shouldn't engage in illegal activity online. Always make sure you use reputable torrent sources.
While a VPN can hide your traffic data, if you are a suspect of any type of cybercrime, your VPN could be forced to log in or offer information about you under a court order.
Because of that, under no circumstance should you be discouraged from using the Transmission torrent client with a VPN service connection.
Whether your VPN kill switch or firewall is turned off, the VPN is leaky or does not support P2P activity or there might be other issues, you are not alone in this.
If your Transmission client is not working with a VPN, check this step-by-step guide and apply the solutions presented in it so you can download your favorite torrents without any interruptions.