We've all thought about downloading a piece of media from torrenting sites at some point.
Maybe you're ready to binge on Wednesday or That 90s Show, but you don't have a Netflix subscription.
So, what do you do?
In just a few clicks, you can torrent almost anything that you want. By the time you've made your popcorn, your episode will be on your computer.
But should you download stuff this way without a VPN?
Let's find out!
Can you torrent without a VPN?
Technically, you can torrent without a VPN, but doing so is a terrible idea. That's because, in many countries, torrenting is illegal in most of its forms.
So, getting caught can expose you to negative consequences, including legal trouble, security issues, and ISP-related problems.
Of course, you can still safely download files from sites like Internet Archive, where you can find non-copyrighted movies, music, software, and more.
But let's be real, that's not what most people use peer-to-peer (P2P) sharing for.
What are the risks of torrenting without a VPN?
Torrenting without a VPN can cause various problems. Let's take a better look at each of them:
Legal consequences
Authorities in different countries treat downloading copyrighted material differently. Some send warnings, others issue torrenting fines, and in some places, you can even get arrested for engaging in this activity.
Usually, you get off with a warning the first few times you get caught. However, if you continue to violate copyright laws, the fines will start arriving. Eventually, you might have to hire a lawyer and prepare for a legal battle.
Countries across the world are trying to fight piracy, and the laws against those who engage in it are becoming more rigorous.
For example, the UK has raised the maximum sentence for online copyright violations to 10 years of jail time in its 2017 Digital Economy Act. And in the US, you face up to a $250,000 fine or imprisonment if you fail to stop after initial warnings and penalties.
If you believe you won't get caught if you only do it occasionally, you couldn't be more wrong. Authorities in many countries require Internet service providers (ISPs) to monitor customer traffic and report any illegal activity.
So, once your ISP catches a glimpse of what you're doing, intervention from the authorities isn't far behind.
ISP monitoring and bandwidth throttling
Legal consequences aren't the only risk of torrenting without a VPN.
Even if you live in a country where torrenting doesn't result in fines or imprisonment, your ISP may still not be happy to see you engage in this activity.
Why?
Well, mostly because downloading large files uses up a lot of bandwidth. This costs your ISP more money, and you can always count on the company to have a solution against it.
Most of the time, when your ISP detects that you're transferring large amounts of data via torrents, it'll throttle your bandwidth. In short, this means it'll intentionally slow down your internet speed, forcing you to stop whatever you're doing.
For ISPs, stopping bandwidth congestion is extremely important, and they'll always try to do it when you take your torrenting activity too far.
On some occasions, it'll even block or suspend your connection.
Exposure to malware and viruses
There's no way to stay 100% safe on the internet, no matter what you're doing. However, visiting websites that aren't regulated and downloading P2P content increases your chances of infecting your device.
Don't get us wrong. Many popular torrent databases aren't scams, and they try their best to keep hackers and other internet wrongdoers at bay. However, they aren't always successful, and it takes just one download to get viruses and other malicious files on your computer.
Why should you use a VPN for torrenting?
By now, you already know that torrenting without hiding your personal information isn't a good idea.
The good news is that using a VPN allows you to do it anonymously while also keeping all your sensitive data safe.
A VPN hides both your real IP address and geographical location. This means no one on the internet will be able to track down your activity. Most VPNs will also encrypt your traffic, making it impossible to read in any meaningful way.
Even your ISP, although always monitoring your traffic, doesn't have insight into what you're doing online when you're connected to a VPN server.
So, as a result, it won't be able to report your torrenting activity to the authorities nor slow down your connection to reduce bandwidth congestion.
But a VPN can do even more to enhance your torrenting experience.
Depending on where you live, you may be unable to access certain torrenting sites due to geo-restrictions. However, all you have to do is switch your virtual location, and you'll get to browse all the torrenting content you want.
Sometimes, a VPN may even deliver a faster connection, especially if your ISP has been throttling your speed.
How to choose the right VPN for torrenting
When torrenting, you have to make sure you're using a VPN that's effective in protecting your data and privacy.
Many free VPNs claim they're good for torrenting, but they simply don't offer enough security to prevent your information from leaking.
That's why it's important to choose a premium service that offers the best encryption methods available.
Most of the top options on the market utilize military-grade AES-256 encryption. With it, you can rest assured knowing that no one, not even your ISP, will have access to your data.
You also need a VPN with some of the best protocols for torrenting, such as OpenVPN and WireGuard. They offer enough security for your data not to leak while also providing enough speed.
After all, a fast connection is pivotal when torrenting. Using a VPN will hardly help if it means it takes you days to download a single file.
When choosing a VPN, you also want it to have a strict no-log policy. That way, you can be sure that the VPN provider isn't storing any of your data. So, even if the authorities or your ISP request it, there simply won't be anything to give.
Lastly, you have to switch your location to the best VPN country for torrenting, depending on your whereabouts. A nearby location where torrenting is legal and popular sites like PirateBay and YTS are accessible will always yield the highest level of security and the best download speeds.
ExpressVPN for torrenting
ExpressVPN is among the leading providers on the market and is perfectly suited for torrenting. It has all the security features for keeping your data and privacy safe.
Not only that, but it offers some of the best connection speeds and servers in countries you'll want to choose when downloading content.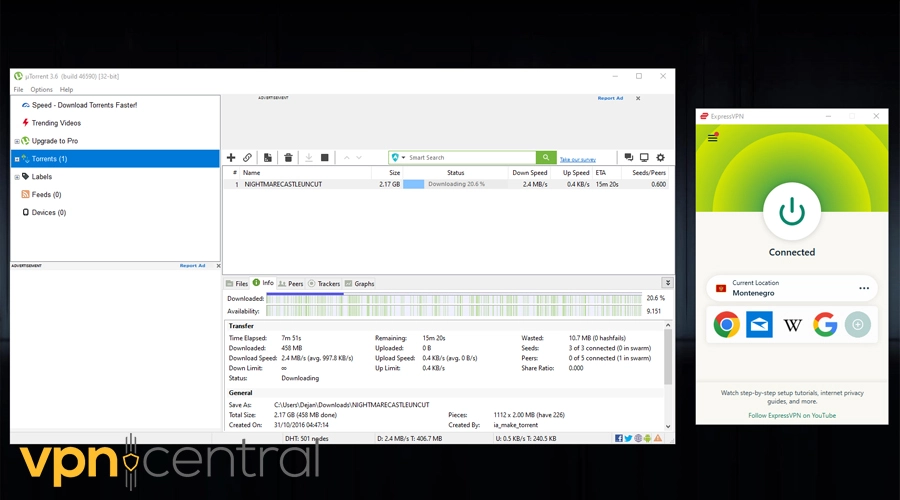 When you combine that with a kill switch, split tunneling, and a strict no-log policy, it's the most complete torrenting package available.
You get a 30-day money-back guarantee when you purchase an ExpressVPN, allowing you to test its torrenting performance with no risk involved.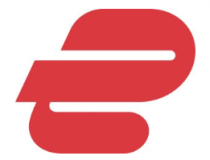 ExpressVPN
Enjoy the highest level of security and the best torrenting speeds with ExpressVPN.
Summary
So, can you torrent without a VPN? Yes, but doing so is a mistake that could cause all sorts of trouble.
With the right VPN, you can easily avoid any negative consequences. You'll protect your privacy, safety, and overall peace of mind. Plus, you'll get to enjoy the content you want without geo-restrictions and ISP throttling.