You can use a VPN to access sports betting sites that are blocked in your country.
It can also protect sensitive information such as card details and transaction history, which is crucial when you use any type of betting platform.
However, this may be against the Terms of Service of the betting site of your choice. If caught, you may be ripped off your assets or betting accounts.
Moreover, it may be illegal in some countries and jurisdictions, especially in countries where online betting is completely banned.
We'll explore all that, plus how to make the most of your VPN so you can safely bet on sports without the risk of data leaks.
In this article:
Can you use a VPN to bet on sports?
Yes, you can use a VPN to bet on sports.
Geo-restricted betting platforms like Betfair or DraftKings block you based on the location information they get from your IP address.
However, your real IP will be masked when you connect to a VPN server in an accepted region.
Immediately after you connect, the location on the new IP address will change. The website will then let you in on the premise that you are currently in that country.
Furthermore, some VPNs offer dedicated IPs that can help with strict restrictions that are likely to occur on betting sites.
Since the dedicated IP is a unique IP assigned to only you, the platform may not know it comes from a VPN. Unlike a shared IP which many users connect to at once, a dedicated IP is only for you.
Considering all these advantages of a VPN, you may wonder if placing a sports wager with it is legal. This is a tricky one because the condition depends on both the government and the betting platform.
There are places where this is treated as a minor offense. On the other hand, you may face serious fines and even jail time if you get caught in countries that have strict regulations against betting and gambling.
We'll discuss the legality of this further below.
How to use a VPN to bet on sports?
First and foremost, it's important you pick a good VPN that won't reveal your real data.
Don't overlook encryption, your VPN should use modern encryption like AES 256-bit.
This is currently rated as the strongest type of encryption. Also, pick a VPN that maintains a strict no-log policy and is located outside the five or nine eyes surveillance.
Protocols are another factor that makes a good VPN. An outdated protocol may leak your data and thus uncover your location.
You should also enable all privacy features your VPN offers. Below are a few ways you can ensure none of your data gets leaked when you use a sports betting site.
How to setup your VPN for betting platforms
1. Use secure protocols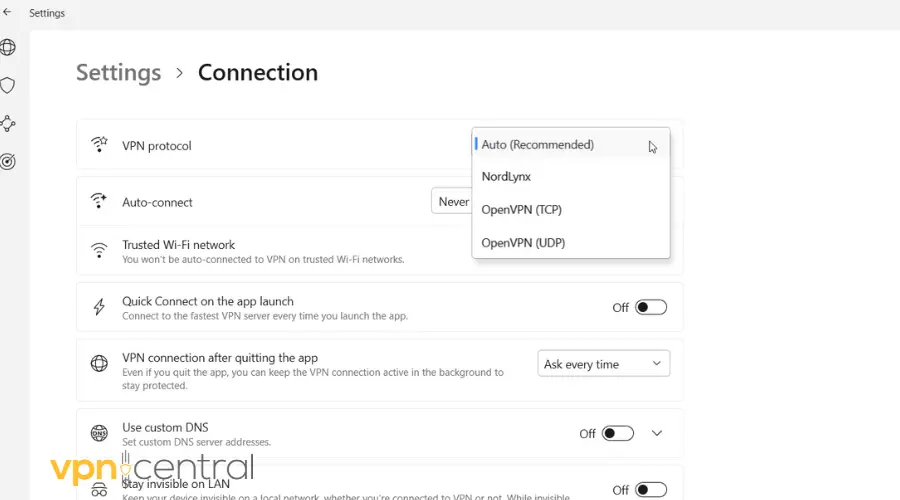 Protocols are rules VPNs follow to maintain the connection. Because privacy threats evolve, some of these protocols become obsolete after a while.
Since betting platforms use serious detection technologies to block you, you should use an up-to-date protocol.
We recommend trying one of the following: OpenVPN, Ikev2/IPsec, or WireGuard.
2. Enable the security kill switch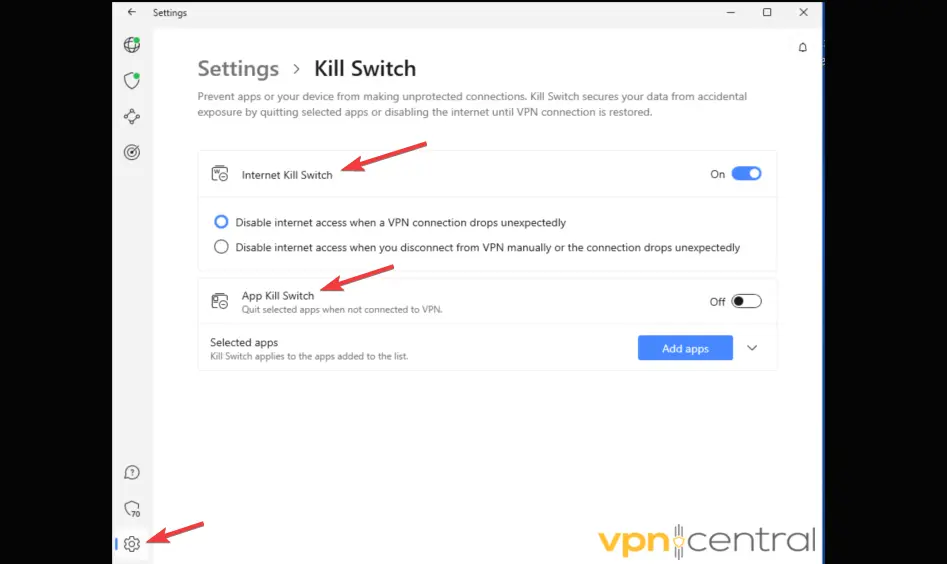 A kill switch is a VPN feature that when enabled, automatically disconnects you from the Internet when your VPN connection is down.
This prevents your information from leaking.
This should be one of the privacy features you should allow on your VPN if you are an active bettor.
For most VPNs, the kill switch feature can easily be enabled from the setting menu, as shown in the image above.
3. Use an obfuscated server
By using an obfuscated server, your traffic would come off as regular traffic. So it hides even the fact that you use a VPN.
This feature is suitable for websites and platforms that block VPNs and proxies, so it will surely help if your betting platform of choice does.
To connect to an obfuscated server:
Open your VPN and go to settings.


Navigate to the

menu where you have the obfuscation feature. For most VPNs it's typically in an Advanced Setting type of submenu.


Go back to the dashboard and connect to a server. Select Specialty servers> Obfuscated servers if your VPN lets you manually pick them.
Now that you know how to make the most of your VPN, let's see it in action. See below how you can secure your connection and unblock sports betting platforms with a VPN.
How to unblock sports betting platforms with VPN
We'll show you how using a VPN will unblock sports betting platforms so you can place your bets securely, from anywhere.
FanDuel is blocked in many places, including Nigeria and some US states like Arizona, Washington DC, and Hawaii.
So when you try to access this platform from these regions, an error message will pop up: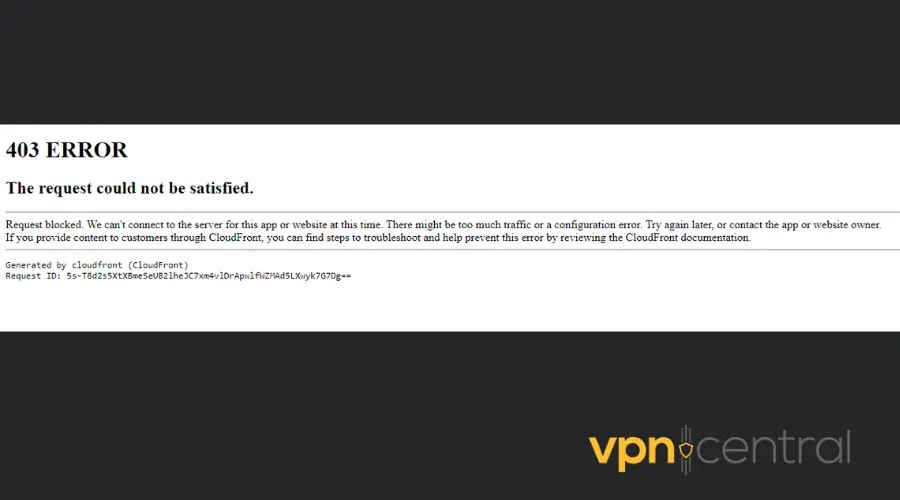 In this case, you will have to use a VPN to circumvent this regional block. Follow the step-by-step guide after this paragraph to access FanDuel using a VPN.
Open your VPN.
The moment you are in, connect to a server from a supported region.
Go back to your browser and access the platform. You'll see the error message is gone and you can log in or create a new account.
If you still have trouble and the VPN is not working with FanDuel or any other betting site make sure you enable all the above-mentioned features and consider deleting your browser cookies.
Is it illegal to use a VPN to gamble online?
The legality of using a VPN to gamble online varies by jurisdiction. If online betting is illegal in your country, then yes, using a VPN as a means to go around it is illegal.
In some countries, the use of VPNs to access online gambling sites is not specifically prohibited, but there are countries where it's illegal.
Firstly, consider countries where VPNs are illegal, such as North Korea. Secondly, there are places like China where only registered providers are accepted.
In those countries, you'll be breaking the law for using a VPN or a VPN that's not accepted, be it for betting or any other activity.
Then again, there are countries like Saudi Arabia, UAE, Libya, and Qatar where betting is illegal. So if you're caught doing it, using any type of tool, including a VPN, you risk serious repercussions.
In the United Arab Emirates for example you may be prosecuted or face up to two years imprisonment.
The situation is similar in the US. Online gambling is only permitted in 6 states: Connecticut, Delaware, Michigan, New Jersey, Pennsylvania, and West Virginia.
It's restricted or completely banned everywhere else. So you will be breaking the law if you use a VPN to gamble in areas where it's illegal.
Furthermore, a good number of gambling platforms do not consent to the use of VPNs. You risk permanent bans if they detect you're using one.
In short, the use of a VPN in and of itself is not illegal. It however becomes a crime when the bettor uses it to commit a crime.
We recommend thoroughly checking the rules and regulations that apply to your location. It's best you do not use a VPN to bet on sports if it is illegal, as you can face serious consequences.
Conclusion
In conclusion, using a VPN to bet on sports can be a viable option for those who live in regions where online is accessible.
However, it is important to note that you can face harsh punishments if you're using a VPN where it's illegal, so always make sure you know the laws that apply in your location.
To put it simply, you can use a VPN to bet on sports, as they can protect your sensitive data online and help bypass geo-blocks. However, you should only do so as long as you're not breaking any laws.