BritBox is one of the largest online VOD services, mainly featuring BBC and ITV content, but it also has the largest collection of British box sets.
Sadly, this service is geo-restricted to only 9 countries: the United Kingdom, the United States, Canada, Australia, South Africa, Finland, Norway, Sweden, and Denmark.
Therefore, if you're not located in these mentioned countries, or you're on vacation in another country, you simply can't access their service.
The best way to access BritBox from unsupported countries is to use a premium VPN to change your virtual location to a country where the service is available.
Read on to learn in detail why a VPN is required and which reputable VPNs we recommend so you can enjoy this VOD service in Spain or any other country.
Why do you need a VPN to watch BritBox outside the UK?
Because BritBox is a geo-restricted service, you can only access it if you are located in one of the supported countries, which is why you need a VPN.
A VPN (Virtual Private Network) is an application designed to mask your internet activity by transferring data through an encrypted tunnel.
Among many other purposes, a VPN is capable of circumventing geo-restrictions by changing or hiding your real IP address from the various sites and services.
Hence, a VPN can help you access streaming services such as BritBox in otherwise unavailable locations.
Keep in mind that using a VPN for this matter is completely legal (unless your country of residence has a general law restricting VPN usage).
Use ExpressVPN
ExpressVPN is one the most popular, secure, and fastest VPNs out there that is especially top-notch for streaming purposes.
Here's how to use this VPN to watch BritBox in Spain:
Visit the ExpressVPN website, and subscribe to one of their plans.

Download the VPN app to your device.

Install and launch the app.

Click on the three dots next to the server location to expand the server list and pick a server from a country where Britbox is available.
It's important to note that ExpressVPN offers:
24 servers in the US
5 servers in the UK
4 servers in Canada
7 servers in Australia
1 server in South Africa
1 server in Finland
1 server in Norway
1 server in Sweden
1 server in Denmark
So, with ExpressVPN, you'll have 45 servers on your hand to access BritBox. Choose whichever you find the best.
Best VPN services for watching BritBox from anywhere
VPN providers are numerous, but there are only a limited number of them that present suitable services for online VOD purposes.
To access BritBox from Spain, we recommend one of these three VPNs, which are all available on PC, Mac, Android, and iOS:
1. ExpressVPN – best overall for streaming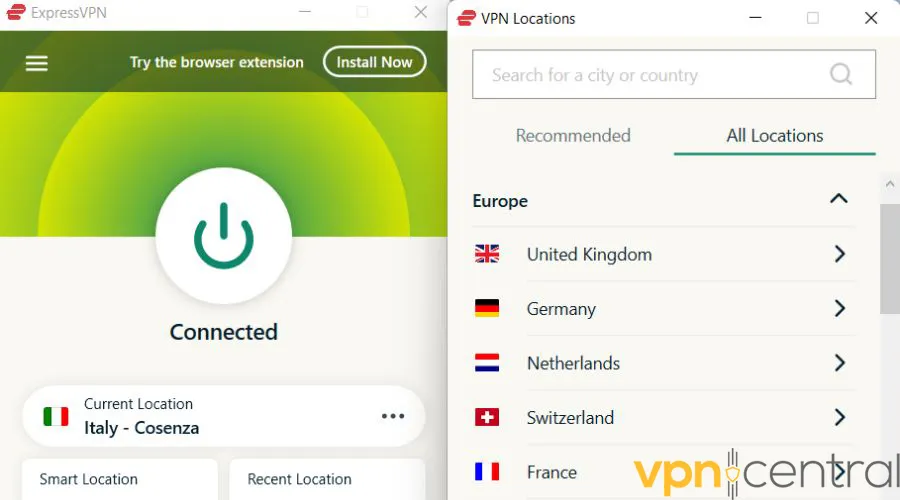 ExpressVPN is perhaps the most reputable VPN service at the moment. This is due to its vast array of features that guarantee speed, privacy, and convenience for watching BritBox in Spain or anywhere in the world.
The number of servers and locations is one of the most important deciding factors.
ExpressVPN has more than 3000 servers in 94 countries, including all the 9 countries that BritBox is accessible in.
Additionally, some VPNs are notorious for slowing down your connection, which causes the most annoying streaming experience: Buffering time.
You don't have to worry about that while using ExpressVPN, since it has recorded speeds up to 165 Mbps.
If you ever experienced slow internet after connecting to this VPN, try connecting to another server or country with a lower ping.
Moreover, ExpressVPN offers OpenVPN (UDP & TCP), IKEv2, L2TP/IPsec, and its trump card, the in-house Lightway protocol.
The aforementioned protocols, along with the no-log policy, ensure that neither your ISP provider nor even the VPN provider and cybercriminals will be able to see what you are doing online.
Besides, ExpressVPN is equipped with obfuscation servers, which bypasses the Britbox VPN detection system.
✅ Pros:
Exclusive Lightway protocol
Highly reputable for privacy and speed
Friendly user interface
❌ Cons:
Relatively expensive
Not ideal for torrenting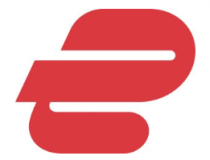 ExpressVPN
Unblock BritBox from Spain and enjoy all of its content without limitations!
2. CyberGhost – easiest to setup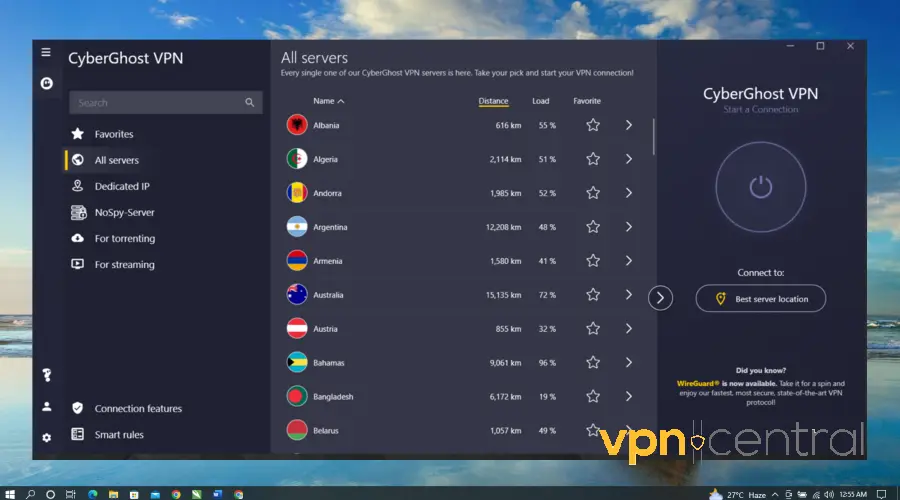 Another worthy VPN option for tackling streaming geo-restrictions and watch BritBox is CyberGhost. This Romania-based VPN is fast, secure, and has a friendly user interface.
CyberGhost boasts more than 9700 servers in 91 countries, which is quite a high number that leaves you with more choices.
One benefit of a VPN with numerous servers is that there are always backup servers available in case some of them are unavailable or have a high ping.
More importantly, it offers servers in all the 9 countries in which BritBox is available.
Furthermore, the WireGuard protocol and the availability of streaming servers are two factors contributing to CyberGhost's high speed.
As for speed, this VPN might not be as fast as ExpressVPN, but it's still a great option for streaming.
CyberGhost is also excellent in security thanks to using the OpenVPN (UDP & TCP) and IKEv2 protocols in addition to the WireGuard protocol mentioned above.
This VPN also offers a no-log policy, meaning they don't keep a record of what their users are doing on the internet.
If you're looking for a cheaper alternative to ExpressVPN that is easy to use, CyberGhost would be a good option.
✅ Pros:
A high number of servers
Cheaper than ExpressVPN
Offers specialized servers for torrenting, gaming, and streaming
❌ Cons:
Mediocre speed
Not ideal on Apple devices and Linux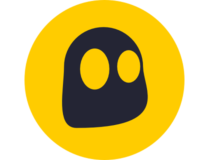 CyberGhost
Get access to BritBox from Spain by connecting to CyberGhost's fast servers!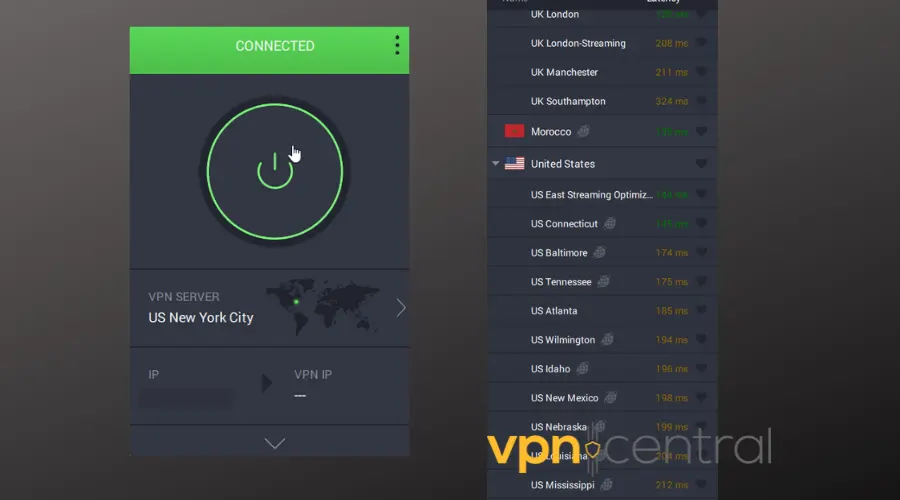 Private Internet Access is another popular VPN that you can use to watch BritBox in Spain as if you were in a supported country.
This VPN offers more than 35,000 servers in 84 countries around the world, including servers in all countries where BritBox is available.
So, you will be able to mask your real IP address and change your virtual location to one of the regions where BritBox is accessible.
If, by chance, your internet speed drops, try a different server or location where BritBox is available.
As for other features, It offers two of the latest and most secure tunneling protocols: OpenVPN and WireGuard, along with IKEv2/IPSec.
These protocols will ensure that your connection is safe and protected from cybercriminals by encrypting your data.
To provide an even more secure and private internet experience, they offer a No-log policy.
Meaning, your ISP, cybercriminals, and not even the VPN provider will know what you're doing on the internet.
Last but not least, PIA also offers an obfuscation feature, which hides the fact that you're using a VPN, bypassing VPN detectors.
✅ Pros:
An economic choice
An incredibly high number of servers
Featuring the fast and secure WireGuard protocol
❌ Cons:
The desktop app looks a bit dated compared to the competitors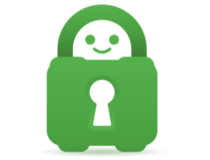 Private Internet Access
Connect to PIA for uninterrupted and unrestricted streaming on BritBox!
Summary
BritBox is one of the popular VOD services, but unfortunately, it's geo-restricted.
Companies use geo-blocks to protect their services against copyright infringement and other regional agreements.
So, if you're wondering how to watch BritBox in Spain, the answer is simple – use a reputable VPN.
We recommend using ExpressVPN, CyberGhost, or PIA, three of the best VPNs you can find to access geo-restricted services.
Choose one of the VPN service providers based on your needs, such number of servers and locations, speed, privacy, security, and price.
Also, never forget to avoid free and unknown VPN providers, as they will do more harm than good since they will have access to your data.