Are you a Bulgarian living in the UK and missing your favorite shows from back home? Or are you simply captivated by Bulgarian TV's vibrant culture and fantastic programs?
You're not alone. Many Bulgarians like you living abroad often face the challenge of accessing their cherished TV content from their home country due to geographical restrictions.
Don't worry! This article has got you covered.
I will guide you through the process of watching Bulgarian TV in the UK, no matter where you are in the country.
Let's dive in and bring a piece of Bulgaria to your screens!
How to watch Bulgarian TV in the UK?
Your IP address is crucial when accessing Bulgarian TV channels, websites, and other platforms.
It helps the channel determine your location. So, if you're not within the country, the service will know and it will block you from accessing their content.
However, there's a clever solution to this issue — using a VPN.
By encrypting your internet traffic and routing it through a server in a different country, you can effectively change your IP address and appear to be browsing from that specific location.
This means that by connecting to a VPN server in Bulgaria while you're in the UK, you can access their TV channels online as if you were in Bulgaria.
To watch Bulgarian TV in the UK with a VPN, follow these straightforward steps:
I recommend CyberGhost because it's a complete package regarding speed, security, network coverage, privacy, and protection.
Visit the CyberGhost website and subscribe to your preferred VPN plan.

Download the app and install it on your device.

Log into your account by adding your credentials.

Click on the icon to expand the server list.

Search and click on a Bulgarian server to connect.

Now, you can instantly access local Bulgarian streaming services. As you can see, I joined a live stream on BNT 1 with my CyberGhost server.
Why do you need a VPN to watch Bulgarian TV abroad?
You need a VPN to watch Bulgarian TV abroad because you are not viewing from within the country.
Due to licensing laws and copyright concerns, geo-restricted streaming services often block access to their content for users outside their designated regions.
For instance, when I tried watching a broadcast on BNT without a VPN, I got an error that read: This broadcast is limited only for the territory of Bulgaria.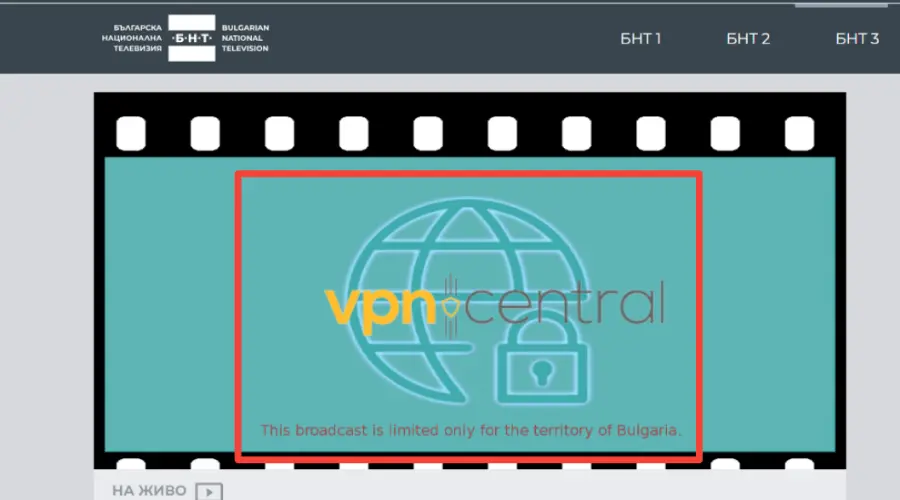 Similarly, on bTV, I got an error – The video is available only on the territory of Bulgaria because I viewed it from outside the country.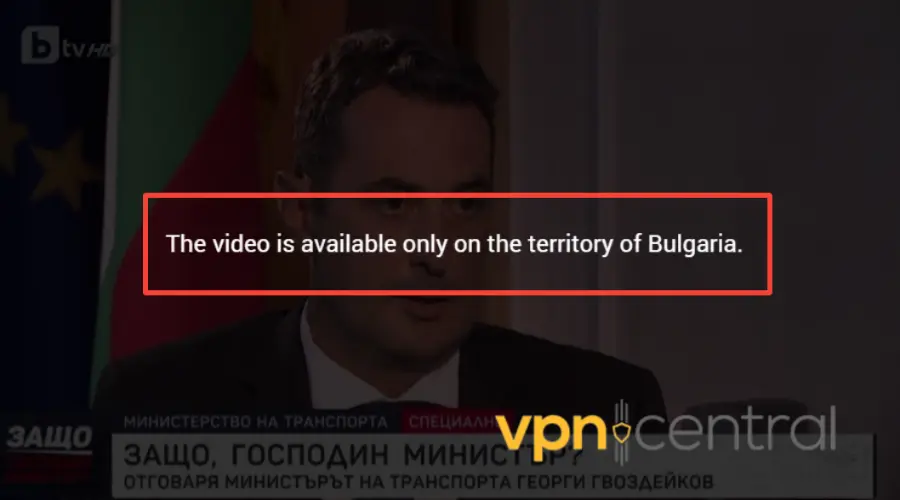 The error depends on the channel you try to visit.
However, a VPN helps you bypass these restrictions and grants you access to almost all Bulgarian TV, ensuring you can watch your beloved shows no matter where you are in the world.
Other benefits
Apart from unblocking Bulgarian TV, using a VPN for streaming offers several other benefits:
Enhanced Privacy and Security: A VPN encrypts your internet connection, ensuring that your online activities and data remain private and secure from potential cyber threats, such as hackers, identity thieves, or malicious entities trying to monitor your online behavior.
Bypass ISP Throttling: ISPs sometimes throttle or slow down internet speeds for specific activities like streaming. With a VPN, your traffic is encrypted, making it challenging for ISPs to detect your streaming activities and apply throttling.
Protection on Public Wi-Fi: When using public Wi-Fi networks, your data is vulnerable to interception. A VPN creates a secure tunnel between your device and the server, protecting your sensitive information from prying eyes on public WiFi hotspots.
Bypass Censorship and Firewalls: If you travel to China or other countries with strict internet censorship or face workplace or school network restrictions, a VPN can help you bypass these barriers and access your favorite streaming platforms and websites.
Buffer-free Streaming: A reliable VPN can improve your streaming experience by reducing buffering and lag, as it helps create a more direct and stable connection to the streaming servers.
Best VPNs for Bulgarian TV
In the quest to find the best VPN for Bulgarian TV, it's essential to note that not all VPNs with Bulgarian-based servers can grant access to the country's most popular streaming services.
To assist you in making the right choice, I have conducted tests and reviews on some of the most popular VPNs.
These evaluations are based on their performance, ability to unblock content, features, and customer service.
If you're in the UK and eager to access Bulgarian TV, keep reading to discover the top VPNs that can fulfill your streaming needs.
Here are the best five:
1. CyberGhost – smooth streaming performance on Bulgarian TVs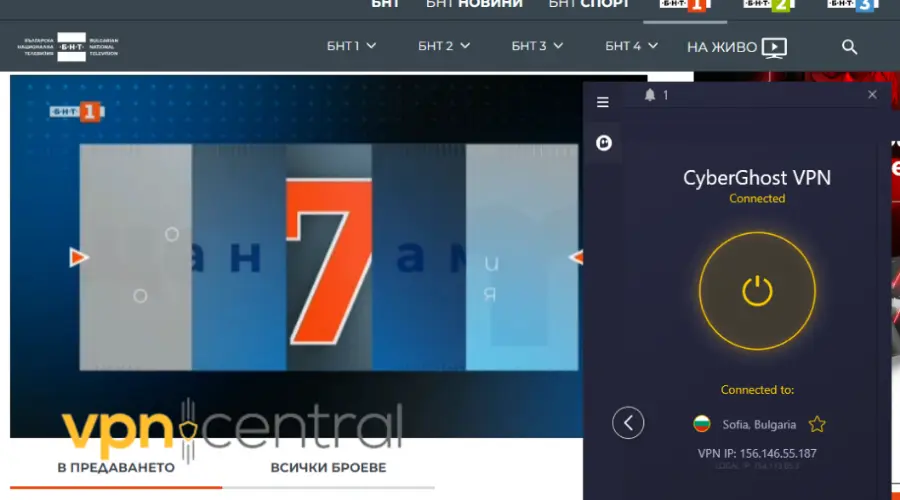 CyberGhost VPN is perfect for streaming Bulgarian TV. It offers 29 servers in Sofia that you can connect to for a fast, secure connection.
You'll also get access to 9438 servers in 91 countries, so you can continue to enjoy CyberGhost's top speeds and security features even when you travel.
Its Bulgarian server granted me access to exciting shows on bTV and NovaTV.
In addition, you will enjoy unlimited bandwidth, WireGuard® protocol, and 10 Gbps speeds in high-traffic locations for uninterrupted streaming.
CyberGhost secures your online activity with 256-bit AES encryption, protecting sensitive data.
Furthermore, the Kill Switch blocks traffic if disconnected from the VPN, hiding your actual location.
With one subscription, I could connect up to 7 devices, and it is compatible with Windows, macOS, Linux, Android, iOS, Android TV, and Amazon Fire TV Stick.
Friendly 24/7 Customer Support via live chat or email is available for assistance.
Enjoy easy streaming on Bulgarian TV with CyberGhost VPN!
✅ Pros:
Add-ons, including antivirus, data compression, and dedicated IPs
User-friendly interface
It has a 45-day money-back guarantee
❌ Cons:
Issues with connecting after sleep mode or in China
Has customer support unavailable in some languages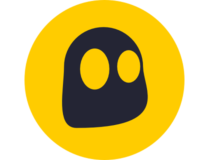 CyberGhost
Unblock Bulgarian TV from anywhere in the world using CyberGhost's location spoofing features!
2. ExpressVPN – top VPN for Bulgarian TV with fast speed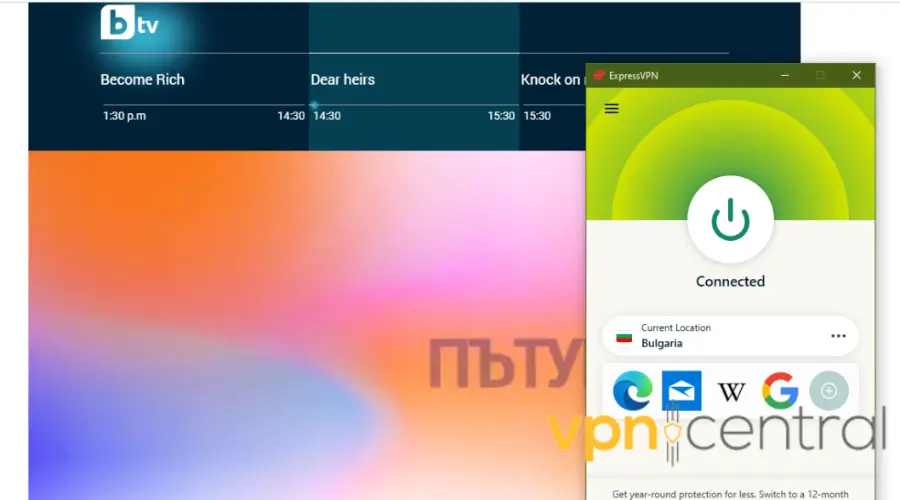 ExpressVPN boasts reliable servers, fast speed, and cutting-edge encryption technology.
With a vast network of 3000+ servers across 94 countries, including Bulgaria, it offers exceptional coverage to unblock bTV and other popular TV channels.
The VPN is compatible with multiple platforms: Windows, iOS, macOS, Android, and Linux.
Additionally, it supports MediaStreamer, enabling easy setup on Amazon Firestick, Apple TV, Roku, and Smart TVs.
For security, ExpressVPN utilizes AES-256-Bit Encryption, OpenVPN, WireGuard, IKEv2, and Lightway protocols, ensuring a protected online experience while in Bulgaria.
While the cost may be higher than some alternatives, the value and benefits it provides make it a worthwhile investment.
Furthermore, new users signing up through smartphones are eligible for a generous 7-day free trial, allowing them to try out the service without any initial financial commitment.
✅ Pros:
Best leak protection on the market
Consistently fast and stable
Apps for all conceivable devices
❌ Cons:
Slightly higher price
Only five device connections at a time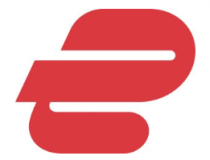 ExpressVPN
Bypass virtual borders and enjoy Bulgarian TV in the UK using ExpressVPN!
3. PIA – lag-free Bulgarian servers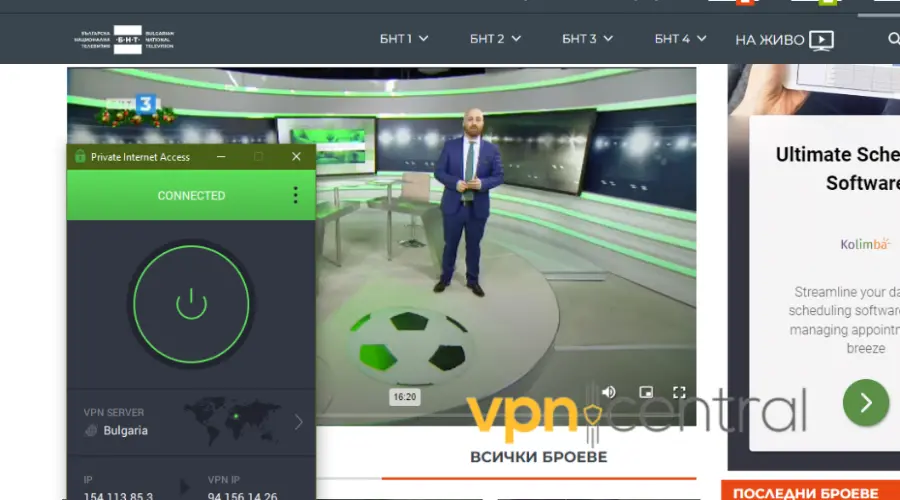 Private Internet Access has secure, reliable servers in Bulgaria and 84 other countries so that you can get an IP nearly anywhere.
I experienced exceptional streaming experience with lightning-fast speeds while streaming The Black Sheep on TV7.
You can also enjoy seamless 4K streaming without frustrating lags or buffering, thanks to their powerful 10 Gbps NextGen servers.
The best part is the unlimited bandwidth, allowing worry-free streaming on your favorite channels without data caps or restrictions.
To prioritize your data security during streaming sessions, PIA offers robust encryption methods.
Therefore, you can choose between 128-bit or 256-bit AES encryption ciphers for added privacy and security.
For your convenience, PIA includes a Smart DNS feature, enabling you to change your virtual location directly from your Smart TV without compromising connection speeds.
With PIA's reliable VPN service, you can rest assured that all your online activities remain safeguarded.
Therefore, enjoy watching Bulgarian TV from the UK with confidence.
✅ Pros:
Supports anonymous payment methods
Offers a full-fledged Linux app
Provides a 30-day money-back guarantee
❌ Cons:
Based in a 5-Eyes country, which could raise privacy concerns for some users
Speeds are average compared to some other VPN providers.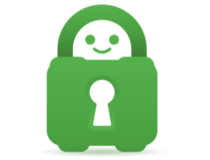 Private Internet Access
Don't miss out on your favorite Bulgarian TV content, even in UK, by changing your virtual location with PIA!
4. NordVPN – vast server network for unblocking Bulgarian TV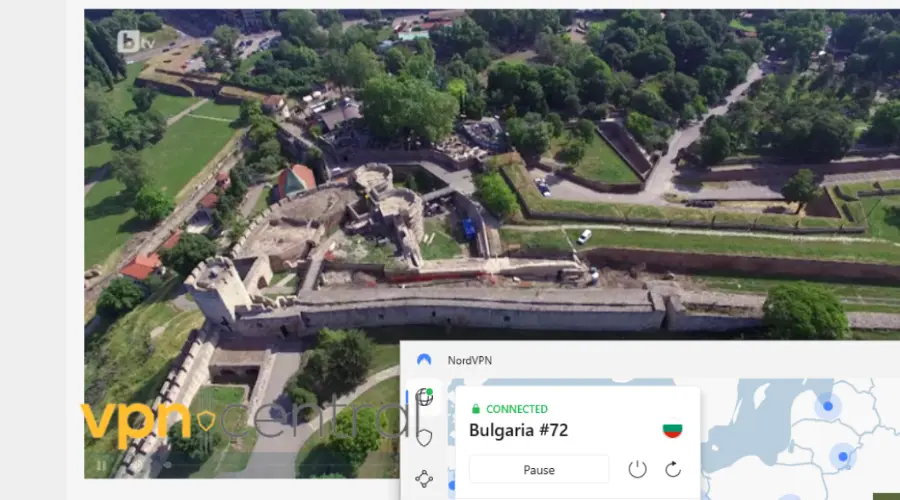 Famous for unblocking content, NordVPN offers a vast server network for smooth streaming, offering speed, reliability, and top-notch security.
With 5700+ servers in 60 countries, including over 20 in Bulgaria, NordVPN can provide you with a Bulgarian IP address.
Connecting to its Bulgaria server lets you access your favorite local news channels, TV shows, and financial apps from the UK.
In addition, NordVPN allows you to have six simultaneous connections and works on Android, macOS, iOS, Linux, and Windows.
The SmartPlay feature enables easy configuration without encryption on devices like Apple TV, Amazon Fire TV, and Smart TVs.
You can even use NordVPN on Roku using its Smart DNS feature.
It offers features like Split Tunneling, Server Obfuscation, and Dark Web Monitor for added privacy.
And with the Kill Switch, your anonymity remains intact while enjoying Bulgarian TV content from the UK.
✅ Pros:
Affordable monthly price
A high number of servers
Apps for Fire Stick and Android TV
❌ Cons:
Complicated when using router setup
Apps can sometimes be sluggish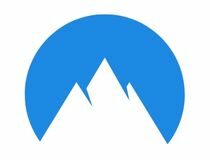 NordVPN
Wave goodbye to location blocks and enjoy Bulgarian TV in UK with this nifty tool that gets around all borders!
5. Surfshark – budget friendly for unblocking Bulgarian TV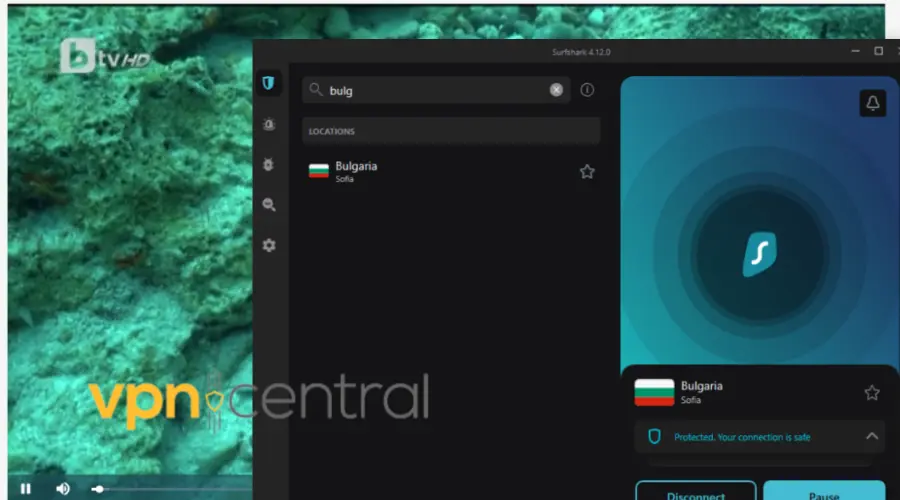 Surfshark is the best budget-friendly VPN for Bulgaria. You won't find a better VPN for multiple devices with unlimited simultaneous connections.
It has 3200+ servers in 100 countries, including 32 servers in Bulgaria. Therefore, you can connect to the Tirana server to access Bulgarian TV channels.
Surfshark can unblock Netflix, Amazon Prime Video, and Disney Plus content. 
Also, it works on Android, Windows, Linux, macOS, and iPhone. You can also configure it on Firestick, Roku, and Apple TV.
It offers top-notch features like CleanWeb, Multi-hop Servers, and Camouflage Mode.
The advanced Whitelister feature lets you simultaneously use local Bulgarian apps and international websites.
New users get a 30-day money-back guarantee. Subscribing through a smartphone also gives you a 7-day free trial.
✅ Pros:
Connect unlimited devices
Excellent streaming speeds
Extra features like virus protection
❌ Cons: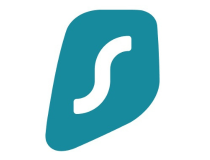 Surfshark
Unlock Bulgarian TV while in the UK & enjoy all sorts of content by connecting to Surfshark VPN!
Which Bulgarian channels can I watch online?
Bulgarian TV offers a plethora of exciting channels that showcase a diverse range of content, catering to various interests.
Therefore, with a reliable VPN, you can access these geo-restricted channels from the UK and indulge in various shows and programs.
Here are some of the most popular channels and shows you can view on them:
Bulgarian National Television 1 is the flagship channel of the Bulgarian National Television network, catering to a broad audience with a mix of news, entertainment, and cultural programming. Its sister channels include BNT 2, BNT 3, BNT 4, BNT NEWS, BNT SPORT, and BNT LIVE TV. Some of its shows are:
Panorama is a popular news show covering events and important events in Bulgaria and beyond.
Week in 3 Minutes – A concise weekly news summary highlighting critical developments in the country.
Tears of the Crown – highlights a gripping historical drama series depicting the life and reign of Bulgarian monarchs.
This independent television channel offers a wide range of programming, catering to various age groups and interests. It broadcasts popular international series, making it a favorite among Bulgarian viewers seeking local and international entertainment. Here are shows you can view on the channel:
Big Brother Bulgaria – A reality show where contestants live together in a house, facing challenges and evictions.
Undercover – A thrilling crime drama following secret agents infiltrating criminal organizations.
Step Forward is a heartwarming series about personal growth and challenges a dance group faces.
As one of Bulgaria's leading private television channels, bTV has secured a strong presence among viewers. It airs local and international news programs, ensuring viewers stay informed about current affairs. bTV COMEDY, bTV Cinema, bTV ACTION, bTV Lady, RING, VOYO, bTV Plus, and others are all products of the bTV Media Group. Examples of shows are:
The Masked Singer Bulgaria – A popular singing competition where celebrities perform in elaborate costumes, concealing their identities.
bTV News – A comprehensive news program covering national and international headlines.
Forbidden Love – A captivating soap opera exploring intricate relationships and family dynamics.
Diema TV is renowned for its rich entertainment offerings, emphasizing sports, movies, and captivating series. Sports enthusiasts can tune in to catch live sporting events, while movie lovers enjoy a wide selection of international blockbusters and beloved classics. Here are shows to enjoy:
Stolen Life – A suspenseful series centered around the life of a woman who discovers her identity has been stolen.
Diema Sport – A sports program featuring live broadcasts of football matches, tennis tournaments, and more.
Diema Family – A family-oriented channel showcasing classic and contemporary animated series.
This news and general entertainment channel cater to a diverse audience. In addition to news and current affairs shows, the channel presents intriguing documentaries and lifestyle programs, exploring various aspects of Bulgarian culture and society. Here are a few shows to tune into:
The Black Sheep – A thought-provoking series delving into stories with a social impact and highlighting human struggles.
TV7 News – A daily news program providing insights into current affairs and in-depth reports.
Inspiring Bulgaria – A documentary series exploring remarkable achievements and innovations from Bulgaria.
6. Hobby TV:
As the name suggests, Hobby TV is a channel that caters to enthusiasts of various hobbies and interests. It provides engaging and informative content, inspiring viewers to pursue their passions. Some popular shows on Hobby TV include:
Gourmet Delights – A cooking show featuring recipes from various cuisines, enticing food enthusiasts.
Creative Crafts – A DIY series demonstrating various crafting techniques and projects, inspiring creativity.
Gardening Tips and Tricks – A show offering gardening advice and horticultural insights for green thumbs.
This is a popular music and entertainment channel known for promoting local and international music talent. It broadcasts music videos, live performances, and engaging entertainment programs. Some shows available on Fen TV include:
Fen Countdown – A weekly music chart featuring the top Bulgarian and international hits.
Artist Spotlight – In-depth interviews and profiles of famous music artists, offering a glimpse into their lives and careers.
Fen Acoustic Sessions – Live acoustic performances by Bulgarian musicians showcasing raw talent and intimate music sessions.
This television channel celebrates the rich musical heritage of the Balkans. It offers a wide range of music genres and music-related content from the region. Some shows available on Balkanika Music Television include:
Balkan Hits – A show featuring Balkan artists' most famous music videos.
Balkan Folklore – A series showcasing traditional folk music and dance from the Balkans.
Balkan Music Awards – An annual show honoring the best Balkan music artists.
These Bulgarian channels and their diverse array of shows cater to various interests, ensuring that viewers can find engaging content aligned with their preferences.
With a VPN, you can bypass the geographical restrictions imposed on these channels, allowing you to enjoy the best Bulgarian TV from the comfort of your UK location.
Is it legal to watch Bulgarian TV in the UK with a VPN?
Streaming Bulgarian TV in the UK using a VPN is legal, as no specific UK regulations prohibit VPN usage for bypassing geo-restrictions.
However, it is essential to exercise caution, as some Bulgarian TV channels may have policies that disallow VPN usage.
When utilizing a VPN to access Bulgarian TV channels, it is crucial to be mindful of potential copyright or licensing infringements.
To steer clear of any legal complications, it is highly advisable to carefully review the terms and conditions of the channels before employing a VPN.
For a secure streaming experience, selecting one of the reputable VPN services suggested earlier is recommended.
Doing so allows you to safeguard your personal information and watch Bulgarian TV content confidently in the UK while adhering to the channels' regulations and guidelines.
Summary
Unlock and watch the world of Bulgarian TV in the UK using a reliable VPN service like CyberGhost, ExpressVPN, or PIA.
These VPNs will bypass geo-restrictions, granting you access to your favorite Bulgarian channels and shows.
Also, remember to choose a trustworthy VPN provider, as it ensures a smooth and secure streaming experience.
With a VPN, you can stay connected to Bulgarian culture and entertainment, no matter where life takes you.
So, get ready to immerse yourself in the colorful world of Bulgarian television!
---