I envy those living in the Netherlands as they get to enjoy popular shows such as Red Light, Heirs of the Night, Flikken Maastricht, and Judas on Dutch TV.
They also have access to Dutch TV networks like AT5, NPO Start, NOS, and many more. Unfortunately, these channels aren't accessible outside the country.
But if you want to know how to watch Dutch TV in Australia, you're in the right place. I found VPN use to be a surefire method to unlock these TV channels from abroad in no time.
Not only that, I've comprised a list of my top VPNs for unlocking Dutch TV.
How to watch Dutch TV in Australia?
To watch Dutch TV in Australia, you will need to make it appear as if you are inside the Netherlands. You can do that by changing your real location with the help of a VPN.
To do so:
NordVPN is great for Dutch TV because it has 200 servers in the country. That guarantees unrestricted access and great connection speeds.
Moreover, you can switch between servers without limitations, in case you land on one that's slower or unresponsive.
Here's how to do it:
Install the app and log in with your credentials.
Launch NordVPN and click on the arrow button to expand the server list. Pick the Netherlands, and connect.

Now you can navigate to your favorite online Dutch TV platform and enjoy unrestricted access.
Why do you need a VPN to watch Dutch TV abroad?
You need a VPN to watch Dutch TV abroad because it will help you change your virtual location to the Netherlands. Thus, you'll be able to access channels that are normally blocked outside Dutch borders.
Without a VPN, you'll get an error message. For instance, if you try accessing NPO 1, you'll be redirected to this error page: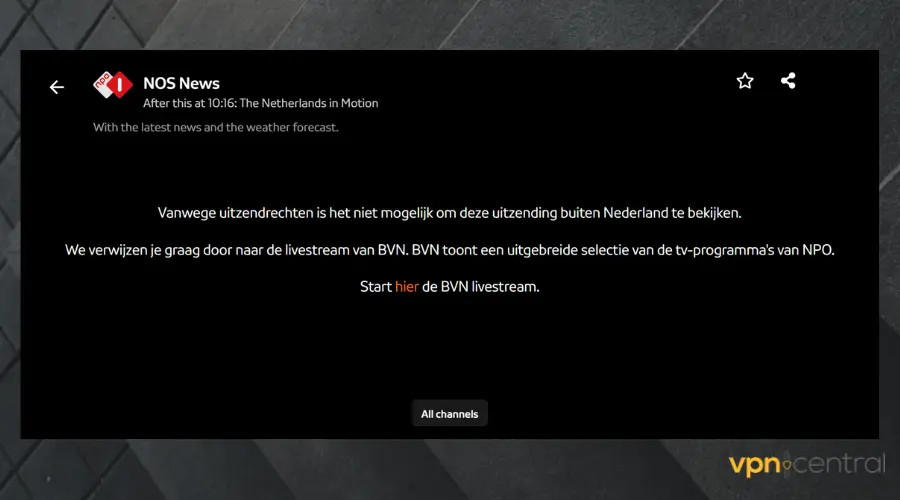 Once you connect, your location is spoofed and you can easily access the website as if you were in the Netherlands.
Best VPNs for Dutch TV
Since the VPN market is filled with a huge array of tools, how can you choose the best one for you?
Luckily, I've done some testing and can help you save time. I'll only show you the best options with a quick overview of what they offer.
This way, you can easily decide which VPN is the best for you.
1. NordVPN – 200 Netherlands servers in five cities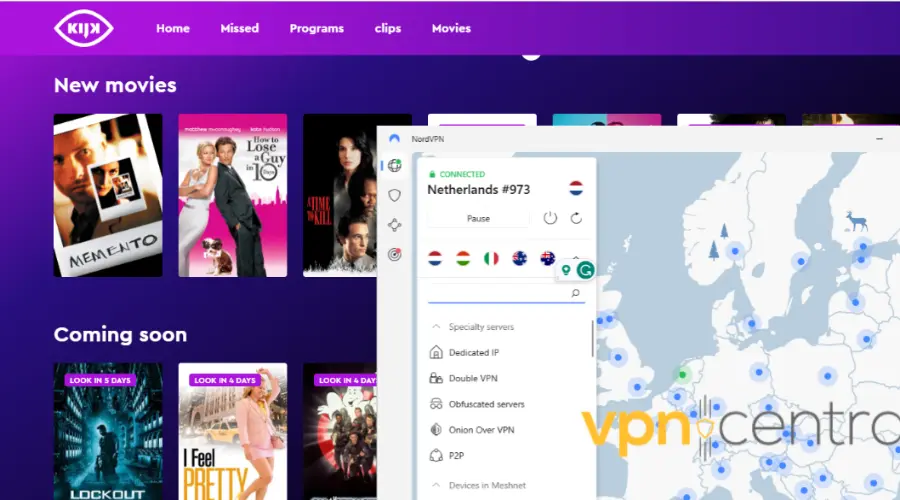 NordVPN is my best pick for Dutch TV due to its impressive server coverage in the Netherlands.
It is also one of the best VPNs in the market because it has all it takes to maintain a secure connection for streaming.
For one, NordVPN is suitable for streaming Dutch TV as it offers obfuscated servers. These servers hide the fact that you are using a VPN and make it seem like regular web traffic.
This feature ensures that even during tight restrictions on the TV, you can bypass restrictions without being detected.
Furthermore, NordVPN has 5,500+ servers in 60 countries, including 200+ servers in the Netherlands. With this, you have an extensive network to choose from.
Not only that, this VPN offers its users unlimited bandwidth that allows them to stream as many movies and shows as they want.
Then it uses an automatic kill switch feature that instantly cuts off your internet connection, thereby preventing any data leakage.
This stops any of the Dutch channels from detecting your actual location which could lead to it blocking your access.
✅ Pros
Extremely fast servers
6 simultaneous connections
256-bit AES encryption
30-day money-back guarantee
Easy-to-use app
24/7 live chat support
❌Cons
No refunds for purchases from iTunes/App Store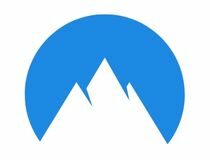 NordVPN
Unlock Dutch TV abroad: get a Netherlands IP address for boundless entertainment!
2. ExpressVPN – streaming optimized servers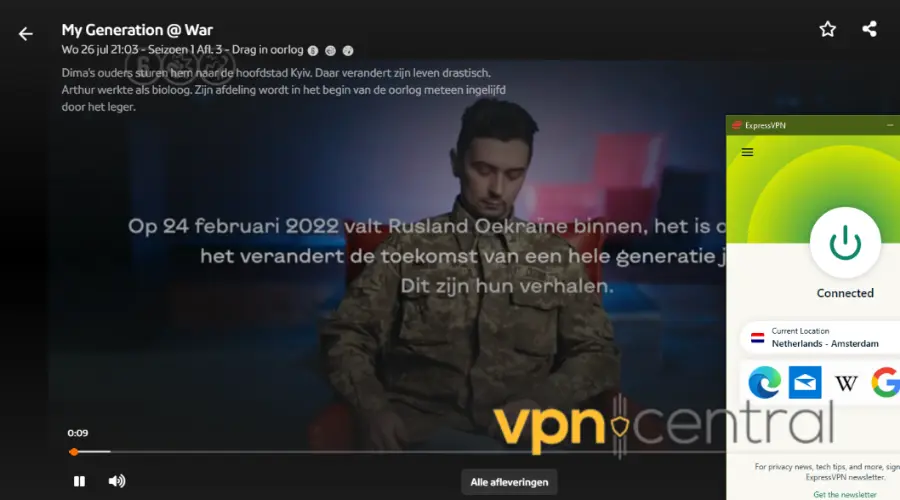 ExpressVPN is another excellent VPN service known for its high-standard security features, fast speeds, and ability to get past geo-blocks.
It has over 3000+ servers in 94 countries, including servers in Netherlands cities like Amsterdam, Rotterdam, and the Hague.
Your original IP will change when you connect to one of those servers. Afterward, Dutch TV will grant you access to its services because it will assume you are in a supported region.
Moreover, ExpressVPN is known for being one of the fastest VPNs with all of its servers running on 10Gbps. Its built-in protocol, LightWay, further enhances connection speed during streaming.
In addition to that, ExpressVPN allows users to connect to up to five devices with one account. So, if your friends or family want to jump on all the goodness from Dutch channels, then a subscription is all you need.
Also, this VPN uses 256-bit encryption which is one of the most secure options today. It ensures your streaming activities remain hidden hence preventing ISP throttling.
Additionally, ExpressVPN is compatible with popular devices such as Windows, Android, MacOS, iOS, and Linux.
✅ Pros
Fast and reliable speeds
Strict no-logs policy
Strong encryption and security
5 simultaneous connections
30-day money-back guarantee
24/7 live support
❌ Cons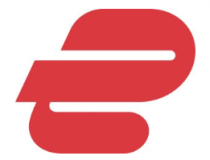 ExpressVPN
Enjoy Dutch TV in Australia: connect to ExpressVPN for unlimited access!
When it comes to bypassing geo-blocks on websites, PIA stands out as one of the best VPNs for the job.
The VPN has 10 server locations in the Netherlands including cities like Amsterdam, Rotterdam, The Hague, and Utrecht.
With this, you can change servers if you experience issues with one location. Also, after you connect to one of the supported regions on PIA, your IP address will change and then you can go in and out of Dutch TV.
In terms of speed, PIA may occasionally be inconsistent, especially when you're located very far away from the server. But you can still comfortably stream on Dutch TV without any annoying lag or buffering.
And, as mentioned, you can always switch between servers until you get the best one for your connection.
Also, this VPN scrambles your traffic and grants you anonymity using 256-bit military-grade encryption. If you have been a victim of ISP throttling during streaming, this feature will surely be a great addition.
Furthermore, PIA has a split tunneling feature that allows you to selectively route your internet traffic through the VPN. With this, you can use the VPN connection on only Dutch TV and exclude other apps.
Additionally, this VPN allows unlimited devices simultaneously for one account. So if you can't plan a movie night with your friends, they can watch Dutch TV from wherever they are with your PIA subscription.
Lastly, PIA employs a kill switch to prevent data leaks on the internet. This is beneficial for streaming on Dutch TV because if your info seeps out, the site will pick up on your original location and block you.
✅ Pros
10 servers in the Netherlands
Zero-logs policy
30-day money-back guarantee
DNS leak protection
Split tunneling
❌ Cons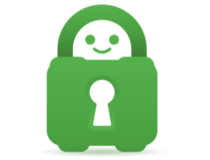 Private Internet Access
Watch Dutch TV beyond borders using PIA's wide range of unblockable servers!
4. Surfshark – multiple simultaneous connections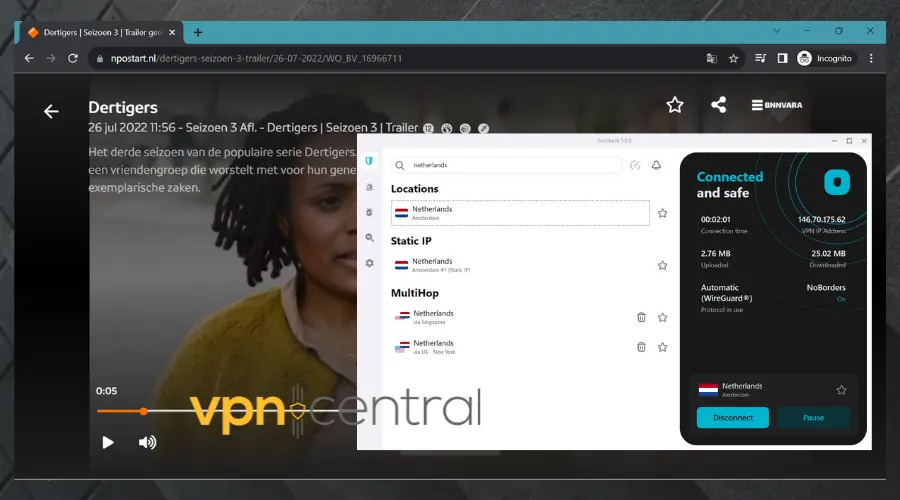 Surfshark is a budget-friendly VPN but its performance and security are not affected by its low cost. It also offers attractive streaming features that allow you to watch Dutch TV in Australia with zero issues.
One thing that makes Surfshark stand apart from other VPNs is its multiple simultaneous connections. You can use as many devices as you want for one subscription. And no, its performance would not drop.
Surfshark also offers a Dedicated IP – meaning your IP address will not change each time you connect to your VPN, therefore, preventing Dutch TV from easily tracking and blacklisting your IP.
Additionally, this VPN has three streaming-optimized servers in Amsterdam, the Hague, and Rotterdam. You can expect a speed of up to 100 Mbps when connected to these servers.
This speed rate is fast enough to keep you glued to your screen while streaming Dutch TV without worrying about sudden lags and buffering.
Closely related to that is Surfshark's unlimited bandwidth. With it, you can stream HD videos, and download files, and games online without any restrictions.
✅ Pros
No-logs policy
DNS leak protection
7-day free trial on Android, MacOS, and iOS
Easy-to-use app
30-day money-back guarantee
❌ Cons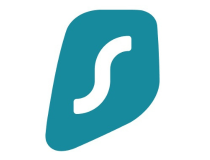 Surfshark
Grab Surfshark for unmatched speed and restriction-free connections while streaming Dutch TV abroad!
5. CyberGhost – Large server network for Dutch TV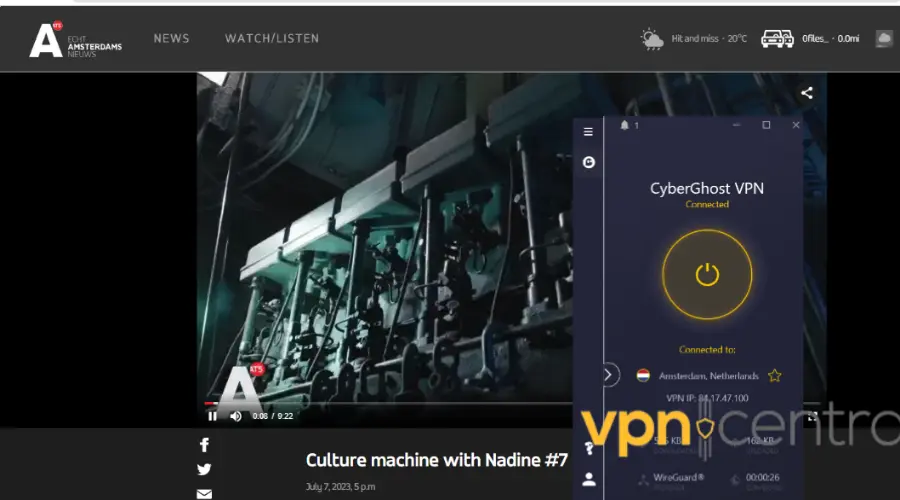 CyberGhost is an exceptional VPN for Dutch TV streaming due to its extensive server network, advanced features, and outstanding performance.
With 327 servers in the Netherlands alone. So you can expect lightning-fast speeds and a seamless streaming experience while unlocking Dutch TV content.
Furthermore, CyberGhost's extensive server network enables users to switch between servers in case one doesn't work or isn't as fast as desired.
Additionally, the VPN's unlimited bandwidth ensures uninterrupted access to Dutch TV channels and content, making it a top choice for entertainment enthusiasts.
Moreover, its kill switch feature is a crucial component for Dutch TV streaming, as it guarantees that in case of any unexpected VPN connection drops, the user's internet activity remains secure and private.
In simpler words, even if you disconnect the VPN, you won't risk revealing your real location to Dutch TV channels.
Furthermore, the seven simultaneous device connections offered by CyberGhost allow users to share their VPN subscription with family or friends, making it an ideal option for households with multiple streaming needs.
CyberGhost is also very easy to use. With its intuitive design and straightforward setup process, users can effortlessly connect to the Netherlands' servers without technical complications.
✅ Pros
Unlimited bandwidth
Solid internet speed
45-day money-back guarantee
7 simultaneous connections
DNS leak protection
24/7 live support
❌ Cons
Unresponsive customer support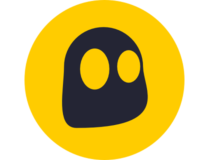 CyberGhost VPN
Binge on your favorite Dutch TV shows from anywhere in just a few simple steps!
Which Dutch channels can I watch online?
With the help of a VPN, you can unblock various Dutch TV channels and enjoy streaming. Some of these channels and shows you can watch online include;
NPO1 (Kamp Van Koningsbrugge, Even tot hier, Dropje)
NPO2 (De Slimste Mens, Metropolis, Summer Residents)
NPO3 (Skam NL, Arctic Circle, Flack)
Canvas (The Natives, Skin Wars, Radio Gaga)
Ketnet (Ghost Rockers, D5R, Campus)
RTL4 (Hook, Saved by the Bell, Never Been Kissed)
RTL5 (The Golden Girls, Terminator, Rise of the Machines)
Is it legal to watch Dutch TV in Australia with a VPN?
Yes, it is legal to watch Dutch TV in Australia with a VPN. There is no law prohibiting VPNs in Australia or the Netherlands.
That said, it's possible that this practice breaks the Terms of Use of the specific TV channel you want to watch. To avoid that, check each platform's regulations before streaming with VPN.
Summary
Users outside the Netherlands cannot watch Dutch TV as they'll face restrictions. This is due to licensing laws and copyright infringement agreements that prevent TV from giving access to the global audience.
However, with a VPN connected to a server in the Netherlands and running on your device, you can bypass these geo-blocks and stream your favorite shows on Dutch TV.
---