To watch popular Turkish channels abroad you'll have to find a way around the geo-block.
Otherwise, when you try to access channels such as TRT1, ATV, Fox, and Kanal D, you'll get an error message. Fortunately, bypassing this error is actually easy. I'll show you exactly how to do it.
To get past the error, you'll need to use a VPN to spoof your location. I'll explain step-by-step how that goes, and I'll also save you some research time and suggest the best VPN options for it, based on my tests.
No time to waste, let's get started!
How to watch Turkish TV in the UK?
Turkish TV does not allow access to viewers outside their streaming area due to some licensing agreement.
Thankfully, all you need to do is connect to a strong VPN with servers in Turkey. It will hide your real IP and replace it with a Turkish one. Thereby, you'll bypass regional restrictions.
Here's what to do:
My favorite VPN for streaming Turkish TV is CyberGhost. Let me explain why.
Not only does it have dedicated streaming servers that ensure proper speed for high-quality videos, but it also has 25+ servers located in Turkey, which is more than enough to fight off restrictions.
Here's how to use it to unblock Turkish TV channels in the UK:
Install the app and sign in with your credentials.

Connect to a server in Turkey.


Open a Turkish TV channel and enjoy streaming. I was able to unlock Netflix Turkey easily. You can do the same thing with local channels such as Kanal D or TRT1.
Why do you need a VPN to watch Turkish TV abroad?
You need a VPN to watch Turkish TV abroad because the channels are unavailable outside of Turkey. But a VPN will change your virtual location, thus granting you access.
These restrictions are placed because the streaming service must abide by copyright laws and licensing agreements which prevent them from streaming outside their designated area.
Therefore if you try to watch Turkish TV abroad, you will get an error message of this sort:
This channel/program cannot be watched outside of Turkey
Now that it's clear how a VPN unblocks Turkish TV, what's left is to figure out which VPN to use. While there are plenty of providers that promise good results, not all of them are actually worth using.
But I've tested several providers I know for a fact work well and only selected the best out of those. They all worked perfectly in unlocking local TV channels and streaming apps from Turkey.
Best VPNs for Turkish TV
It is important to consider some factors such as Turkish servers, streaming ability, speeds, privacy, and security while picking a VPN for Turkish TV.
Base on these, here are my top picks:
1. CyberGhost – dedicated streaming servers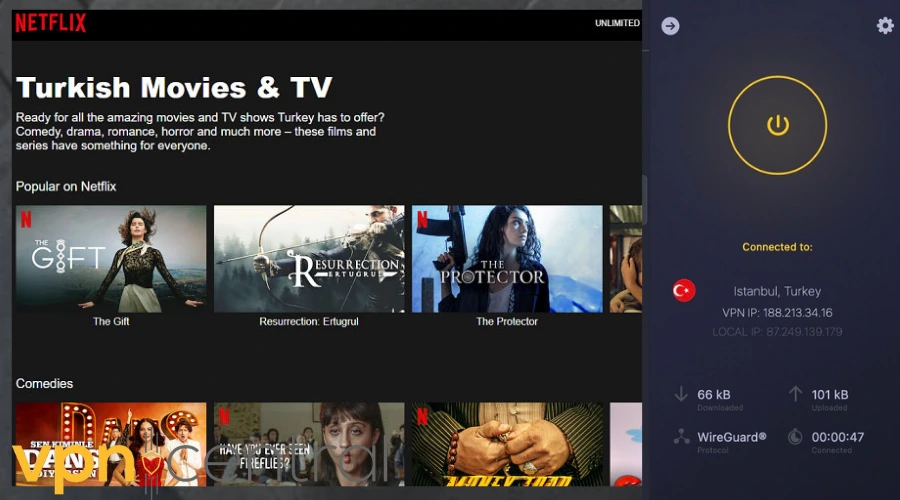 CyberGhost provides reliable and high-speed connections to bypass geo-restrictions. This ensures that you have a fast and stable connection while streaming Turkish TV.
Moreover, it has specialized streaming servers and unlimited bandwidth to unblock Turkish channels such as Star TV, ATV, Kanal D, and more.
Then, this VPN offers 9,700+ servers in 91 countries, with 26 dedicated servers in Turkey. These servers were designed to protect your privacy and secure your data.
They also give you a fast connection while streaming and a wide selection of Turkish servers to pick from.
Furthermore, CyberGhost is known for offering advanced security features such as split tunneling. This enables you to access Turkish TV channels through the VPN tunnel while using a normal internet connection for other apps.
Additionally, it has WebRTC protection to prevent valuable information from leaking while streaming. Then the DNS leak protection further locks your information in.
Lastly, CyberGhost can be used on 7 simultaneous devices with one account. Therefore it is ideal for streaming Turkish TV channels if you have a busy home network.
✅ Pros
Robust security protocols
Dedicated servers
Easy-to-use app
No-logs policy
45-day money-back guarantee
24/7 live chat support
❌ Cons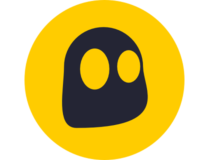 CyberGhost
Pass virtual borders & enjoy unlimited access to Turkish TV with this reliable VPN!
2. ExpressVPN – ultra-fast speeds for streaming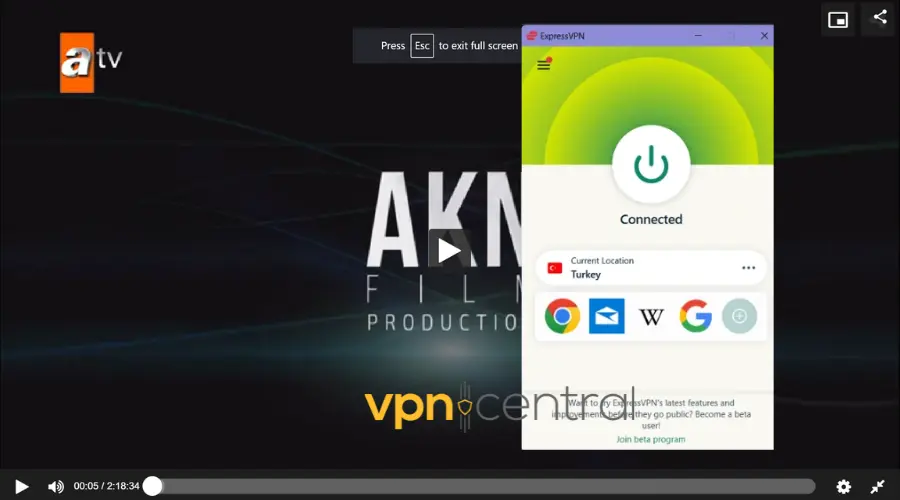 ExpressVPN is a secure and reliable choice to watch Turkish TV in the UK because not only does it enable you to bypass geo-restrictions, but it also offers unlimited bandwidth for streaming.
This unlimited bandwidth lets you bypass ISP throttling, thereby providing unrestricted access to stream Turkish TV.
Moreover, this VPN service offers high speeds on all of its servers. With its next-gen 1Mmbps servers, you can enjoy high-definition and uninterrupted streaming.
Plus it has 3,000+ servers in 94 countries, including multiple servers in three servers in Turkey which are spread across Istanbul, Ankara, and Izmir. So in case your IP is detected and blocked, you can easily switch to another server.
Furthermore, ExpressVPN has an automatic kill switch feature that disconnects you from the internet if there is a drop in your internet connection. This prevents the leakage of valuable data.
Lastly, this VPN service lets you unblock Turkish TV channels such as TRT 1, TRT Spor, TRT 3, and more easily.
✅ Pros
User-friendly app
8 simultaneous connections
Strict no-logs policy
AES 256-bit encryption
30-days money-back guarantee
24/7 live chat support
❌ Cons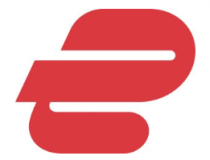 ExpressVPN
Stream all your favorite Turkish TV content without geographical limitations using ExpressVPN!
3. NordVPN – large server network for Turkish TV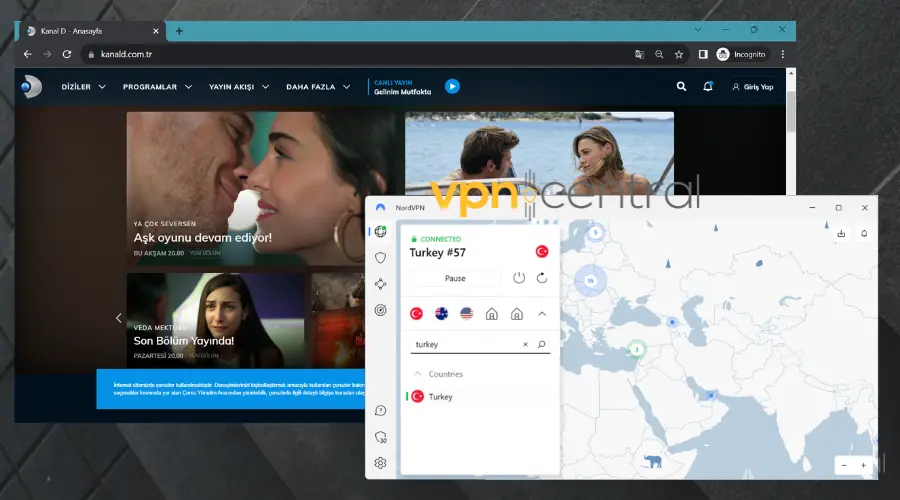 NordVPN has 5,600+ servers in 60 countries, and 14 highly-optimized servers in Istanbul, Turkey.
These servers provide unrestricted bandwidth and can easily unblock Turkish TV channels such as TRT 1, Kanal D, Cine 5, and Kanal 7.
It also offers fast connection speeds so you don't have to experience any buffering while streaming Turkish TV.
Then it has the NordLynx protocol which is designed to help you connect to the VPN faster and enhance your connection speeds without compromising security or privacy.
Furthermore, NordVPN safeguards your online activities with the Double VPN feature. This routes your VPN traffic through two servers instead of one, thereby giving your data an extra layer of encryption.
Additionally, this VPN service supports up to 6 simultaneous connections and it is compatible with numerous devices such as Linux, Windows, Android, MacOS, iOS, Smart TVs, and Routers.
✅ Pros
Blazing fast speeds
Strong encryption protocols
No-logs policy
Easy-to-use app
24/7 live chat support
30-day money-back guarantee
❌ Cons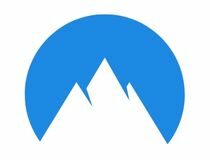 NordVPN
Enjoy block-gree access to Turkish TV from the UK using NordVPN's reliable servers!
4. PIA – huge server network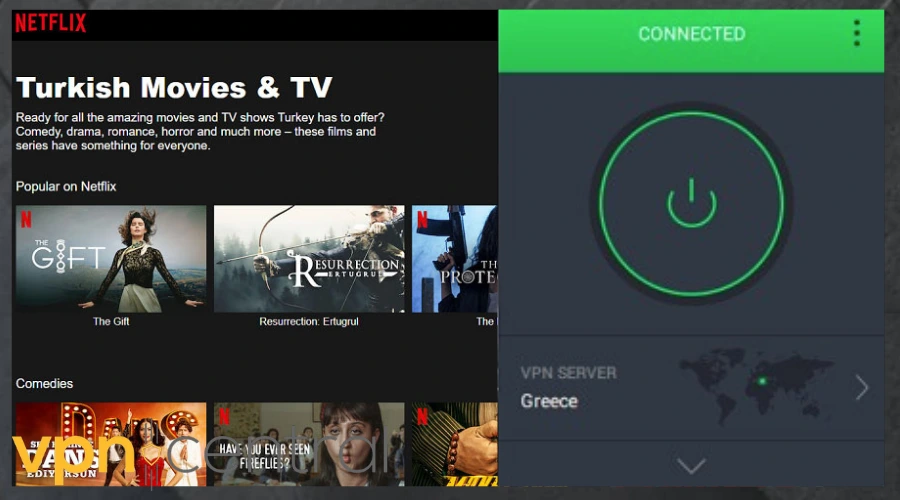 Private Internet Access is another great VPN for streaming Turkish TV because of its outstanding unblocking capabilities and speed.
It offers 35,000+ servers in 84 countries worldwide, including 1 server location in Turkey. All of them are fully optimized for unblocking channels such as CBS, Habertürk TV, and more.
Furthermore, PIA employs the Shadowsocks obfuscation protocol to hide your VPN traffic from third parties.
This disguises your VPN traffic as regular web traffic, thereby allowing you to get around even the most advanced firewalls unnoticed.
Moreover, it maintains a Zero-logs policy which means that it does not collect or store information about your online data. Therefore, your online anonymity and privacy are protected from everyone.
Lastly, this VPN offers an app that is easy to navigate even for people who are new to VPNs. It also supports 24/7 live chat in case you have any difficulty.
✅ Pros
DNS leak protection
10 simultaneous connections
Kill switch feature
30-day money-back guarantee
Easy-to-use app
256-bit AES encryption
❌ Cons
Not all servers perform the same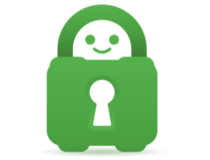 Private Internet Access
Watch Turkish TV in the UK by removing virtual regional restrictions with PIA!
5. Surfshark – budget-friendly VPN for Turkish TV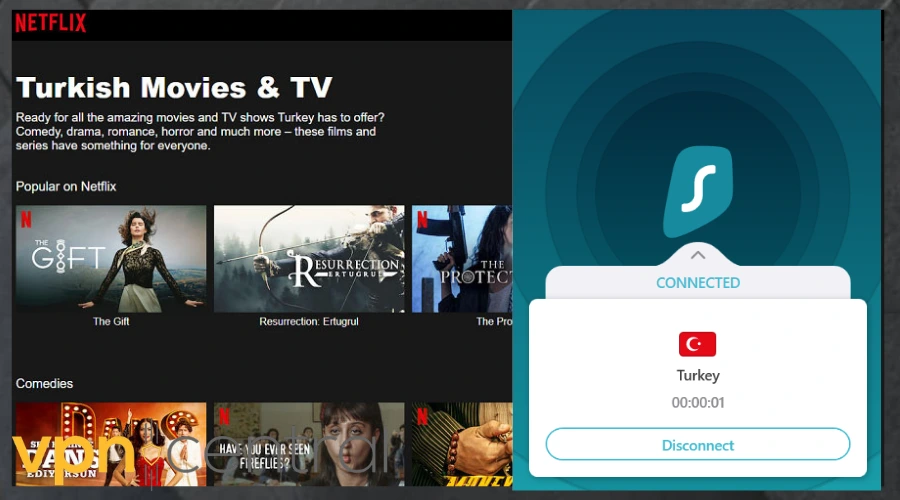 Surfshark is the best option for streaming Turkish TV on a budget without compromising quality. It also offers 3,200+ servers in 100 countries, including 8 servers in Turkey.
Furthermore, these servers have lightning-fast speeds and unlimited bandwidth which helps you access Turkish channels such as Kanal D, ATV, and Fox buffer-free.
Then Surfshark provides strong online security by using AES-256-bit encryption which guarantees top security for your streaming activities.
Additionally, This VPN provider makes use of RAM-only servers. Meaning that every piece of information is automatically wiped out whenever a server is turned off.
Also, it employs the Wireguard protocol which is known for its speed and security, offering a reliable and efficient VPN connection.
Lastly, one of Surfsharks best features is its support for unlimited simultaneous connections with one account. So your friends or family can also connect to enjoy Turkish TV.
✅ Pros
Unlimited bandwidth
GPS spoofing
24/7 live chat support
Easy-to-use app
Unlimited simultaneous connection
30-day money-back guarantee
❌ Cons
Slow speed on some servers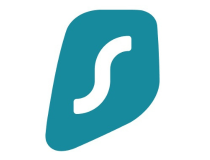 Surfshark
Never miss out on Turkish TV, even in the UK, by using Surfshark's reliable servers from Turkey!
Which Turkish channels can I watch online?
There are a lot of Turkish channels you can unblock using a VPN and watch online in the UK. Some of these channels and their popular shows include:
ATV (Seviyor Sevmiyor, Hercai, Aglama Anne).
Fox (Black Rose, Tulip Age, Kiraz Mevsimi).
Kanal D (A Woman Scorned, What if you love too much, Zalim Istanbul).
Star TV (The Magnificent Century, Kurt Seyit Ve Sura, Medcezir).
Show TV (Flames of Fate, Aci Hayat, Vazgeçmem).
TRT 1 (Kasaba Doktoru, Resurrection, Her fall doesn't cry).
TV8 (Survivor, Ninja Warrior, Flashpoint).
Kanal 7 (Fedakar, Legacy, The Promise).
Is it legal to watch Turkish TV in the UK with a VPN?
Yes, using a VPN to watch Turkish TV in the UK is legal. There are no restrictions on the use of VPNs.
However, using a VPN for malicious activities like shielding your identity to commit online crimes is punishable by law.
Summary
Turkish TV is home to exciting shows and movies. But unfortunately, you cannot access its content if you are outside Turkish borders.
Luckily, this can be fixed by connecting to a reliable VPN, as explained in this article. This VPN will spoof your location and give you access to watch your favorite shows on Turkish TV in the UK.
---