If you are a fan of Turkish TV shows, movies, or documentaries, you might be wondering how to watch its channels in the USA.
Turkey has a rich and diverse media landscape, with hundreds of channels, including Kanal D, ATV, TRT, and others, that cater to different tastes and interests.
Unfortunately, most of these channels are geo-restricted, meaning they are only available to viewers in the country.
This can be frustrating if you want to keep up with your favorite Turkish programs in the USA.
But don't worry. You can use a VPN to bypass these geo-restrictions and access Turkish TV online from anywhere in the world.
I'll show you how to do that. Plus, I've tested several VPNs for this purpose, and I'll recommend the best ones based on their performance.
Keep reading!
How to watch Turkish TV channels in the USA with a VPN
Turkish TV channels use your IP address to determine your location and may block access if you're not within the country.
However, using a VPN is a good way to get around it.
Connecting to a VPN server in Turkey while you're in the USA allows you to access its TV channels online as if you were in Turkey. That's because it changes your IP address to a Turkish one.
To watch Turkish TV channels TV in the USA with a VPN, you need to follow these simple steps:
Subscribe to a PIA plan. I use this VPN because of its over 40 streaming-optimized servers in Turkey.
Download and install the VPN app on your device.
Log in with your credentials.

Launch the app and connect to a server in Turkey.

Open your browser or app and stream the Turkish TV channel you want to watch.  As you can see, I could access the TRT1 Channel without any issues.
Why do you need a VPN to watch Turkish TV channels in the USA?
You need a VPN to watch Turkish TV channels in the USA because some of them use geo-restrictions to limit their content to viewers only in the country or neighboring ones.
This is done for various reasons, such as licensing agreements, copyright laws, or political censorship.
And it can be very annoying if you want to keep up with the latest news, sports, entertainment, or education from Turkey.
However, you might also wonder how they detect your location in the USA.
Here's it.
➡️ The TV's geo-block measures track your IP address which contains info about your location, and reveal it to the websites and apps you visit.
And if your IP address does not match the country where the content is available, in this case, Turkey, it will block you.
However, a VPN helps you bypass these geo-restrictions by changing your IP address and location online. You just need to connect to one of its servers in Turkey.
This will make it appear as if you are browsing physically from Turkey, so you can access any content that is available there.
Unfortunately, not all VPNs can offer this benefit. Navigating the market nowadays is a hard task as new VPN services rise daily.
So if you have trouble deciding which VPN to use for this, check out the following list. It includes my top options, based on testing with Turkish TV as well as other streaming apps around the world.
Best VPNs for Turkish TV
Here are my top 5 VPNs for Turkish TV:
1. PIA — overall best for seamless streaming on Turkish TV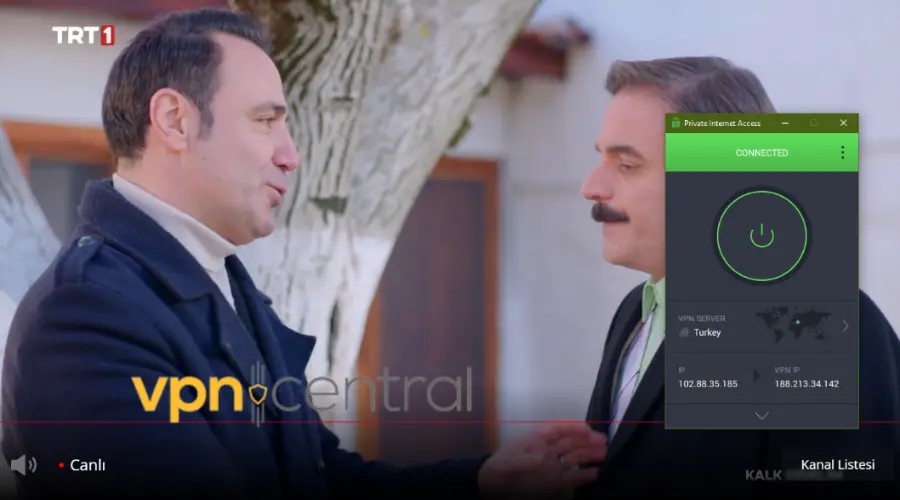 With lightning-fast speeds and an extensive selection of over 40 servers in Turkey, PIA is my top VPN for watching Turkish TV in the USA.
Thanks to its powerful 10 Gbps NextGen servers, you can say goodbye to frustrating lags, buffering, and freezing and enjoy seamless 4K streaming without annoying delays.
What makes it even better is that it provides unlimited bandwidth.
With that, you can stream Turkish shows like DayDreamer or My Name is Farah without worrying about data caps or restrictions on your VPN.
To keep your data secure during your streaming sessions, PIA uses robust encryption methods.
You can choose between 128-bit or 256-bit AES encryption ciphers, adding privacy and security to your streaming.
With this level of protection, your ISPs, third parties, or even Turkish channels won't be able to track your internet activities.
I also tested its Smart DNS feature that lets you change your virtual location directly from your Smart TV.
While this feature won't encrypt or redirect your data, it ensures your connection speeds remain unaffected. This is ideal for streaming content in HD without interruptions.
Alternatively, you can install the VPN directly on your router, securing your entire network and protecting all your devices.
This way, all your online activities are secured by PIA's reliable VPN service.
✅ Pros
Works with major streaming services
Excellent streaming speeds
Supports unlimited device connection
❌ Cons:
Live chat support isn't very responsive
Speeds may vary depending on the server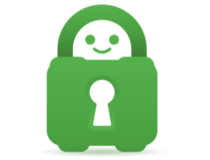 Private Internet Access
Access your favorite Turkish channels in the US with PIA VPN!
2. ExpressVPN — fast connection to Turkish TV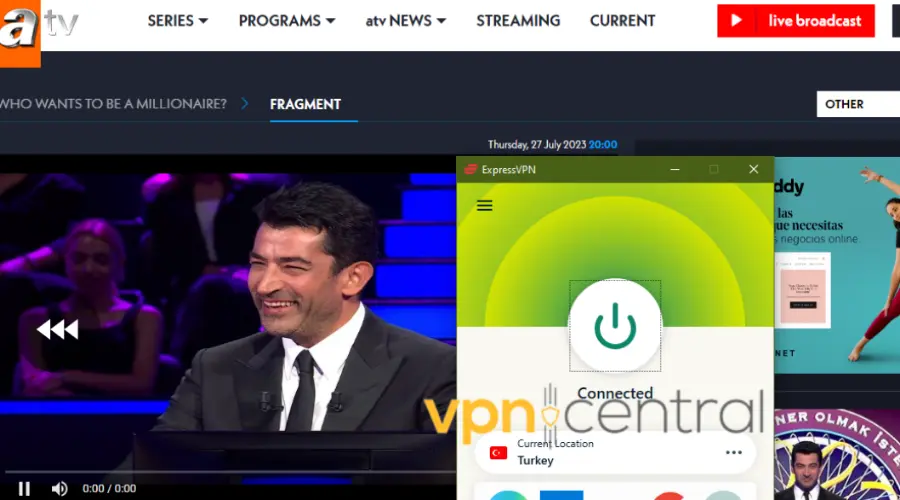 With several server options in Turkey, ExpressVPN offers blazing-fast and reliable connections for Turkish TV.
It has top-notch features like 256-bit encryption and advanced leak protection that ensures your connection is secure while streaming.
And it has a kill switch, which means if your connection drops, it automatically cuts off your internet to protect your information.
Also, ExpressVPN has a strict no-logs policy and a TrustedServer feature, which wipes server data after each session.
So your online activities are never recorded. Hence they cannot track or sell them.
One feature I also enjoy is its MediaStreamer. It enables you to extend VPN protection to devices that lack native support for VPN connections.
This includes smart TVs, gaming consoles, streaming media players, and other gadgets without VPN apps.
Moreover, it works seamlessly on popular devices such as Windows, Android, macOS, iOS, and Linux, ensuring compatibility across multiple platforms.
Plus, its reliable and secure protocols let you enjoy smooth playback without any interruptions.
✅ Pros:
Ultra-fast Turkish servers
Best leak protection on the market
Consistently fast and stable
HD streaming and unlimited bandwidth
Apps for all conceivable devices
❌ Cons:
More expensive than some competitors
Its servers occasionally get blacklisted due to its popularity
Only five device connections at a time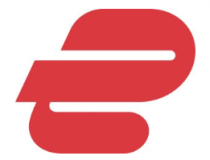 ExpressVPN
Stream Turkish TV with ExpressVPN. Unblock geo-restrictions and watch from the US!
3. CyberGhost — streaming-optimized servers for Turkish TV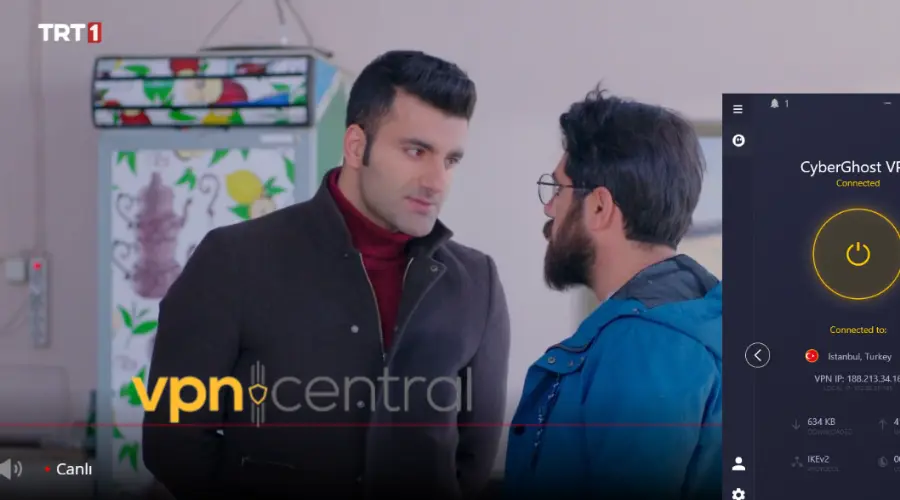 CyberGhost has a whooping 26 ultra-fast servers in Turkey, which gives you plenty of options to choose from. So no worries about picking a crowded one!
You'll also enjoy unlimited bandwidth, fast VPN protocols like WireGuard, and streaming-optimized servers that use 10 Gbps speeds in high-traffic locations.
That's great for uninterrupted streaming on your favorite Turkish channels like TRT or ATV.
Want more? CyberGhost protects your online activity with its powerful 256-bit AES encryption. This ensures your sensitive data is safe from prying eyes and cybercriminals.
Also, its Kill Switch blocks all traffic if you get disconnected from the VPN until you can reconnect safely.
This way, your actual location is not revealed to the TV channel.
Additionally, with just one subscription, you can connect up to 7 devices simultaneously.
So, you can enjoy CyberGhost's user-friendly VPN apps on all your devices, including Windows, macOS, Linux, Android, iOS, Android TV, and Amazon Fire TV Stick.
And if you ever need assistance, its friendly 24/7 Customer Support team is available via live chat or email to provide guided walkthroughs and help you.
In short, CyberGhost has all you need to unblock and stream interesting Turkish channels of your choice.
✅ Pros:
Fast and reliable
User-friendly interface
Supports up to 7 devices
45-day money-back guarantee
24/7 live chat support
❌ Cons:
Some servers may be crowded
Not compatible with some routers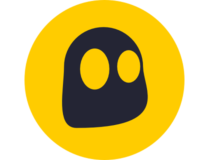 CyberGhost
Download CyberGhost VPN to unlock Turkish TV outside Turkey and enjoy your favorite programs in the US!
4. NordVPN — best security feature for Turkish TV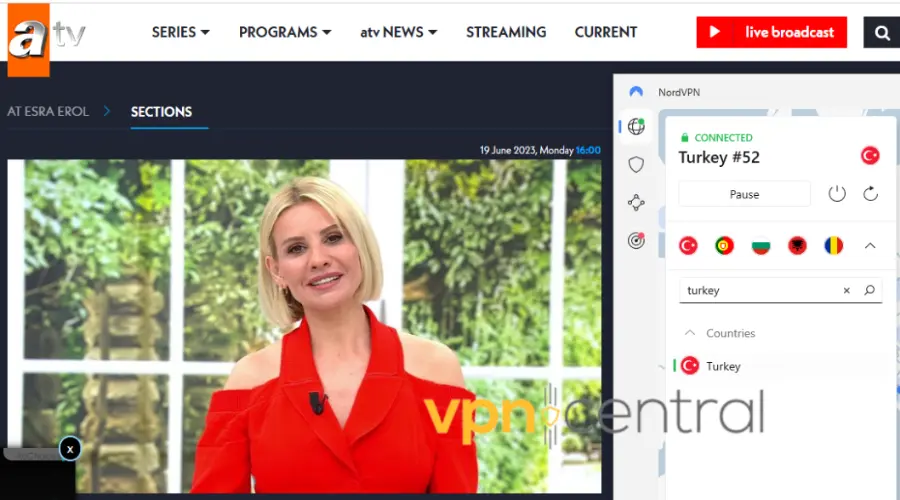 NordVPN has 14+ fast and secure servers in Turkey, so you can always find one that works best in the USA!
It has a Threat protection feature that blocks annoying ads and malware that you may encounter on some Turkish TV channels.
But that's not all. It also takes care of your privacy using military-grade AES-256 encryption to keep your personal information safe and hidden from anyone wanting to see it.
With my test, I assure you can feel confident using NordVPN on public WiFi. It hides your location so that no one can snoop on your activities.
So, whether you're streaming at the airport, a hotel, or a café, your browsing is always secure.
And if you want even more privacy, you can use the Double VPN feature, which adds an extra layer of protection.
And I found out it has an independently audited no-logs policy! This means NordVPN doesn't track where you go online.
So you don't have to worry about them sharing your info with third parties.
In addition, it ensures your online activities are fast, and you have no limits to how much you can watch in HD or 4K.
Also, it is easy to use on all your devices. Whether you have a Windows computer, Mac, Android phone, iPhone, or smart TV, NordVPN works with them.
And the icing on the cake is the 30-day money-back guarantee. You can try NordVPN risk-free and see how it works for you.
So, why wait? It's time to unblock channels like StarTV, Fox TV, and more with NordVPN!
✅ Pros:
Affordable monthly price
A high number of servers
Apps for Fire Stick and Android TV
❌ Cons:
Complicated when using router setup
Apps can sometimes be sluggish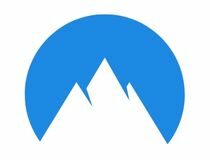 NordVPN
Enjoy Turkish TV overseas, even all the way in the US using NordVPN's reliable service!
5. Surfshark — best value for money on Turkish TV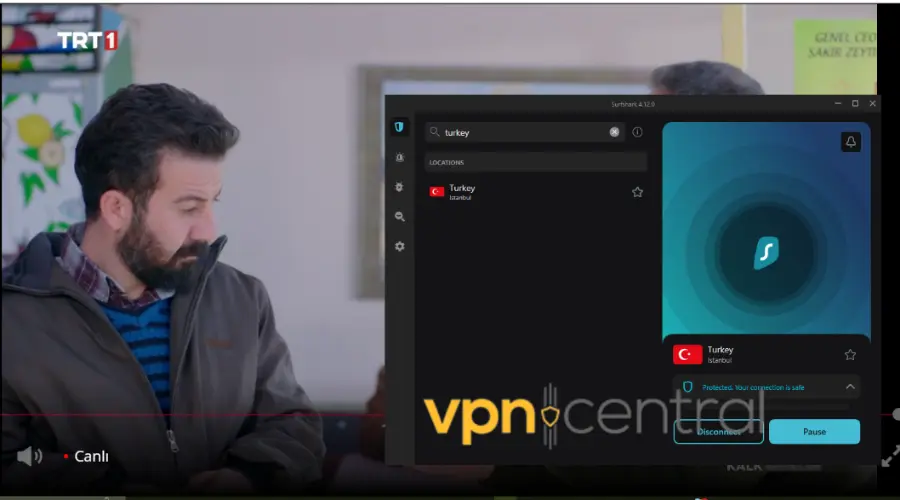 Surfshark offers several server options in Turkey at an affordable price of just $2.49 per month.
One of its standout features is its unlimited data and unrestricted bandwidth.
This means you can stream your favorite Turkish channels with ease, as there are no data restrictions or caps to hinder your viewing experience.
Plus, you can connect unlimited devices simultaneously.
These include its user-friendly app of Surfshark on various platforms, such as Windows, Mac, Android, iOS, and more!
Additionally, you can enjoy your favorite programs and film channels like the Turkish Film Channels in high-definition or even 4K quality without any interruptions.
To ensure top-notch online security and privacy, Surfshark uses advanced protocols such as OpenVPN, IKEv2/IPsec, and WireGuard, all powered by the robust AES-256-GCM algorithm.
This encryption method effectively secures your data from prying eyes, and remarkably, it doesn't compromise your connection speed.
Surfshark also offers a convenient kill switch feature that automatically cuts off your internet connection in case the VPN connection drops.
This guarantees that your data remains private and your identity stays protected.
To cap it all, you'll enjoy features like CleanWeb, which blocks annoying ads, trackers, and malware to provide a clean and uninterrupted streaming experience!
✅ Pros:
Connect unlimited devices
Excellent streaming speeds
Extra features like virus protection
❌ Cons:
Inconsistent P2P performance
Fewer servers than some competitors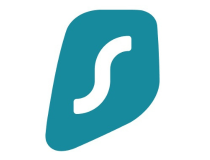 Surfshark
Stream Turkish channels in the US hassle-free by connecting to Surfshark VPN!
Which Turkish channels can I watch online?
There are many Turkish channels that you can watch online with a VPN, depending on your preferences and interests.
Here are some of the most popular ones:
1. TRT (Turkish Radio and Television Corporation)
TRT is the national public broadcaster of Turkey. It has several channels that offer news, entertainment, sports, culture, education, music, and more.
Some of the TRT TV channels are:
TRT World: A 24-hour English-language news and current affairs channel that focuses on Turkey, Europe, Africa, and Western and Southern Asia.
TRT Drama English: A YouTube channel that showcases Turkish drama series with English subtitles, such as Diriliş: Ertuğrul, Payitaht: Abdülhamid, Filinta, Yunus Emre, and many more.
TRT 1: The flagship channel of TRT that broadcasts general entertainment, news, sports, drama, comedy, and music programs in Turkish.
TRT 2: A culture and arts channel that broadcasts documentaries, movies, theater, opera, ballet, and classical music programs in Turkish.
TRT 3: A sports and youth channel that broadcasts live sports events, sports news, youth programs, and educational programs in Turkish.
TRT 4: An educational channel that broadcasts programs for primary and secondary school students, as well as adult education programs in Turkish.
TRT Cocuk: A children's channel that broadcasts cartoons, animations, educational programs, and games in Turkish.
ATV is one of the most popular private TV channels in Turkey, with various programs that include dramas, comedies, reality shows, talk shows, documentaries, and more.
Some of its most popular shows include To Betray, firebirds, I will not give you to Hands, and more.
Kanal D is another popular private TV channel in Turkey, with a range of programs that include dramas, comedies, news, sports, documentaries, and more.
Some of the most popular shows on Kanal D include what if you love too much, Tropic, three sisters, and more.
Star TV is another popular private TV channel in Turkey, with a variety of programs that include dramas, comedies, news, sports, documentaries, and more.
You can watch popular shows on Star TV, including A hundred years of Miracle, Omer, Trashman, and more.
Fox TV is another popular private TV channel in Turkey, with a range of programs that include dramas, comedies, news, sports, documentaries, and more.
Some of the most popular shows on Fox TV include Crime Scene Kitchen, Beat Shazam, Stars on Mars, and more.
Is it legal to watch Turkish TV channels in the USA with a VPN?
It is legal to watch Turkish TV in the USA with a VPN as long as you don't infringe on any copyrights or other laws.
A VPN helps you protect your privacy and access geo-restricted content online.
However, you should be aware that using a VPN to watch Turkish TV in the USA may violate the terms of service or copyright laws of some of the channels.
Therefore, I would advise you to check the terms and conditions of the Turkish TV channels you want to watch before using a VPN to access them.
I'll also recommend you use a reputable VPN service that has a strict no-logs policy and does not share your personal information with third parties.
Summary
Watching Turkish TV in US is no big deal once you know how to unlock it. With the right VPN service, you'll get unrestricted access and great streaming quality, as if you were in Turkey.
Overall, always remember to choose a trustworthy VPN provider from the list— just to ensure a smooth and secure streaming experience.
So, enjoy watching your favorite Turkish TV channels in the USA!
---