It is not hard to like Bitport once you've tasted what it can offer you.
But what exactly is it?
Bitport is the next-generation torrent client providing fast and secure torrenting.
You can use it to download torrent files like you would with a regular torrent client, but that is where the similarity ends. Bitport.io does the same but it does it better and safer.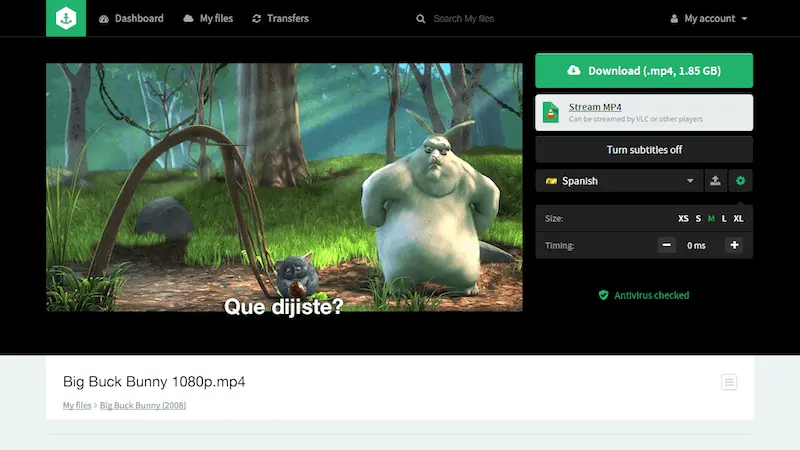 The whole system is built on a cloud server technology which cuts you from the p2p file-sharing network by doing everything for you.
This means your IP address is not connected to other peers and there is no torrent traffic going to or from your device.
Top five reasons why to use Bitport
✏️ Pro Tip: To further enhance your online safety and improve your connection, we recommend using a P2P VPN whenever you decide to use BitPort.io. Our top choice for that is NordVPN.
There are many reasons why this platform is hands down one of the best.
However, based on what we know most torrent users want, here are the top 5 reasons to consider it:
Do you want to be anonymous while you torrent?
Are you unable to torrent due to a local network restriction?
Do you want to torrent on iOS and Android? Or on any other device?
Do you hate being bored on your daily commute? Do you travel a lot?
Do you want an easy-to-navigate torrenting platform?
Now let's review everything Bitport.io has to offer and how to use it.
Bitport torrents for you on its server
That is the most important aspect of the whole service.
This means your IP address is in no way connected to the rest of the torrent network. Is there a p2p block on your local network?
No problem. Bitport with its cloud will sort it out for you.
Once a torrent is downloaded for you by Bitport, the platform transfers the downloaded file to your personal Bitport cloud.
This is the place where you can manage, download or stream your content. Your cloud is private, for your use only, and accessible from any device.
But this is not where it ends.
You are now cut from the torrent network but there is more Bitport can do for you.
Bitport offers SSL encryption for its premium users, which protects any content downloading to your PC from being seen by anyone except you.
The small cherry on top is the anti-virus check of all files.
There are a lot of viruses, ransomware, and bad stuff, in general, flying around on the internet nowadays. Making sure nothing damaging is downloaded to your device potentially saves you a lot of trouble.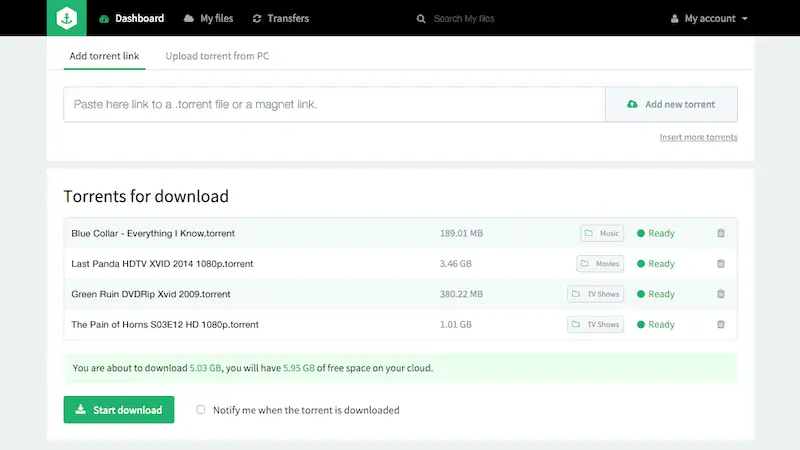 Starting with Bitport
Good news. It's easy. You do not need to install anything.
All you need to do is go to Bitport.io sign-up page and, drumroll, sign up with your email address or Facebook.
You can either choose to register as a free user or select one of the premium plans.
The Free plan has limited functionality and will require you to validate your email address. Premium users can proceed with their plan selection and payment.
Bitport.io offers a 30 days money-back guarantee so you do not need to worry about trying out the service.
And that's it. Once you've registered, you can access your account from any device with a web browser.
Pricing and plans
Bitport.io offers either the Free trial plan, which has very limited use, or a number of premium options. You can have a look at the available plans here.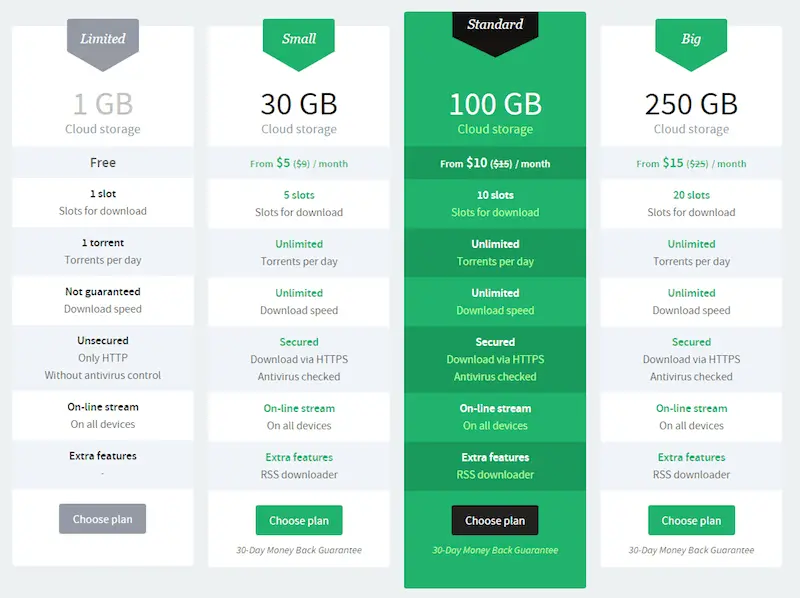 The biggest difference between premium plans is in the size of the available cloud.
The plan you select depends on your personal preferences and the amount of data you are working with.
Having a big cloud is especially useful when you are running your torrent operation from a mobile device.
When it comes to payment, Bitport.io offers you a plethora of options.
Either directly through their payment gateway using FastSpring or by selecting your plan from one of the official resellers.
There is also something else worth mentioning. If you do not like Bitport.io, they will give you your money back within a few months.
Downloading and speed
Downloading should be fast and reliable and Bitport has you covered there.
But before we go into details, something needs to be explained. Downloading has two meanings in the case of Bitport.
In the first case, downloading refers to the process of your torrent being downloaded (seeded and leeched) by Bitport.
This process is affected by the standard p2p network rules. If you have an active torrent file with a lot of seeds, you will see your torrent file fly.
There is no problem downloading a 4 GB torrent within a minute. Just make sure the seeds are there.
The second case refers to downloading from your personal cloud to your device.
There is one main limiting factor here and that is the maximum connection speed your ISP provides.
Because Bitport does not want to left anything to a chance, they have a worldwide network of servers available.
This way, they can offer you unlimited download speeds no matter where you are.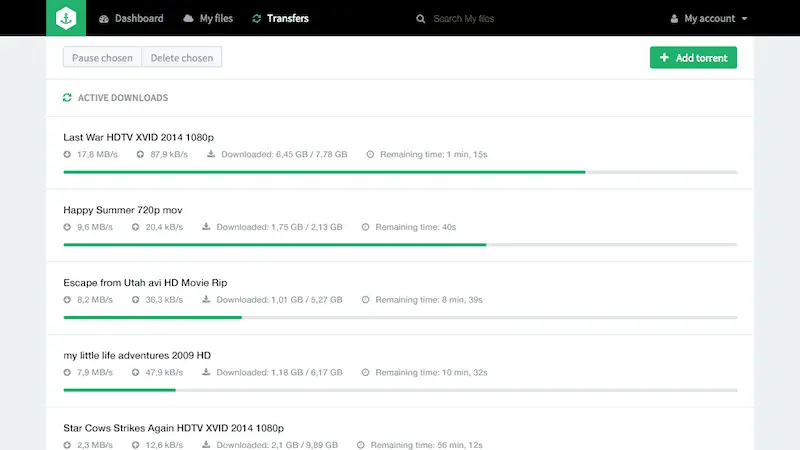 Streaming
Did you know you can stream video and audio files from Bitport without the need to download them?
This is useful if you do not want to wait for the download to finish, or if you are using an iOS device.
You could say Apple hates any third-party content so downloading to your device may be difficult, if not impossible.
Streaming will completely bypass any obstacles. Just enjoy the content you want.
Bitport lets you stream video in HD, 4K, and even finds subtitles for you. Just make sure your internet can cope!
Integrations
Don't worry, we are not talking math here. Integrations are referring to the number of third-party services you can connect to with Bitport such as VLC player, Infuse, Kodi, Apple TV, or Chromecast.
Some of this connectivity is possible thanks to the Bitport FTP server.
It is worth having a look at all the guides and tips Bitport provides for you on the Integrations, plugins, and tips page.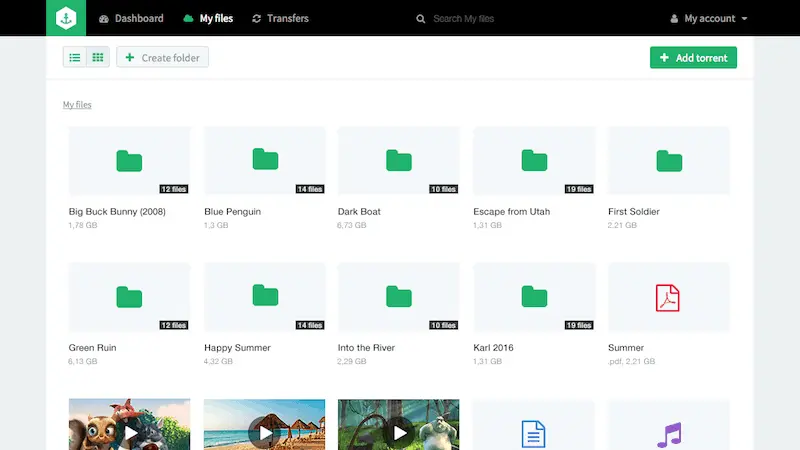 Customer support
To make sure your user experience is the best, Bitport offers you reliable customer service.
It guarantees you a response within 2 days but it usually takes much less. If there is any question or issue you'd like to discuss, its team is there for you.
To contact Bitport Tech-support with any questions, you can reach them via [email protected] or use their contact form.
Bitport.io is safe and easy to use
Oh, there is also an RSS reader. You know what.
Btport.io is an easy-to-use, smart, and reliable solution for your torrenting needs with an easy-to-navigate interface.
There are still a lot of details to cover but really the best thing you can do right now is to register and try Bitport for yourself.