The little key symbol at the top of your phone's screen means you're connected to a VPN server.
If you're confused because your phone says you're connected to VPN even though you didn't manually open the app, then it's probably set to auto-connect.
Apparently, this can happen both on third-party VPN apps and built-in VPNs, especially on iPhones.
Now, there's no need to worry because VPNs are online privacy and security tools.
That said, we'll help you figure out why it's enabled when you don't want it to be and how to access VPN settings to pick the best preferences for your needs.
Why does my phone say VPN?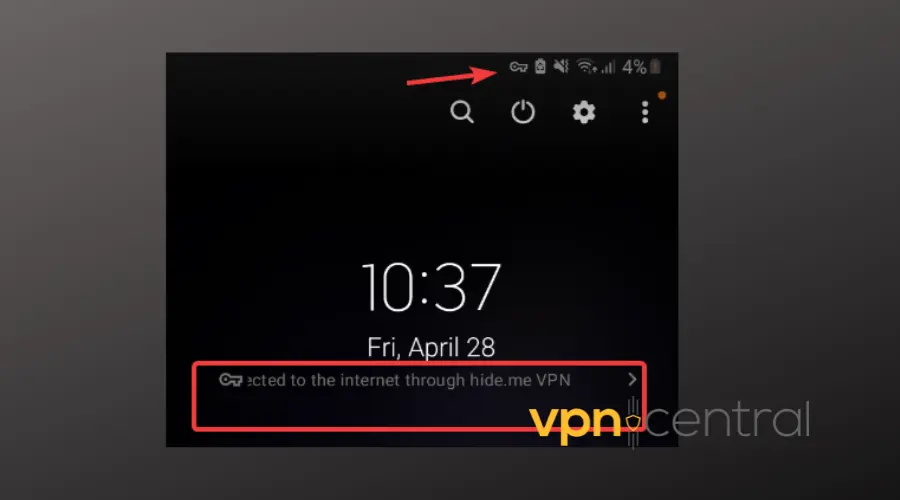 Your phone says VPN or display the little key icon at the top of your screen to signal there's an active VPN connection on your device.
This message will show both third-party VPN apps and your phone's built-in VPN.
As mentioned, it can occasionally show up even if you didn't manually enable the VPN. Most likely, you accidentally set it up to connect automatically.
Regardless, we'll explain what a VPN does on your phone so you can decide if you need it or not.
What does VPN do on my phone?
When you connect to the internet, the VPN replaces your IP with one belonging to its servers, creating an encrypted tunnel between your phone and the internet.
→ With the newly assigned address, it becomes harder for websites, advertisers, or hackers to track your online activities or your actual location.
→ Additionally, all the information you receive through the internet is secured by VPN encryption.
Meaning that all the data you send and receive, including passwords and personal data, go through an encrypted tunnel that scrambles the information. It then becomes unreadable without a key.
That said, it cannot protect data send over SMS or during phone calls, nor it can hide location that uses other systems besides the internet, such as GPS.
→ Bypassing geo-restrictions is another benefit of having a VPN on your phone. Changing your IP address to one from a different location will give you access to sites and apps from many places around the world.
Sounds good? Then let's see how you can enable/disable VPN so you can use it whenever you want.
How to turn my VPN on or off on mobile?
You can turn your VPN on or off on your mobile anytime you want to. Simply follow the steps below to turn your VPN on or off on Android and iOS.
How to turn VPN on or off on Android
Open the Settings app on your Android phone.

Select VPN or VPN & networks to access the VPN settings.

If you have a VPN app installed on your device, you will see a list of installed VPN apps or a toggle switch to enable or disable the VPN. Simply toggle the switch to turn the VPN on or off.

Enter the necessary information, such as the VPN server address, VPN type, etc.
To turn the VPN off, simply un-toggle the button next to VPN in your settings.
How to turn VPN on or off on iPhone?
Open the Settings app on your iPhone.
Scroll down and select VPN to access the VPN settings.
From here you can either turn on your existing VPN app or set up your VPN connection.
To disconnect, it un-toggle the button next to Status.
Most times it's a good idea to use a VPN on your phone, but it's best you know how to turn it off and on. If you're on a limited data plan, you can turn it off and only use it as needed because it tends to use up some data.
Summary
Having a VPN on your phone has various benefits. For one, it protects your privacy, even on public WiFi, in a much better way than a mobile hotspot can.
It also helps bypass geo-restrictions and prevent online tracking.
So if your phone says VPN it simply means that you have an active VPN connection running. This should not bother you much and you can turn it off if you want.
We hope this guide helps you understand why your phone notifications say VPN, the benefits of using such a tool, and how to easily enable/disable it as needed.
---