OpenAI's ChatGPT, a chatbot that is capable of churning out incredibly accurate and human-like responses to almost every question you can throw at it has taken everyone by surprise recently.
Some countries are restricted from the platform, but a VPN can help you bypass the restriction.
Plus, connecting via a VPN-encrypted tunnel is better for overall privacy, especially since ChatGPT claims to collect (some) user data.
Find below the best VPNs for ChatGPT and how to use them.
🥇ExpressVPN
Leading VPN service with servers in 94 countries, with multiple connection protocols, including OpenVPN which is ideal for securely unlocking ChatGPT from unavailable countries
🥈
NordVPN
5000+ servers, including obfuscated specialty ones that are able to bypass VPN blocks and strict Internet censorship in countries where ChatGPT is not available
🥉
Surfshark
Affordable VPN with RAM-only servers in 100 countries, multi-hop feature to get past any blocks, and modern protocols for a speedy connection
The chatbot was noted to have interacted with more than 1 million users in the space of just 5 days. But there is a downside. The chatbot is not available everywhere.
Where is ChatGPT available?
OpenAI, the parent company of the AI chatbot tries to serve as many countries as possible and it's available in 157 countries including the US, Canada, Australia, and the UK.
Sadly, ChatGPT's country restriction affects Russia, Ukraine, Afghanistan, China, Egypt, Yemen, and a few others.
Users from these mentioned countries get an error message telling them that OpenAI's services are not available in their country.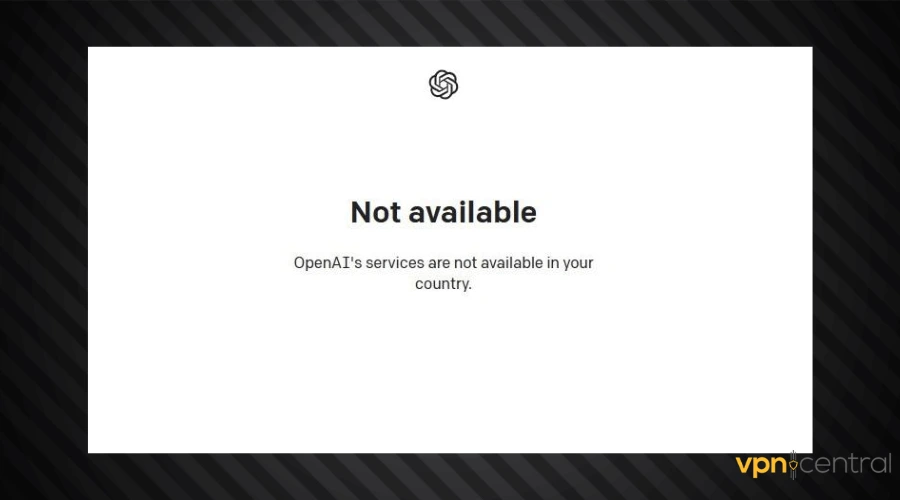 But VPNs exist for this very reason: to break through geo-restrictions so that people can access tools and platforms not available in their region.
Best VPN services for ChatGPT
A VPN acts like a virtual internet passport that allows you to instantly enter different locations and enjoy services exclusively available in those locations.
To use ChatGPT without restrictions in any part of the world, you need a strong VPN with an expansive network of servers and the best unblocking protocols for reliable connections
Therefore, here are the best VPNs for ChatGPT to bypass geo-blocks and keep your data secure:
1. ExpressVPN – Overall best VPN for ChatGPT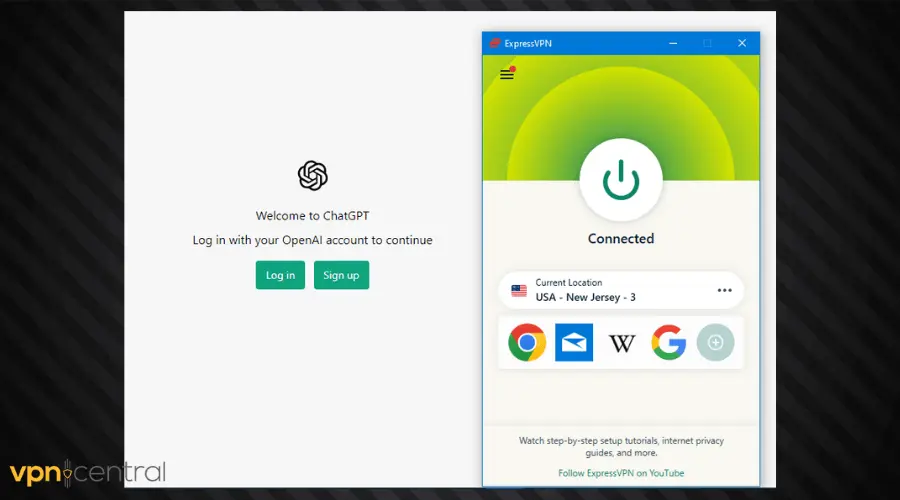 ExpressVPN is an impressive and powerful service that works great with ChatGPT. In fact, it's arguably one of the best VPNs on the market, and rightly so.
The VPN service has 3000+ high-speed servers in 94 countries, including Europe, the Americas, Asia, and Africa.
It may not have specialty servers like NordVPN, but it has more connection protocols for added flexibility when browsing online.
These protocols include OpenVPN UDP/TCP (which is great to access websites from restricted countries), IKEv2, and Lightway UDP/TCP (speed-focused proprietary protocol).
All of these make ExpressVPN work seamlessly for ChatGPT and you will have an easy time navigating its user-friendly app interface.
At a glance, here's what you get with ExpressVPN:
3000+ servers in 94 countries
More connection protocols
Private DNS on all servers
Internet kill switch
Trusted Server technology
Inbuilt password manager
Strict no-logs policy
Available on Windows, Mac, iOS, Android, Linux, etc.
Supports 5 devices on one subscription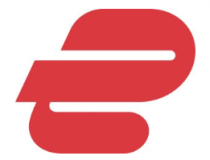 ExpressVPN
Use ExpressVPN to access ChatGPT from anywhere and witness the magic of AI!
2. NordVPN – Powerful unblocking capabilities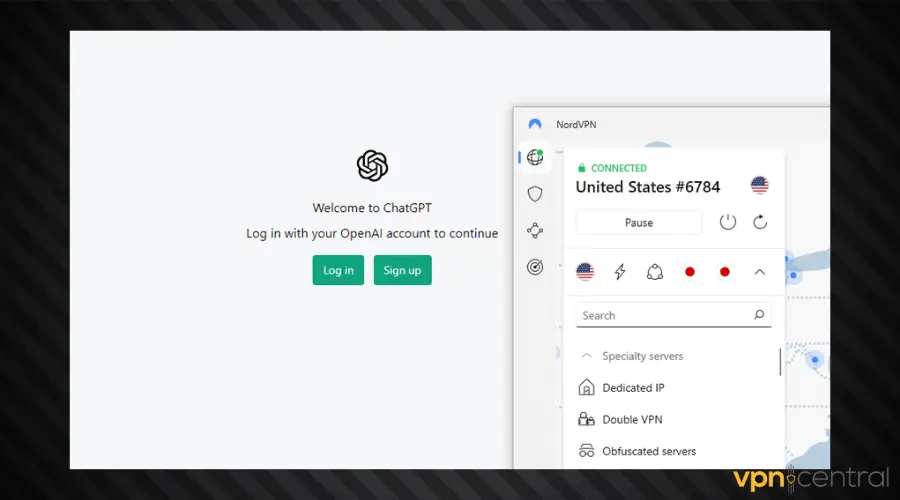 NordVPN has one of the most user-friendly interfaces of all VPNs, but it also packs a lot of privacy and security features to give users the best experience online.
In terms of its server network, it currently has 5,483 servers in 59 countries, giving users a lot of locations to choose from.
The VPN's NordLynx connection protocol is also efficient at bypassing even the most powerful region locks and online censorship.
Furthermore, its specialty servers provide users with the easiest options to safely and efficiently download files, stream videos, and play games online.
For example, obfuscated servers help to disguise the VPN connection as a normal connection to fool websites that identify and attempt to block VPN users.
But that's not all, it also protects your data with AES 256-bit encryption and has a strict no-log policy to ensure maximum privacy for users.
In summary, here's what you get with NordVPN:
5,483 servers in 59 countries
Powerful NordLynx connection protocol
Available on Windows, MAC, Android, iOS, Linux, etc.
Strict no-logs policy
Supports 6 devices on one subscription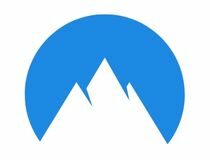 NordVPN
Get this privacy-focused VPN to gain unrestricted access to ChatGPT!
3. Surfshark VPN – Affordable and reliable option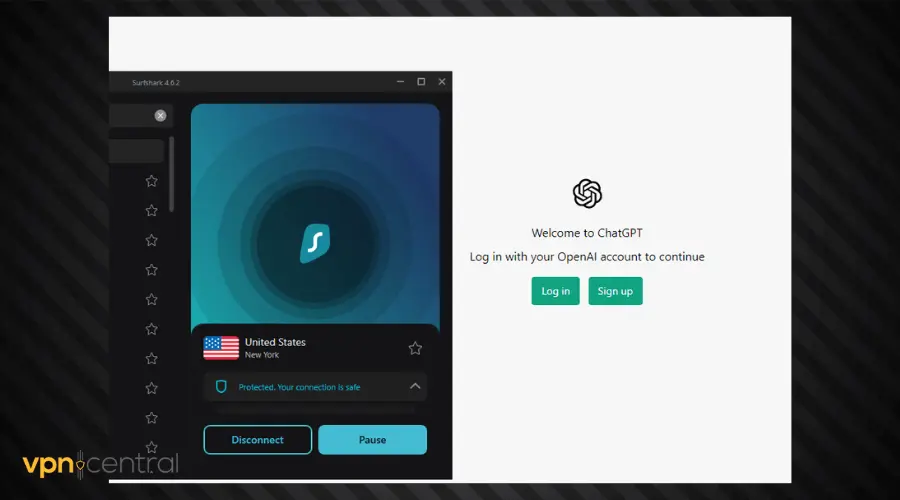 Surfshark is a popular VPN provider that is known for its affordable and reliable service. It works perfectly for ChatGPT and has a suite of impressive features to merit its inclusion on this list.
First of all, it has a wide network of 3200+ RAM-only servers in 100 countries. These servers are fast and reliable without tracking or logging users' activities.
Furthermore, the service has its own specialty multihop servers that allow you to connect to two servers at once, adding an extra layer of security to your connection.
In addition, it has military-grade AES 256-bit encryption, an IP rotator, and DNS leak protection, all of which make Surfshark a great privacy tool to use ChatGPT and other Internet services anonymously.
It's way more affordable than the other two VPNs, with very low one-month subscription rates. It also supports unlimited devices on one account. All of these make it one of the best VPNs for ChatGPT.
Summary of Surfshark's features:
3200+ servers in 100 countries
WireGuard, IKEv2, and OpenVPN protocols
No-logs policy
Inbuilt antivirus
Inbuilt ad-blocker
Supports unlimited devices on one subscription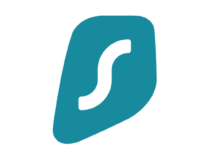 Surfshark
Connect to Surfshark to easily get past all restrictions on ChatGPT!
How to use a VPN with ChatGPT?
Now that you know the best VPN for ChatGPT, you might be wondering how to use a VPN with ChatGPT.
Well, here's how you can do it using ExpressVPN:
Choose your subscription from its official website.

Download and install the app on your PC.

Launch the app and search for your preferred location.

Connect to a server.

Open the ChatGPT website in your browser.

Log In or Sign Up.

Now you can interact with the tool and use it however you like.
Wrap up
Although it's blocked only in a few countries, using a VPN remains the best way to use ChatGPT. Besides bypassing blocks, it will add an extra layer of protection over your connection.
Therefore, you will find our recommendations useful in choosing the best VPN for ChatGPT so you can interact with the tool and achieve your goals for using the software.