Virtual Private Networks are great for online privacy and overall cybersecurity, but sometimes you may want to turn them off and use your local traffic instead.
You may have heard that VPNs are the craze when it comes to online privacy. They're really great tools that can keep your data safe and away from prying eyes.
However, if you're not exactly tech-savvy, the whole concept of anonymizing your online identity might sound a bit inconspicuous, maybe even shady.
Trust us, there's nothing wrong with having, or using such services, just as long as your government doesn't explicitly ban it.
Another common concern regarding VPN functionality is the inability to turn it off.
Just to set things clear from the start. VPNs are not permanent in any way. Some of them you even have to start manually, because they lack that run at startup option.
VPN providers aren't that crazy about you using the VPN 24/7 either, especially if you're running bandwidth-intensive processes such as torrent clients or download managers.
Can you turn a VPN on and off easily?
Most apps come with simple on/off controls. They are built to be accessible even to beginner users who have never used such tools before.
Reputable apps let you connect in just a few clicks by simply clicking a button in the main window of the user interface.
If you are not sure, you can easily check if you are on a VPN server by simply opening your Wi-Fi/connection options on your device.
Most devices display the name of the network, and if you are on a Virtual Private Network server, it should display the name of your client.
Most VPNs can be easily switched off
We say most because we can't guarantee that every single VPN has an on/off switch. Most do, but chances are that some of them won't work, especially if the VPN itself is a bit sketchy, or poorly designed.
Take a look at your client's main window and try to locate a large button. One that resembles a power switch, you know, with the I/O symbol and all.
That's your off switch, and pressing it while connected to a VPN will pull the plug on your secure tunnel. It's as easy as it gets. If you can't see that exact button, try to locate a similar one.
As an alternative, you could right-click the VPN client's icon in your system tray and select Exit or Quit. If anything else fails, fire up your Task Manager, locate the process, and force-quit it.
What happens when you turn off the VPN?
You will get back on your local ISP traffic. This means that all the web pages and online services you access will receive your IP information and possibly collect cookies related to your location.
Your Internet Service Provider will also get more information about your activity since your traffic is not encrypted anymore.
This can lead to bandwidth throttling which can slow down your speeds if you have an Internet data plan that restricts traffic after you exceed a certain amount.
Lastly, the biggest concern that arises when you disable your VPN is becoming vulnerable to data leaks and cyber-attacks. It's way easier for hackers to track you down. With a VPN, hackers won't be able to read your encrypted information.
Now, if you use a powerful antivirus and firewall and browse on a secure network while accessing reputable websites, the risk is not as high, but you are not fully protected.
Do you have to turn on the VPN every time?
For best online security, yes. It's advised to always browse with the VPN enabled. Online threats become harder to detect every day, but a Virtual Private Network connection ensures increased privacy and protects your data.
Even if you somehow get hacked and someone accesses your traffic data (which rarely happens with reputable clients), thanks to encryption, said data is unreadable.
Now, some may argue that you should disable VPN if you want a fast connection. Routing your traffic via more than one server can sometimes lead to slower Internet.
However, if you pick a suitable VPN with good servers for your location, you should be able to get just as good of a connection as you would on local traffic. In fact, a VPN can sometimes even improve Internet speed and remove latency issues.
How long can you stay connected to VPN?
Depends on your VPN client. Good clients offer unlimited bandwidth without restricting usage time or the number of servers used.
They have auto-connect features that automatically find you a new server in case your connection is, for some reason, lost.
Some services especially free options, do restrict data usage. Most have daily or monthly limits and disconnect you when they're used up.
How do I disable a VPN in Windows?
If you use a third-party VPN client with a Windows application, just open the app and turn off VPN. Most apps have power buttons in the main UI or an accessible disconnect feature.
How do I force a VPN to disconnect Windows 10?
If you have trouble disconnecting from the VPN app:
Open the Network Connections menu in Control Panel.
You should have a separate connection icon for your VPN. Click on it and select Disable.
Then, to get back online, click on your Ethernet/Wi-Fi connection and select Connect.
If you have OpenVPN and want to disable the auto-connect in startup, the simplest way is to reinstall the app. Select Custom installation, and under the OpenVPN GUI option uncheck the box for Launch on user log-in.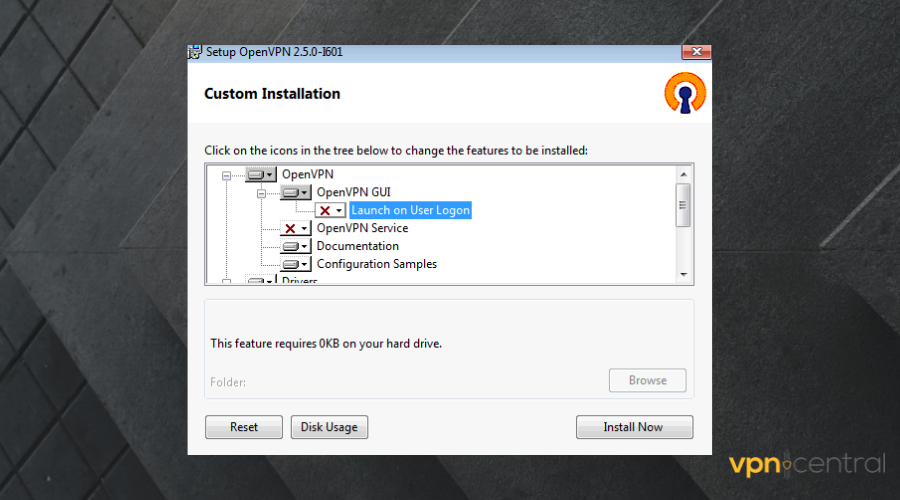 How to disable VPN on Windows 11?
To disable the Windows 11 built-in VPN:
Open the Settings app.
Go to the Network & Internet section.
Select VPN.
You will have your VPN connection(s) listed.
Simply click the Disconnect button and close the panel.
What if I can't turn off my VPN?
1. The VPN is compromised
Sometimes, you might pull the shortest straw and stumble upon a malware-ridden VPN. This can happen when you go deal-hunting and find the perfect offer. You know, the one that sounds too good to be true.
So you're stuck here with a no-name service that's actually malware and doesn't allow you to turn it off.
In this case, you might want to run an antivirus/antimalware program on your PC and see if anything changes.
2. You're using Windows' built-in VPN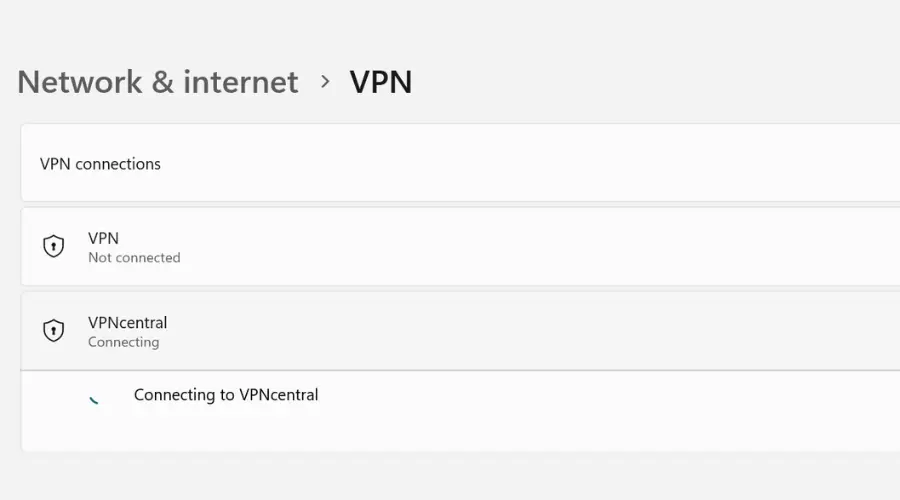 Some users prefer creating and configuring their VPN connections manually, using Windows' built-in VPN feature. If that's the case, you won't have any clients to be angry at.
Click the connection icon in your system tray and try to locate the Virtual Private Network connection. It should look like the picture above but with a Disconnect button instead of a Connect one. Click it and you're done.
3. There's a killswitch enabled somewhere
Many good VPNs, such as PIA, have a killswitch that automatically turns off your Internet if the VPN connection fails. This is meant to protect you from any data leaks and isn't malicious in any way.
However, if you forget to disable the killswitch, turning your VPN off might render you unable to access the Internet. In this case, launch the app and take a look at its settings. If you notice a killswitch, flip it off, and try turning it off again.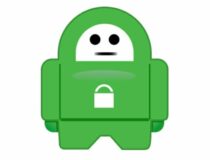 Private Internet Access
Enable/disable VPN at the press of a button and get access to thousands of servers with unlimited bandwidth!
VPNs can be turned off pretty easily
All things considered, it shouldn't be too hard to turn your VPN off. Except for some special situations, where there's malware involved or a killswitch mishandling, it should be quite straightforward.
Even if you're using Windows' built-in VPN client, you can easily turn it off from the Connection menu. You just need to select the connection and press the Disconnect button.