Can you really use a VPN to avoid a ban? Over the years, VPNs have proven to be a worthy arsenal in bypassing geo-restrictions and keeping sensitive data safe and private.
However, with various websites frowning upon users going into stealth mode, people worry if a VPN is still effective for making it around bans. Well, yes. It's still a force to rely on.
But, there are certain bans a VPN can't save you from. After reading this article, you'll know how a VPN deals with circumventing online blocks.
What is a ban?
A ban is an official prohibition of something, such as an activity, an item, or a person. Governments, organizations, or individuals with the right authority are the ones that impose a ban.
In an online context, a ban is a temporary or permanent prohibition of a user from accessing a particular online service or platform to prevent or discourage certain behaviors or to protect people from harm.
Common reasons for being banned from an online service include:
Spamming or sending unsolicited messages.
Harassment or bullying.
Posting illegal or offensive content.
Cheating or hacking.
Violating the platform's terms of service or community guidelines.
Ban types
Websites, social media apps, and all kinds of online platforms implement different kinds of bans.
Below are the most popular ones you may come in contact with once in a while:
IP Ban
An IP ban is a restriction imposed on a specific IP address or a range of IP addresses to prevent them from accessing a particular network, website, or online service.
It's a measure used by website and app owners to enforce rules, maintain security, or deter unwanted or malicious activities.
When a user connects to the internet, their device is assigned an IP address – a unique numerical identifier that distinguishes it from other devices. An IP ban targets this address to deny access.
Here's an example to illustrate how an IP ban works:
Let's say there's an online forum where users can interact and share information.
However, the forum administrators notice that a particular user is repeatedly engaging in disruptive behavior such as posting spam, harassing others, or violating the forum rules.
The admins would obtain the user's IP from the forum's server logs, which record IP addresses along with each user's activity and block it.
After implementing the IP ban, whenever the person tries to access the forum using their device, the server recognizes their IP address and restricts their access.
As a result, the user is unable to access the forum, create new accounts, or participate in any forum activities while using that specific IP address.
Account ban
An account ban refers to the action a platform, service, or website takes to restrict or revoke a user's access and privileges to their account.
It's a disciplinary measure moderators impose in response to a violation of the platform's terms of service, and community guidelines.
When an account is banned, the user is typically denied access to their account and all associated features, such as posting content, messaging other users, or participating in community activities.
The ban can be temporary, meaning the user is barred from using their account for a specific period, or permanent, which permanently disables the account and prevents any future access.
Various online platforms, including social media networks, gaming platforms, forums, marketplaces, and other web-based services often employ this kind of ban.
Chat/messaging ban
When a user is subjected to a chat/messaging ban, the app administrators actively implement measures to temporarily or permanently restrict the user's communication.
This restriction can vary in duration and severity based on the rules and policies established by the platform.
During the ban period, the user is actively barred from initiating conversations, as well as from sending messages to other users.
One common social media app that uses this kind of ban is Facebook. It's likely to block defaulters from commenting or reacting to a post.
Content-related ban
A content-related ban involves the removal or restriction of specific content posted by a user on the internet or other platforms.
Subsequently, the banned content may be deleted, or hidden from public view, or the user may be prohibited from posting similar content in the future.
This ban is usually put in place because the content is considered inappropriate, harmful, or against the rules set by the platform or the law.
Furthermore, the reasons for content-related bans can vary widely, such as to prevent the spread of misinformation, protect people from harmful content, or maintain community standards.
Shadow ban
A shadow ban is a more subtle type of ban where a user's content or actions are hidden from the wider community, without the user being explicitly notified.
Social media apps mostly use this type of ban to combat spam or disruptive behavior. Shadow-banned users may continue to use the platform, but their visibility and reach would significantly reduce.
Geographical restrictions
Geographical restrictions refer to limitations placed on certain activities based on specific locations or regions. Especially to honor licensing agreements and copyright laws.
These restrictions are typically used to regulate or control the movement of people, goods, services, or information within certain geographic areas.
For example, let's say you want to watch a TV show online, but when you try to access it, you receive a message saying, "This content is not available in your region."
This means that the TV show has geographical restrictions, and it can only be viewed by people in specific countries.
Can you use a VPN to avoid a ban?
Yes. You can use a VPN to avoid a ban online especially if it's related to your IP address. When you connect to a VPN, it replaces your IP with a different one.
Since this new address will carry new information and location, you can pose as a different person online and the website or app will see it that way too.
In addition to that, the VPN will encrypt your traffic, hence, preventing third parties from intercepting your data and revealing your true identity.
On the other hand, if it's your active VPN IP that is banned, then you won't be able to avoid this block.
Similarly, assuming the platform has blocked your VPN provider and its entire IP pool, then using that particular VPN to cut through the ban may be futile.
Also, a VPN can't help you in the case of an account ban unless you create a new account with new details. Furthermore, some websites employ special techniques to detect and block VPNs.
Lastly, internet service providers and websites in some countries with zero VPN tolerance consistently seek out and block ports and IP addresses of popular VPNs.
Best VPNs for avoiding bans
To bypass an IP ban, you need the best VPNs in the industry, especially ones with obfuscated servers for optimum results.
Obfuscated servers conceal your original IP address and make it appear as if you are using a normal internet connection. Particularly useful for eluding websites' VPN detection methods.
Below are our top-ranking VPNs for avoiding bans:
1. NordVPN – obfuscated servers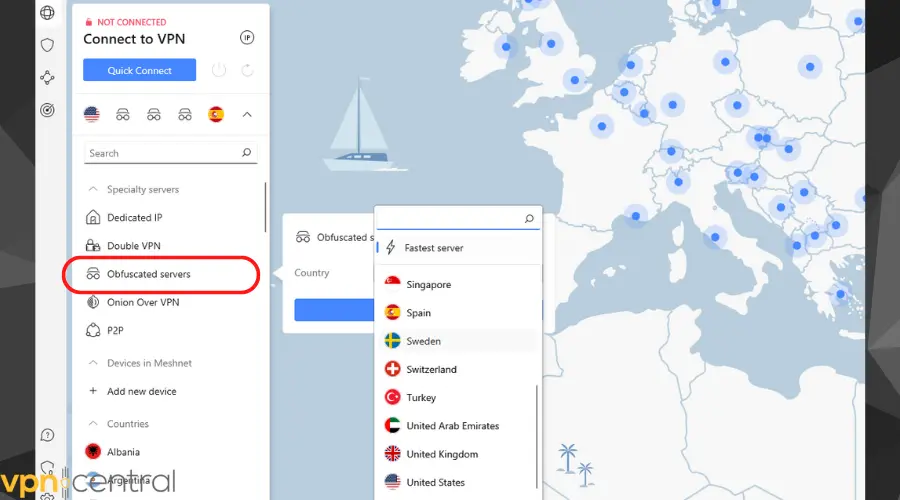 Firstly, the inclusion of obfuscated servers in NordVPN allows users to conceal their VPN traffic, making it indistinguishable from regular internet traffic.
This feature ensures that even in heavily restricted regions or networks, users can bypass bans without detection.
Additionally, the automatic kill switch feature further enhances NordVPN's effectiveness in avoiding bans.
In the event of an unexpected VPN connection drop, the kill switch instantly terminates your internet connection, preventing any data leakage and protecting your online anonymity.
Split tunneling is another valuable feature that enables you to selectively route your internet traffic through the VPN.
By doing so, users can access banned websites or services while still enjoying a regular internet connection for other activities.
Lastly, NordVPN's extensive network of over 5,000 servers in 60 countries is another vital aspect contributing to its ban-avoidance capabilities.
Pros:
Obfuscated servers
Strict no-log policy
30-day money-back guarantee
OpenVPN and WireGuard protocol
Double VPN
Cons: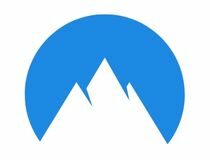 NordVPN
Benefit from advanced privacy and security features with this highly-reputable VPN.
2. Surfshark – NoBorders mode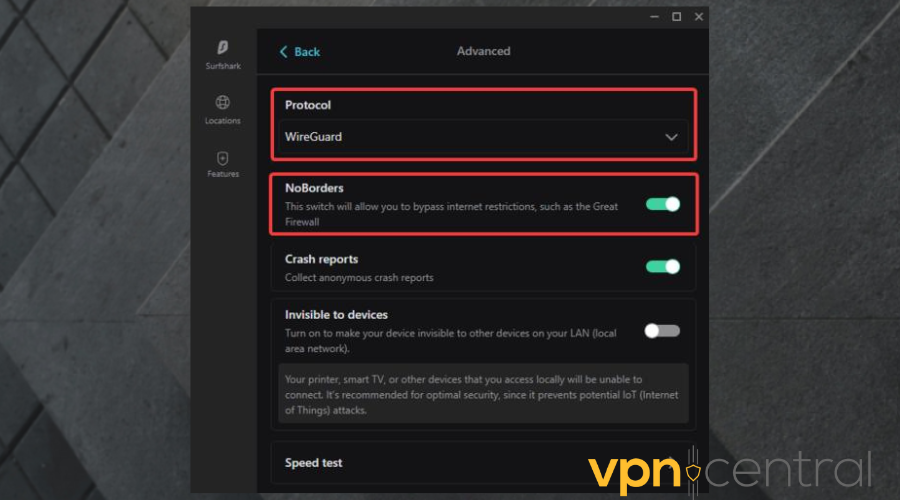 Surfshark is undeniably one of the best VPNs for avoiding bans as it employs AES-256 encryption, an industry-leading standard that guarantees the utmost security for your online activities.
This VPN uses an automatic kill switch to immediately sever your internet traffic if the VPN connection drops. Hence, stopping your information from leaking.
Moreover, the DNS protection feature on Surfshark further locks in your information.
Surfshark also offers split tunneling, which allows you to select which applications or websites you want to route through the VPN. Then, the rest of your traffic can connect to the web normally.
Additionally, Surfshark's NoBorders mode helps you circumvent censorship by disguising VPN traffic as regular HTTPS traffic. Therefore, you can go in and out of a restricted website at will.
Surfshark's integration of the WireGuard protocol is another noteworthy feature. This tunnel type is renowned for its speed and security, offering a reliable and efficient VPN connection.
With over 3000 servers spread across more than 100 countries, Surfshark ensures a wide network coverage. This grants you numerous options to connect to different regions and evade bans effectively.
Pros:
Unlimited bandwidth
Private DNS
Camouflage mode
24/7 expert support
Strict no-log policy
Cons: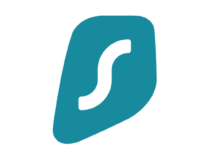 Surfshark
Circumvent censorship and easily bypass geo-restrictions with Surfshark.
3. ExpressVPN – AES-256 military encryption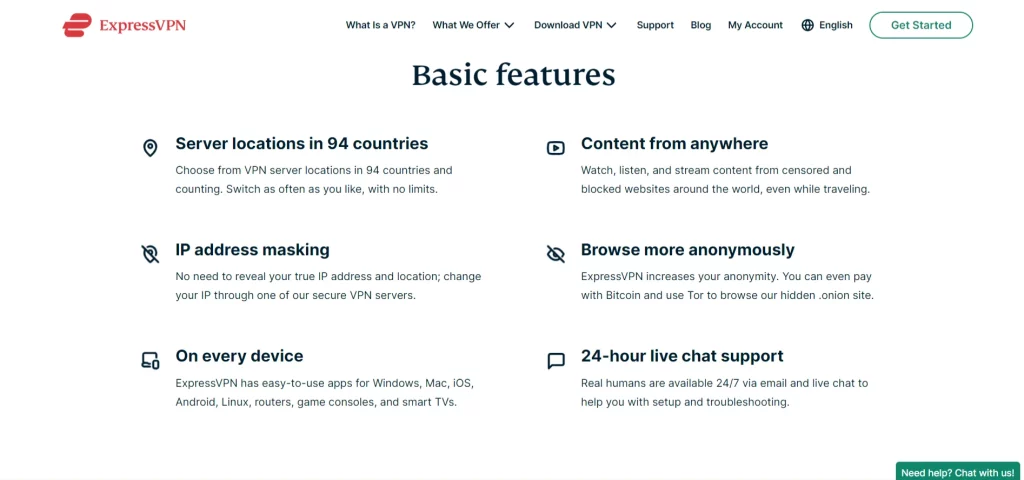 ExpressVPN is another top-notch VPN provider praised for its security features and ability to bypass geo-restrictions.
Firstly, ExpressVPN servers are fully obfuscated thereby allowing you to stay anonymous online. This gives you an edge over your ISPs as they'll hardly locate your presence online.
In addition, this VPN boasts 3000+ servers in 94 countries. Therefore, no matter where you find yourself, there'll be a server close by to serve your needs.
Moreover, it has a reputation for being one of the fastest in the industry. Whether you wish to stream a movie or download files, ExpressVPN is sure to be at your service.
When it comes to users' data and security, ExpressVPN takes it seriously and this is evident with features like full DNS protection and the AES-256 encryption.
Apart from maintaining a zero logs policy, this VPN ensures to store users' data on RAM instead of physical storage. This means that no one can walk into its offices and find information on anyone.
Pros:
No log policy
DNS protection
Split tunneling
Up to fix simultaneous connection
Cons: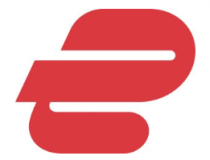 ExpressVPN
Enjoy a powerful combination of speed and security with this high-performing VPN.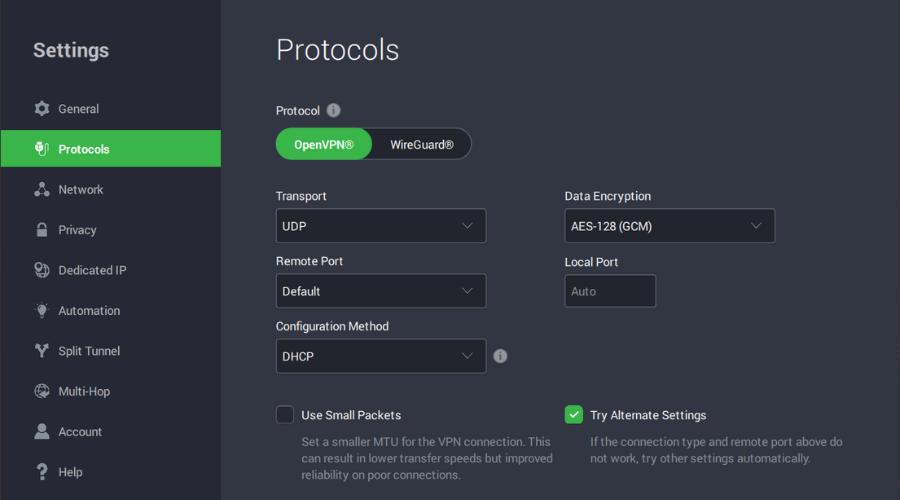 So far, no VPN is yet to beat PIA when it comes to network size as this VPN pulls over 35,000 super-fast servers spread across 84 countries.
Just the right recipe for anyone who wants to bypass geo-restrictions from anywhere in the world. If your country doesn't support a particular website or service, you'll always find a region that does.
Also, to circumvent regional blocks in countries with strict VPN laws like Iran and China, PIA employs the Shadowsocks obfuscation. This allows you to get around even the toughest firewalls unnoticed.
Additionally, this VPN maintains a zero logs policy which assures users that their data is safe. To further confirm this, PIA releases transparency reports every six months.
Furthermore, PIA uses AES-256-bit encryption to scramble your traffic and keep you away from the eyes of the government and ISPs. This gives you the opportunity to easily bypass bans.
Lastly, PIA is easy to navigate even for people who are new to VPNs. It also has dedicated apps for all devices ranging from mobile phones to PCs and tablets. It even has a configuration for routers.
Pros:
PIA MACE (ad blocker)
Zero logs policy
DNS protection
Split tunneling
Cons:
Shadowsocks obfuscation affects speed when enabled.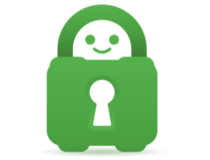 Private Internet Access
Have your pick of server locations and bypass any restrictions with PIA.
5. CyberGhost – versatile use cases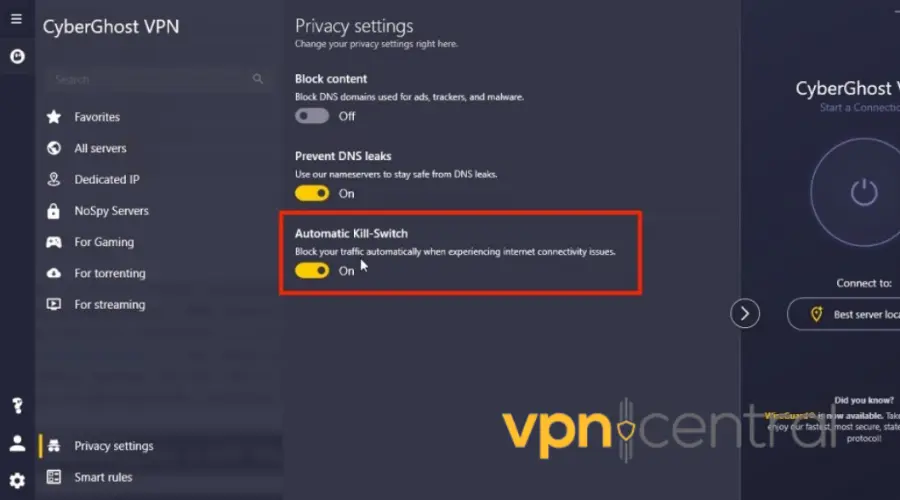 CyberGhost offers a wide range of servers in various countries, which allows you to easily connect to any region and mask your original IP address. Consequently, this helps to circumvent bans.
Moreover, CyberGhost employs advanced encryption protocols, such as OpenVPN, IKEv2, and WireGuard, which ensure a secure and private connection.
By scrambling the user's internet traffic using 256-bit encryption, CyberGhost adds an extra layer of protection. This makes it difficult for third parties to monitor or block the user's online activities.
In addition, CyberGhost provides a user-friendly interface and intuitive software. Therefore, accessible to users of all technical levels.
Also, the company has a strict no-logs policy. This level of privacy is crucial when bypassing bans, as it ensures that no one can track your browsing history or connection logs back to you.
Then, CyberGhost provides reliable and high-speed connections. When bypassing bans, it's essential to have a fast and stable connection to enjoy a seamless browsing experience.
Pros:
Intuitive user interface
No log policy
45-day money-back guarantee
7000+ servers in 91 countries
Cons: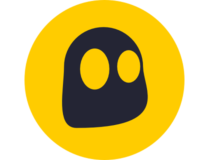 CyberGhost
Easily get back on any platform with this fast and versatile VPN.
Summary
Avoiding a ban with a VPN is something you can do easily as long as it has to do with an IP address. In countries with stringent VPN laws, an obfuscated server can get you past restrictions.
Contrarily, in the case of an account ban, a VPN cannot help you except when you sign up for a new user profile. Regardless, some powerful VPNs exist to withstand even the most stubborn bans.
---