A virtual private network is one of the best ways to change your IP address. It encrypts your internet traffic and a good provider will let you choose from servers and IPs all over the world.
However, it isn't the only solution.
So, let us show you the four methods to change your IP without a VPN.
But first:
What is an IP address?
IP stands for Internet Protocol and every device and network connected to the internet is assigned one by the ISP. A standard IPv4 address has four sets of numbers separated by dots, such as 193.169.1.2.
An IP address enables your devices and browser to communicate with websites, servers, and other devices over the internet. It's your unique identifier, much like your home address.
There are many reasons why you may wish to change your IP. You might want extra privacy or to get around IP bans and filters. Since most internet providers assign IPs geographically, switching IPs is also a good way to spoof your visible location on the web.
This lets you access content that would normally be blocked based on your geographical area, such as an international version of Netflix.
How to change IP without VPN
If you don't have access to a VPN, there are several other tools that allow you to use a different IP address. The method you choose will depend on your reason for wanting to change it.
1. Proxies
Using a proxy is the closest alternative to a VPN.
Like a VPN, a proxy server acts as a middleman between your device and the rest of the internet, and you assume the IP address of this server. This prevents anyone from tracking your real location by IP.
The main difference between a standard proxy and a VPN is that a proxy doesn't encrypt your internet traffic. So it's not a great choice for hiding the content you access.
A proxy provider may have an app to make the connection process easier but is more common to configure the settings manually on your computer or mobile device. This involves entering the proxy address, port, and login credentials if provided.
E.g., on Windows, simply go to Settings > Network & Internet and choose Proxy from the left-hand pane.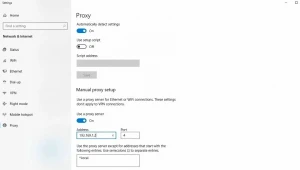 Many proxies can be used for free and premium proxies are very affordable. The drawback is that you can't easily switch locations like you would with a VPN app.
Alternatively, you can use a proxy browser website that lets you connect to a proxy from within your web browser. These sites often let you choose from multiple geographic locations. However, they're very slow and not suitable for tasks like streaming.
Unless you purchase access to a premium server for a specific location, proxies are best used to bypass basic IP bans and content filtering when browsing the web. If you need fast speeds or the ability to bypass geo-restrictions, a VPN is a better choice.
2. Tor Browser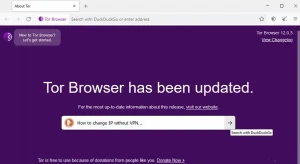 Another way to change your IP without VPN is via Tor.
The Tor browser is a special tool designed to hide the user's IP address and encrypt internet traffic. Unlike a standard VPN, each Tor connection relies on a whole network of nodes/servers rather than just one.
The Tor network is highly secure and effective at hiding your online identity. It's also completely free. However, because your internet requests have to pass through many different nodes across the world, it has a significant impact on speed.
It also means that by default, you can't select a specific location to set as your IP address.
Therefore, Tor is better for those who favor privacy over speed or live in a heavily censored country like China or Iran.
One of Tor's biggest benefits is its ease of use. All you have to do is install the browser and it'll do everything automatically.
3. Reset your network and router
Most internet providers don't assign static IP addresses, which means your IP will change from time to time. However, it'll usually fall under a certain range. I.e., only the last few numbers will be different.
One way to kickstart a dynamic IP change is to simply reset your router or network connection. This pings your ISP and makes it more likely for a new address to be assigned. Leaving your router unplugged for a few hours increases the odds that your old IP will be recycled and you'll get a new one.
Nonetheless, this isn't a guaranteed method. Moreover, it's only suitable if you've been banned from a website or service based on your specific IP address alone. It won't change your visible location and you could still be blocked if the whole IP range is filtered.
Use this method if you need to change your IP address quickly for one-time use but not for more complex tasks.
4. Ask your ISP
Another option if your specific IP address has been blacklisted is to contact your ISP directly. You don't necessarily have to explain why you want a new IP address and most ISPs will be happy to speed up the refresh process upon request.
Some providers may also have static or dedicated IPs available. These addresses are exclusive to you and never change. The downside is there's usually an extra fee or subscription required to secure one. You also won't be able to choose the geographic location.
Furthermore, if this IP is later compromised, you'll have to cancel it or acquire another one.
Summary
While a virtual private network offers the best overall experience, you can change IP without VPN access if you use a proxy or the Tor browser.
Restarting your router or purchasing a dedicated IP from your internet provider may also help, although it would be useful only in specific cases.