DMCA Notice with VPN - Why You Got it & What to Do
10 min. read
Updated November 27th, 2023
Published September 24th, 2023
---
Readers help support VPNCentral. When you make a purchase using links on our site, we may earn an affiliate commission.
Read the affiliate disclosure page to find out how can you help VPNCentral effortlessly and without spending any money. Read more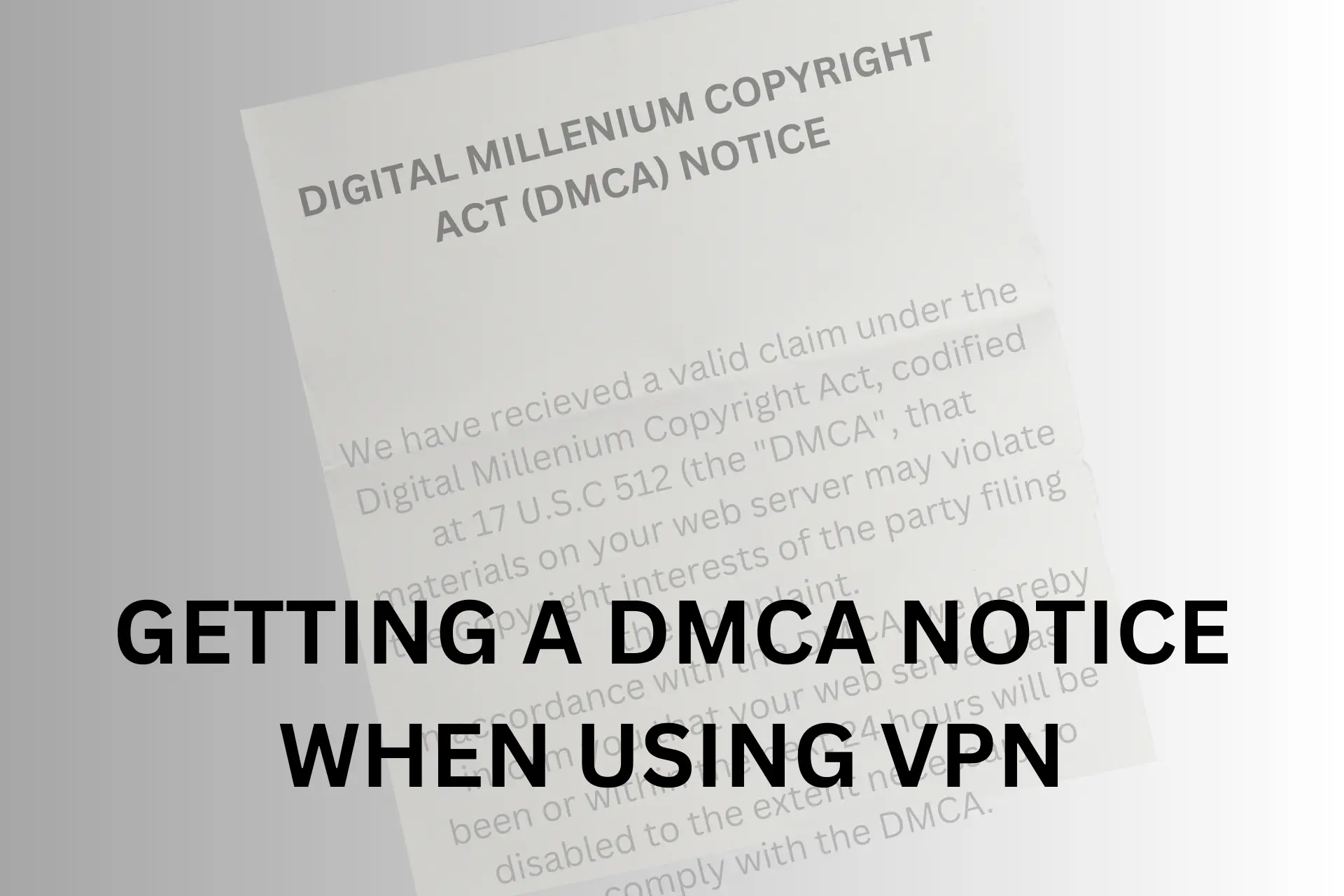 A VPN masks your traffic data and hides your identity online, but it's still possible to get a DMCA notice when using it.
The main cause of this is that your VPN isn't working correctly. Occasionally, it may happen even if you're not actually infringing any copyright.
In this article, we'll explain why you get a DMCA notice when you use a VPN, what you can do about it, and how to prevent it from happening again.
Let's dive in.
What is a DMCA notice?
A Digital Millenium Copyright Act – for short DMCA notice is a means used by copyright holders to get material that infringes their copyrights taken down from websites. It usually informs ISPs or OSPs which in turn contact the individuals responsible for the infringement.
➡️ The notice typically includes:
A description of the copyrighted work
URL to the location of this infringing activity
The IP address of the device used for the infringement
Signature and name of the copyright holder
Contact details of the copyright holder (including telephone, address, and email)
A statement that indicates there is no permission to use the copyrighted material
Date and time of the alleged violation
A request for immediate removal of the infringing material
You can get a DMCA notice either for downloading or hosting copyrighted material without permission.
The takedown notice requests that you remove the material as soon as possible. Otherwise, it may be removed forcefully and you may get fined.
So, responding to the notice immediately and discontinuing the activity is crucial. Even if you're not purposefully doing something illegal, it's best to wait until everything is cleared out.
➡️ A DMCA notice can be given to two types of entities:
Internet service providers (ISPs) and Online service providers (OSPs)
This includes companies (Verizon, Spectrum, Comcast) or online services (search engines, social media, domain providers) that host copyrighted material.
Website owners/Individuals
This category includes individuals who download copyrighted content as well as those who host it and share it online.
Can you get a DMCA notice with a VPN?
Yes. You can still get a DMCA notice when you use a VPN. It can happen either because your VPN isn't hiding your data or there's other information out there that links your identity to the infringement (like email address or user account name).
VPNs that collect logs cannot keep you anonymous online and they may leak or report your activities which could result in a DMCA notice.
Additionally, free or low-tier VPNs have more frequent server downtimes. This can lead to your data not being protected while you download, torrent, or host material online.
So, if you want to avoid getting a DMCA, it's essential to use only high-performing premium VPNs.
Will a VPN prevent copyright infringement?
Not necessarily. While a VPN may prevent some copyright infringement by hiding your traffic data and IP address, copyright holders may still be able to identify you using the details you provide to the torrenting client, web host, or other means you use to infringe copyright.
So, in theory, a VPN can prevent cease and desist letters and DMCA notices, but you have to take other things into consideration.
How to avoid DMCA notices
⚠️ Before moving any further: Keep in mind this article is for informational purposes only. We do not encourage or support the illegal use and distribution of copyrighted content. ⚠️
To have full anonymity online, you shouldn't use your main email address and phone number on torrenting or hosting accounts. Additionally, never give out your complete real name.
It's also worth mentioning that some ISPs may mistakenly send DMCA notices for torrenting. You can easily get around that by appealing the order and proving you're not actually breaking the law.
Now, let's explore some more ways to keep your data private and avoid DMCA notices.
1. Use a trustworthy VPN
This is the most secure way to avoid DMCA notices. A good VPN for torrenting establishes a secure connection between you and the internet by routing your data traffic through an encrypted virtual tunnel.
This protects you because the encryption conceals your activities when you use the internet, thereby preventing your ISP or other third parties from monitoring you.
Furthermore, when you connect to the server, it will replace your real IP address with the server's IP. So it will not be possible for the ISP or another entity to trace your activity to you.
However, it is important to note that not all VPNs can live up to the task. So you will need to choose a VPN that offers the best features for safe torrenting/ downloading.
Some of the important features include:
Strict zero-logs policy – The VPN provider won't collect logs of your downloads, real IP address, or any other identifying detail.
An automatic kill switch – This instantly stops all internet traffic if the VPN connection drops, so you won't download/share anything outside the VPN connection
DNS leak protection – A feature designed to keep your activities secure at all times by preventing the leakage of data
Support for P2P sharing – Provides better speeds and security for file sharing
2. Torrent from a reputable website
You should only download torrents from reputable websites with clear systems in place to show you that a torrent is legal and safe.
Furthermore, there are some reputable websites with a large selection of torrents. The roadblock here is that the best torrent sites are blocked or throttled by ISPs.
This happens because Internet service providers try to slow down or stop connections to sites that use a lot of data as a means to preserve it and allocate it to all users. So you would need to spoof your IP address to get around the blocks.
That said, some reliable torrent sites include:
Public Domain Torrents
Legit Torrents
Bitlove
Etree
Vodo
Linux Tracker
Internet Archive
Miro Guide
Use StudioHD Network
❗ It is important to note that some of these torrent sites host user-uploaded content. So there is a possibility that some of it may be illegal. For this reason, always double-check the legality of the torrent before downloading it.
3. Choose a trusted client
To download BitTorrent files, you will need an application called a torrent client.
That's because these files are sent in many tiny parts from different locations. What the torrent client does is that it manages these pieces and puts them together for you so you get the complete file after downloading.
When choosing a torrent client, it is important to look out for features such as ease of use, lightweight, and good security.
Here are a few trusted torrent clients you can use:
4. Choose the right torrents/files to download and share
After getting your VPN setup, finding a reliable site, and downloading a trusted torrent client, you can now download torrents.
Before you start, look into the file. Check what other users comment and make sure that the file's source is legit and has the right to share it.
Also, if you decide to share a file online, either on a torrenting platform or your own website, make absolutely sure you're not breaking any copyright laws.
First and foremost, you have to own the material legally. But even more, you should also have the permission to share it.
❗ Owning something for personal use doesn't automatically give you the right to share it.
5. Get effective antivirus software
You should always have good antivirus software on your device to protect yourself from malware, hacks, and cyberattacks.
VPNs offer security online, but it's not able to block viruses, spyware, and other threats that can infect your device when you download files.
For complete security of your device – be it when you're downloading, sharing files, or just browsing the web you should use both a VPN and antivirus.
The antivirus will scan and monitor torrents you download then it will immediately remove any malware detected before it does any damage.
At the same time, the VPN will protect all information related to your activity and identity.
What to do if you get a DMCA notice with a VPN
If you use a VPN and still get copyright infringement, you should take action as soon as possible. Stop the infringing activity and respond to the notice. If you're rightfully downloading or sharing said material, you can appeal the DMCA notice.
Here's what you can do:
Option 1: You can accept that there is a copyright infringement and take down the identified material/ stop downloading it
Option 2: If you have reason to dispute the DMCA letter because you have permission to use the material in question, you can send a counter-notice.
The counter-notice should contain:
Your signature (Physical or electronic)
Your name, address, and contact information
An identification of alleged infringed material
A statement that you have the license to stream material
Your consent to accept the service of process from the copyright holder
By filing this, you are agreeing to accept service of process from the notifier. This essential means you understand that this counter-notice may result in a lawsuit.
Then the notice could be sent to your ISP, the copyright owner, or their agent.
The copyright holder will either stop pursuing the takedown request or will file a lawsuit upon receiving the counter-notice.
Either way, you should respond to the DMCA letter immediately to avoid a lawsuit. This could lead to penalties like fines or even jail terms.
To conclude, you can simply stop infringing on copyrighted content, or if you have the license, send a counter-notice along with the data that proves it.
Summary
The purpose of the DMCA is to prevent the illegal sharing of creative work such as videos, images, and technology on the internet.
The truth is that you can still receive a DMCA notice while using a VPN. Either the service isn't working properly, or there is other identifiable information about you that gives away your identity.
Therefore to avoid DMCA notice with VPN, you need to subscribe to a trustworthy VPN that has all the necessary features to keep you safe while torrenting.
Keep in mind that you should always be responsible for your own actions. Always double-check the file's origin and make sure you have the right to download/share it it.
---