Since a VPN hides your real IP, it is frustrating when it's not working with Deluge. That's because, without a VPN, anyone from your torrent pack would be able to trace your location.
Apart from that, internet service providers, copyright holders, and third parties can track you. Moreover, a VPN offers benefits like a kill switch that shuts off your internet when the VPN disconnects, further protecting your data.
Seeing how important VPN is for maintaining privacy and anonymity while navigating the web, we want to help you fix this issue. In this article are step-by-step guides to make your VPN work with Deluge again.
⚠️ Torrenting copyrighted materials and media files is illegal in most countries and we don't encourage it. ⚠️
Deluge not working with VPN? Fix
Before you go ahead with this guide, confirm that your VPN is up to date and your network connection is stable. These are the primary causes of Deluge not working with VPN.
Ready? Let's start working our way out of this issue:
Change to another server

A congested server will slow down torrenting and is likely to disconnect frequently, hence, leaking your information.

Moreover, it will be unable to encrypt your traffic properly thereby causing performance issues.
Use the guide below to change servers:

1. Launch and login to your VPN app.
2. Expand the ellipsis or arrow beside the existing location to see the server list.
3. Click on the server of your choice.
4. Go back to Deluge and check if it works now.

Try a different protocol

Different protocols have different strengths and weaknesses. For example, OpenVPN is a more secure protocol than PPTP but it can be slower for torrenting.

Since PPTP is less safe for users' data, many top-notch VPN providers don't support it. However, you can go for the WireGuard protocol which is faster and more foolproof than OpenVPN.

So, if you are having trouble connecting to your VPN with OpenVPN, you might try switching to WireGuard protocol (known as Nordlynx on NordVPN).

1. Open and log in to your VPN app.
2. Navigate to Options or Settings.
3. Go to Connection and click on VPN protocols or VPN preferences.
4. In the list that drops, choose WireGuard protocol.
5. Check out the website again.

Add the VPN configuration file to the Deluge directory

When you add your VPN configuration to the Deluge directory, you are essentially telling Deluge where to find the information it needs to connect to your VPN.

This can help fix VPN not working with Deluge if the problem is that Deluge is not able to find the VPN configuration file.

To get this done follow the instructions below:

1. Launch the Deluge app.
2. Open Preferences: On Windows and Linux: click edit > preferences.
3. On macOS: in the menu bar click Deluge > preferences.
4. Select the Proxy section.
5. From the proxy drop-down menu that appears, click on Socks5 Auth.
6. Now, go to your VPN app and find the manual configuration files. We used NordVPN as an example. Here's what to do:

Enter the following information:

Username: NordVPN service username
Password: NordVPN service password
Hostname: Address of a selected proxy server.
Port: 1080
Choose from any of these servers:
amsterdam.nl.socks.nordhold.net
atlanta.us.socks.nordhold.net
dallas.us.socks.nordhold.net
los-angeles.us.socks.nordhold.net
nl.socks.nordhold.net
se.socks.nordhold.net
stockholm.se.socks.nordhold.net
us.socks.nordhold.net
7. Click Apply and OK to save changes.

Use an obfuscated server

Some ISPs and governments block VPN traffic, but they are less likely to block obfuscated servers. This is because these servers mask their traffic, making it more difficult to identify as VPN traffic.

Also, obfuscated servers can help to improve your torrenting speeds.

To activate obfuscated servers, follow these steps:

1. Launch your VPN app.
2. Log in with your details.
3. At the bottom-left of the window, click on Settings. Then select Connection.
4. Go to VPN protocols. Change it to OpenVPN TCP.
5. Return to the home window.
6. In the line of displayed countries, expand the arrow. 
7. Click on the Specialty arrows. Select Obfuscated servers.
8. Click on the arrow in the dialog box that appears to choose a server.
9. Click to connect.
10. Try out the website again.

Allow VPN through Firewall

Make sure that your firewall is not blocking Deluge or your VPN.

To allow your VPN through the firewall, do the following: 

1. On the Start menu, search for Windows Security. Click to open it.
2. Click on Firewalls & network protection.
3. Select Allow an app through Firewall.
4. Click the Change settings button.
5. Check the box beside VPN if it is empty.
6. If you cannot find VPN on the list, click the Allow another app button at the bottom right of the window.
7. Check the box under the type of network: either Private or Public, you want VPN to access.
8. Click Ok.
9. Go back to Deluge. It should work now.

Change your VPN provider

Has every other solution failed? Then it's time you take a different turn. Trying a different VPN with powerful security features could make a difference.

Follow the guide below to get started:

1. Subscribe to a VPN provider like ExpressVPN.
2. Download and install the app on your device.
3. Click on the ellipsis to display the server list.
4. Choose any location of your choice.
5. Check out if it worked.
Does Deluge block VPNs?
No, Deluge does not block VPNs by default. In fact, it uses the μTorrent Transport Layer Security (μTLS) protocol to scramble all traffic between the client and the Deluge daemon.
Therefore making sure that users data is protected from prying eyes while it is being transferred over the network.
In addition, Deluge also supports the BitTorrent Encryption (BTE) protocol. This protocol allows you to encrypt your files at the source so that only the intended recipient can decrypt them.
However, if a "Force Local Peers" plugin is enabled on your Deluge account, the website will only connect to peers within your local network. Hence, preventing a VPN from connecting outside your region.
This can make it seem as though Deluge is blocking your VPN. Apart from that, Deluge does not ban or restrict VPN usage.
Does Deluge work with a VPN?
Torrenting requires a VPN with powerful encryption and protocols that enhance speed. Also, one with extra data protection features like an automatic kill switch and DNS leak protection.
With a VPN that has all these characteristics, you can use Deluge anonymously without your ISP or the government sniffing you out. Especially if it offers a strict no-log policy.
Best VPNs for Deluge
For a VPN to work with Deluge without fail, it must have the strength to maintain a secure connection for a long time.
Below are our best picks for Deluge:
1. ExpressVPN – AES-256 encryption
When using Deluge, privacy and security are paramount. ExpressVPN employs military-grade encryption to ensure that your online activities and torrent downloads remain private and protected.
Also, features like DNS leak protection and a kill switch add an extra layer of security, preventing any accidental exposure of your real IP address.
Additionally, ExpressVPN boasts 3000+ high-speed servers located in about 94 countries. These servers are optimized to deliver fast download and upload speeds.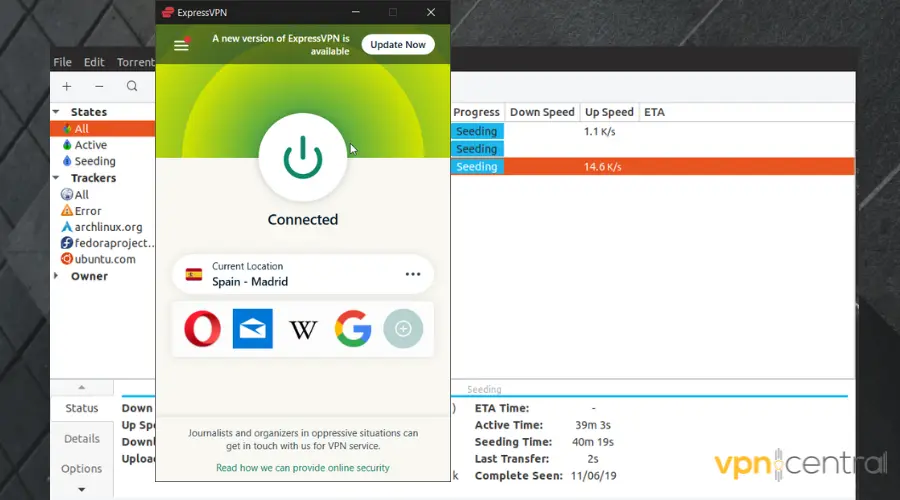 This ensures that you can efficiently seed and leech torrents using Deluge without any significant slowdowns.
Furthermore, ExpressVPN follows a strict no-logs policy.
This commitment to privacy ensures that your torrenting history and personal data are not recorded, giving you peace of mind while using Deluge.
ExpressVPN key features:
Automatic kill switch
30-day money-back guarantee
DNS leak protection
LightWay protocol
No log policy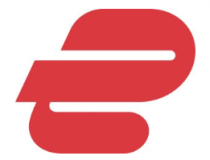 ExpressVPN
Upgrade to ExpressVPN for a better and safer experience on Deluge!
2. NordVPN – obfuscated servers
NordVPN's 256-bit encryption provides a high level of security for torrenting activities on Deluge. It encrypts your internet traffic, making it difficult for anyone to intercept your downloads and uploads.
Furthermore, with a network of over 5700 servers spread across 60 countries, NordVPN offers a significant advantage for Deluge users.
You can select servers closer to your physical location to minimize latency and achieve faster download speeds.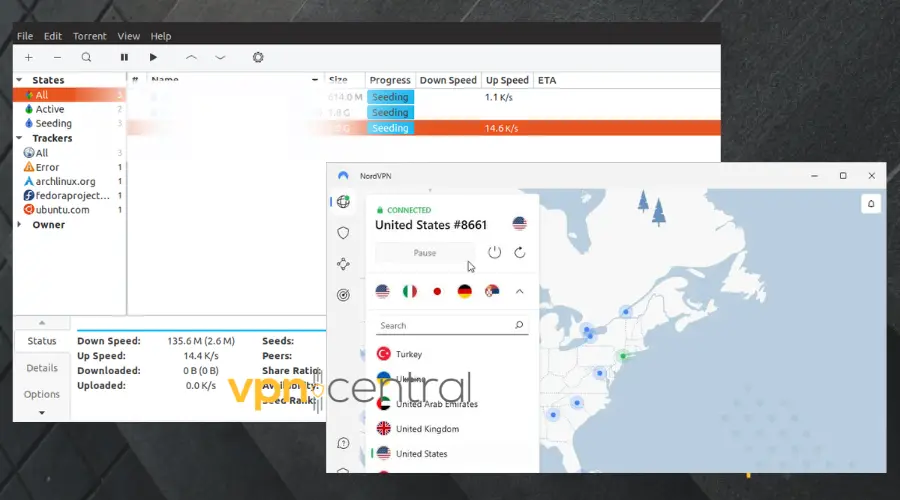 Moreover, having servers in different countries allows you to bypass any geo-restrictions that may be in place, giving you access to a wider range of content.
With NordVPN, you don't need to worry about hitting any data caps as it allows users unlimited bandwidth regardless of their online activity.
In addition to the above features, NordVPN offers obfuscated servers, DNS leak protection, and Double DNS, further bolstering your privacy and security while using Deluge.
Additional features of NordVPN:
Strict no-logs policy
Automatic kill switch
DNS leak protection
Six simultaneous device connections.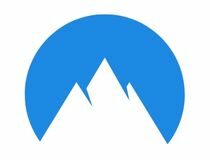 NordVPN
Hide all your Deluge activity with this reliable VPN that fully protects your data and identity.
YOU MAY ALSO WANT TO READ:
---
3. Surfshark – WireGuard protocol
Surfshark is another VPN that stands the test of time especially for torrenting. It offers a special feature called the Camouflage mode that plays the role of obfuscated servers.
It ensures that it conceals the fact that you are using a VPN. So, you can go in and out of Deluge without your ISP suspecting anything. Especially if you are in a country with strict VPN laws.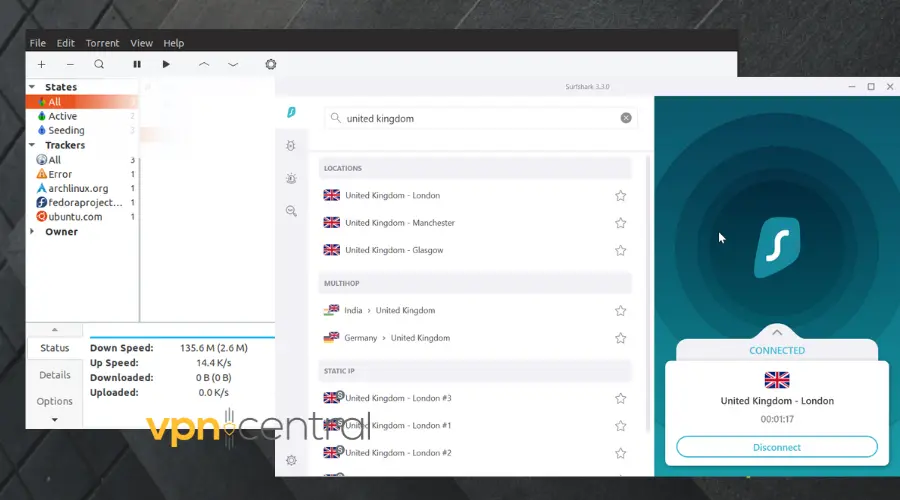 What also makes this VPN stand out is its simultaneous device connection with one account. This means that it doesn't matter how many people want to torrent, Surfshark is able to secure everyone.
In addition to that, Surfshark has incorporated the modern WireGuard protocol which it claims to be three times faster and more secure than OpenVPN. This allows you to torrent with zero buffering.
Moreover, with more than 3000 servers in 100 countries globally, this VPN gives you options to spoof your location with ease. Good thing these servers support peer-to-peer connection.
Other important features:
AES-256 encryption
No logs policy
DNS protection
Split tunneling
Multihop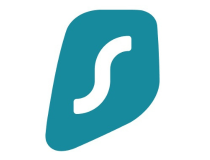 Surfshark
Torrent safely without leaving any trace thanks to Surfshark's top-notch privacy features!
4. PIA – a large network of speedy servers
Private Internet Access (PIA) offers a range of impressive features that make it an excellent choice for users of Deluge.
Firstly, PIA provides the split tunneling feature, which allows users to selectively route their traffic through the VPN or their regular internet connection.
This functionality is particularly useful for Deluge users as it enables them to prioritize their torrent traffic through the VPN while still accessing other online resources with their normal connection.
Additionally, PIA has built-in ad blocking (PIA MACE) which enhances the browsing experience by eliminating intrusive advertisements. Thus ensuring a safer environment free from malicious content.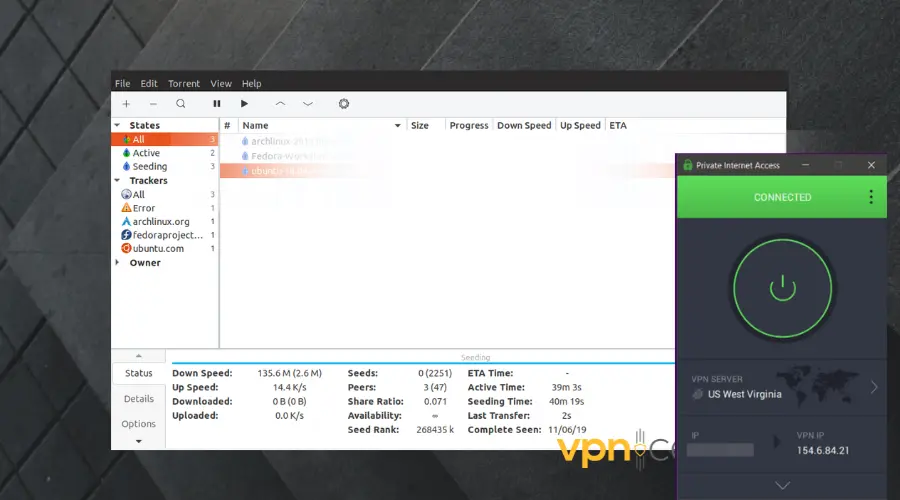 Furthermore, PIA boasts an extensive network infrastructure with an impressive fleet of 35,000 servers in 84 countries. This allows Deluge users to enjoy high-speed and reliable connections.
PIA's dedication to user experience is further exemplified through its dedicated apps, which are available for various platforms and devices.
Lastly, PIA allows up to ten simultaneous connections, which is particularly beneficial for users who want to protect multiple devices or share their VPN connection with family or friends.
Other features PIA offers
Unlimited bandwidth
24/7 live support
30-days money back guarantee
No logs
Firewall-based leak protection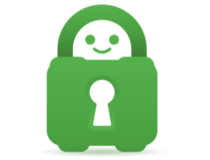 Private Internet Access
Get PIA for error-free and completely anonymous torrenting on Deluge!
5. CyberGhost – P2P-optimized servers
CyberGhost is an excellent VPN choice for Deluge users due to several key reasons. Firstly, its 9000+ servers spanning over 91 countries ensure fast and reliable connections.
Additionally, CyberGhost's strict no-logs policy guarantees user privacy and anonymity. Moreover, its robust encryption protocols and DNS leak protection offer top-notch security while torrenting.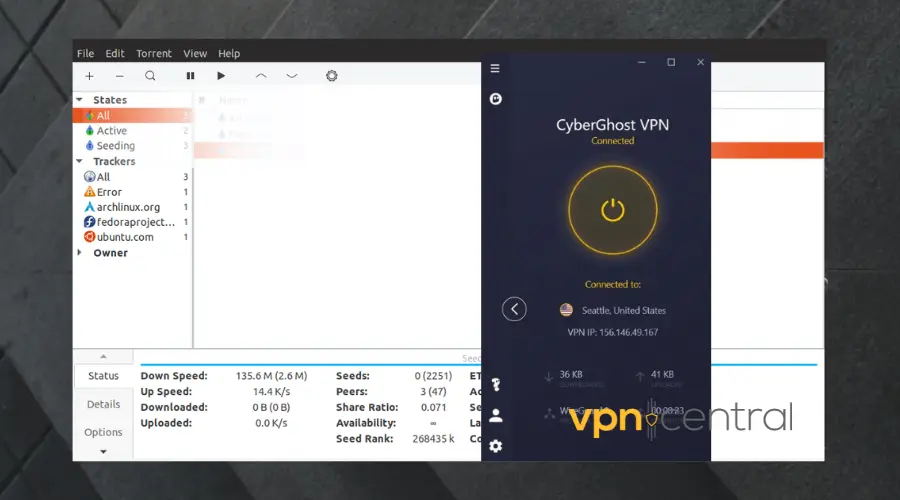 Furthermore, CyberGhost's user-friendly interface and dedicated torrenting profiles make it easy to configure and optimize for Deluge.
Another noteworthy advantage of CyberGhost is its proactive approach to tackling potential threats.
The VPN employs automatic kill switches and to safeguard against accidental data exposure, providing an extra layer of security during Deluge usage.
Lastly, its unlimited bandwidth and P2P-friendly servers allow for unrestricted torrenting.
Additional characteristics of CyberGhost
Dedicated IP address
45-day money-back guarantee
No activity logs
AES-256 bit encryption
OpenVPN, IKEv2, and WireGuard protocols.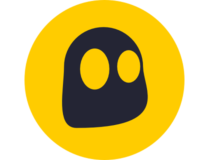 CyberGhost
Connect to CyberGhost for great download speed and complete data protection on Deluge!
Is it legal to use a VPN with Deluge?
The legality of using a VPN with Deluge depends on the laws of the country you live in. In most countries, including the United States, using a VPN is legal while it is banned or restricted in others.
Also, if you are using a VPN to torrent copyrighted material, you may be breaking the law. Overall, Deluge allows people to torrent media freely on the website using a VPN connection.
Summary
Protocol compatibility or firewall may interfere with your connection causing your VPN not to work with Deluge. This is because Deluge is a torrenting website for sharing copyright files.
Aside from that, your ISP may try to block your traffic unless you are using an obfuscated server. Regardless, if Deluge is not working with your VPN, the guide in this article will get you back on track.
---